Make a mini yarn rainbow keychain or wall hanging! We'll show you how to make a 3″ or 4″ rainbow. Add a keychain or glue a piece of yarn to the back to hang! Use the classic colors of the rainbow or muted tones!
You might also like our pom pom key chains, wired fabric headbands or homemade lip gloss!

Watch our step by step video!
These darling yarn wrapped rope rainbows are all over the place, and for good reason. They are easy to make and so cute to customize! I was asked to be the craft coordinator at our church's girls camp this summer. I submitted a bunch of ideas, and a rainbow yarn craft was was at the top of the list of the things that the girls wanted to make. I needed to come up with a version that would be easy for 100+ teens to make outside and on budget (Etsy kits weren't going to weren't going to be an option, darn!). I tested this version with my kiddos (10 and 12)  and they had no issues wrapping each piece of rope. It takes a little while, but it super fun to watch it come together!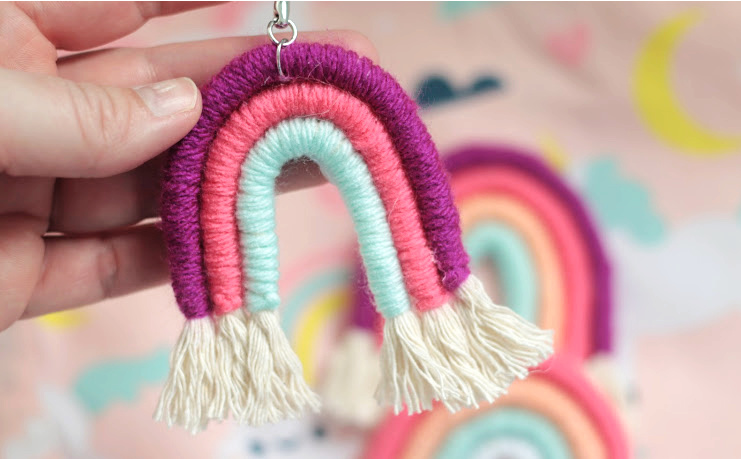 Mini Yarn Rainbow Keychain or Rainbow Wall Hanging
I made a quick trip to Michael's (can also be found on Amazon) and found everything I needed to make these super cute 3″ keychains. I'll also share how to make 4″ rainbows that you can hang on a wall! Most macrame rainbow crafts require you to use stitches with a needle and thread to secure the rainbow layers of rope. I bypassed that by hot gluing them to a piece of felt on the back. Worked like a charm!
I'm working on putting together kits and will print out the instructions from this post with a QR code to the video. Most girls will have a phone on them so they can scan the code and easily follow along!
Wouldn't these mini yarn rainbow keychains be cute for kids to make as gifts?  Ready to make one—or two or three? Let's get started!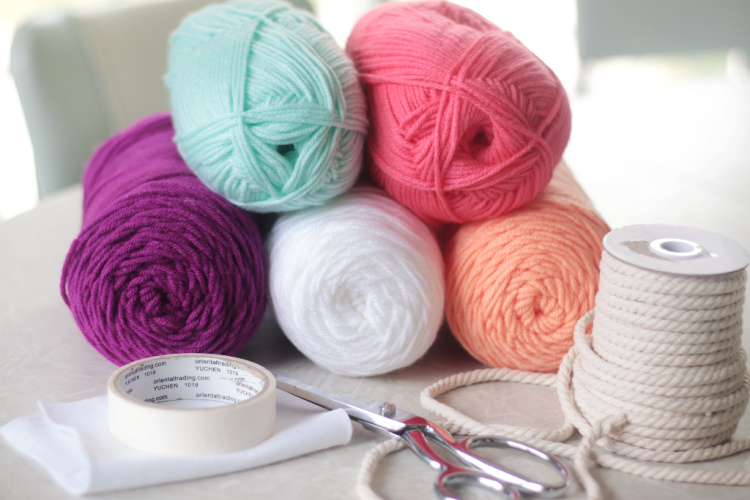 Yarn Wrapped Rainbow Supplies
yarn: an all-purpose yarn works great.
cotton rope: 5mm wide, comes in a spool at Michael's in the jewelry making section.
masking tape: any 1″ wide tape will work.
scissors
felt: you can use our printable template to cut it into a rainbow shape.
keychain and jump ring (if you'd like to turn it into a keychain): 10mm jump ring.
scissors
jewelry pliers
Cutting Guide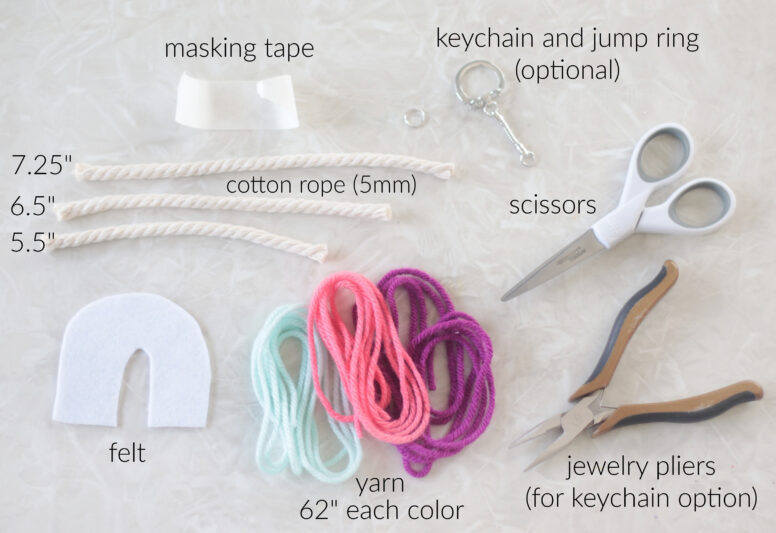 Use our cutting guide above to cut out 3 pieces of rope and 3 strands of yarn in any color that you'd like.
Note: If you'd like to make a 4 arch rainbow with 4 colors, you'll also need an 8.25″ piece of rope and a 4th strand of yarn. Other than that, the process for making the larger rainbow is the same.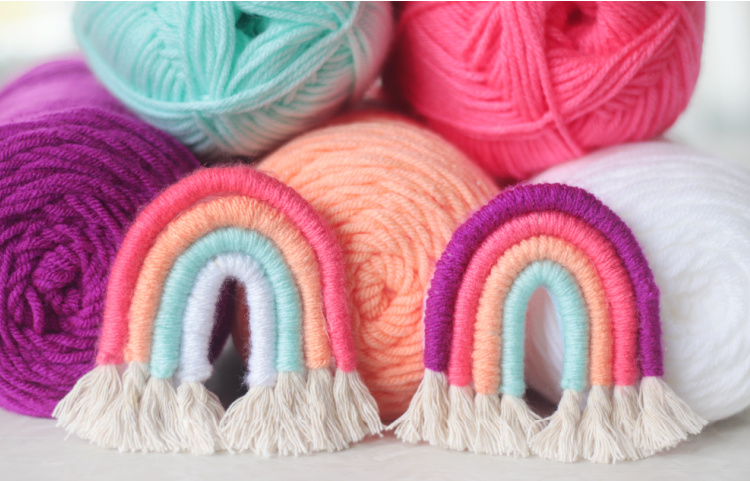 I love the 4 strand rainbows. That extra pop of color is so fun, but they are a little too big to be keychains. You can easily glue a loop of yarn on the back to hang these on a wall. Super cute and 4″ tall.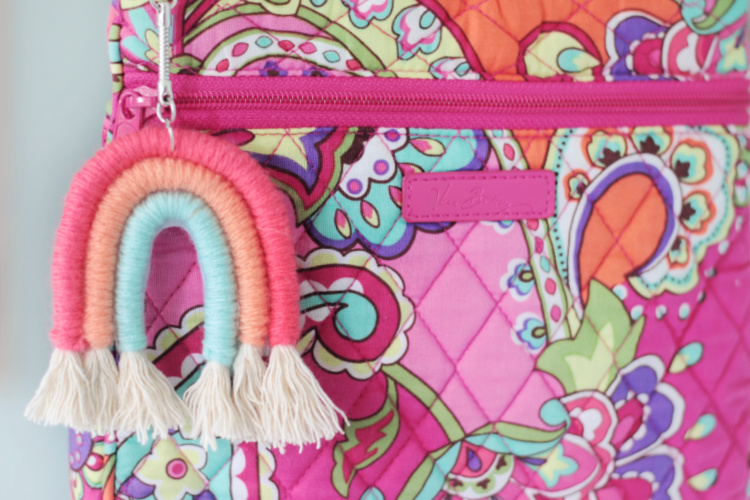 Mini Yarn Rainbow Keychain or Wall Hanging Directions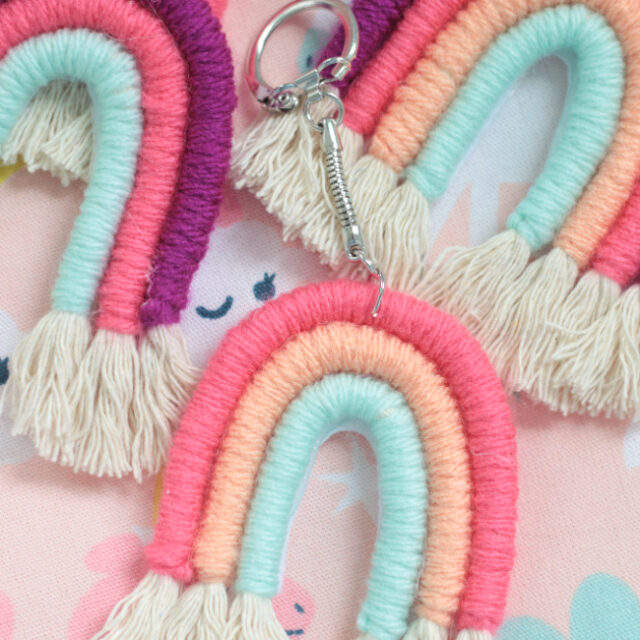 Print
Mini Yarn Rainbow Keychain or Wall Hanging
Make a mini yarn rainbow keychain or wall hanging! We'll show you how to make a 3" or 4" rainbow. Add a keychain or glue a piece of yarn to the back to hang! 
Equipment
scissors

jewelry pliers

hot glue gun

measuring tape
Instructions
Cutting Guide & Yardage
Cut 3 pieces of rope for the smaller rainbow, 7.25", 6.5" and 5.5".

OR Cut 4 pieces of rope for a larger rainbow 8.25", 7.25", 6.5" and 5.5".

Cut a 62" piece of yarn for each piece of rope.
Wrapping The Rope
Tape the longest piece of rope to the table using a piece of masking tape. Line the edge of the masking tape with the edge of the rope. This is important. You only want an inch of the rope covered by tape.

Wrap the yarn around the rope and tie a knot just below the masking tape. Do not cut off the excess yarn. Hold it against the rope as you wrap the rope in yarn (it will get wrapped as you go).

Wrap the yarn tightly around the rope.

Continue wrapping until you only have an inch of rope left. Tie knot at the end and trim off any excess.

Cover the knot in a small dot of hot glue. This will reinforce the end and keep it from unraveling.

Repeat the steps above for the second piece of rope.

And the third piece of rope.
Keychain Fittings
Open the jump ring with a pair of jewelry pliers.

Slide it onto the center of the longest piece of yarn-covered rope.

Slide the keychain onto the jump ring. Use the jewelry pliers to close the jump ring.
Creating a Rope Rainbow
Add a line of hot glue along the inner edge of the rainbow shaped piece of felt.

Glue the shortest rope to the inner edge. Make sure the frayed edges are not glued to the felt. They should hang down.

Glue the other two ropes to the felt, making sure to add the longest rope last.

Trim away any excess felt. Be careful to NOT cut the yarn!

Note: if you are making a 4 strand rainbow the felt may not completely cover the back of the rainbow and that's totally fine. It's just a base to help shape the rainbow as you glue.

Unravel the unwrapped edges of the rope to create a fringe edge (to look like clouds).
Notes
If you'd rather make a wall hanging, glue a loop of yarn for a hanger on the back instead of adding the keychain fittings.
Here's another cute and easy yarn wall hanging craft!
Welcome! I'm Brandy, mother to 5 darling kiddos and a cute black lab named Toby. My husband is in the Coast Guard so we've lived all over the place, turning each house into a home. I love baking, sewing, making cute things with my kids, and sharing what I've learned with all of you!