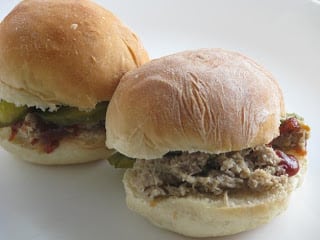 Just getting caught up on my recipe blog tonight!
Our best friends in Kodiak introduced us to these sandwiches. He was from North Carolina and made these for us on Christmas Eve one year. Leaving their family was the saddest thing about leaving Kodiak. We were friends and neighbors in Sacramento for 2 years, then both transferred to Kodiak in 2004!
These are very tamed down from the full vinegar flavor that they use in the south. Delicious!
1 pork roast, pork butt
1 can chicken broth
Cook in crockpot on low for at least 12 hours.
Pull roast out, de-bone and shred meat. Add apple cider vinegar 1/2 cup at a time until it is tangy to your liking. I usually use 3/4 c. – 1 cup.
Sprinkle red pepper flakes to your liking, I usually use 1 1/2 tsp.
Pile onto a roll and you are set! I like adding bbq sauce and pickles to mine. Derrick eats his with just the pork. Our friends add coleslaw and pickles on top of the pork. Enjoy!