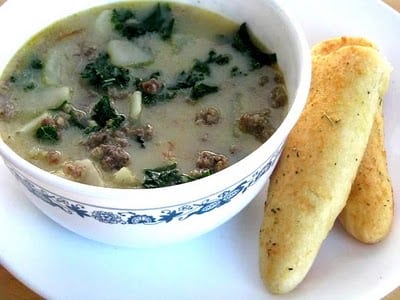 This time of year inspires me to pull out all of my favorite soup recipes. A few of my girlfriends and I had a fun girls weekend in Pittsburgh last year and we stopped for dinner at Olive Garden and were all talking about how much we love this soup! I never thought about looking for the recipe online until my friend, Tiffany, said that she had soup very similar to this at a church dinner. I went home and, sure enough, found a recipe for it!
It's been a staple in our home ever since!  So simple and tasted just like the real deal! I used milk instead of cream, but everything else was the same. It's a keeper.
And what is soup without homemade breadsticks? These are our favorite. My kids each ate 2 HUGE ones with their soup and wanted more. When we were first married, I went to a church class that a friend taught on making bread and rolls. We pretty much sampled bread all night, it was awesome. This recipe comes from the instructor, Vicki Reynolds.
Oh, and they only raise for 20 minutes!
Breadsticks
1 1/2 c. warm water
1 T. yeast
1 T. honey
1 T. dry or malted milk
1 tsp. salt
3-3 1/2 c. flour
Mix yeast and water and let sit for 10 minutes. Add honey and stir in remaining ingredients. Divide into balls and roll out like a snake and put on a greased pan. Let raise for 20 minutes. Add topping and Bake @ 400 degrees for 10 minutes. Brush again with topping and bake another 10 minutes. Brush one more time with topping after baking and sprinkle with parmesan cheese.
Topping
1 c. melted margarine/butter
1 tsp. garlic powder
1 tsp. parsley
Brandy's notes
: I use my
kitchenaid
to mix everything and the dough hook to knead it for a minute or two. If anyone else gasped when seeing 1 c. of butter for the topping, you are not alone. I use 1/2 a cup and it is plenty to coat the breadsticks (lightly) 3 times (before, during, and after baking).