Organize your living room and make IKEA built ins for books, toys, and electronics with billy bookcases! Add trim, doors, hardware, and a top for a custom look.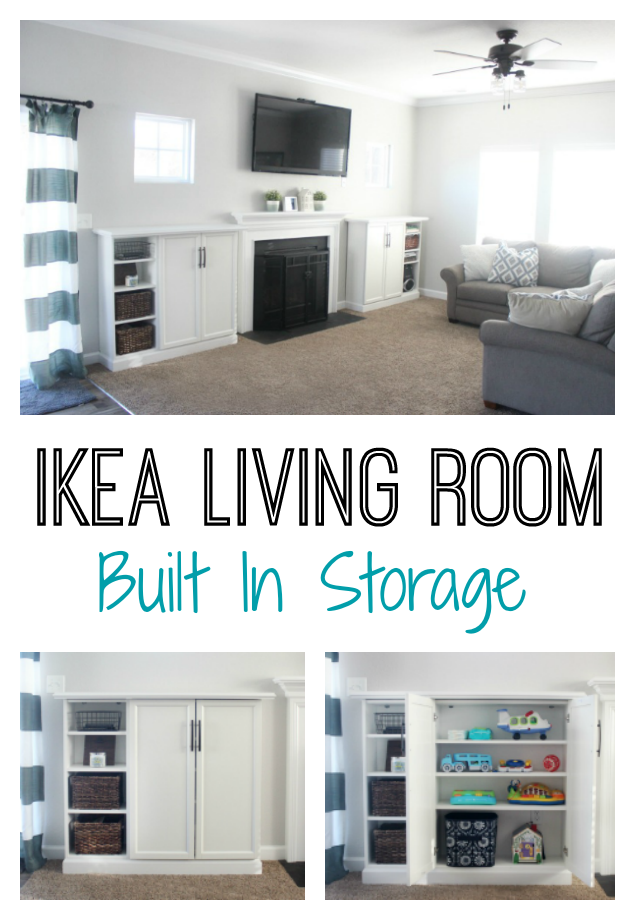 Our new living room presented a challenge when it came to organization. The only wall to put the TV on was above the fireplace and the two small windows on either side made it difficult to find storage units to fit without covering the windows. We also didn't want anything taking away from the pretty fireplace mantel so we looked for things with a shallow depth. Everything we found was either too tall, too short, or too narrow. So we got creative!
IKEA Built Ins: Living Room Storage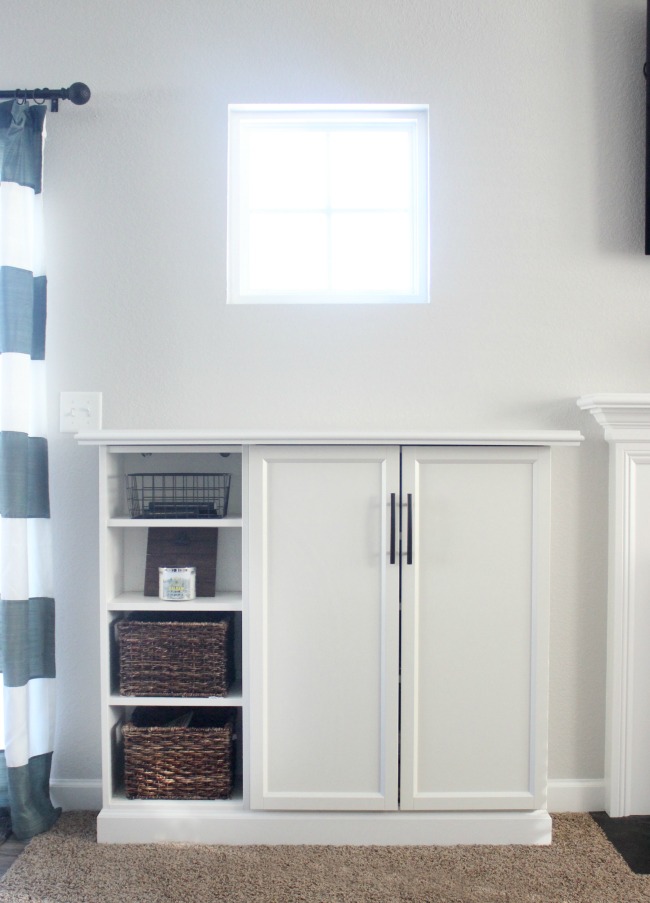 We put a narrow Billy bookcase and a wide Billy bookcase from Ikea side by side and attached them together. Then we added doors over the wide bookcase as well as handles. For a custom look, my husband trimmed them out, mounted them to the wall, and added a top with a ledge that matched our fire place.
A couple of coats of paint over the top and trim, and we had a custom organizational piece!
We made two of them. One for toys, and one for electronics.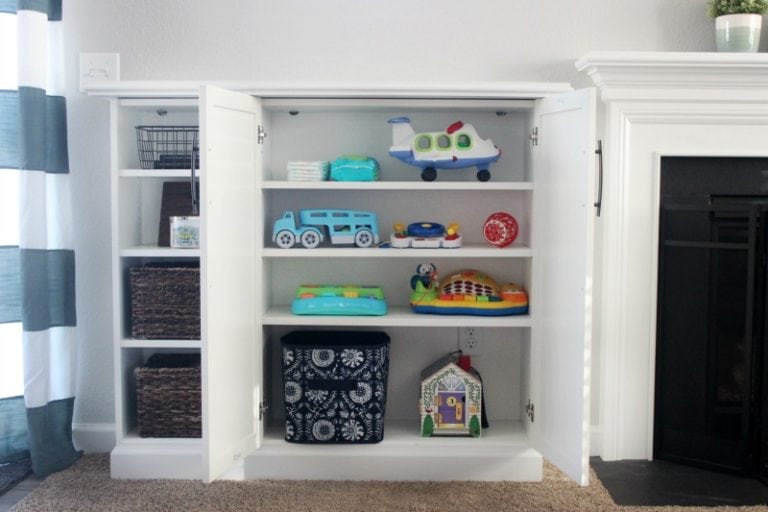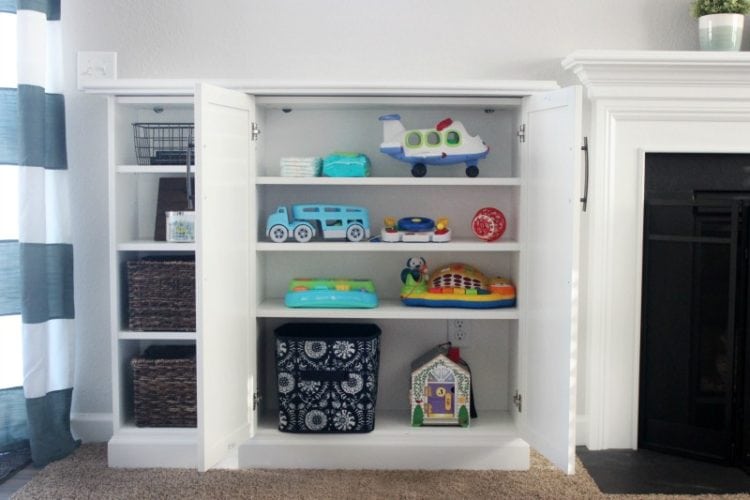 Our toddler is finding his way into everything so it's nice to have one area that he can go crazy in. He loves opening and closing the doors and making a mess of his little space.
The other built in houses the DVD player, Wii, remotes, and the kids' Kindles. (We keep a baby lock over the handles to keep little man out.)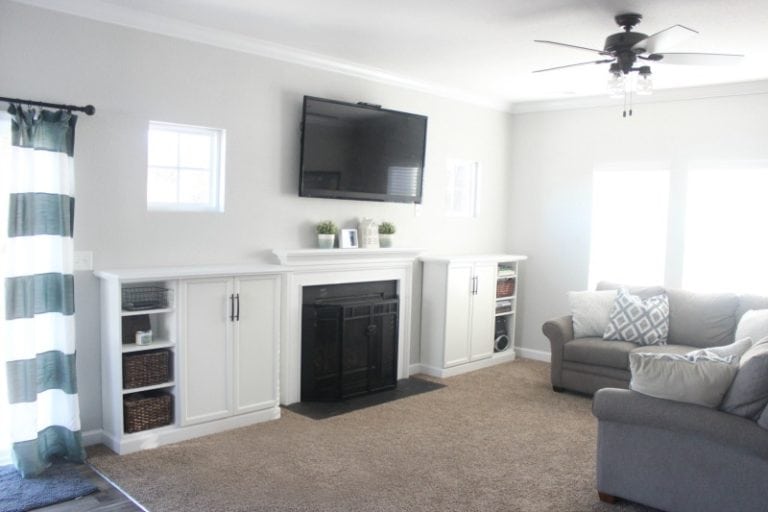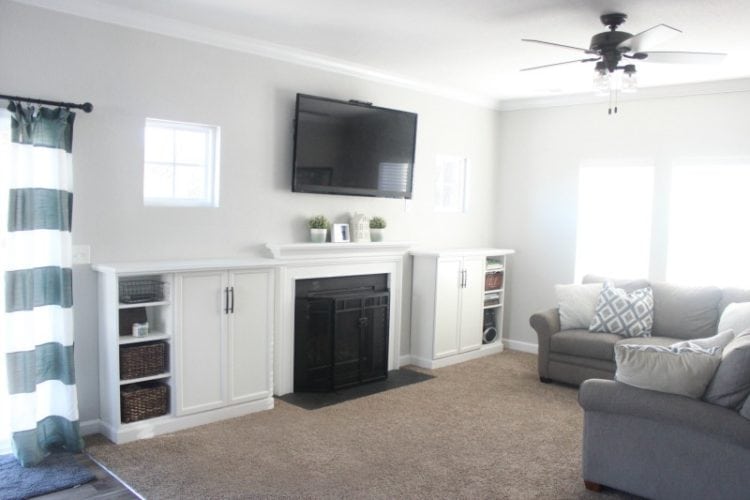 I love the streamlined look of everything now and it really helps reduce clutter by housing the electronics and toys out of sight. With 7 people living in a home that seems to be designed for 5 people, we've had to get creative in almost every room of the house! Up next I'll be showing you guys the baby's closet nursery. We don't just call it a closet because it's small—it's an actual closet, ha! Our master bedroom has two of them so we gave him one and we use the other for our clothes. We're making it work! The best part about all of this? We are more organized than we've ever been. We are choosy about what we bring into the house more than we would be if we had tons of closets and square footage to hide junk in!
Billy bookcases and doors: IKEA
Handles: Lowe's
Wicker Baskets: Target
Wire Basket: Walmart
Drapes: Click here for the tutorial
Pillows: Target
Fan: Lowe's
More Organizational Posts on Gluesticks…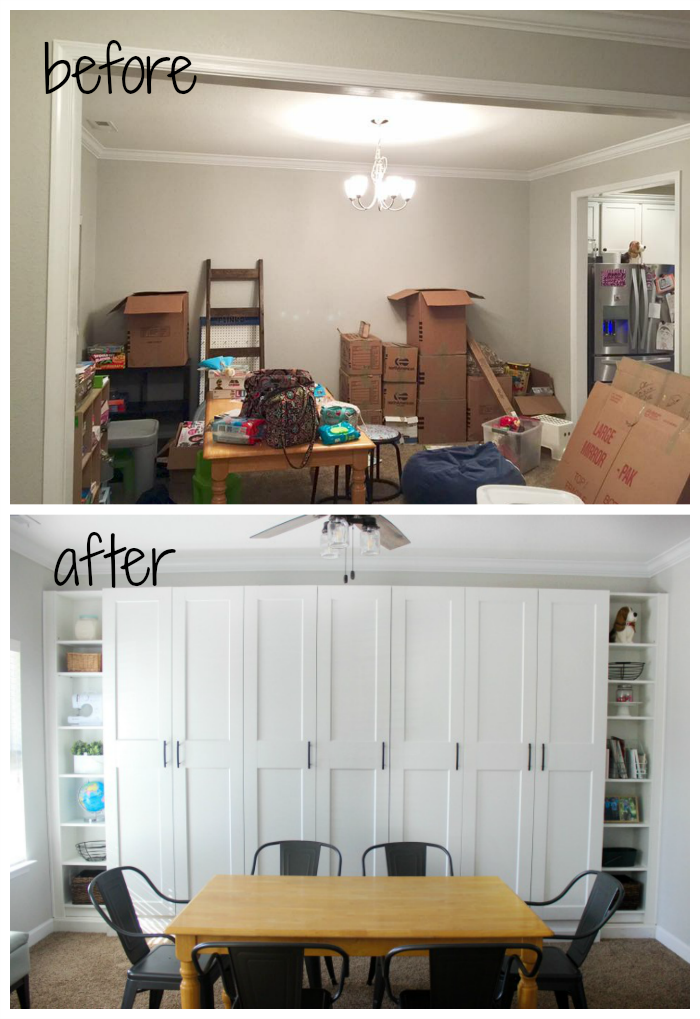 IKEA Built Ins: Wall of Storage