Finding horizontal striped curtains in the stores may very well be the hardest task out there. That is why I decided to make my own. Using pre-made curtain panels!
This post was originally shared in 2012. It's been 8 years, and I still have these curtain panels in our dining room. Different house, same curtains. They wash up well and are fabulous! You can now find a wider selection of horizontal striped curtains at the store, but I haven't seen any that I like as much as mine. Like my
vintage diner table and chairs?
I share the story behind them and
how I reupholstered them in this post.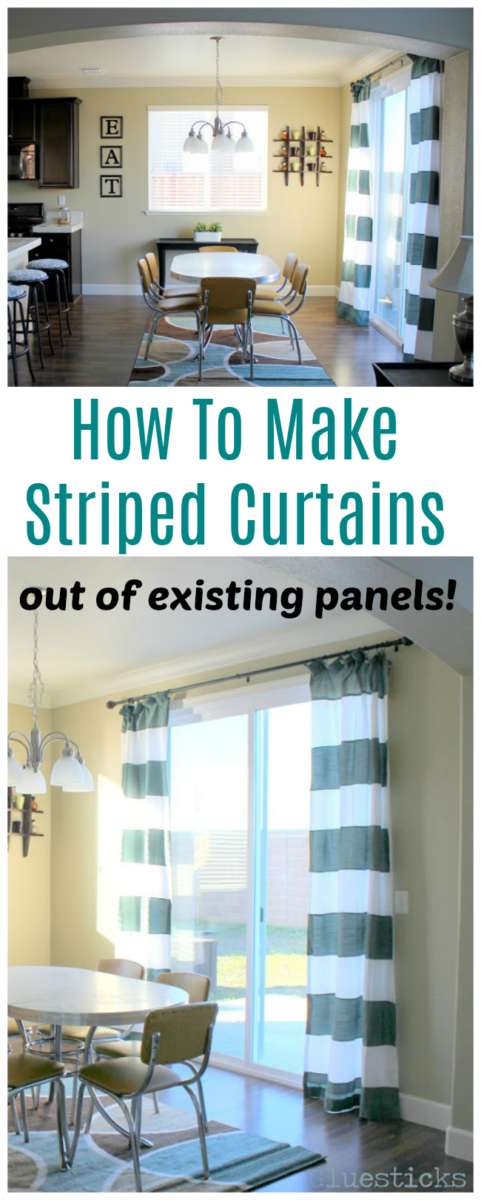 When I made my dining curtains I didn't plan on making a tutorial, so I didn't take any photos of the actual process. It was my first time making a pattern so bold, and honestly I wasn't sure if they would turn out. I've received many comments on them and so I thought I'd do a post and let you know a how about them.
At the time, finding striped curtains was next to impossible. I searched online, and wasn't willing to spend $200+ for a set. Now, it is a larger-than-normal sliding glass door, but it wasn't worth that much to me. That's when I decided to make them.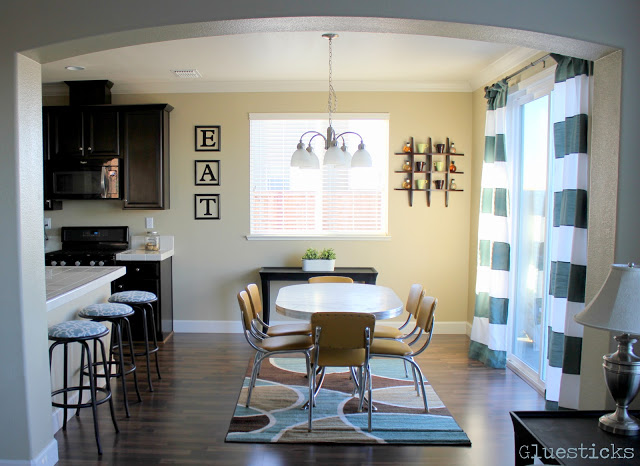 How to Make Striped Curtains
Our sliding door is taller than most so I had to make a few adjustments. I went to Target and bought the 
tallest white drape set
they had and 
3 blue curtain panels
as well. All panels were 95″.  I needed the finished curtains to be 104″ for my large sliding door, but since I was going to add stripes to them anyways I could lengthen them later.
5 More Home Decor Sewing Projects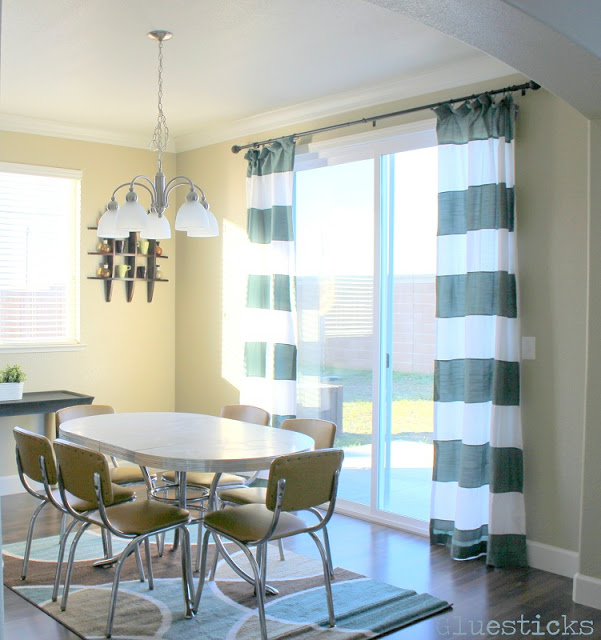 Here is How I Turned Solid Curtain Panels Into Striped Curtain Panels
I took the total length that I needed (104″) and divided it by the number of stripes I wanted in the end.
I figured I would need about 11 stripes about 10″ tall to account for seam allowances.
I left the white panels as is, and cut the blue panels into 10″ strips.
I ironed a narrow hem (1/4″) around each blue piece, then pinned it to the white drapes.
Since I needed to create longer drapes for my extra tall door, my first stripe was sewn to the top to extend the length of the panel.
The second drape was sewn directly on top of the white curtain panel about 9.5″ below the first one.
Then I top stitched all the way around.
I continued that process all the way down to the bottom. Simply sewing the blue panels on top of the pre-made white ones.
They are hung with curtain clips, pinched to the back every few inches to make them look pleated. Easy!
I am very happy with how they turned out. Custom and totally original with the slate blue/white combo, but I was still able to take some short cuts by using pre-made curtains.