This post was most recently updated on January 10th, 2023
Create a pet shop Valentine box complete with animal stickers, pom poms and washi tape windows! We even have printable pet shop Valentines to tie onto a small stuffed animal, package of animal crackers, or to tape an animal eraser on! So cute and unique for Valentine's Day! This post contains affiliate links.
If you like this darling Valentine's day craft you'll love these heart plushies that kids can sew on their own!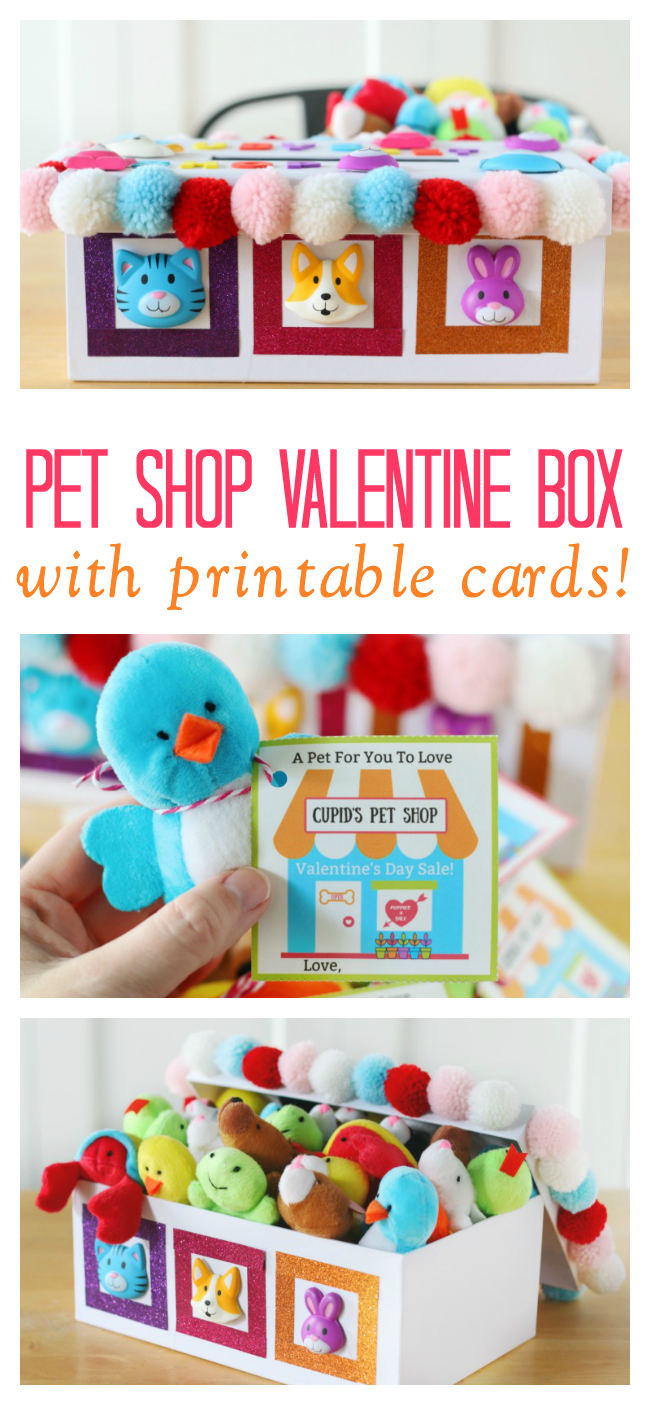 Watch our step by step video!
Ruby had a great time making her own pet shop! She chose her supplies, and I think they turned out darling! I wasn't sure about the pom poms when she started to glue them on, but now I'm not sure it would look like a pet shop without them! Ruby's Pet Shop is complete with cute corgi, guinea pig, bunny, and cat stickers, washi tape windows, and is filled to the brim with plush pets—all waiting for a new home!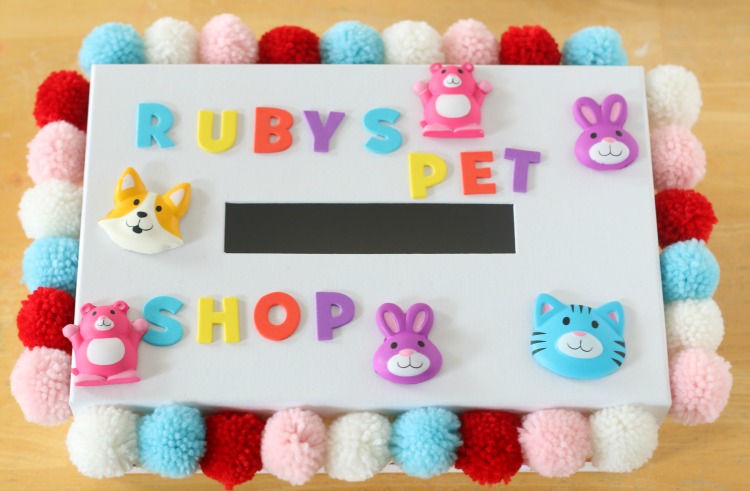 We saved a bit of time this year by ordering a $5 plain Valentine box from Oriental trading instead of painting or covering a shoe box. All we had to do was add stickers and pom poms!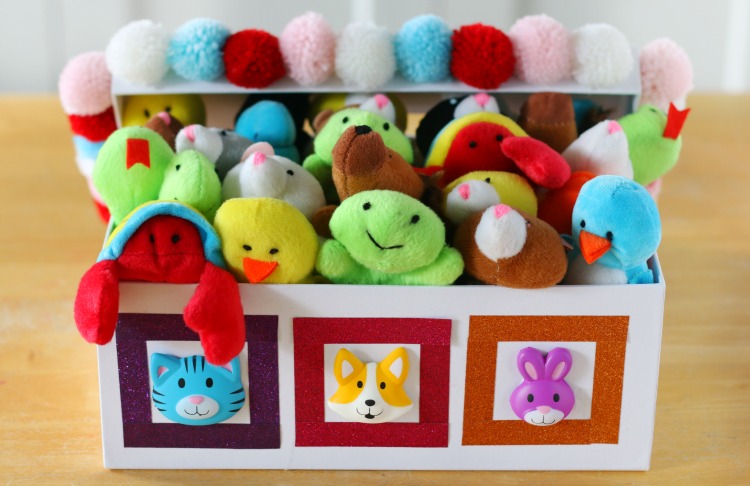 I also found these stuffed animal pets from Oriental Trading. They come in a package of 50, which is WAY TOO many for what we need for Ruby's class, but I couldn't pass them up and will save the extras to add to our Operation Christmas Child shoe boxes in November! You can also buy them on Amazon in a package of 30 (these are also more affordable than the ones from Oriental Trading).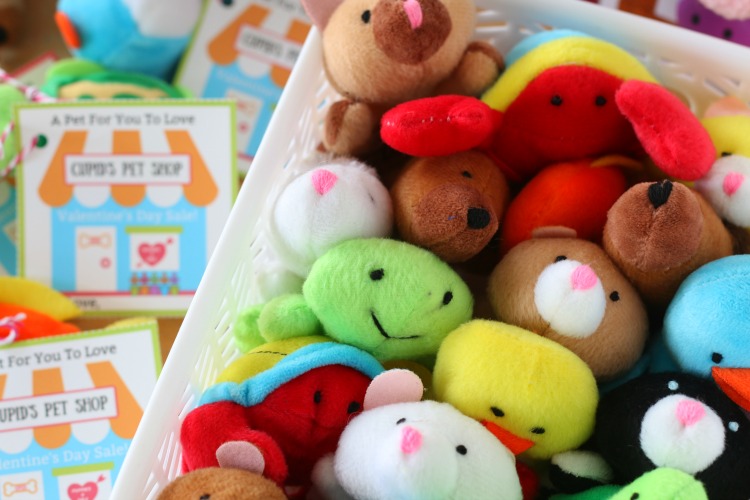 What I loved about this assortment of animals is that there were hardly any duplicates! You get everything from birds to goldfish, and hamsters to snakes.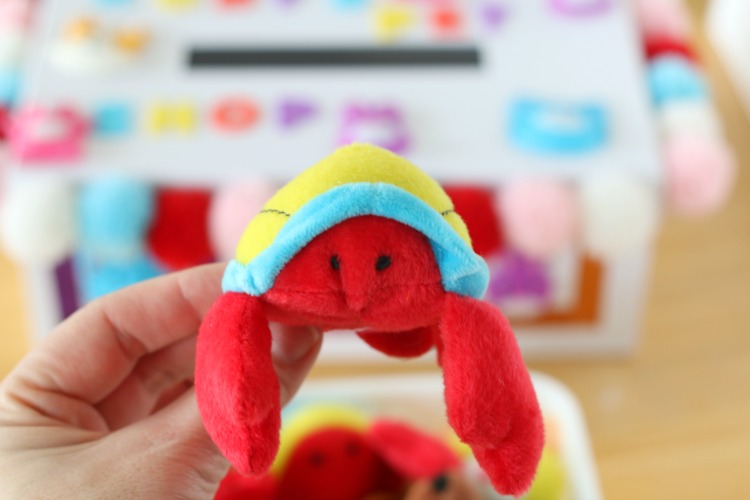 This assortment even comes with hermit crabs. Adorable.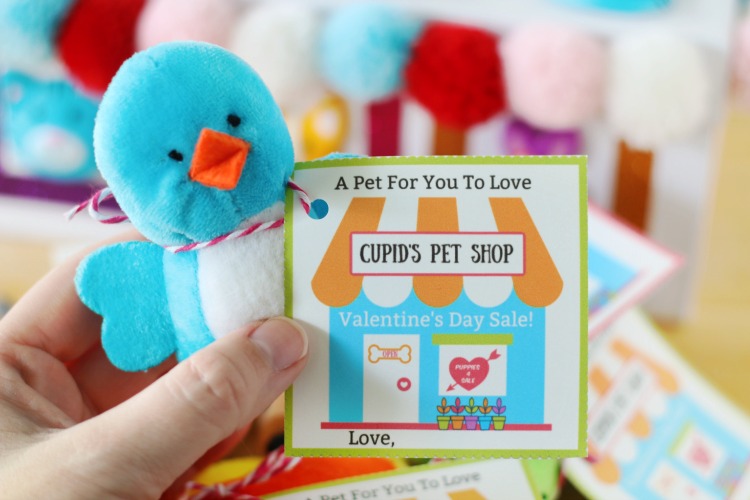 We created printable pet shop Valentine cards to attach to each animal. Ruby hasn't decided if she will let her friends choose their own animal, or if she will pass them out based on what she thinks her friends like best. I think it'd be fun to let them select their own Valentine pet!
You'll find two varieties of pet shop Valentines to download; one that you can customize and write in your name as the pet shop owner, and one that says "Cupid's Pet Shop".
This project can be as affordable as you want it to be.
Don't want to purchase a box? No problem! Use any sort of box that you already own.
Don't need 50 stuffed animals? Yeah, I get it. You can tape these darling pet erasers to the printable Valentines (you get 144 erasers for $5)! You can also get a 30 pack of mini stuffed animals on Amazon. These adorable pet stickers are another affordable option!
Don't have time to go out and buy washi tape? Use markers and crayons to decorate your box!
Our box is simply a guide that you can use as inspiration to make the PERFECT pet shop Valentine box!
How to Make a Pet Shop Valentine Box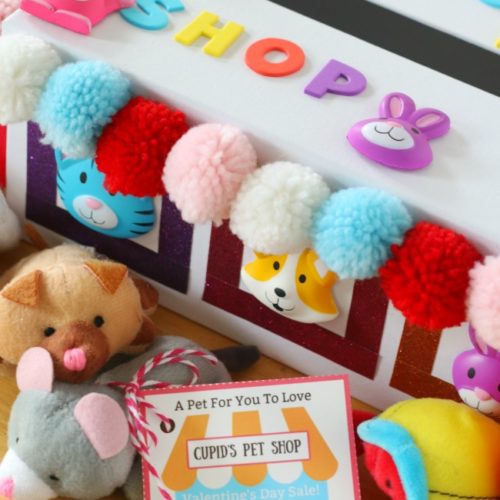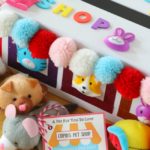 Print
Pet Shop Valentine Box
Create a pet shop Valentine box out of a blank box, animal stickers, and pom poms! You can even pass out darling mini stuffed animals with printable pet shop Valentine tags to your classmates!
Materials
box

shoe box or purchased Valentine box

washi tape

mini animal toys

stuffed animals, erasers, animal crackers, etc.
Instructions
Find a box (a shoe box covered in paper works great! or a store bought box) to use for your Valentine box. Cut a hole in the top if necessary. Ask an adult to help.

Decorate box with animal stickers.

Add washi tape windows by creating a square using 4 pieces of washi tape for each window.

Hot glue pom poms around the entire edge of shoe box.

Add foam stickers to say "______'s Pet Shop"

Tie a Valentine to a small animal toy, eraser, or package of animal crackers.
Notes
You don't need to use stuffed animals! You can use animal crackers, animal erasers, or anything animal themed. Just tape the item to the printable Valentine or tie it on with a string!
The stickers used in this box were a splurge. Here is a more budget friendly pet sticker option!