This post was most recently updated on August 21st, 2019

All natural pizza, with no preservatives, a big chopped salad, and Casper's Parmesan Popcorn. It's the perfect family Halloween Movie Night! Thank you Home Run Inn Pizza for sponsoring our delicious weekend dinner.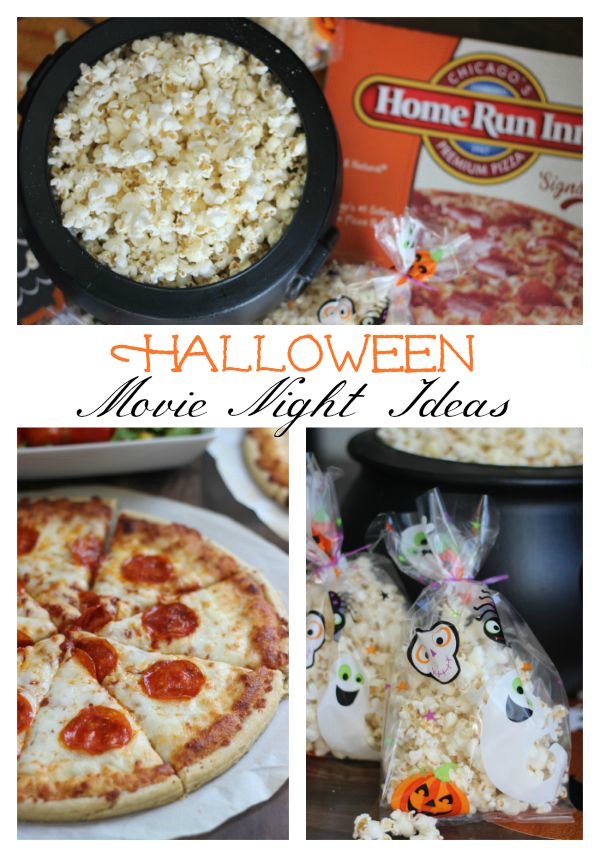 My kids love pizza and could eat it every single day without complaint. I love chopped salads and could eat them every single day without complaint. Our family Halloween movie night blended the best of both worlds and made everyone happy! Pizza+ veggies = the perfect dinner, right? We've been on a homemade pizza kick lately. I set out all of the ingredients and little pans with homemade pizza dough and set the kids loose.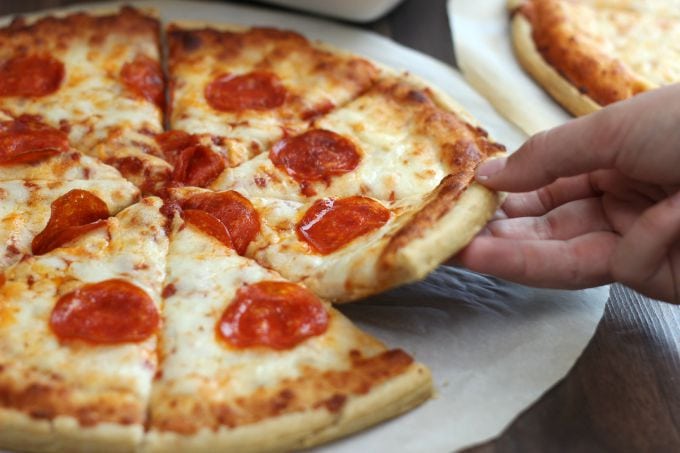 They have so much fun and end up with some pretty interesting pizzas. Like ones with mountains of mozzarella cheese! I didn't feel like pulling out all of the stops on last weekend so instead I pulled out a couple of frozen
Home Run Inn
pizzas and made a big chopped salad. The perfect accompaniment to the Halloween movie the kids had picked.
These pizzas would be great to serve on Halloween night before going trick or treating because they bake up quickly, are all natural, and are—well, PIZZA!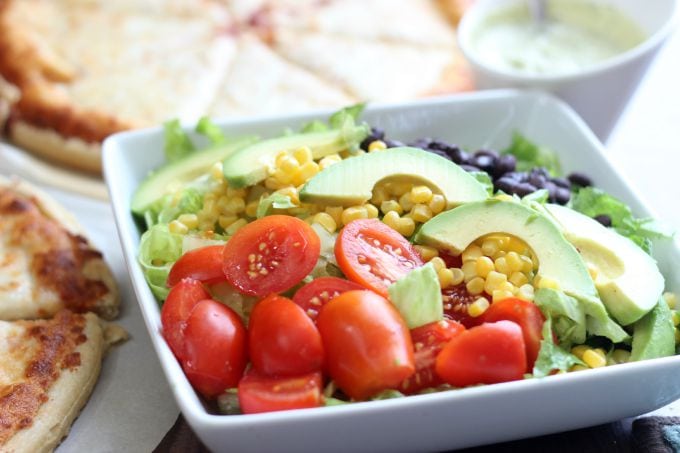 I like raiding my refrigerator for items to add to my chopped salad; black beans, corn, crisp romaine, cherry tomatoes from a friend's garden, and avocado. Drizzled in avocado ranch dressing (ranch, avocado, cilantro and lime juice mixed in a food processor and thinned down with a little milk—SO yummy!)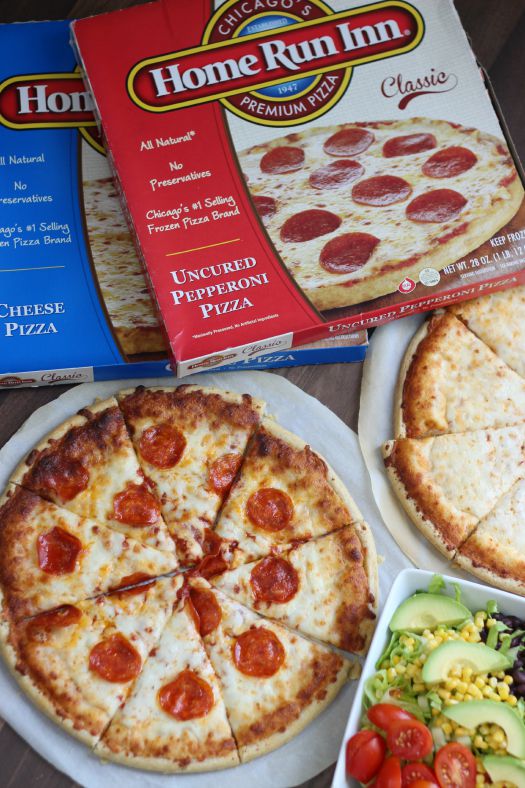 Home Run Inn
is Chicago's Authentic Thin Crust, with 8 pizzerias and frozen pizza in 35 states. I found these while shopping at Sprouts, here in California. HRI Pizza is all natural and contains no preservatives, nitrates or nitrites and is Chicago's #1 selling Frozen Pizza. We decided to give them a shot and received thumbs up all around from the kids.
One thing that I like to do to get a nice crisp crust is cook our pizzas on parchment paper, directly on the baking racks. We never use pizza pans except to pull the hot pizzas onto from the oven for cutting. The parchment paper keeps the baking racks clean and doesn't burn. This is a trick we learned from some friends years ago and we've been doing it ever since! We also cook our pizzas as high as our oven will go and watch them carefully. This is as close as we can get to a brick oven style pizza. Try it sometime, I think you'll be impressed too!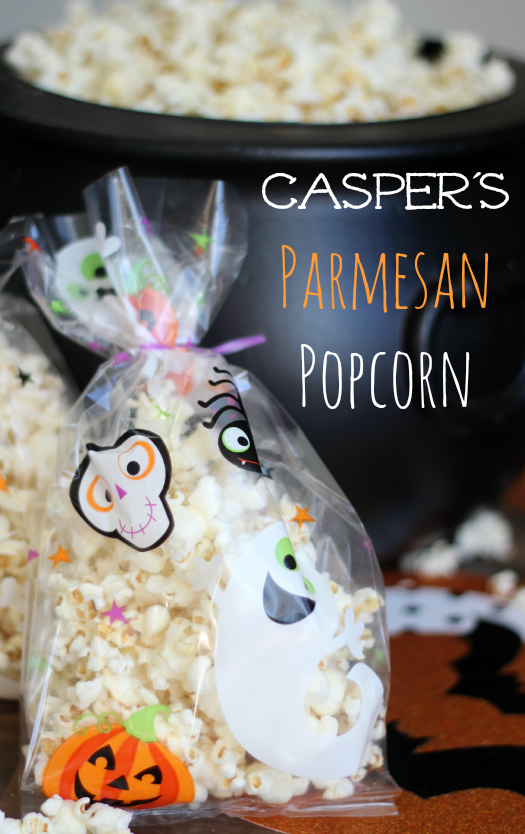 No movie night is complete without POPCORN and we love our popcorn over here. Parmesan popcorn has been one of my favorite ways to have popcorn for years and it is so easy to make. We called our Halloween version "Casper's Parmesan Popcorn". It's white, it's a Halloween movie, just go with it 🙂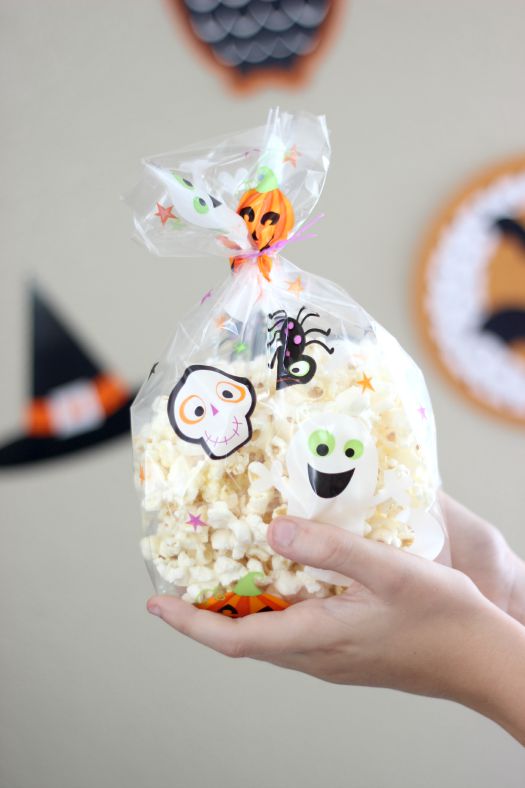 Casper's Parmesan Popcorn
gluesticksblog.com
1/2 c. popcorn kernels, popped (fills up a large bowl)
1/4. melted butter
1/4 c. grated Parmesan cheese
Drizzle melted butter over popped popcorn and sprinkle with Parmesan cheese.
Serves 4.
It went perfectly with our movie choice of the night, "Casper!"
So now that I've shared our simple Halloween movie night, what are your favorite family-friendly Halloween movies? We're always looking for fun seasonal shows to watch with the kids! What fun family traditions do you have this time of year? Thank you, Home Run Inn Pizza, for sponsoring our fun family evening.
You might also like…