Are you ready to make the SILLIEST not-so-spooky Halloween treats? These vampire Fang donuts come together in about 30 seconds. So easy and fun!
If you like ridiculous and silly Halloween foods like these donuts, you'll love our Halloween donut cups in 3 fun varieties! You can fill them with donut holes, mini donuts or popcorn!
These vampire donuts just make me laugh. We've made these a few times now and they are always such a hit!  We made a special trip to Krispy Kreme last year just do get a dozen glazed donuts to make them for the kids for a fun and super sugary breakfast and they thought they were hilarious! So it's now a Halloween tradition. And as an added bonus, they got a fun little toy to play with afterwards. We now have 4 sets of slobbery vampire fangs hanging around the house.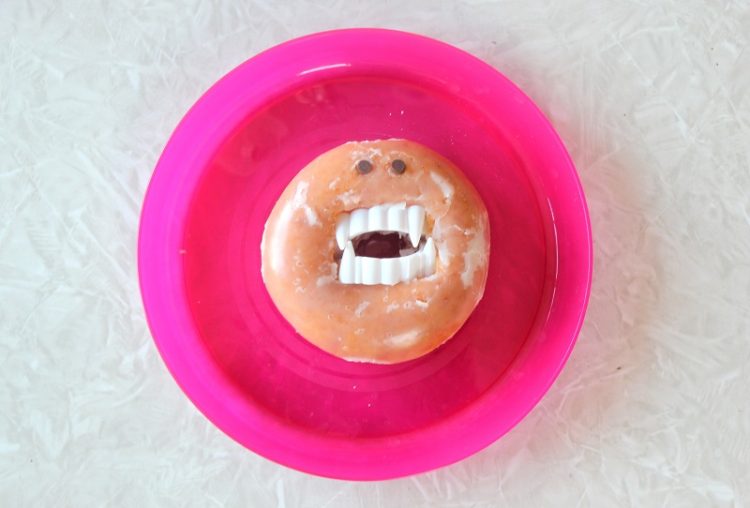 Vampire Fang Donuts
Assembly time: about 30 seconds
Ingredients:
donut
vampire fangs
2 mini chocolate chips
Instructions: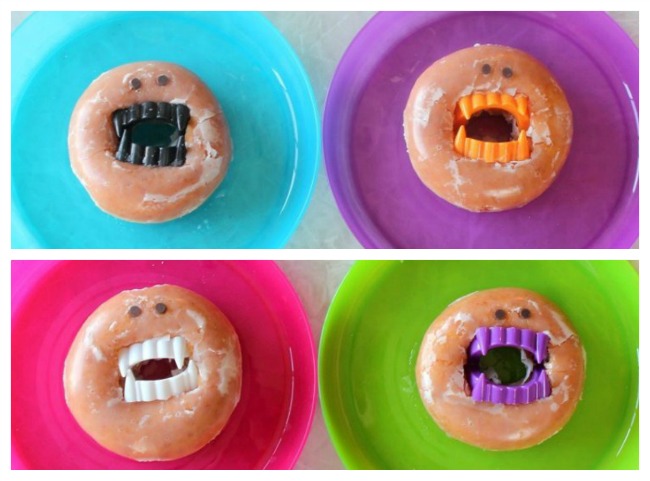 Place a set of vampire fangs into the center of each glazed donut.
Press chocolate chips into the donut for the eyes.
The eyes are mini chocolate chips, but I've seen these little guys all over the web using m&ms, frosting, or any number of small items! Just use what you have in your cupboard. How fun would these be for a class party, Halloween party at home, or a lunch box treat?
These donuts are best eaten the first day.
tips for Assembling the Donuts And A Healthier Alternative
Tip #1: If you are using day old donuts, just warm them up for 6-8 seconds to soften the glaze. The glazed donuts at Walmart are a great deal and work perfectly for these as well.
Tip #2: Push the chocolate chips into the donuts, pointy side down.
Tip #3: If you are using Krispy Kreme donuts, they are best when used the day they are made. Otherwise the glaze will crack when you add the fangs.
Tip #4: For a healthier alternative, place the vampire fangs into a bagel!
The fangs were leftovers from when we made these hilarious little vampire pumpkins we made a couple of years ago!
If you liked these little vampire fang donuts you might also like these Halloween activities!
Halloween Tic Tac Toe: A darling Halloween tic tac toe game, perfect for a classroom or kids costume party! It comes together easily using washi tape and craft paint. Store the pieces in a drawstring bag in between uses.
Mummy Rice Krispies Pops: If cake pops intimidate you, don't fret! Rice Krispies pops are SO much quicker and easier and you can customize them a million ways. These mummy pops take about 10 minutes to make start to finish and are perfect for packaging up in Halloween treat bags!
Halloween Bark: A not-so-spooky Halloween treat. Kids love helping in the kitchen and this Oreo Halloween bark is the perfect recipe to make with them! Make a batch this Halloween!
Here are even more fun Halloween treat ideas! 
This post is an oldie, but goodie, originally posted in 2013.
Welcome! I'm Brandy, mother to 5 darling kiddos and a cute black lab named Toby. My husband is in the Coast Guard so we've lived all over the place, turning each house into a home. I love baking, sewing, making cute things with my kids, and sharing what I've learned with all of you!