This post was most recently updated on May 18th, 2020
Make a sugar cookie pizza for a birthday! Sugar cookie with cheese and pepperoni made from frosting and fruit rolls! This cookie looks just like a pizza!
This pizza cookie is such a fun one for kids to make.  Looking for more cake ideas? I've created an entire post with
easy cakes that kids can make!
This post was originally shared in 2012.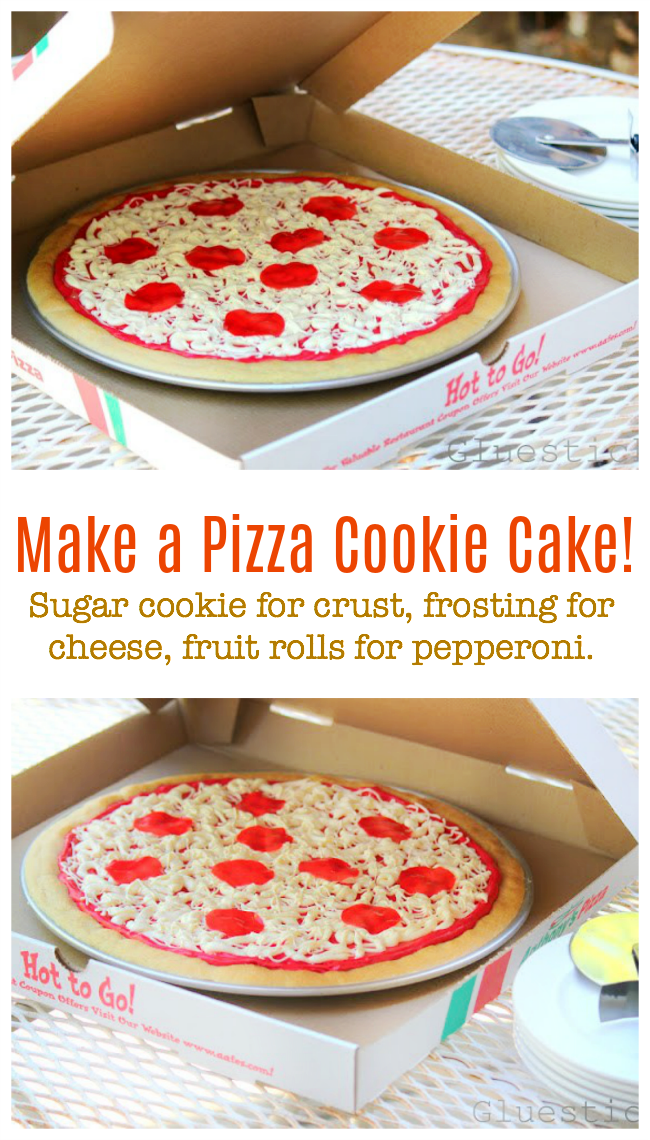 Another birthday has come and gone for Dallin! It was a great day! And to make it extra special, I turned his FAVORITE food into a sweet treat. I made a HUGE sugar cookie pizza cake, pizza cookie, call it what you want—he LOVED it! You could easily use a yellow cake mix and round pan and decorate it the same for a deep dish looking pizza cake. You could even making mini sugar cookie pizzas (individual sized) like our red white and blue
fruit pizzas.
Pepperoni Pizza Cookie (Cake)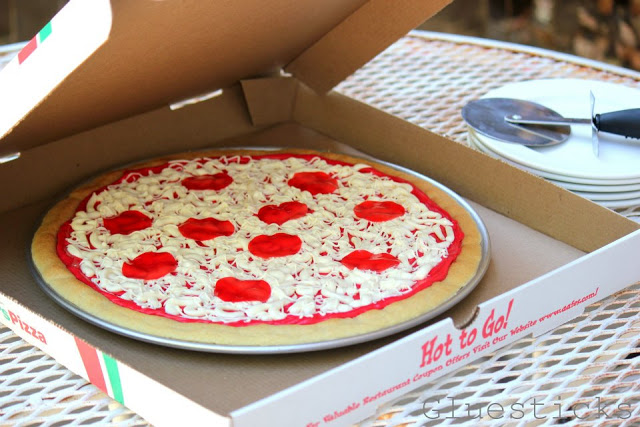 He had been eyeing the brand new pizza box that we picked up at the parlor the other day and couldn't figure out why I would stop by there and ask to buy a box. After a week of wondering, it all made sense and he thought it was pretty awesome.
How to Make a Sugar Cookie Pizza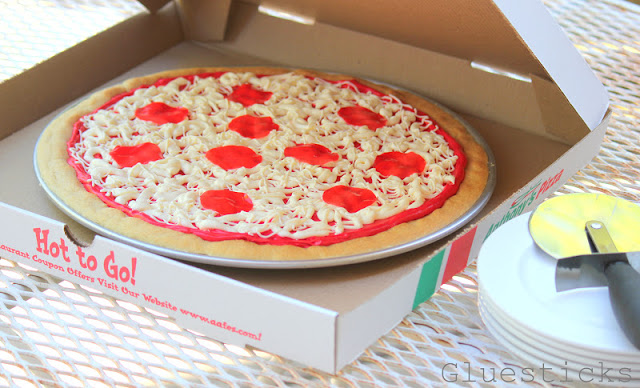 Sugar Cookie Dough
Press sugar cookie dough across a 14″ pizza pan.  Poke holes across the dough with a fork to prevent bubbling while baking. You can use store bought dough or use your favorite homemade cookie dough recipe. Our
sugar cookie recipe
is simply the best and makes enough dough to make a giant pizza sized cookie and extra dough to make a few regular sized cookies.
Bake the cookie at 400 degrees for about 15 minutes, until the edges start to look golden. Soft in the center, set up on the edges.
Sauce and Cheese
Spread red frosting across the cooled cookie for the sauce and used white frosting for the cheese. To make the frosting look like cheese, fill a frosting or Ziploc bag with white frosting and cut the tip off using a pair of scissors. Only cut the tip a TINY bit. This will look like finely shredded cheese. After you have drizzled the finely shredded cheese across the cake, cut the tip a little more and go over the cake again. This will create the look of shredded cheese in different stages of melting. Just drizzle and drop the icing all over the place randomly.
Pepperoni
The pepperoni? Fruit roll-ups! You will need 5 of them to cut out enough circles for pepperoni. Some of ours didn't turn out, and stuck to the wax paper too much so it's a good idea to make extra circles of roll-ups just in case.