Make a pizza cookie for a birthday! Sugar cookie (or yellow cake) base with cheese and pepperoni made from frosting and fruit rolls!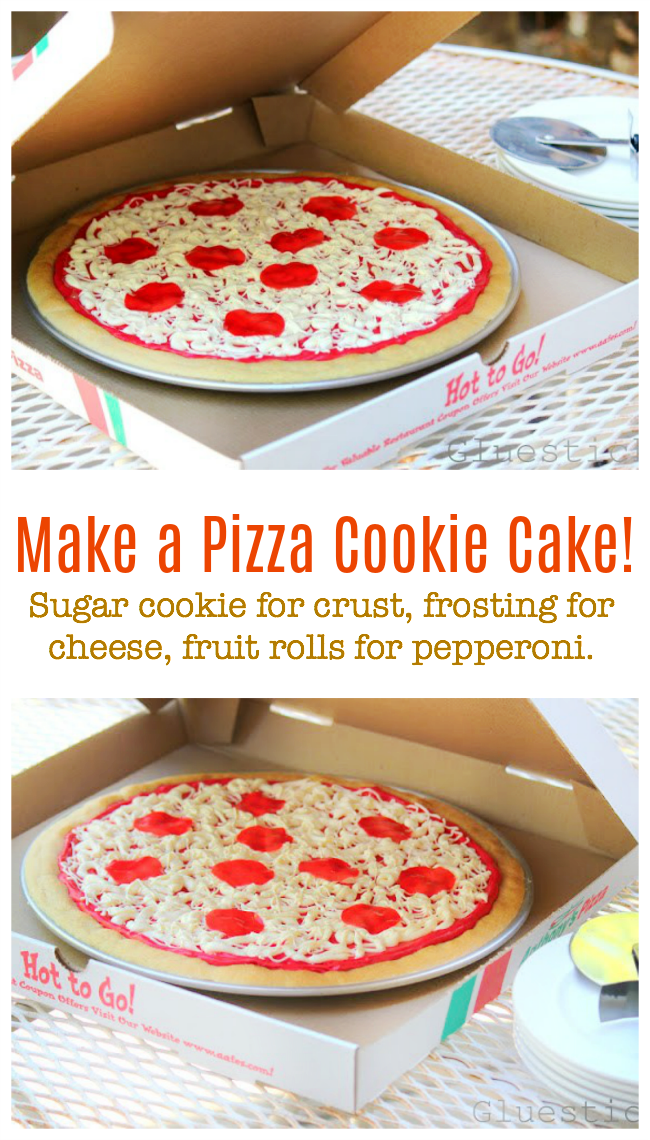 Another birthday has come and gone for Dallin! It was a great day! And to make it extra special, I turned his FAVORITE food into a sweet treat. Since all of my cake decorating supplies are in storage, I had to work with what I had with us here in lodging. And I had a pizza pan. So instead of baking a cake, I just made a HUGE sugar cookie for the crust! Pizza cake, pizza cookie, call it what you want—he LOVED it! You could easily use a yellow cake mix and round pan and decorate it the same for a deep dish looking pizza cake.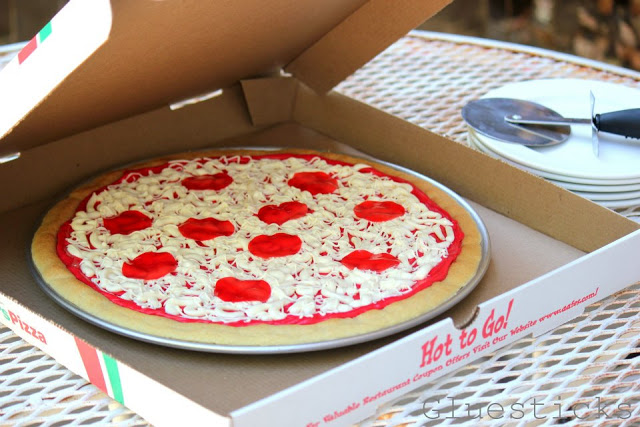 He had been eyeing the brand new pizza box that we picked up at the parlor the other day and couldn't figure out why I would stop by there and ask to buy a box. After a week of wondering, it all made sense and he thought it was pretty awesome.
How to Make a Pizza Cake or Cookie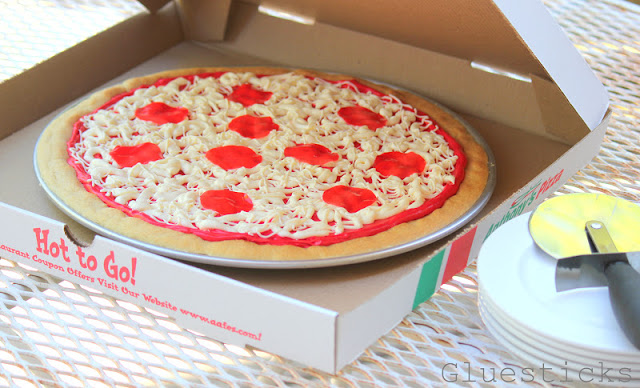 Here's how I did it!
I made a 14″ sugar cookie by pressing the dough onto the pan and poking holes in it with a fork to prevent bubbling. It took an entire batch of
cookie dough
. I then baked it at 400 degrees for about 15 minutes. It had just started to look golden on the edges and looked like it was set. Soft in the center, set up on the edges.
I spread red frosting across the cooled cookie for the sauce and used white frosting for the cheese. Again, I didn't have my supplies like frosting bags, so I used Ziploc baggies and filled 2 of them with white icing. Then I trimmed off one corner from each baggie. 1 corner was a VERY tiny hole and the other was a little bigger. That way it would look like shredded cheese in different stages of being melted. I drizzled and dropped the icing all over the place randomly.
The pepperoni? Fruit roll-ups! It took 5 of them (strawberry flavored) to cut out enough circles. Some of them didn't turn out and stuck to the wax paper too much so it's a good idea to make extra circles of roll-ups just in case.
That's it! I think it is one of the easier birthday treats I've made and super fun too!
You might also like…