Here is a collection of easy cakes that kids can make. If you are looking for a fun afternoon activity for your child or an idea for the next Blue & Gold Banquet you've come to the right place! This post contains an affiliate link.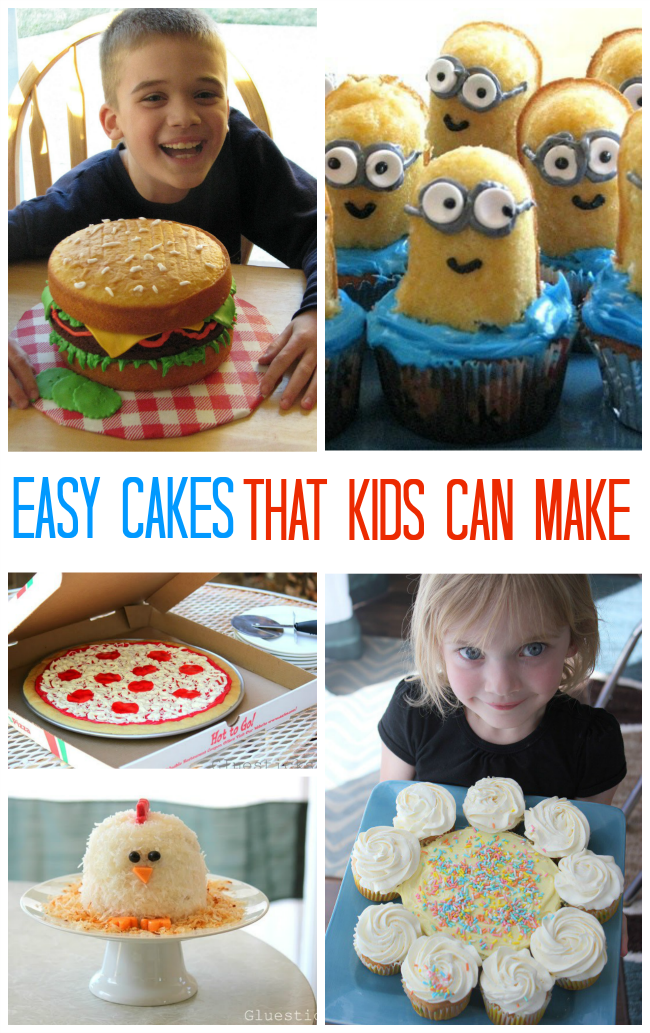 If you don't see instructions listed below for the cake you want to make, just click the link in the description and it will take you to that post!
Easy Cakes for Kids:Â Hamburger Cake
This cake is just classic. To make it simple we used 3 round cakes. 2 yellow and 1 devil's food. There is no need to frost them since they already look like a bun and burger pattie!
 We started with the bottom bun and added some frosting in the center to hold the cake together. Then using a leaf tip, Dallin added lettuce. Just squirt and pull, squirt and pull….that is what I told him to do.
Then he stacked the chocolate cake on top of that and added more white frosting. Using a round tip, he piped ketchup on the edges. We used colored marshmallow fondant to make the pickles and cheese. Dallin only likes pickles, lettuce, and cheese (if it is really melted) on his burgers so he did not want to make onions or tomatoes for his burger.
The pickles were cut out of a round cookie cutter and he used a toothpick to make the seed indentations. The cheese was rolled out thin and then cut into a square shape using a pizza cutter. Then we cut the square in half on the diagonal to create two pieces. All of the fixings were draped over the edges before adding the top bun.
Then he piped on sesame seeds with a small round tip and white frosting.
He was pretty darn proud of his cake!
Easy Cakes for Kids:Â Macaroni & Cheese Cake
This little cake turned out awesome! We had absolutely nothing to go by, as I had never seen a macaroni and cheese cake before, but it is Aaron's favorite food so we attempted it and I think it was a success!
Using orange fondant, we rolled out ropes and then he cut the ropes into little sections with a butter knife and curved them to create the macaroni.
We baked 1 cake mix in the pampered chef batter bowl @ 325 degrees for 1 hour and 15 minutes to create the bowl. Then I scooped out the top 2″ to make an area for the macaroni to fit inside.
He covered it with a light coat of buttercream frosting and then added the fondant.
Yep, HE did the fondant! I rolled it out for him and he draped it and pressed it around the edges. It didn't need to be perfect, but I think it turned out perfect. He just pressed and folded, then we cut off the excess around the bottom. The bowl was finished.
Another cute cake!
Easy Cakes for Kids: Bunny Cake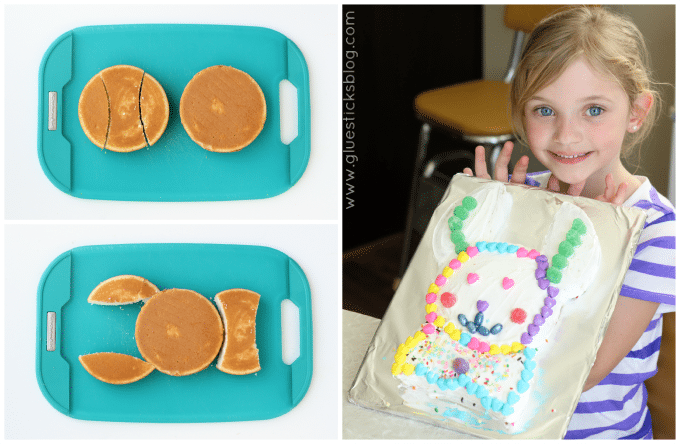 Click here to go to our bunny cake blog post! Such a simple cake to make using only 2 round cakes. No special cake pan required.
Easy Cakes for Kids:Â Mini Rainbow Cake
Aaron made this darling cake for his preschool teacher last year. We baked up 2 small round pans, stacked and frosted them, and then used skittles to create the rainbow with marshmallow clouds.
He later found out that his teacher's favorite candy was indeed, Skittles, and was pretty excited about that.
This sweet simple cake was one of my all time favorites.
Easy Cakes for Kids:Â Pepperoni Pizza Cake
Here is another favorite. I made this for Dallin's birthday, but it is so simple that kids would have a blast creating their own pizza cookie/cake and figuring out creative ways to make the toppings!
I spread red frosting across the cooled cookie for the sauce and used white frosting for the cheese. Again, I didn't have my supplies like frosting bags, so I used ziploc baggies and filled 2 of them with white icing. Then I trimmed off one corner from each baggie. 1 corner was a VERY tiny hole and the other was a little bigger. That way it would look like shredded cheese in different stages of being melted. I drizzled and dropped the icing all over the place randomly.
Easy Cakes for Kids:Â Puppy Paw Cupcakes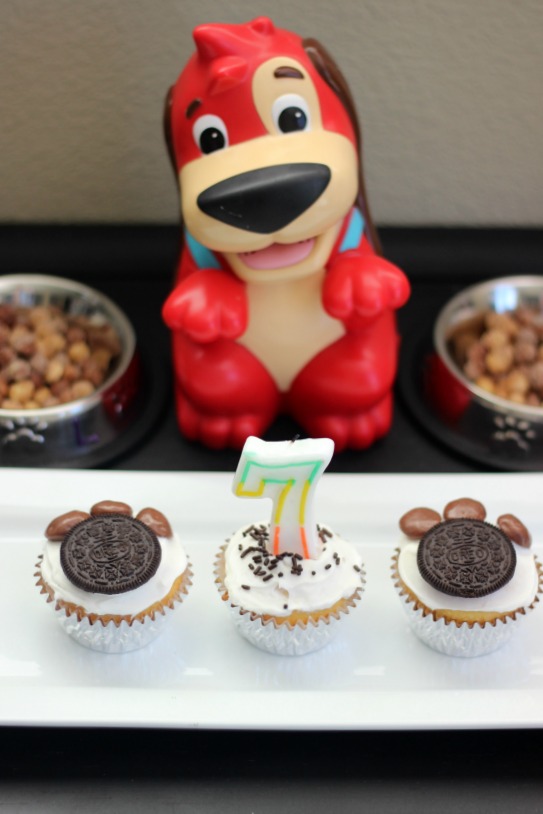 An Oreo and Junior Mints. It doesn't get more simple for these puppy paw cupcakes! Ruby made these for Kaylee's 7th birthday. View the full party post here.Â
It was a great cake and a great night at Cub Scouts. He earned his Bear! Way to go Dallin!
Easy Cakes for Kids:Â Easy Flower Cake
Easy Cakes for Kids:Â Teddy Bear Cake
******
It is so fun to see how proud the kids get when they create and use their skills. I just have to remember that it doesn't matter if it is done exactly how I would have made it. It is their creation, their vision, and I need to just step back and offer suggestions here and there, and snap pictures 🙂
******
 (I use all shortening and add butter flavoring. Shortening handles temperatures better than butter, but butter tasted better).