Feminine, lightweight, and beautiful. These are the best nightgown patterns for girls for winter or summer. Includes cotton, flannel and knit options.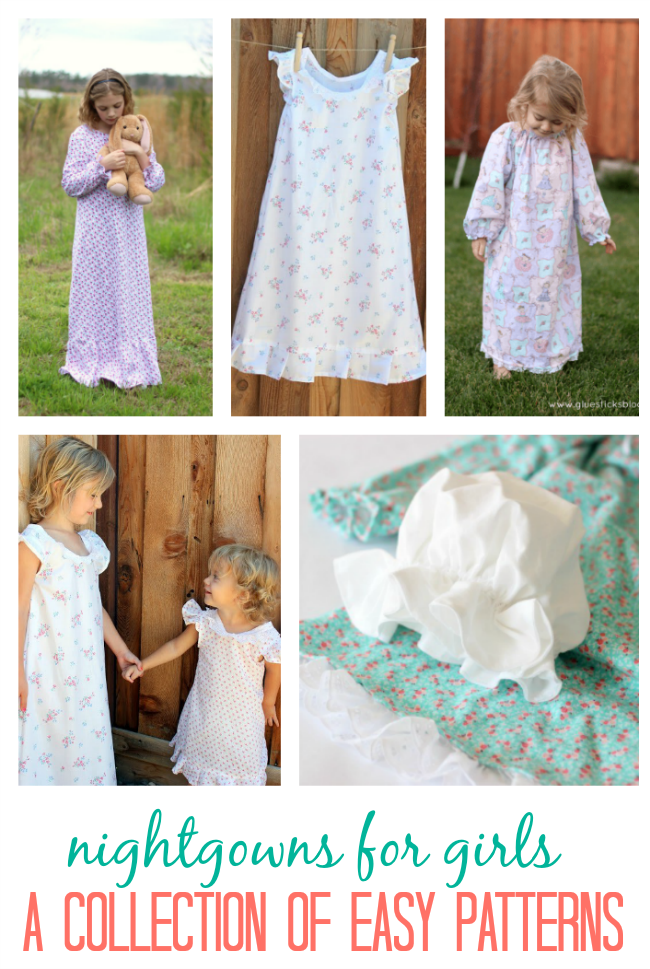 Both of my little girls love to wear dresses….every single day. I love that they want to be feminine and pretty. Last year Kaylee and I went to the Disney store and picked out a darling Rapunzel night gown. She loves it and has worn it a couple of times a week since, but I have noticed a trend over the years. Where did all of the simple nightgowns for girls go? The ones without characters all over them?
Nightgown Sewing Patterns for Girls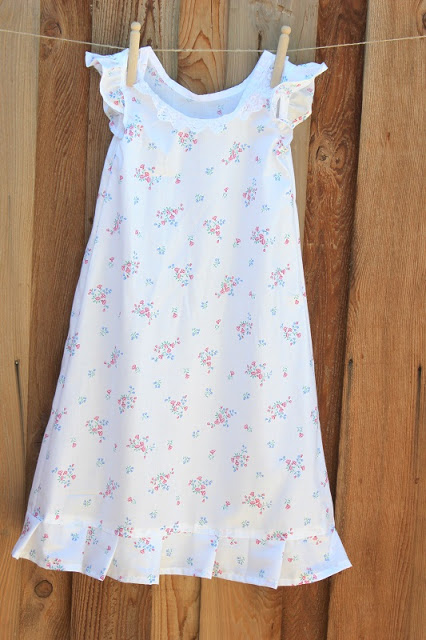 (Butterick. #6659)
UPDATE: Butterick. #6659 appears to be out of print. The rest of the nightgown patterns in this post are still available. 
Ruffle Nightgown Pattern
What happened to the ones we had as little girls?  Although, looking back, I think mine may have been made by my Grandma. Maybe that's why they didn't have Rainbow Bright or Carebears on them…although I'm sure I would have loved them just the same.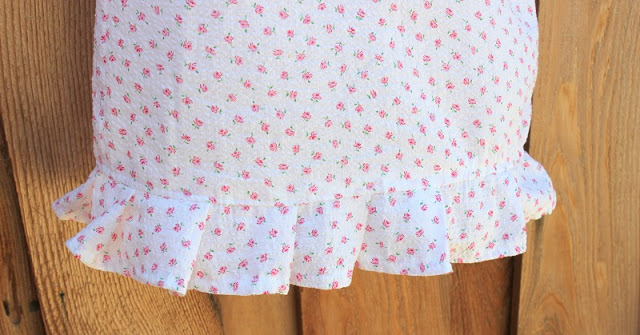 I wanted to make my girls little nightgowns that they can twirl around in and feel like princesses while they sleep. I used light cotton with the tiniest flower buds. Of course I added a ruffle to the bottom of each one. Worth the extra 10 minutes.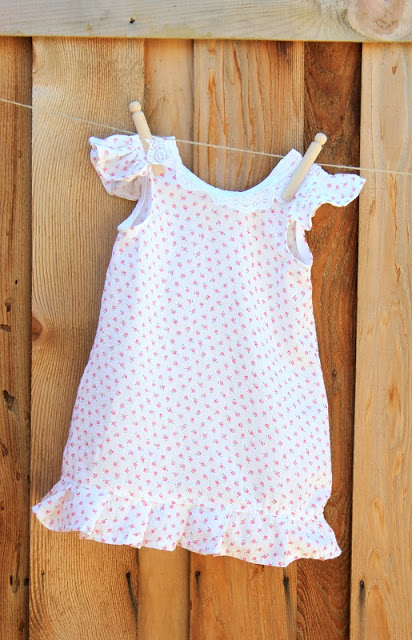 The hardest part was explaining to the girls that these were jammies. They wore them the entire day after I finished them. Sun up till sundown and then to bed that night.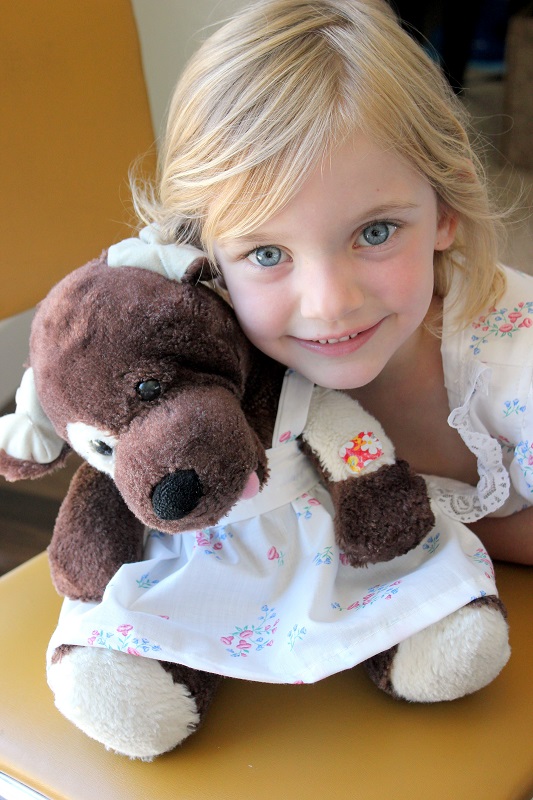 We decided that Fluffy needed one too. My little Kaylee, who is almost 5, sewed up this little dress for her. It was our first real sewing project together and it made my heart happy! She had so much fun and kept letting me know that she could do it all by herself. She sat on my lap and fed the fabric into the machine while I controlled the foot pedal. She did a great job and I can't wait to help her sew more projects as she gets older.
We did not use a pattern for Fluffy's little dress, but you can find the pattern I used for my girl's nightgowns from Butterick. #6659.  I bought it years ago for $.99 on sale at Joanns. Each nightgown took about a little over an hour to make.
1 Hour Nightgown Pattern

This pattern is one of my absolute favorite nightgown sewing patterns for girls and comes together in about an hour. I share a couple different variations that I've made over the years in this post. It's called a pattern, but is more like a tutorial because it only has one pattern piece to cut out! So easy.
Knit Nightgown Pattern for Girls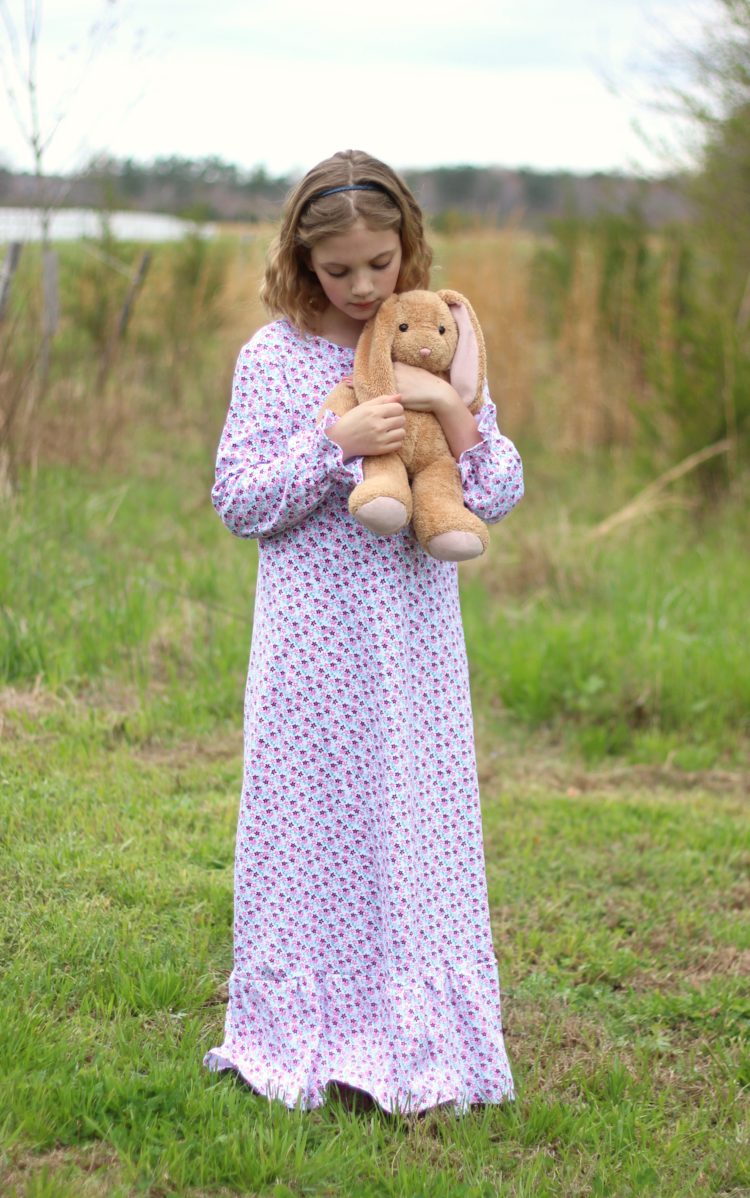 Another versatile pattern with a sleeveless option and varying lengths.
Flannel Nightgown With Night Cap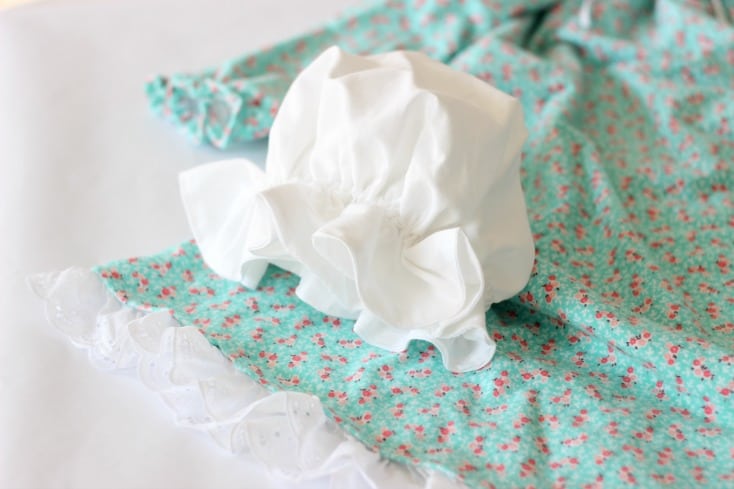 I used the same pattern as the 1 hour nightgown above to make each of my girls a Little House on the Prairie inspired nightgown and cap for Christmas. They LOVE their nightgowns, but especially the night caps!
Pillowcase Nightgown Tutorial
If you are looking for a great beginner project check out this pillowcase nightgown tutorial from
She Holds Dearly.
I just love the vintage pillowcases that she used.