These printable job cards are an easy way for kids to complete simple household tasks like tidying up the bathroom, kitchen, or their bedroom. Everything they need to do is on a laminated card.
You might also like our printable daily bingo cards for kids. Complete a bingo before having free time or using electronics for the day!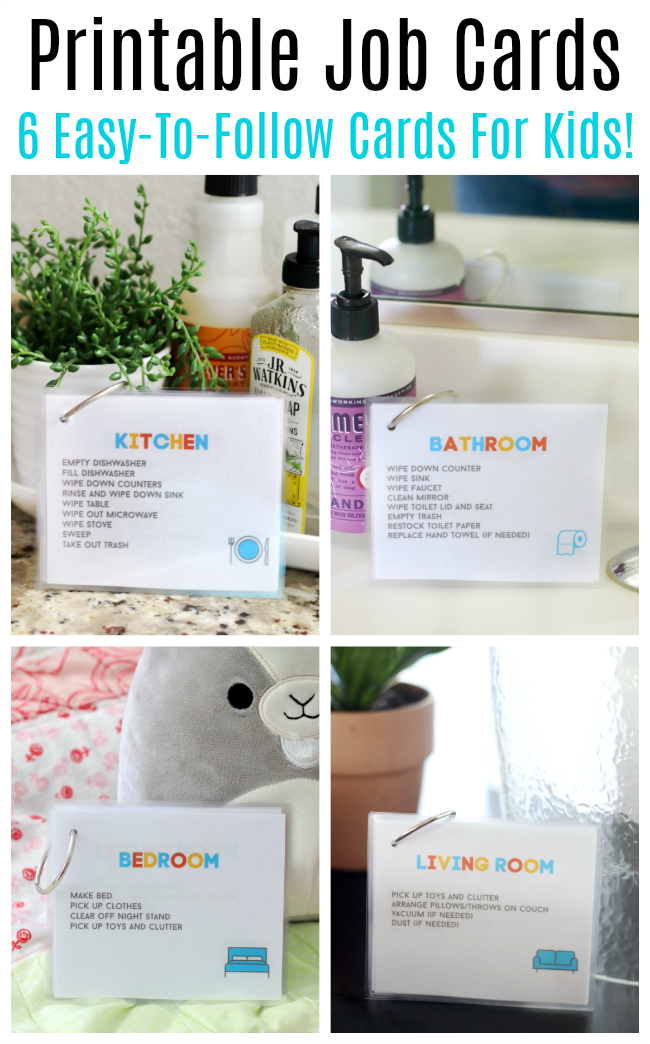 I don't know about you, but I feel like I am constantly micromanaging my children. Especially now that they are home for the rest of the school year because of Covid-19. Not only am I reminding them do finish their daily tasks, but also school work and practicing their musical instruments for their respective band classes. On top of this, we aren't supposed to leave the house to go on fun outings to break things up. For the most part, I'm really enjoying having them home and having more time as a family, but there are also times that I want to pull my hair out.
Times when I don't feel like I should have to repeat steps over and over or micromanage them. Cue: job cards.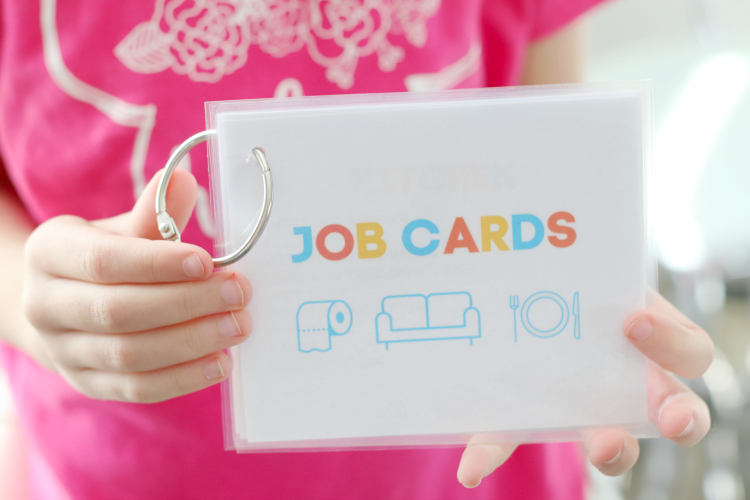 I got this idea from my sister who created lists for each room in her home. If I remember correctly, she used clip boards for hers.
I created a ring of cards, one card for each area of the house. The cards list each task that needs to be completed in that specific room. I'm a big list maker and am so much more productive when I can see everything that I need to do right in front of me. This is why my day planners and printable calendar pages are my best friends.
It can be overwhelming walking into the kitchen after dinner and seeing a sink full of dishes, food on the counter and pots on the stove. These easy to follow cards help kids work their way through a room one small step at a time.
None of these tasks involve deep cleaning, and the bathroom and bedroom referred to on the cards are the kids bathroom and their own bedrooms.
6 Easy-to-Follow Job Cards for Kids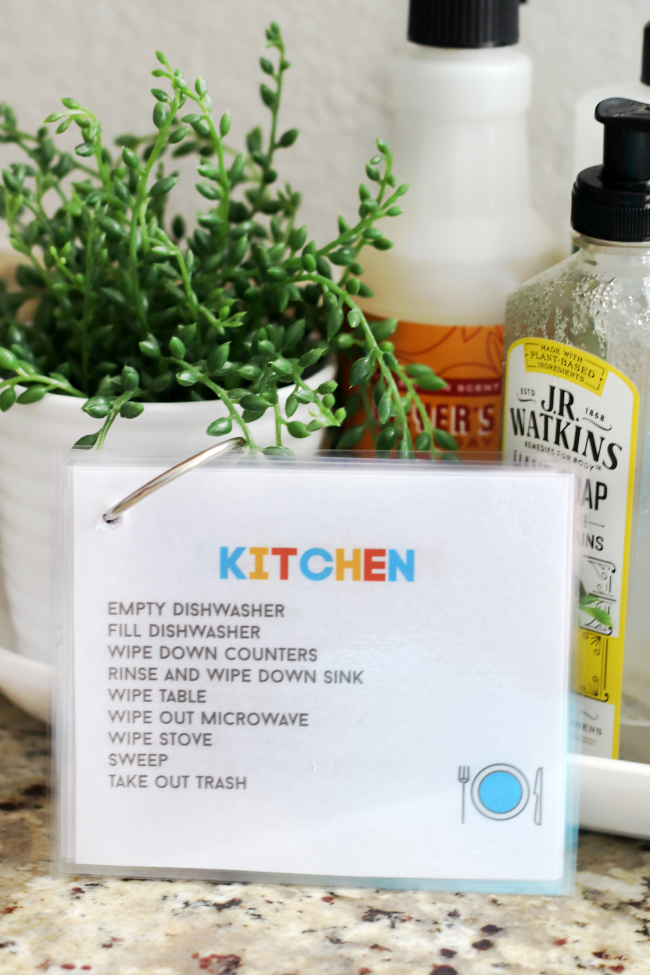 Kitchen Job Card for Kids
Empty Dishwasher
Fill Dishwasher
Wipe Down Counters
Rinse and Wipe Down Sink
Wipe Table
Wipe Out Microwave
Wipe Stove
Sweep
Take Out Trash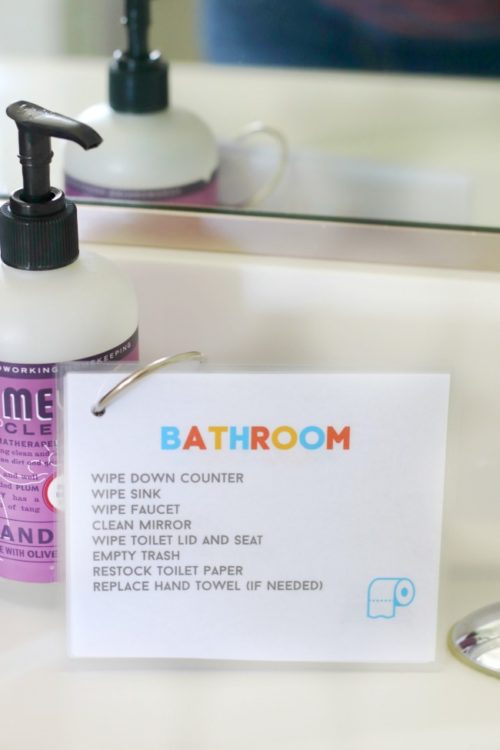 Bathroom Job Card
Wipe Down Counter
Wipe Sink
Wipe Faucet
Clean Mirror
Wipe Toilet Lid and Seat
Empty Trash
Restock Toilet Paper
Replace Hand Towel (if needed)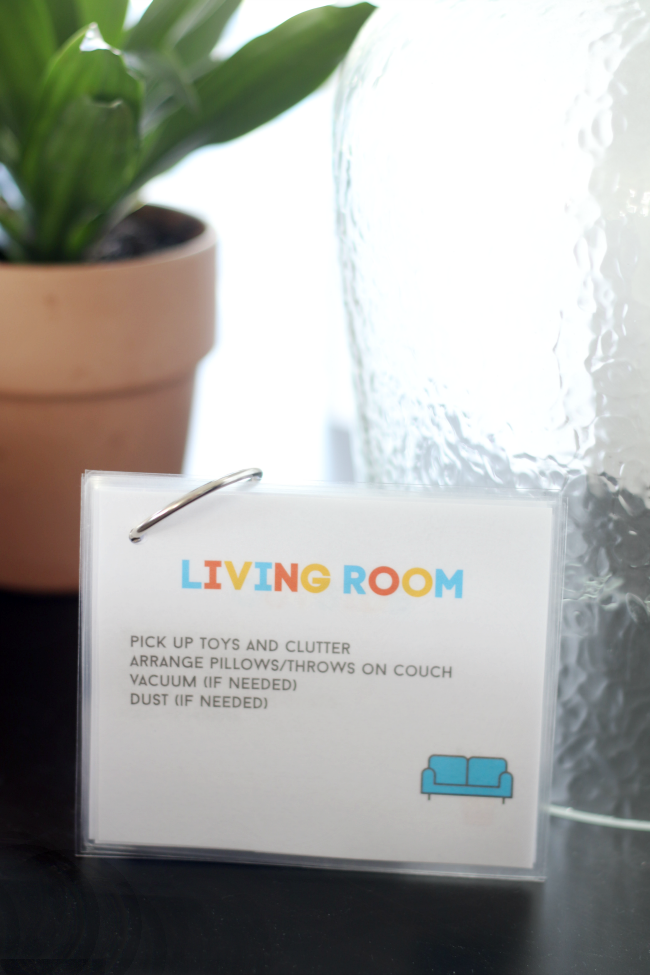 Living Room Job Card for Kids
Pick Up Toys and Clutter
Arrange Pillows and Throws on Couch
Vacuum (if needed)
Dust (if needed)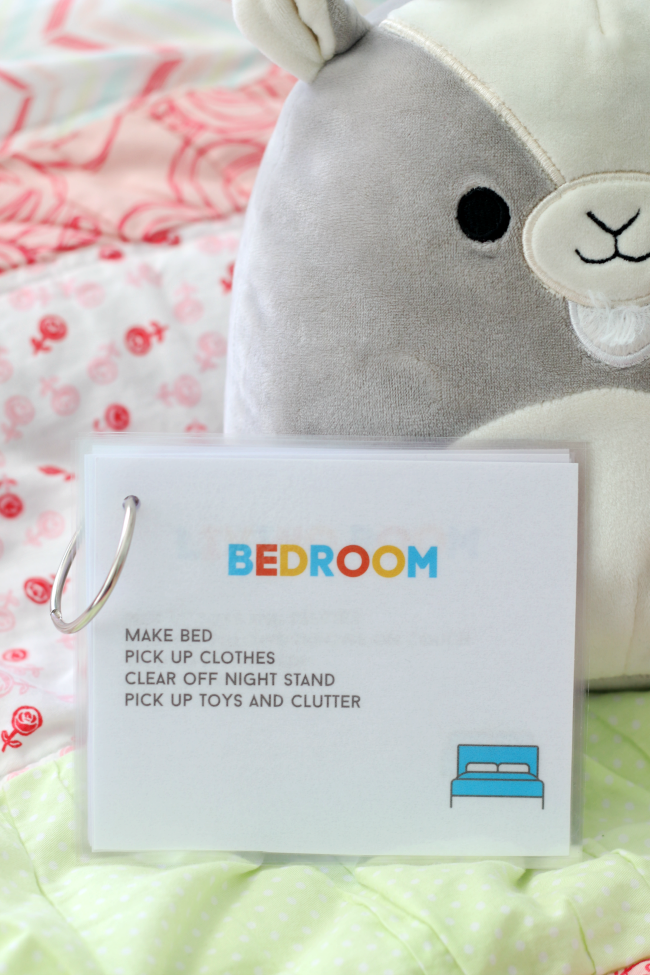 Bedroom Job Card
Make Bed
Pick Up Clothes
Clear Off Night Stand
Pick Up Toys and Clutter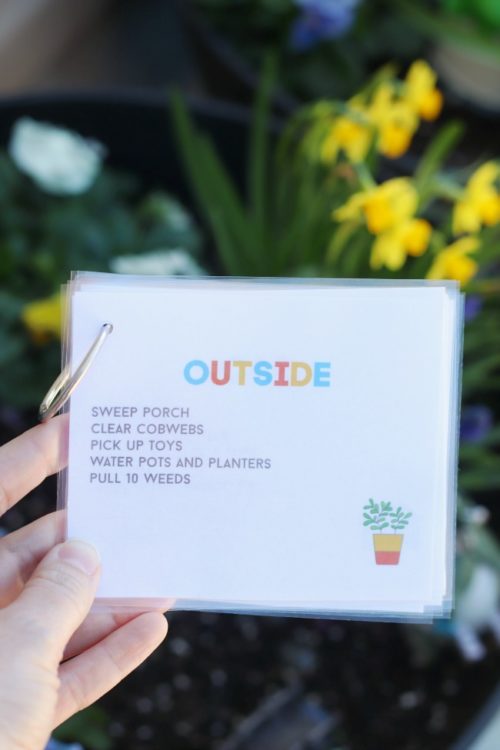 Outside Job Card for Kids
Sweep Porch
Clear Cobwebs
Pick Up Toys
Water Pots and Planters
Pull 10 Weeds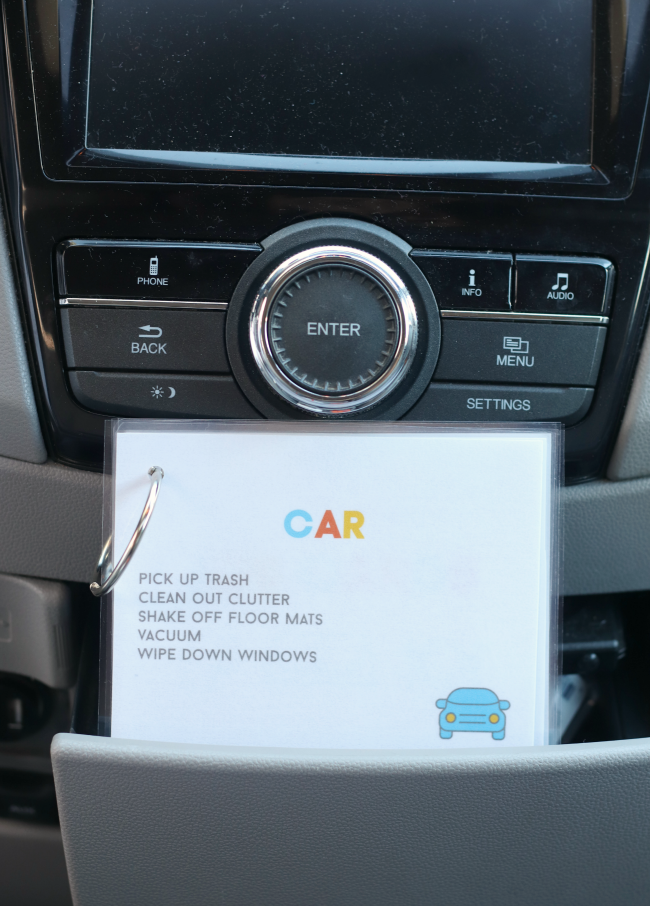 Car Job Card
Pick Up Trash
Clean Out Clutter
Shake Off Floor Mats
Vacuum
Wipe Down Windows
How to Assemble Cleaning Cards
Download cards (click here to download cards).
Print out job cards onto copy paper.
Laminate each cards and punch a hole in the top left corner.
Slide onto a ring.
For myself, l like using Clean Mama's monthly calendar of daily tasks. A simple reminder of one or two tasks to complete each day to stay on top of house cleaning.
Welcome! I'm Brandy, mother to 5 darling kiddos and a cute black lab named Toby. My husband is in the Coast Guard so we've lived all over the place, turning each house into a home. I love baking, sewing, making cute things with my kids, and sharing what I've learned with all of you!