These printable nerds candy tags are perfect for a scripture-themed lesson or a back-to-school treat for youth! Simply cut out and tape to a box of Nerds candy.
You might also like our 12 Days of Christmas QR Code gift for youth and families or our back to school succulent gift idea for young women!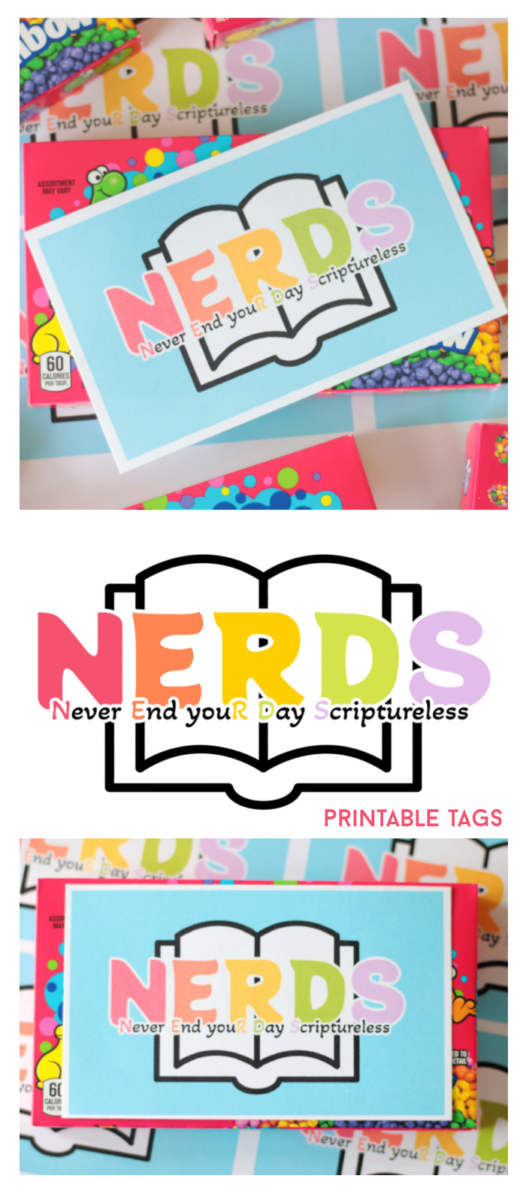 Young Women Nerds Candy Printable Tags
I serve as the Young Women president in our church over the teenage girls ages 12-18. School is starting soon and I wanted to give the young women in our ward a little something before heading back. Nerds candies and clusters are always a hit so I came up with these cute tags to attach to the boxes of candy.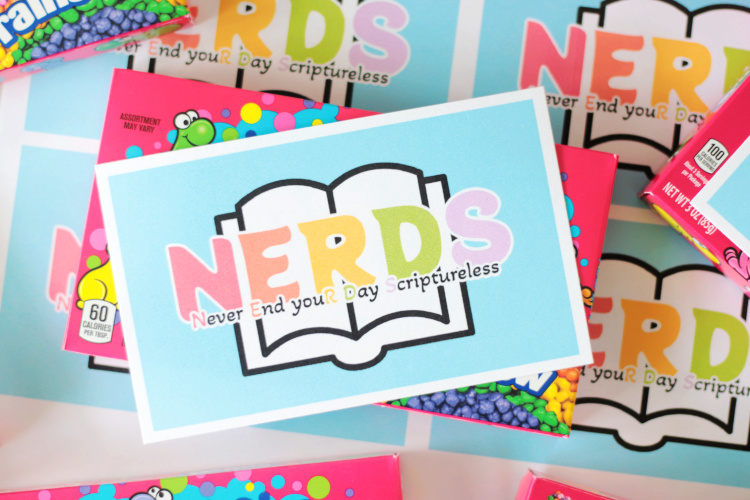 NERDS Candy Scripture Acronym
NERDS: Never End youR Day Scriptureless. I found the acronym on Pinterest and thought it was perfect! Not only would these tags be perfect as a back-to-school handout, but they'd also be great as a Sunday lesson handout on scripture study.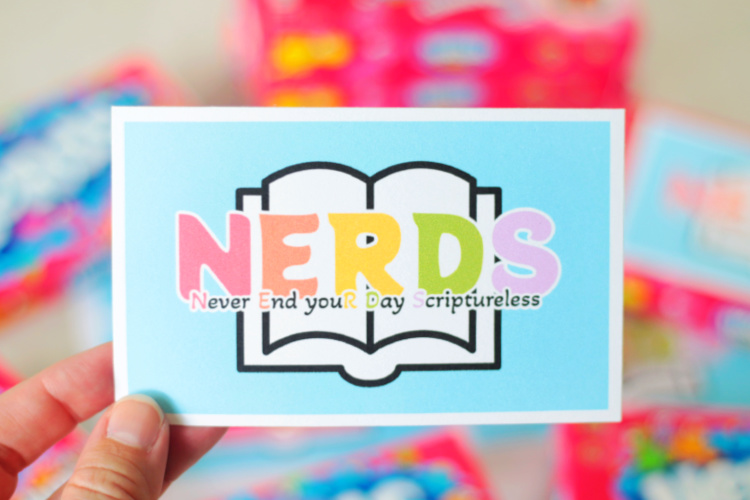 I ended up making two versions of the printable tags. One with a simple logo and the other with a back to school theme.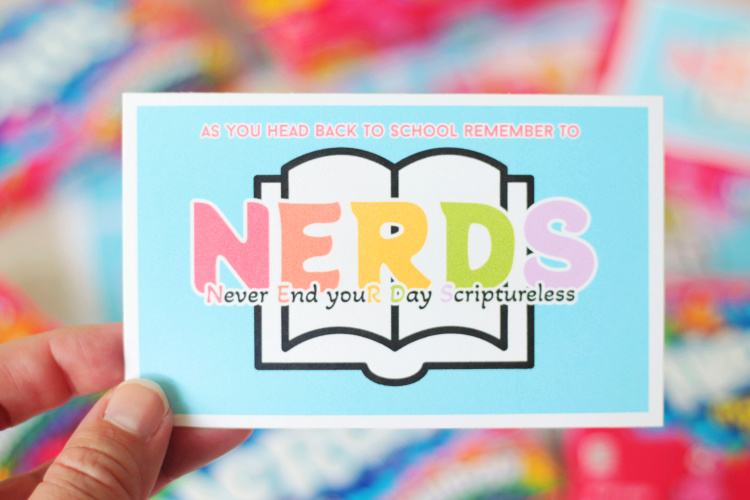 The tags print 4 to a page and can be attached to a box of Nerds candy with double-sided tape or ribbon.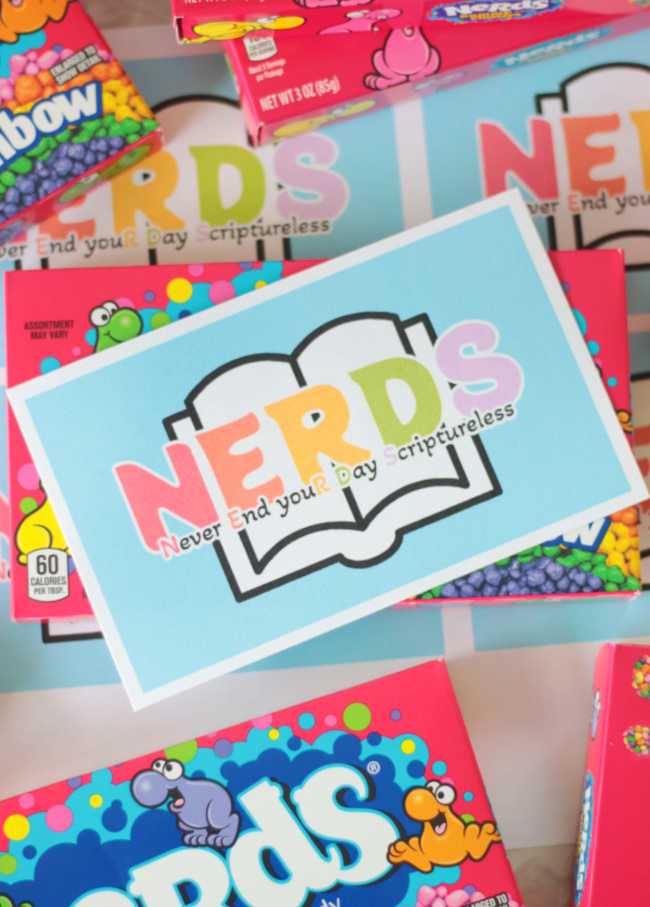 Quotes on Scripture Study
Here are a few quotes on scripture study that can be printed and taped to the back of the card or simply shared during a Sunday lesson or spiritual thought.
"Your education should include spiritual learning. Study the scriptures and the words of the latter-day prophets. Participate in seminary and institute. Continue throughout your life to learn about Heavenly Father's plan. This spiritual learning will help you find answers to the challenges of life and will invite the companionship of the Holy Ghost." —For the Strength of Youth
As you use your agency to carve out time every day to draw close to God's voice, especially in the Book of Mormon, over time His voice will become clearer and more familiar to you. —Michelle Craig
"Search the scriptures—search the revelations which we publish, and ask your Heavenly Father, in the name of His Son Jesus Christ, to manifest the truth unto you, and if you do it with an eye single to His glory nothing doubting, He will answer you by the power of His Holy Spirit. You will then know for yourselves and not for another. You will not then be dependent on man for the knowledge of God; nor will there be any room for speculation. No; for when men receive their instruction from Him that made them, they know how He will save them" —Joseph Smith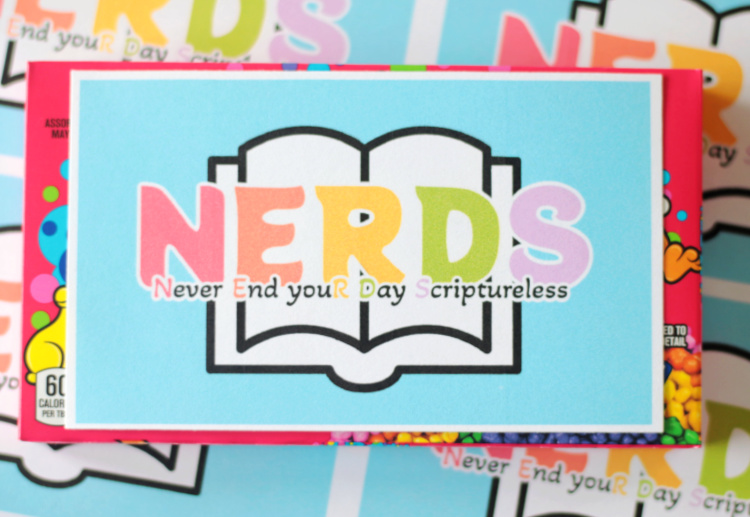 Download Nerds Candy Printables Here
Print tags on card stock or copy paper. Print at 100%.
Welcome! I'm Brandy, mother to 5 darling kiddos and a cute black lab named Toby. My husband is in the Coast Guard so we've lived all over the place, turning each house into a home. I love baking, sewing, making cute things with my kids, and sharing what I've learned with all of you!