"We grow when things are hard". This mini succulent gift with printable tag is a simple way to encourage others during a dificult time. The perfect gift for back to school, for a teacher or teen to keep on their desk at school or at home. This post contains affiliate links.
NOTE: Printable tags are blank without a date. You can use them for any school year!
Looking for a fun activity to do with teens on zoom? The girls at our church youth group loved our "When Life Gives You Lemons" activity!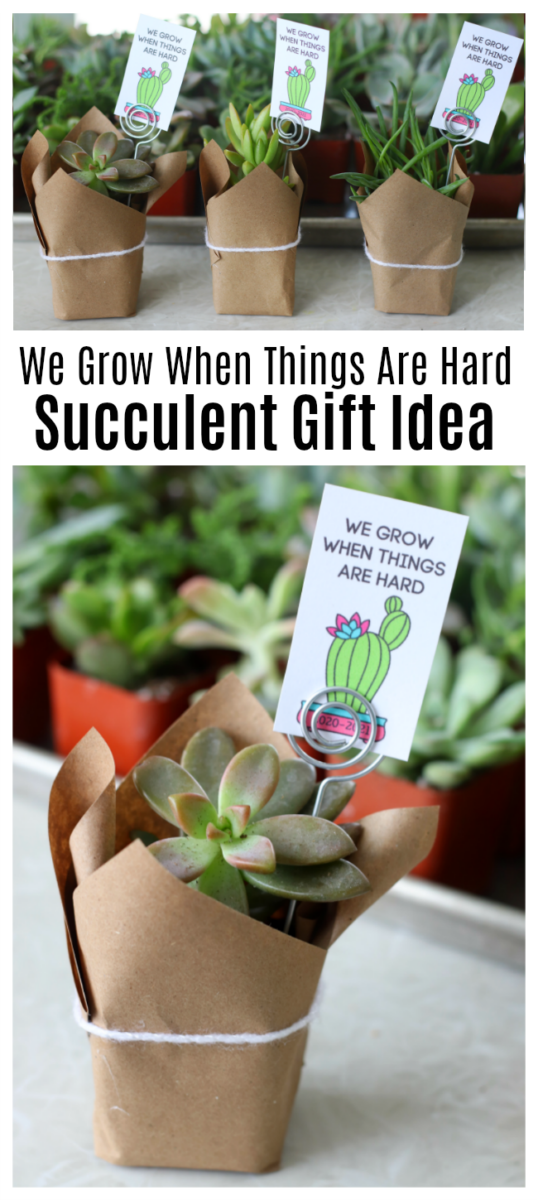 I work with the teenage girls in our church's youth group ages 12-18. The past 6 months have been rough, with so many things up in the air, cancelled, or unknown. The one bright area of hope was just getting to the fall. Then everything would be back to normal, or so we thought!  School starts in 2 weeks, and everyone is starting online at home for the time being.
Back to School Succulent Gift Idea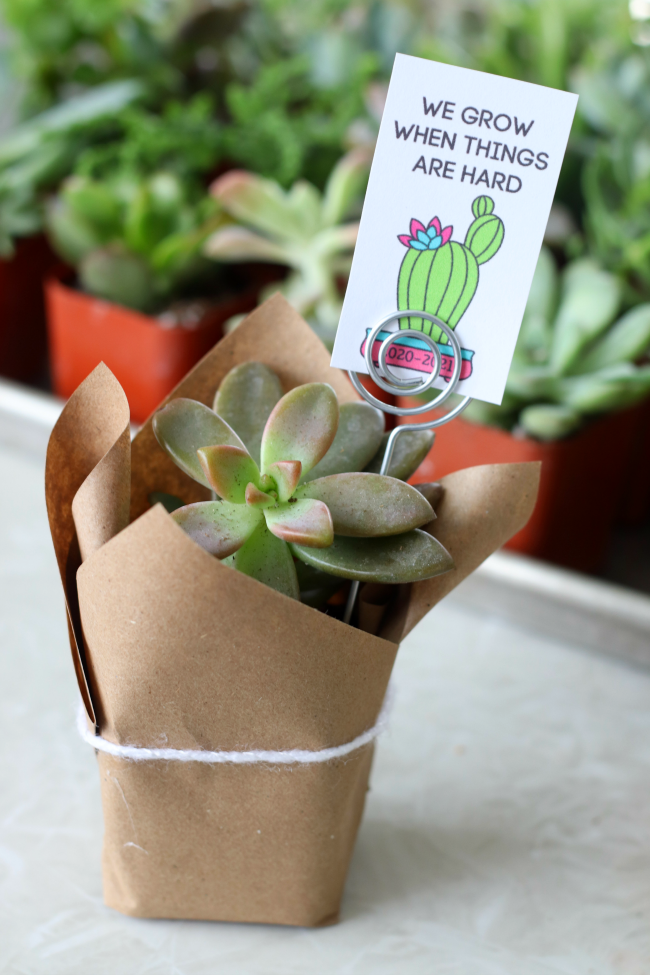 We wanted to give each girl a back to school gift, but were kind of at a loss of what to give! We thought of double sided tissue pouches (they hold hand sanitizer, tissues, and lip gloss), or mini cosmetic pouches to hold masks, but these really didn't apply to home learning.
That's when I thought of giving each recipient a little potted plant. Something to keep on their desk at home.
Printable Succulent Tags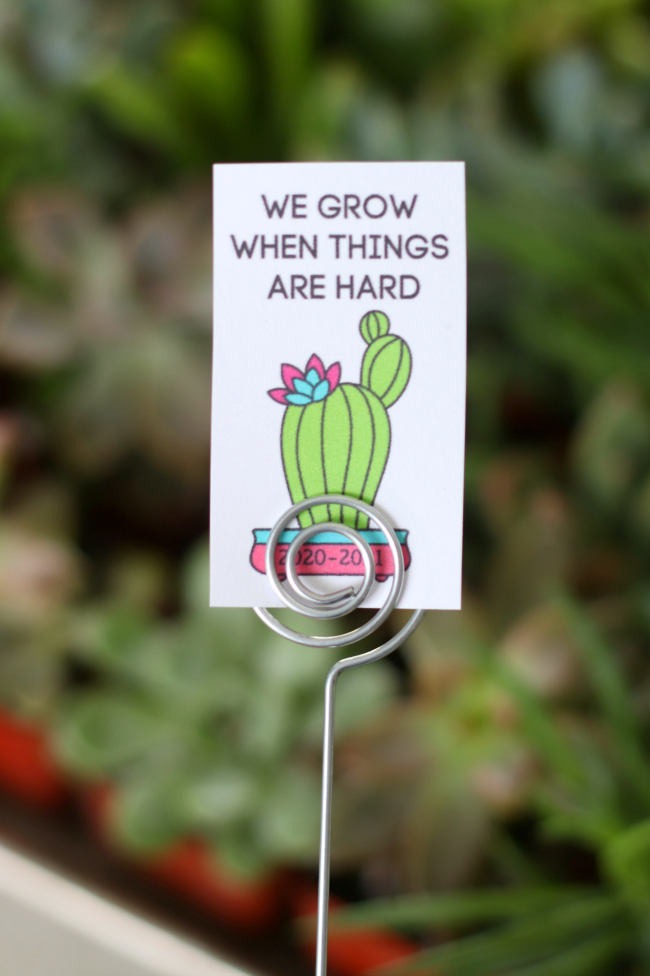 (NOTE: the printable tag is blank (no date) so that it can be used for any school year!)
I created a printable tag to add to a pick that said, "We Grow When Things Are Hard ". We are going to deliver these to the girls the week before school starts (we don't go back until after Labor Day) with a personalized message and instructions for caring for their succulent.
Supplies Needed
Ordering Succulents Online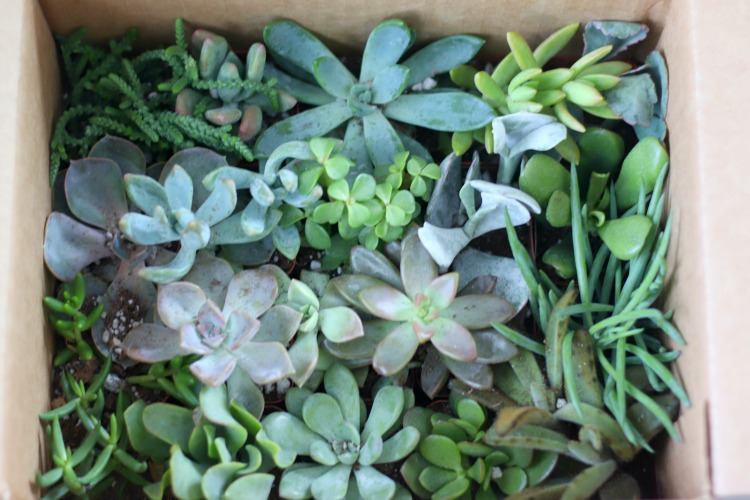 I took a chance and ordered my succulent plants on Amazon for a great price. I couldn't believe the variety and quality that I received! I needed 30 so I ordered 40 to make sure I had extras. They arrived within a few business days. There were only 4 small succulents that I didn't think were usable because they looked a little fragile. The rest were in perfect condition. At the time, they were on a lightning deal and were a little over $1 each. The price is now closer to $2 each.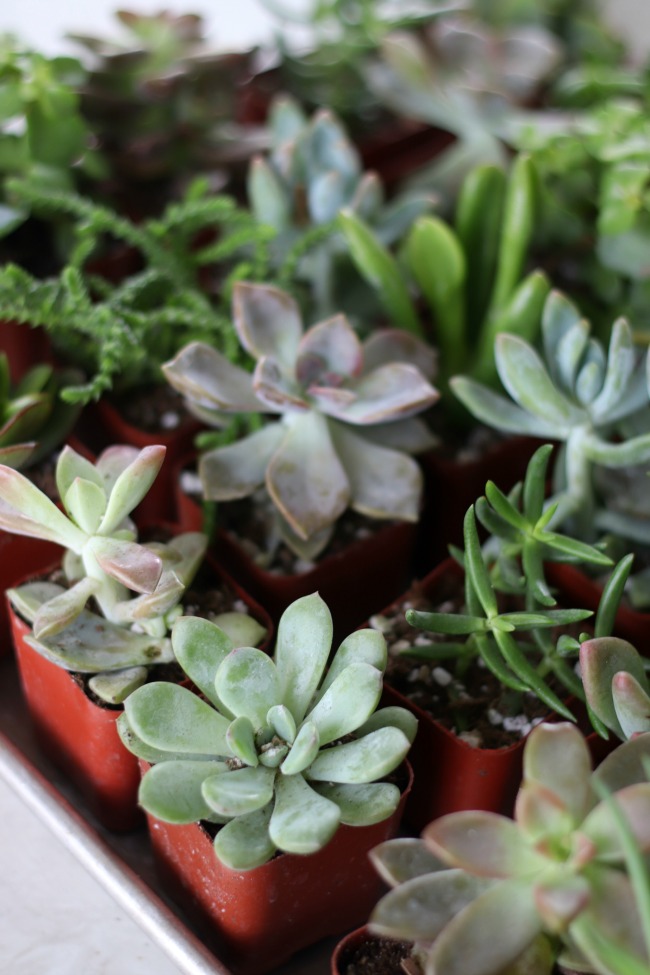 The beautiful succulents were packed tightly in a brown box with LOTS of shredded paper to cushion them. There was a small handful of dirt that fell out onto the bottom of the box, but they were in great shape and healthy plants.
Shipping was free, and they arrived in 3 days from California (I'm in Virginia) via UPS. I couldn't be more pleased with our mini succulents.
More Succulent Gift Ideas
Each succulents is a bitty 2″ tall, making it a great choice for any succulent lover. Package up in a cute brown paper wrapper for birthdays, housewarmings or for a Valentine's Day or Mother's Day gift! If you are looking for succulents for succulent wreaths, a centerpiece, terrariums or small planters, these would be ideal. Plant a few in a ceramic planter or clay pots for a simple arrangement.
How to Gift Wrap Plants in Brown Paper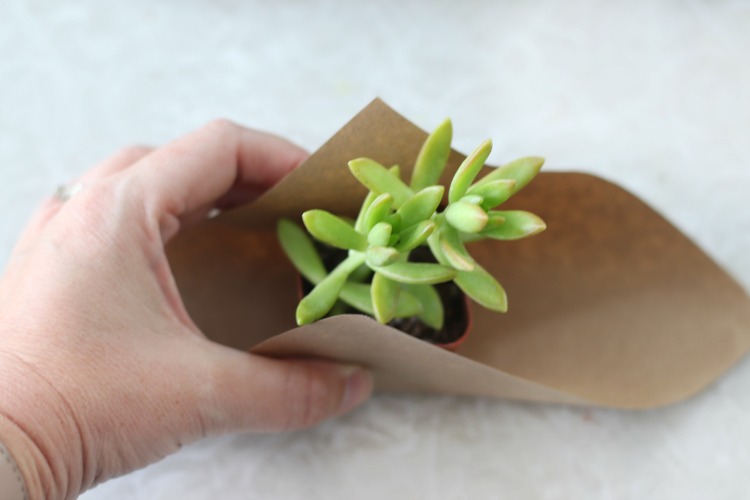 Gift wrapping plants is easy! Cut a square of paper and bring up the corners on each side.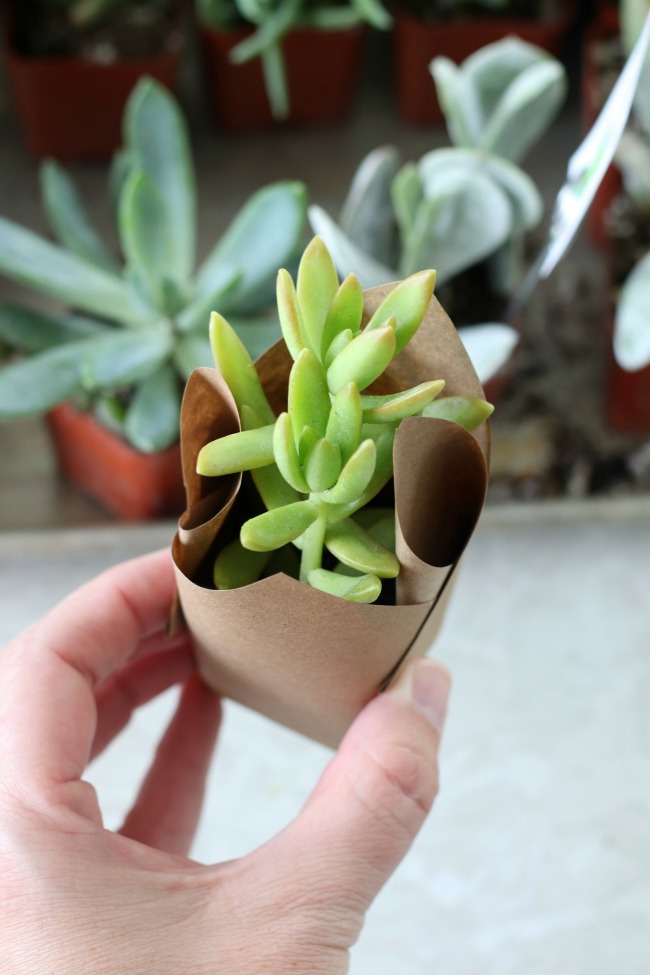 Fold the sides over. I like adding a couple of dots of hot glue to hold the paper in place before adding a string or ribbon.
Printable Succulent Plant Gift Tags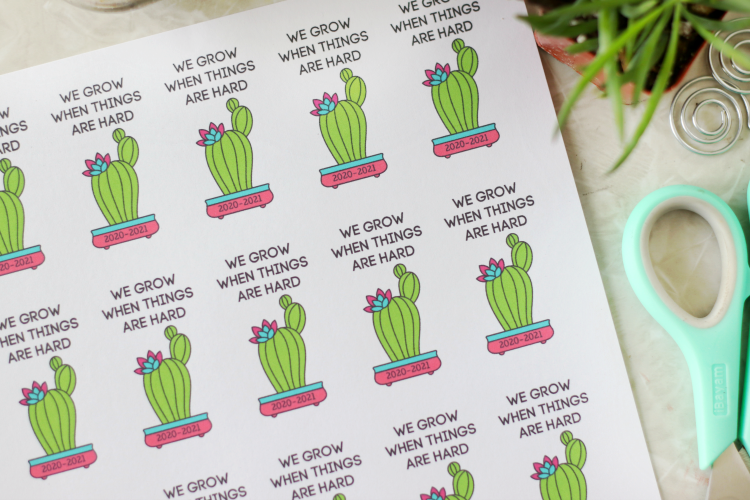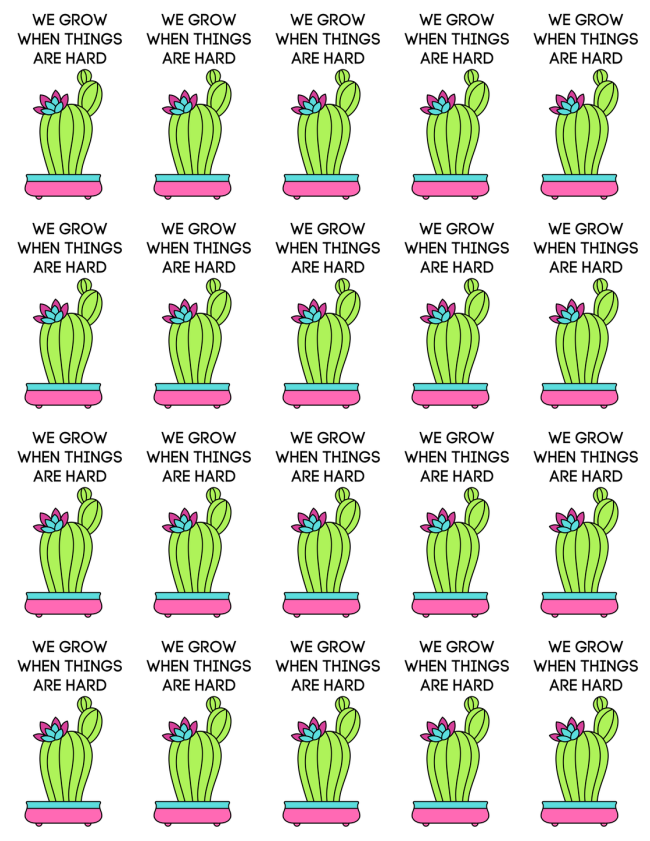 Click here to download your free tags!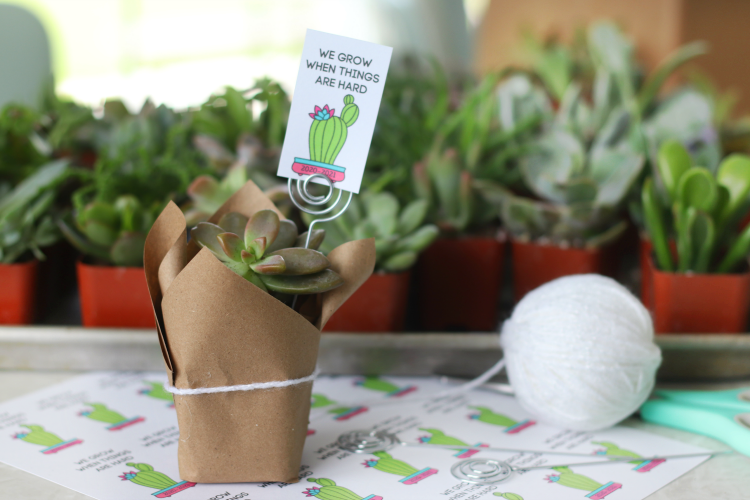 To add them to your succulent gift, simply cut out the tags and slide into a pick.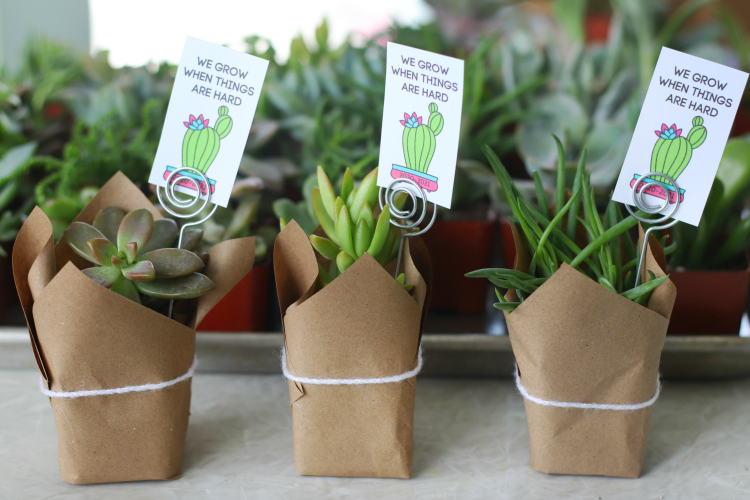 How to Care for Succulents
Succulents are easy houseplants and only require minimal care! No green thumb required. A great alternative to high maintenance house plants. Here are a few care instructions:
Place in a sunny location (6+ hours of light)
Succulents only require occasional watering. Water only when soil is dry.
Do not over water. Succulents like time to dry out between waterings. This might mean watering your succulent twice a week, or only once a week, depending on the moisture in the container.
Only water the soil. Keep the leaves free of moisture. Do not use a spraybottle.
Tip: Use a dropper or syringe to water your succulent.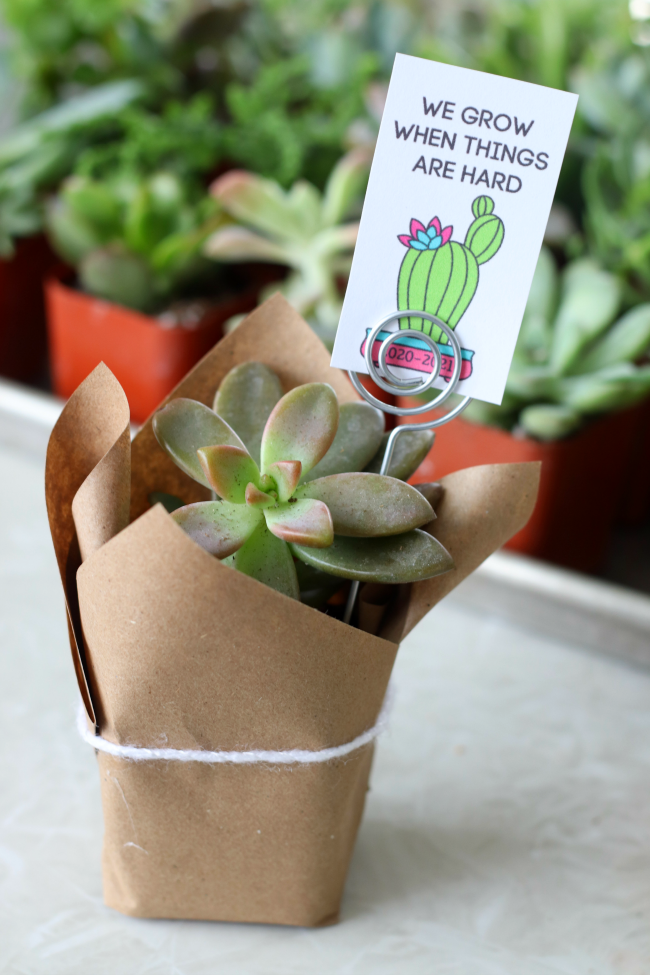 More Gift Ideas With Free Printables
"I Carrot Lot About You" Easter Printable and Gift Idea
"We Donut Know What We'd Do Without You" Thank You Gift