12 Days of Christmas gift! 12 pieces of candy, each labeled with a QR code to an inspirational Christmas video! This a fun gift idea for teens, families, friends, and neighbors!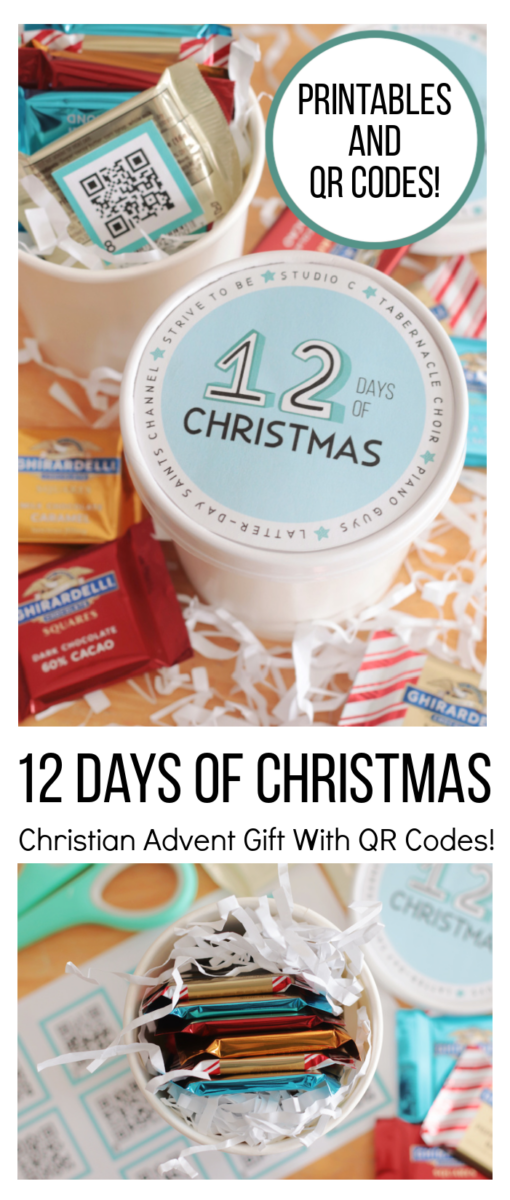 You might also like our printable Young Women Christmas sock wrappers, our Young Women General Conference handout, or our Back to School survival kit Young Women activity!
All of the videos are New Testament based, and the Studio C comedy videos are good, clean fun for the whole family!  If you printed out the QR codes last year and are looking for new codes to share with friends this year I've got you covered! Every year I add a new set of labels and QR codes. Scroll to the end of the post to access all 3 sets! This year I switched out the candy. Click here to see the candies we used this year (cheaper than Ghirardelli). 
12 Days of Christmas Advent Gift
One of the challenges of giving gifts to teens is coming up with something practical, yet engaging. These 12 days of Christmas gifts won't end up on a shelf collecting dust, and won't end up in the trash (at least not right away). It includes 12 Christmas videos to brighten their day in the 12 days leading up to Christmas. It also includes CHOCOLATE.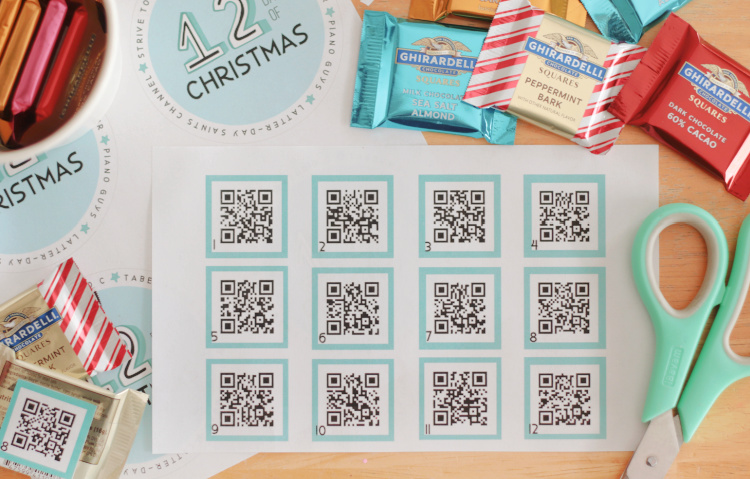 Here is what some families and youth groups are saying!
"My daughter gave them as a gift to her high school besties and they loved it!! We're even planning to gift the teacher & school buses with them!! You never know the impact you can make with those inspired messages!!" —Julia
"I gave them to my single sister friends, youth in the ward, and a non-member friend. Our Bishop was so impressed with the videos and my nonmember friend took hers to work for her coworkers to scan also. Thanks for sharing the gospel with others through this 12 Days of Christmas activity. I can't wait to do this again next year." — Bonnie
"I made these for our young women too and made a few extra for my kids' teachers. My son's teacher has started playing the videos at the end of the day." —Chelsea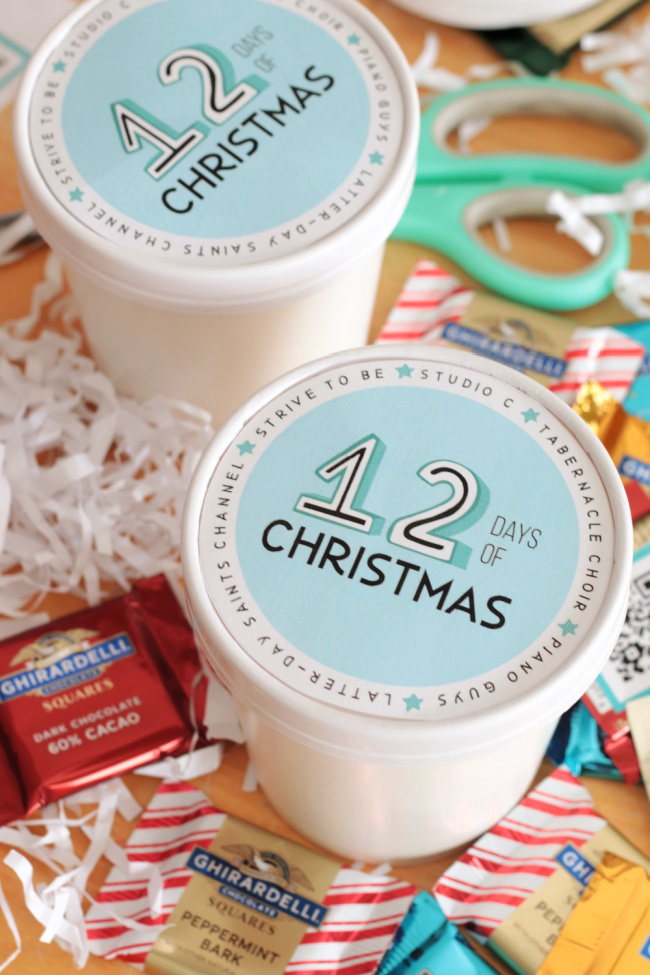 12 Days of Christmas Gift Videos
The QR codes link to a selection of YouTube videos from the Latter-day Saints Channel, The Piano Guys, The Tabernacle Choir at Temple Square, Studio C, and the Strive to Be Channel. The QR codes are on a printable sheet that can be downloaded in the supplies section and at the end of the post. There are currently 3 versions: 2021 (teal)  2022 (red), and 2023 (green). This way you can alternate which ones you use and aren't passing out the same codes every year! All video links are shared at the end of the post if you'd like to preview them ahead of time.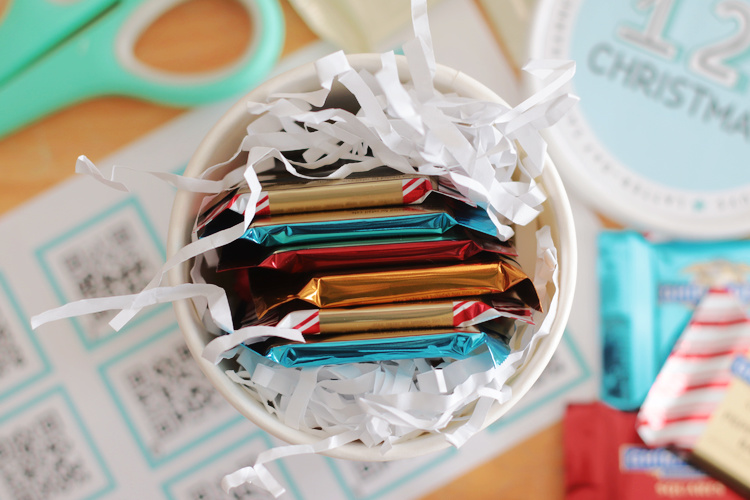 Each QR code is cut out and attached to the back of a piece of candy. You can use Ghirardelli chocolate squares, peppermint patties, or a variety of holiday candies depending on your budget. We've given the young women $5 fleece throws or cozy socks in the past, always keeping the budget between $3-$5 per girl. This gift fits right within that budget.
Supplies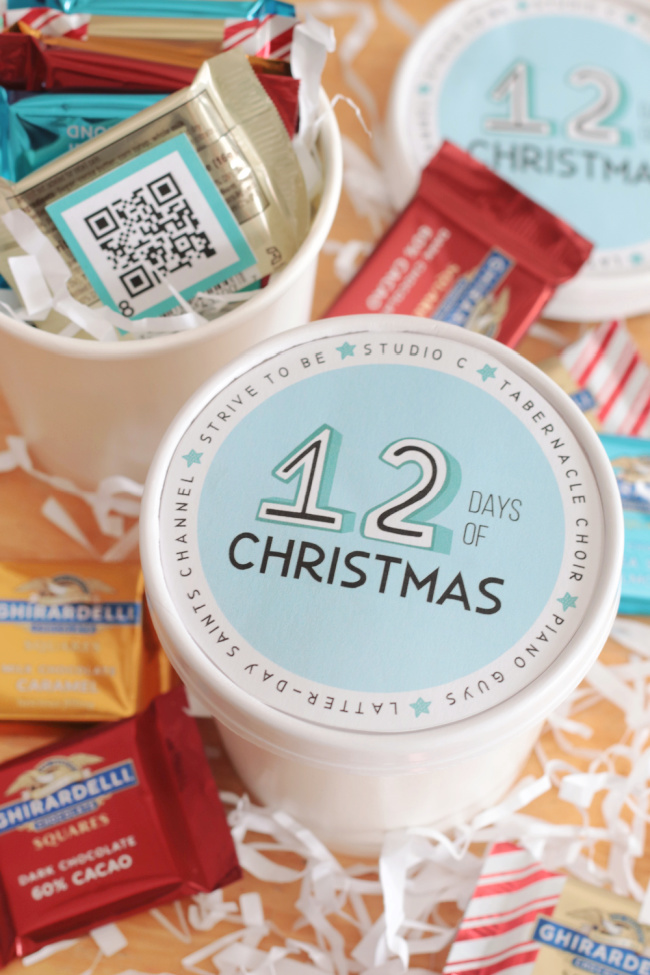 These containers are perfect for holding 12 pieces of candy. You can add a bit of paper shred to fill in any gaps, but it really isn't necessary.  The printable lids fit these containers EXACTLY. If you use different containers simply attach the label to the front or side, or tie the label on with string!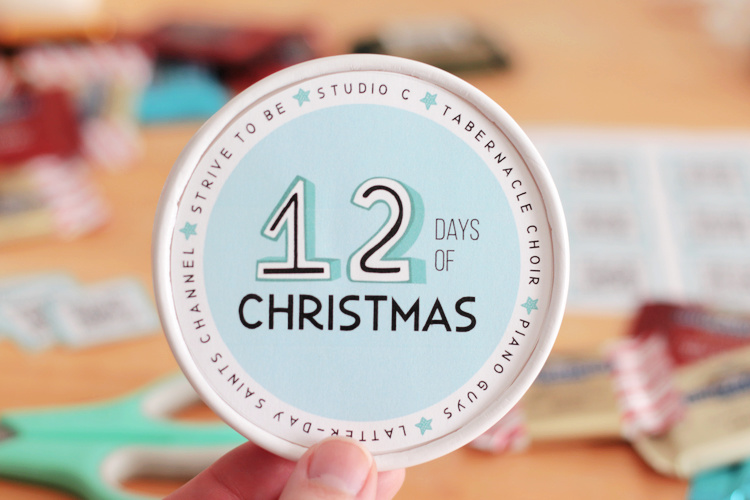 12 Days of Christmas QR Code Gift Printables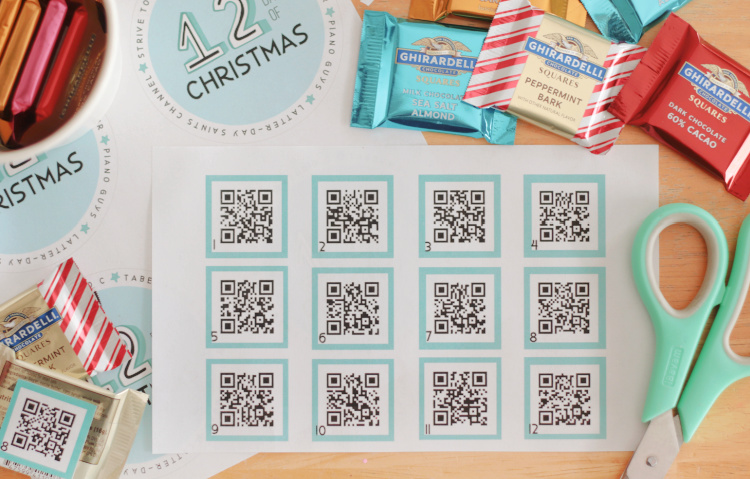 QR Code Option (click Links Below)
Device-Free Option (Click Links Below)
For those who would prefer a device-free option, I've included 12 scripture references from the New Testament and Book of Mormon that can be used instead. I had a request from someone who said many of the youth in her church don't have cell phones, so scripture references would work perfectly. Another option would be to find 12 quotes about Christmas and print those, one for each day.
(These scriptures include verses from the Book of Mormon and New Testament)
Video Links
2021 Videos (for reference)
Day 1: Getting Into the Christmas Spirit- The True Meaning of Christmas
Day 2: Santa's Elves Go On Strike (Studio C)
Day 3: Far Away
Day 4: Gifts of Christmas
Day 5: The Greatest Gift
Day 6: Christmas Is
Day 7: Angels From the Realms of Glory (Largest Nativity Scene/The Piano Guys) 
Day 8: O Come, Emmanuel (The Piano Guys)
Day 9: What Shall We Give? (The Tabernacle Choir at Temple Square)
Day 10: The Coat: A Story of Charity
Day 11: Elf on the Shelf Gone Wrong (Studio C)
Day 12: The Christ Child: A Nativity Story #LightTheWorld
2022 Videos (for reference)
Day 1: Light the World (Come Unto Christ)
Day 2: He Was Born For You (Come Unto Christ)
Day 3: Santa's Love Languages (Studio C)
Day 4: A Holiday Reminder: Love Your Neighbor (Come Unto Christ)
Day 5: Why We Need a Savior (Come Unto Christ)
Day 6: I Saw Three Ships (The Piano Guys)
Day 7: Far Away (Strive To Be)
Day 8: Celine Dion Goes Christmas Caroling (Studio C)
Day 9: Angels, From the Realms of Glory (Tabernacle Choir)
Day 10: Let it Snow (The Piano Guys)
Day 11: Joy To The World (LDS Vocal Point)
Day 12: Reflections of Christ (Mark Mabry)
2023 Videos (for reference)
Welcome! I'm Brandy, mother to 5 darling kiddos and a cute black lab named Toby. My husband is in the Coast Guard so we've lived all over the place, turning each house into a home. I love baking, sewing, making cute things with my kids, and sharing what I've learned with all of you!