12 Days of Christmas gift for Latter Day Saint youth and Christians! A container with 12 pieces of candy, each labeled with a QR code to a Christmas video! A fun gift idea for teens! Not a member of our church? No problem. I also made labels that everyone can use! This post contains affiliate links.
This is a great gift for ANY Christian youth or youth group! All of the videos are New Testament based, and the Studio C comedy videos are good, clean fun for the whole family!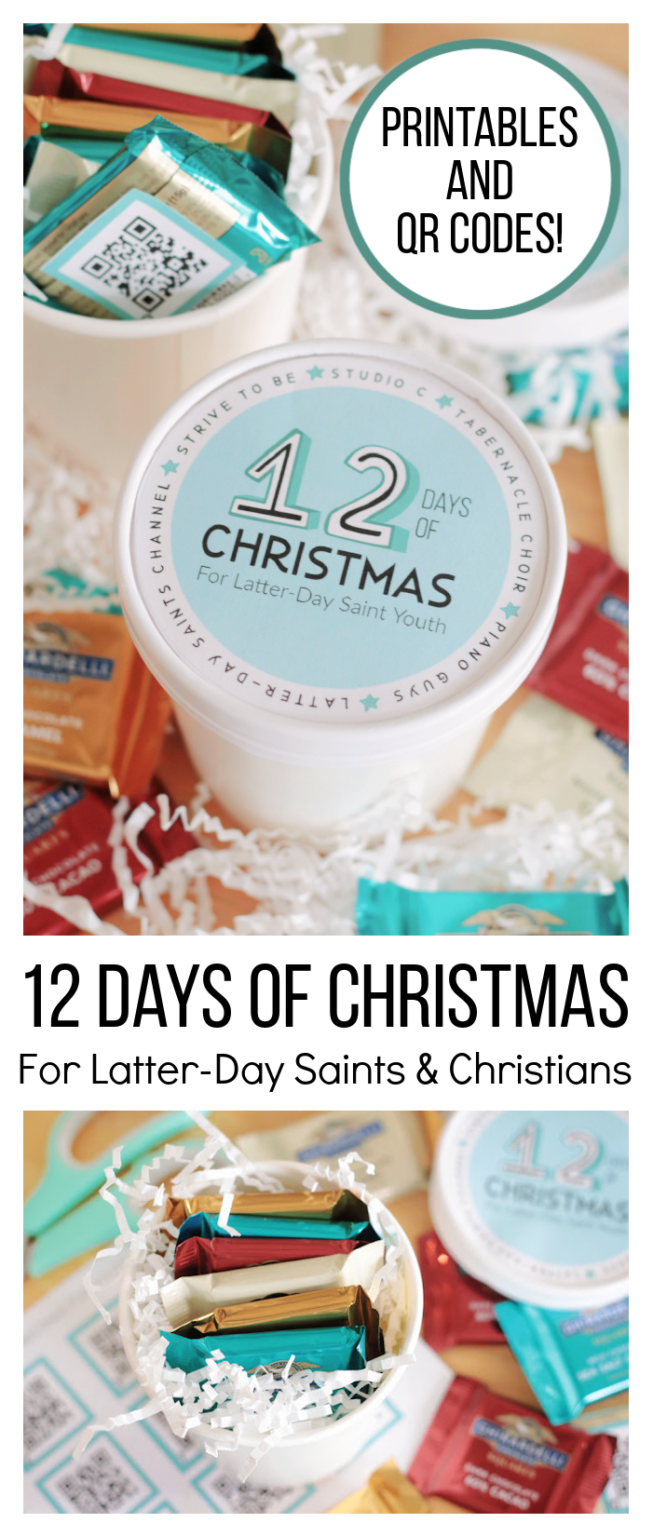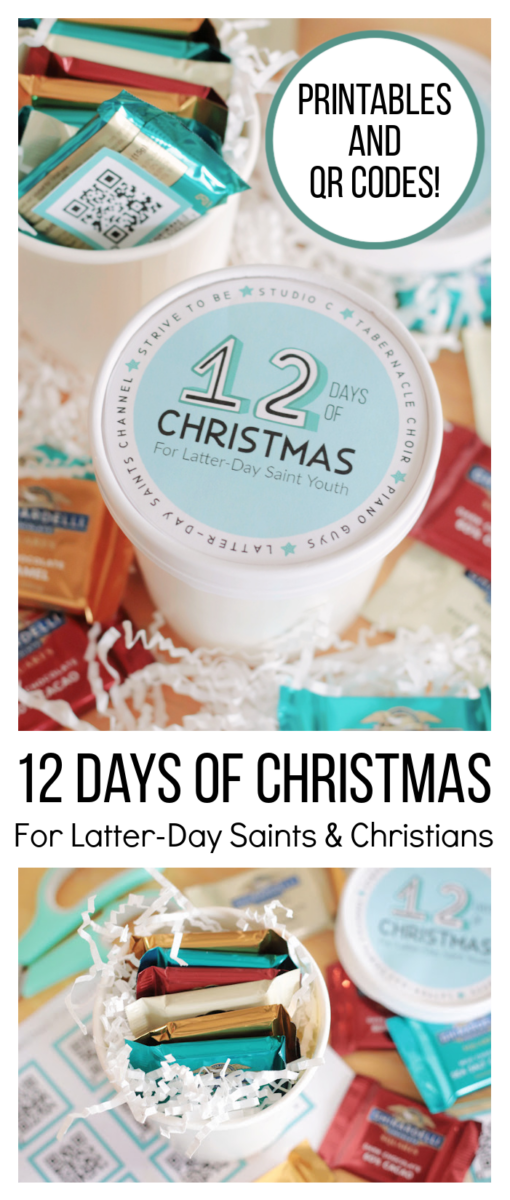 You might also like our printable Young Women Christmas sock wrappers, our Young Women General Conference handout or our Back to School survival kit young women activity!
One of the challenges of giving gifts to teens is coming up with something practical, yet engaging. This 12 days of Christmas gift won't end up on a shelf collecting dust, and won't end up in the trash (at least not right away). It includes 12 Christmas videos to brighten their day the 12 days leading up to Christmas. It also includes CHOCOLATE.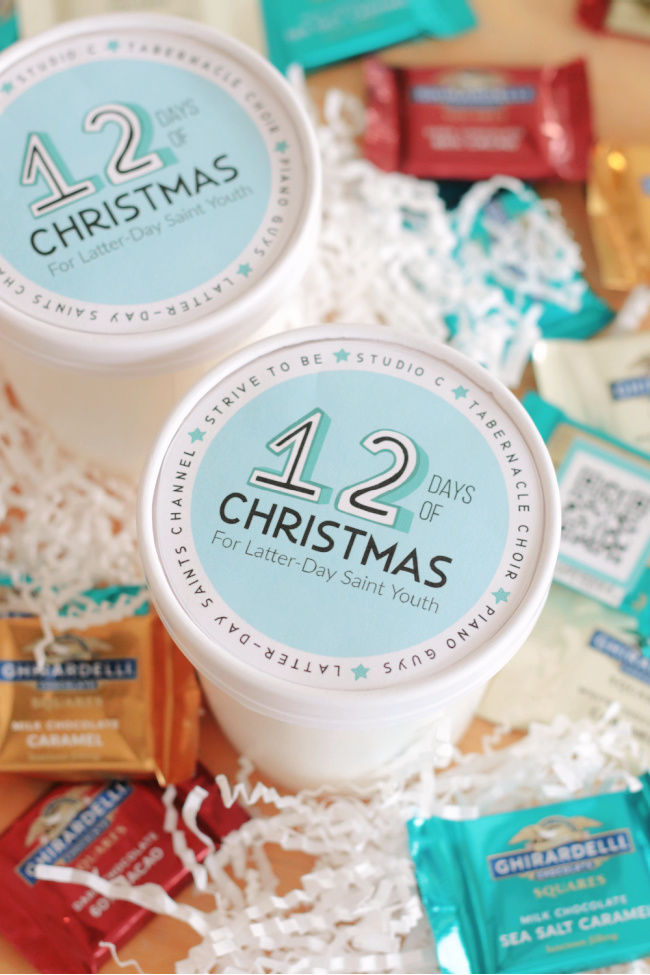 12 Days of Christmas Gift for Latter Day Saints And Christians
The QR codes link to a selection of Youtube videos from the Latter-Day Saints Channel, The Piano Guys, The Tabernacle Choir at Temple Square, Studio C, and the Strive to Be Channel. Here are the links as a reference. The QR codes are on a printable sheet linked in the supplies section and at the end of the post. 
Day 1: Getting Into the Christmas Spirit- The True Meaning of Christmas
Day 2: Santa's Elves Go On Strike (Studio C)
Day 3: Far Away
Day 4: Gifts of Christmas
Day 5: The Greatest Gift
Day 6: Christmas Is
Day 7: Angels From the Realms of Glory (Largest Nativity Scene) 
Day 8: O Come, Emmanuel (Piano Guys)
Day 9: What Shall We Give? (The Tabernacle Choir at Temple Square)
Day 10: The Coat: A Story of Charity
Day 11: Elf on the Shelf Gone Wrong (Studio C)
Day 12: The Christ Child: A Nativity Story #LightTheWorld
For those who would prefer a device-free option I've included 12 scripture references from the New Testament and Book of Mormon that can be used instead. I had a request from someone who said many youth at her church don't have cell phones, so scripture references would work perfectly. Another option would be to find 12 quotes about Christmas and print those, one for each day.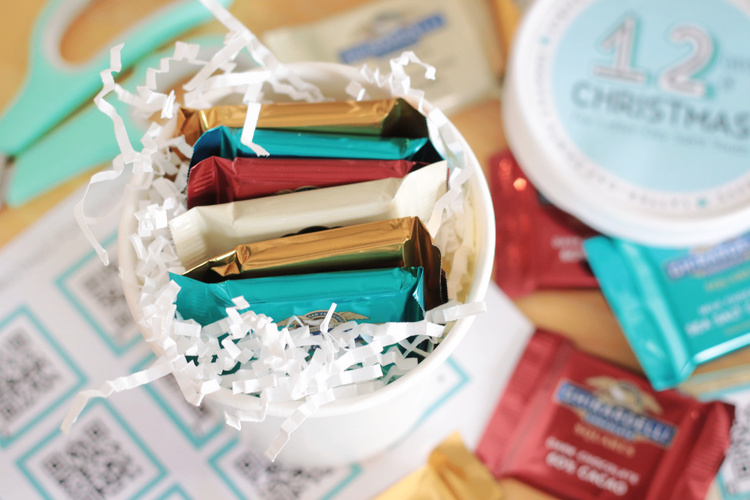 Each QR code is cut out and attached to the back of a piece of candy. You can use Ghirardelli chocolate squares, peppermint patties, or a variety of holiday candies depending on your budget. We've given the young women $5 fleece throws or cozy socks in the past, always keeping the budget between $3-$5 per girl. This gift fit right within that budget.
Supplies Used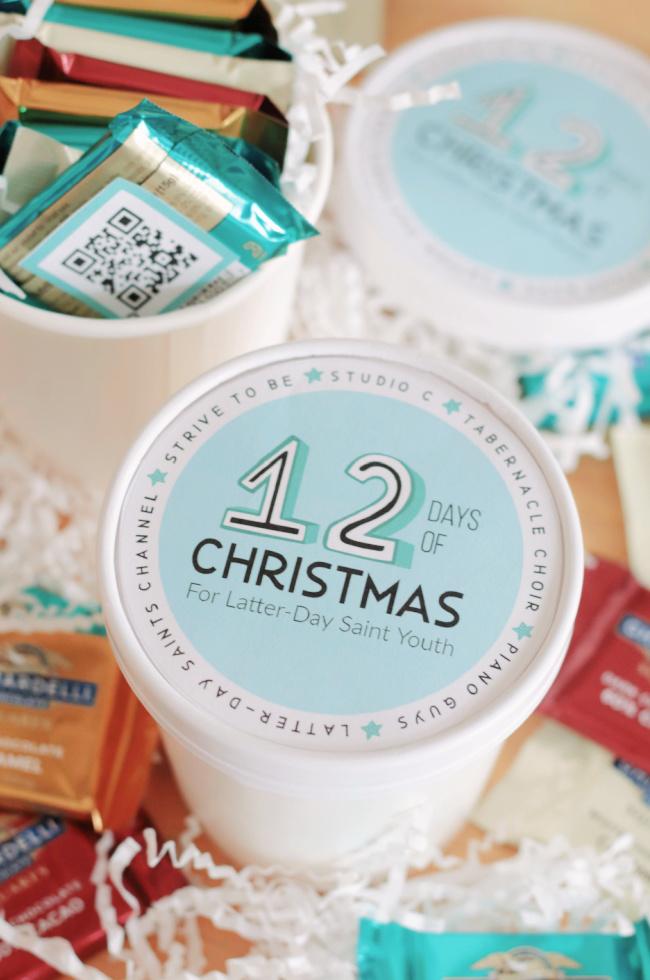 These containers are perfect for holding 12 pieces of candy. You can add a bit of paper shred to fill in any gaps, but it really isn't necessary.  The printable lids fit these containers EXACTLY. If you use different containers simply attach the label to the front or side, or tie the label on with string!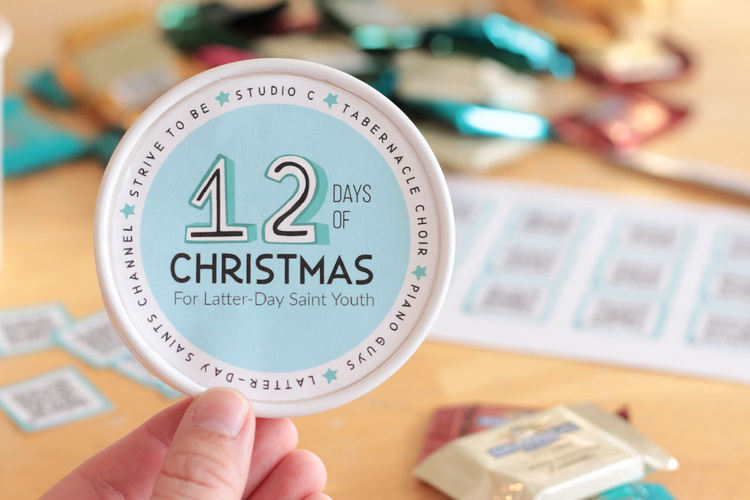 12 Days of Christmas Gift Printables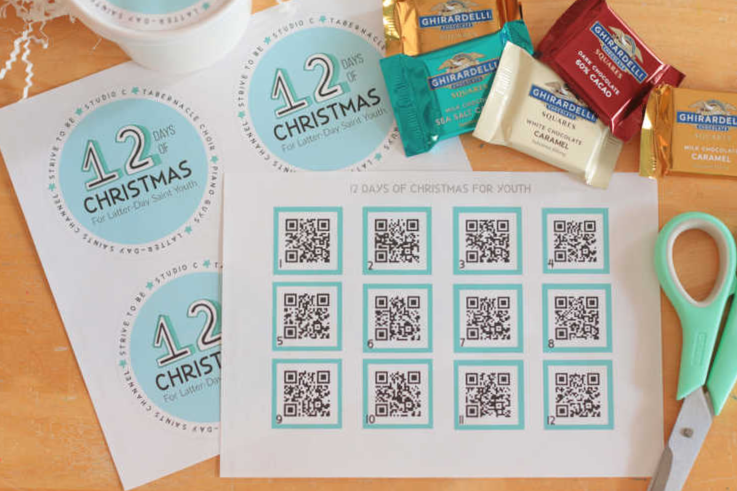 QR Code Option (click Links Below)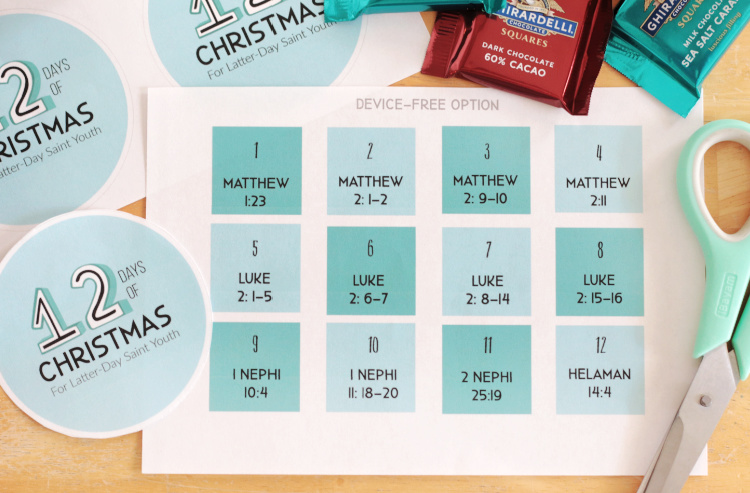 Device-Free Option (Click Links Below)
(These scriptures include verses from the Book of Mormon and New Testament)