Our pumpkin cinnamon swirl bread is perfection. Made with canned pumpkin and lots of yummy spices.  It makes the best toast! If you like our cinnamon swirl bread, you'll love this pumpkin version.
Another fall favorite is our quick rise pumpkin cinnamon rolls.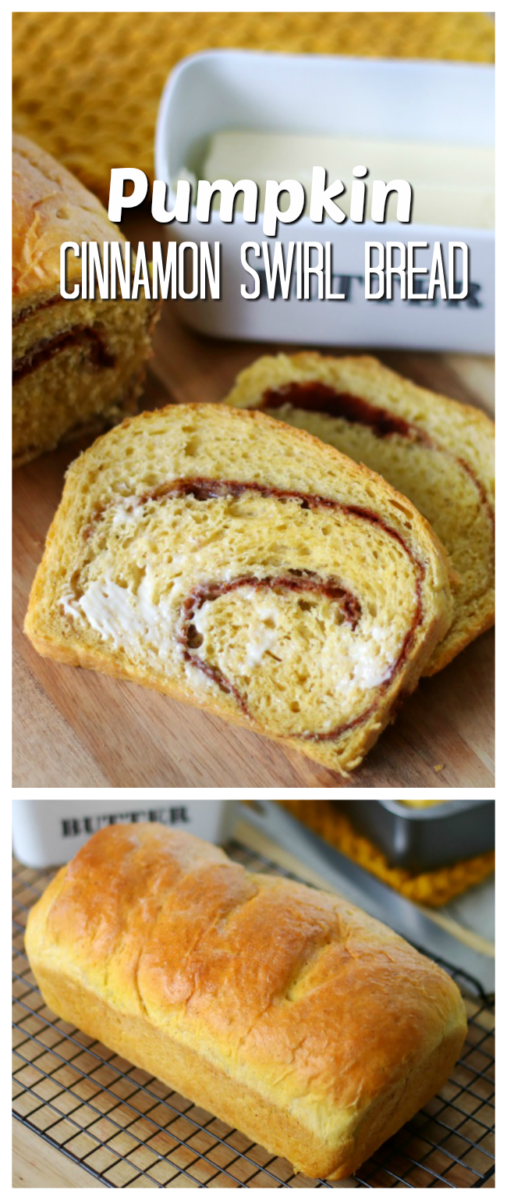 Watch our step by step video!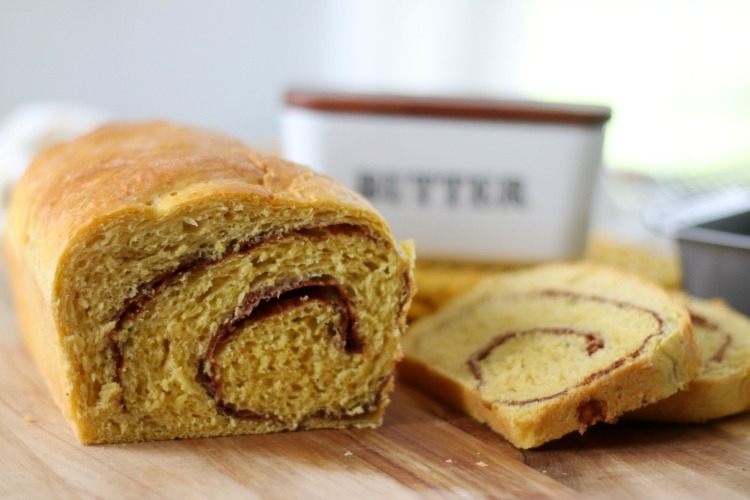 It was a dark and rainy day. It's not like I'm ever looking for an excuse to bake, but if I were to look for an excuse—-that kind of weather would be it! Nothing is more comforting than a loaf of warm bread. This bread recipe isn't new. In fact, it's one of the oldest bread ones on my site. The only thing I did differently was add canned pumpkin to the dough, and nutmeg and cloves to the filling!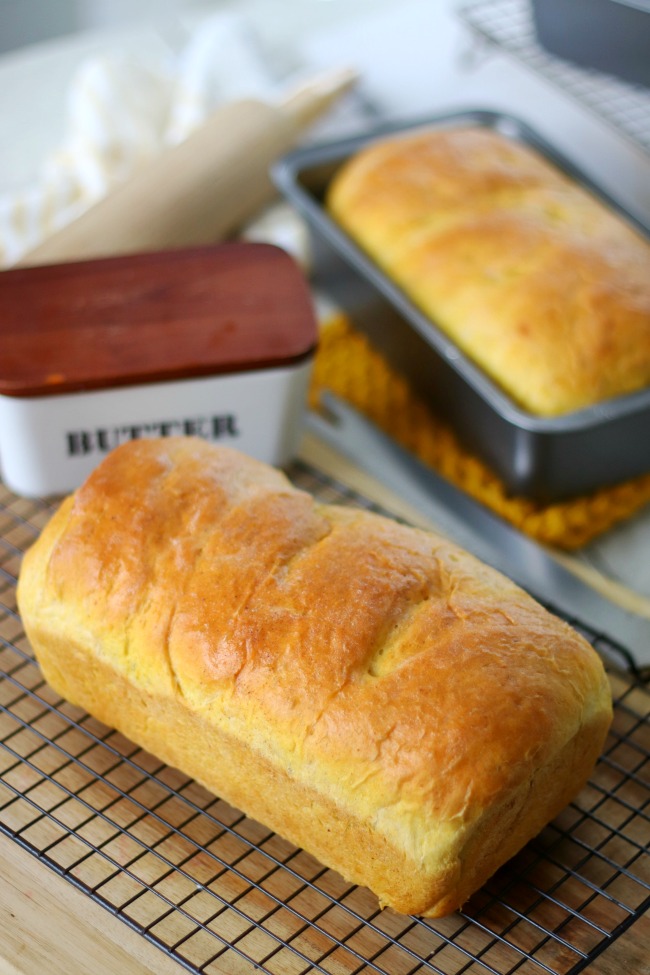 I love making quick bread, but there is something about a good yeast bread that can't be beat. This is one of our favorite breads to make. We always make 2 loaves and eat one straight from the oven.
This swirly soft cinnamon bread recipe is worth every extra step, and honestly, it's pretty simple to make.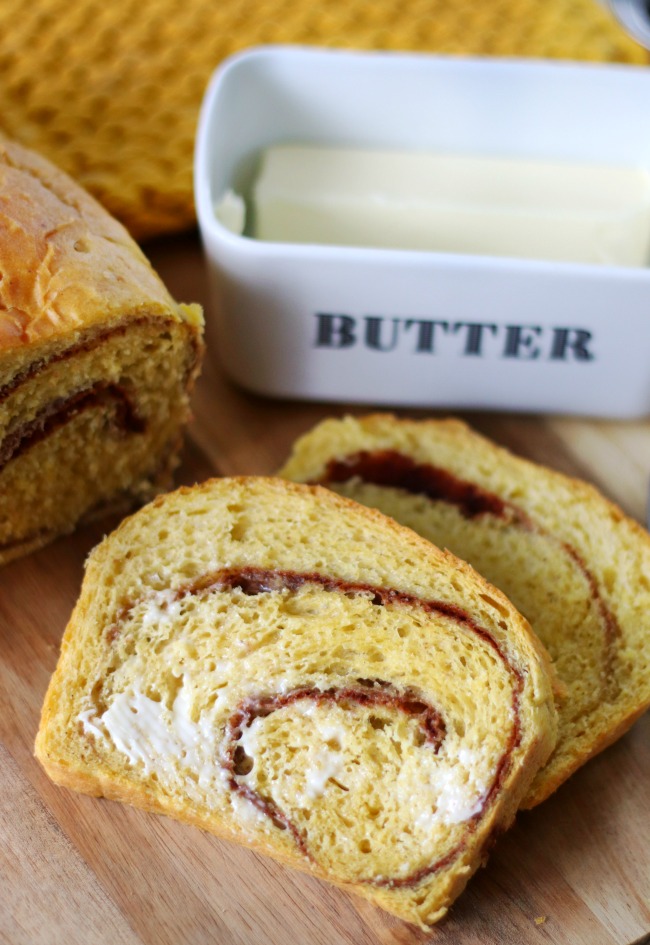 Pumpkin Cinnamon Swirl Bread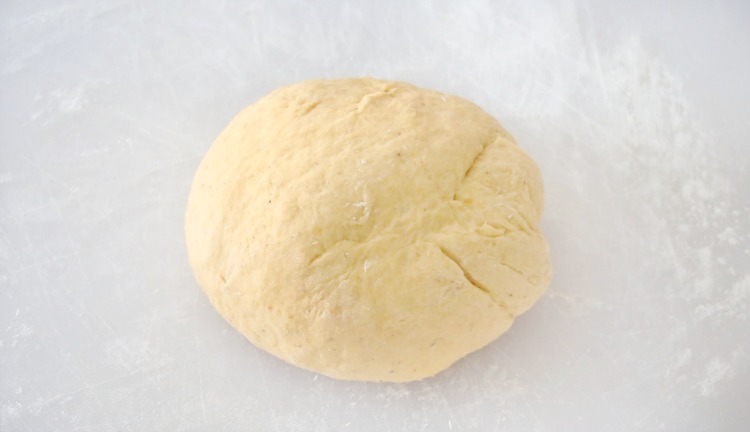 You'll start out by making your dough and letting it rise for a little over an hour (until it is doubled in size). Watch my video to see how I do this!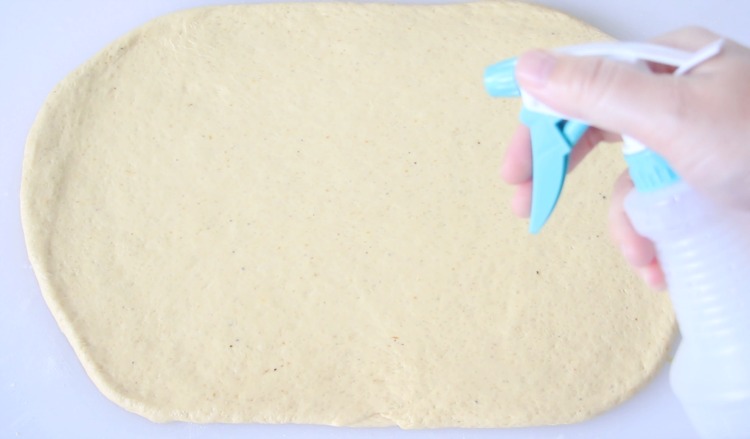 Divide the dough into 2 sections and roll each section into a 9×13″ rectangle. Spritz with water then sprinkle with cinnamon, nutmeg, ground cloves, and sugar. Spritz with water once more.
(I learned the water trick from my aunt. I used to use butter, but the bread would sometimes unroll when cut into slices. It doesn't unroll with water and is just as delicious!)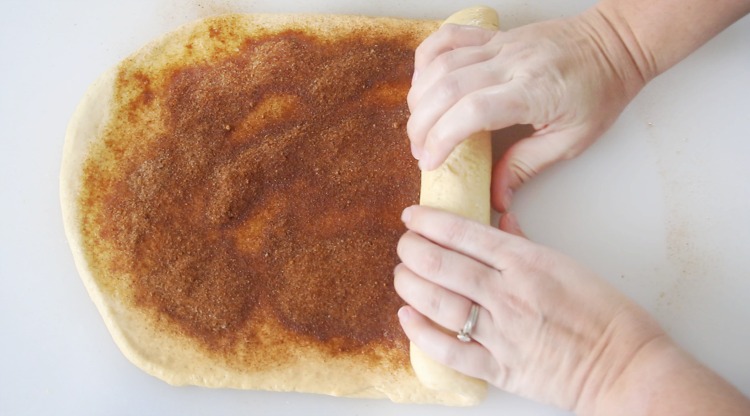 Roll up into a loaf shape, and pinch the ends to seal.
Place seam-side-down into greased baking pans and let rise 40 minutes.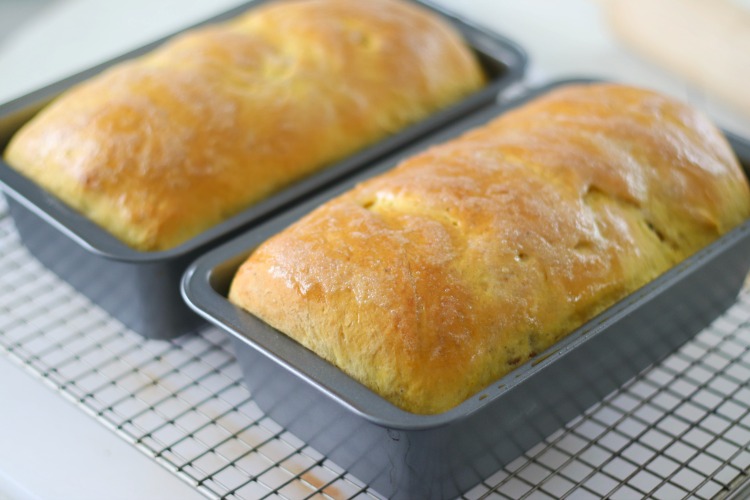 Bake for 30-35 minutes. As soon as they come out of the oven, brush with butter.
Pumpkin Cinnamon Swirl Bread Recipe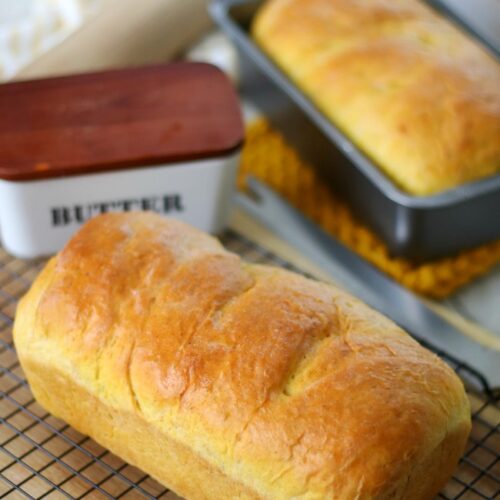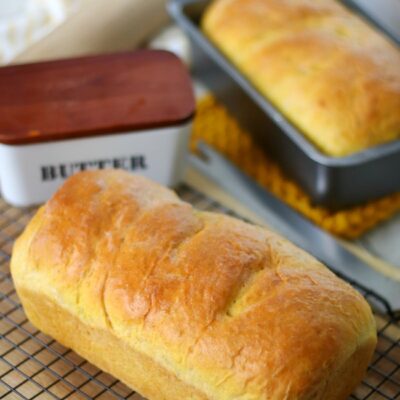 Pumpkin Cinnamon Swirl Bread
Our pumpkin cinnamon swirl bread is perfection. Made with canned pumpkin and lots of yummy spices.  It makes the best toast!
Print
Pin
Rate
Ingredients
Dough:
1 1/2

cups

warm water

4 1/2

teaspoon

yeast

2 packets

1/4

cup

sugar

1 1/2

teaspoon

salt

1

cup

canned pumpkin

1/2

teaspoon

nutmeg

1/4

cup

canola oil

6

cups

bread flour
Extra ingredients:
1

Tbsp

canola oil

1/2

cup

sugar

mixed in a small bowl

2

Tbsp

cinnamon

1

teaspoon

nutmeg

1

teaspoon

ground cloves

spray bottle with water

butter for brushing on baked loaves
Instructions
Mix water, yeast and sugar. Allow to sit 5 minutes or until yeast looks foamy.

Add remaining dough ingredients and mix in stand mixer or with wooden spoon until evenly distributed.

Knead dough on lightly floured surface until smooth and elastic.

Note: you may need a littel more flour (1/4 cup) to prevent the dough from being too sticky to work with.

Add 1 tablespoon of canola oil to the bowl. Place dough in bowl, turn to coat both sides.

Cover with a warm cloth and let rise for 1 hour and 15 minutes.

Once your dough has doubled in size,  dump it onto your work space.

Divide into two sections.

Roll each section into a 9x13 rectangle. Lightly spritz dough with water.

In a small bowl combine sugar, cinnamon, nutmeg and ground cloves. Sprinkle with 4T cinnamon sugar mixture over each rolled out loaf.

Then spritz with a little more water from the spray bottle. (This will help the sugar and cinnamon mixture stick to the dough.)

Roll dough tightly into a log. Pinch ends tightly to close, as well as the seam.

Place into greased bread pans, seam side down.

Heat oven to 350 degrees. Bake loaves for 30-35 minutes.

Brush loaves with butter then remove bread from pans and cool on a cooling rack.
Notes
This bread freezes well. Wrap in plastic and freeze for up to 3 months. Thaw completely before slicing. 
Nutrition
WHAT IS THE BEST KIND OF FLOUR TO USE?
I always use bread flour or all-purpose, whichever one I have on hand. My favorite brand is King Arthur.
WHAT IS THE BEST WAY TO PROOF YEAST?
I like putting 1/2 c. of the warm water into a small bowl with the yeast and 1 tsp. of sugar. Give it a stir. Place a small plate on top and let it sit for 5 minutes. When you go to add the rest of the ingredients make sure to subtract the 1/2 c. of water and 1 tsp. of sugar that you already used for the yeast proofing.
CAN YOU USE INSTANT AND DRY ACTIVE YEAST INTERCHANGEABLY?
For the most part I use whatever yeast is available. Most of the time it's the instant yeast that comes in a large package from Sam's Club. When I use dry active yeast I add 10-15 minutes to the rise time. Technically you do not need to proof instant yeast, only dry active yeast, but I've gotten so used to proofing my yeast that I proof it for every recipe.
WHERE IS A GOOD PLACE TO LET THE DOUGH RISE?
A warm place is the perfect place for yeast to do its thing. I preheat my oven for 60 seconds then shut the heat off. I place my bowl of dough with a damp cloth or plastic wrap (that has been sprayed with non-stick cooking spray) covering it inside my oven.
Welcome! I'm Brandy, mother to 5 darling kiddos and a cute black lab named Toby. My husband is in the Coast Guard so we've lived all over the place, turning each house into a home. I love baking, sewing, making cute things with my kids, and sharing what I've learned with all of you!