Make a $5 rain gutter race track! Snaps together for easy storage and comes together in under 10 minutes and it a fun summer activity for kids. Thank you, Disney Junior, for sponsoring our creativity. Be sure to tune in for new episodes of your favorite Disney Junior shows every FRiYAY morning on Disney Channel!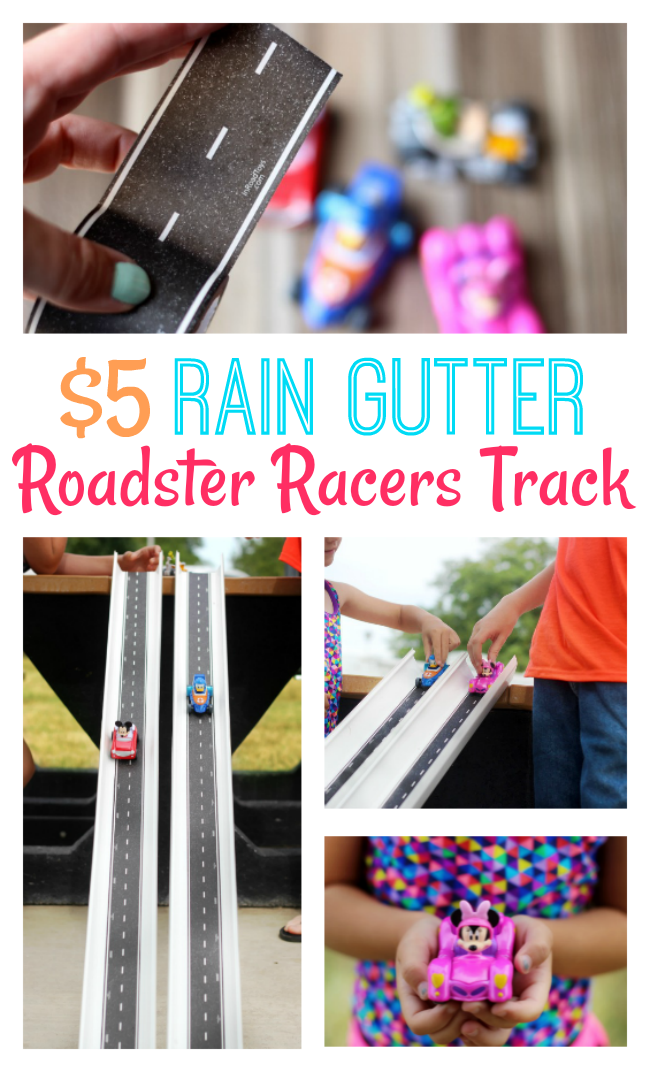 Dads are awesome. They come up with the best activities and seem to know how to keep them nice and simple. I wanted to make the kids a racetrack, but was a little stumped on how exactly to do it. Derrick came home with a $4 rain gutter and some road tape that he found in the toy aisle.
Boom – our rain gutter race track was born!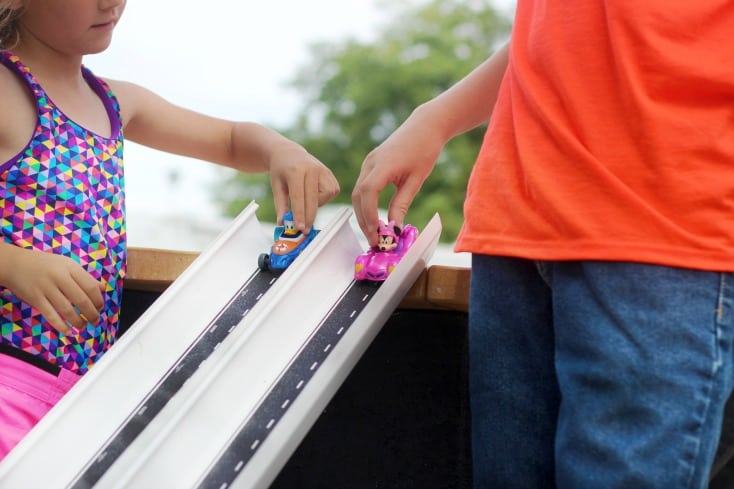 Ruby is our resident Disney Junior fan, but wouldn't you know? All of the kids still love Mickey and friends. Even Aaron who is 11 years old! I think he was the most excited about the new race track.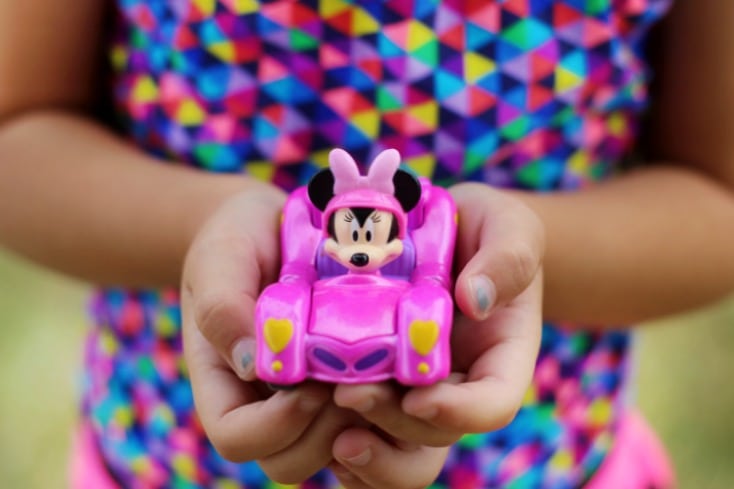 The Disney Junior shows are timeless and so darling. Have you seen Mickey's Roadster Racers? New episodes are coming out Friday mornings throughout the summer on Disney Channel. Ruby has always been a Minnie Mouse fan, and for good reason. Minnie Mouse is just like our little Ruby. Feminine, dainty, sweet, caring, and has the best fashion sense. Ruby has Minnie Mouse high heels, costumes, toys, and now her own little die cast car. She was even able to meet her in person at Disneyland when she was 3 years old, and still talks about that to this day!
Disney Junior has all new episodes of her favorite shows every FriYAY morning on Disney Channel turning her Friday's into FRiYAY's! You can watch your favorite shows on the Disney Junior channel (throughout the day), as well as on the Disney Channel (in the mornings). The new episodes air first on the Disney Channel. If you don't have access to cable you can find content on their YouTube channel too like music videos, shorts and fun seasonal content.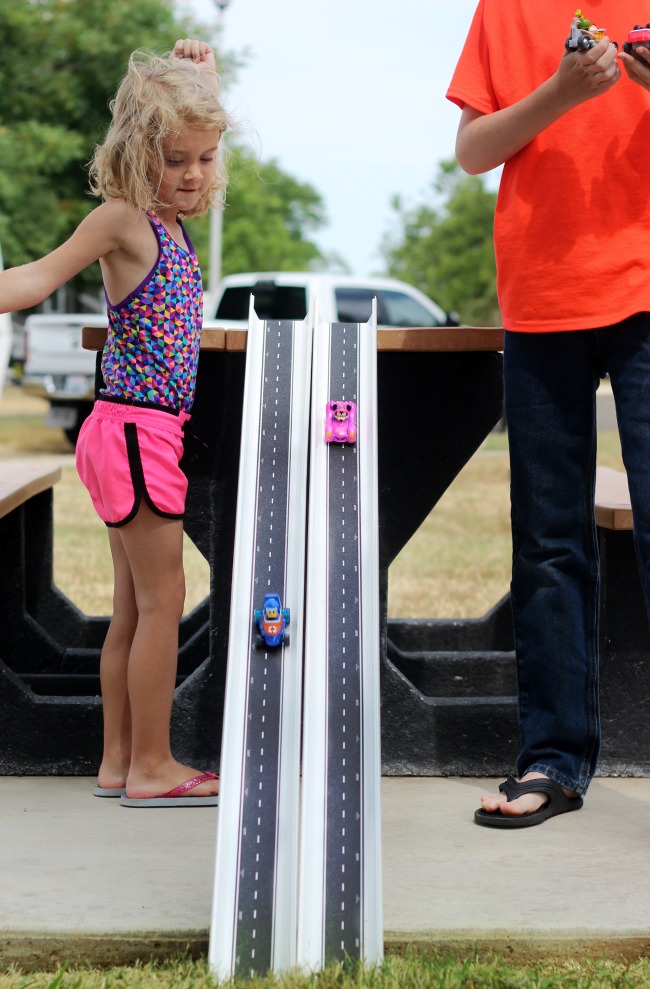 I found four of these little die cast cars and the kids had a great time seeing which one was the fastest. They raced, and raced, and raced, and in the end, Mickey's car was the fastest, closely followed by Donald.
Want to make your own rain gutter track? It's super easy, and we'll show you how!
$5 Rain Gutter Racer Track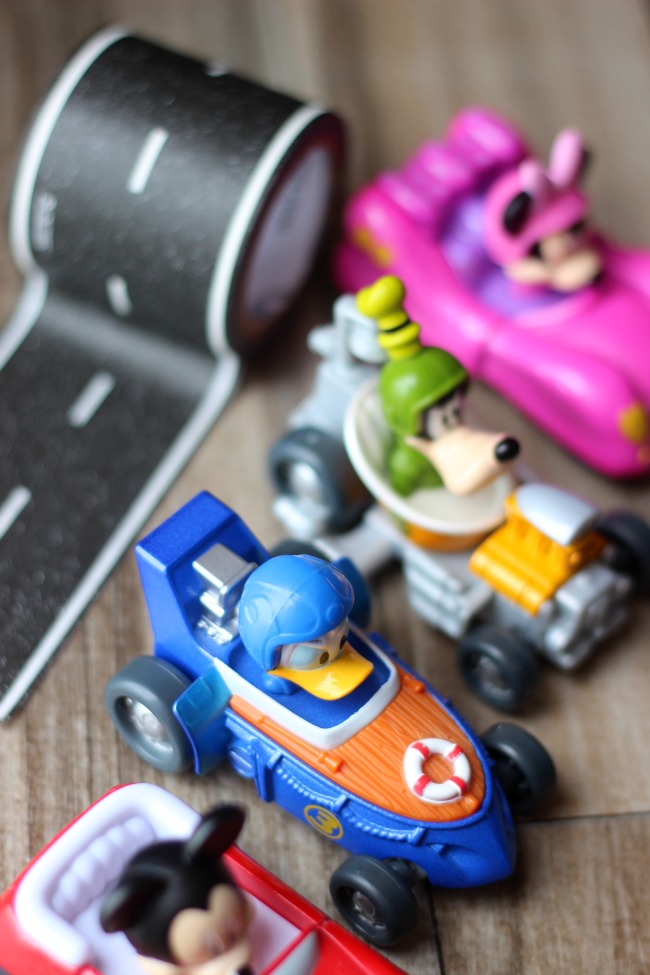 You'll need some racers. I found these darling die cast cars in the toy aisle at the store. So cute!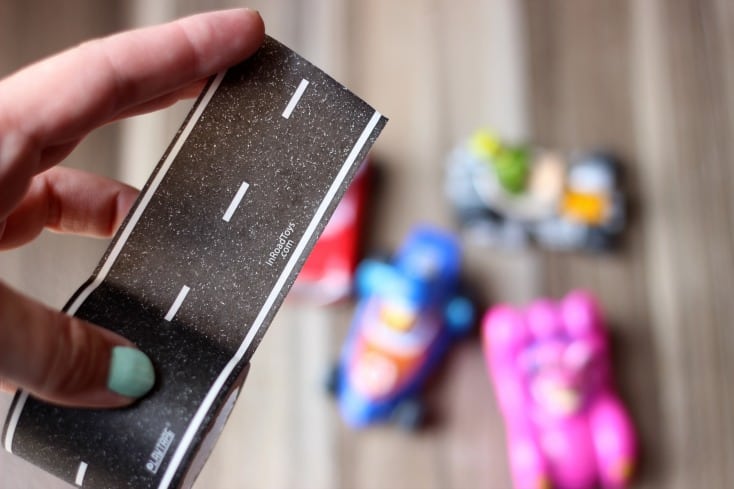 You'll also need a roll of this awesome peel and stick tape. We only used a tiny bit of the roll and will save the rest for making roadways on our kitchen floor sometime! You could also use a permanent market to draw on some road lines or designs.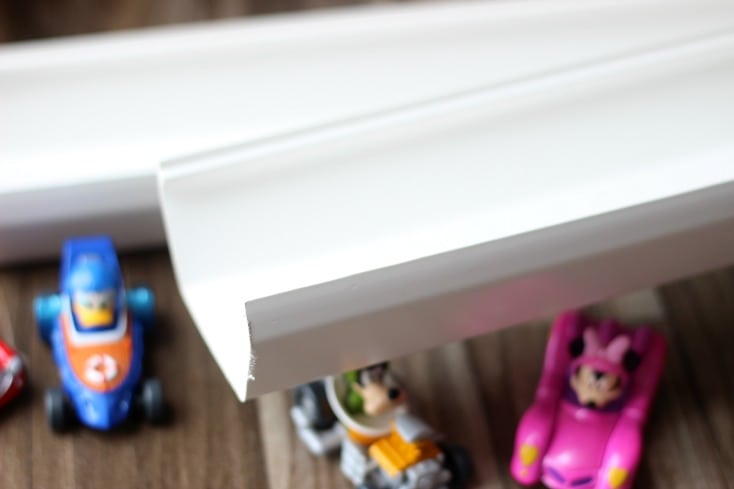 Last, but not least, you'll need a 10′ plastic rain gutter. Derrick found this at the hardware store and asked them to cut it into 2 (5′) sections.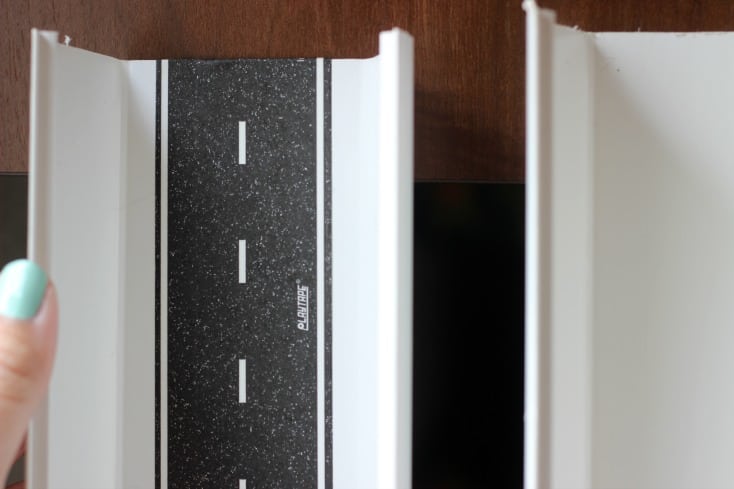 Run a strip of tape down the center of each one and that's pretty much it!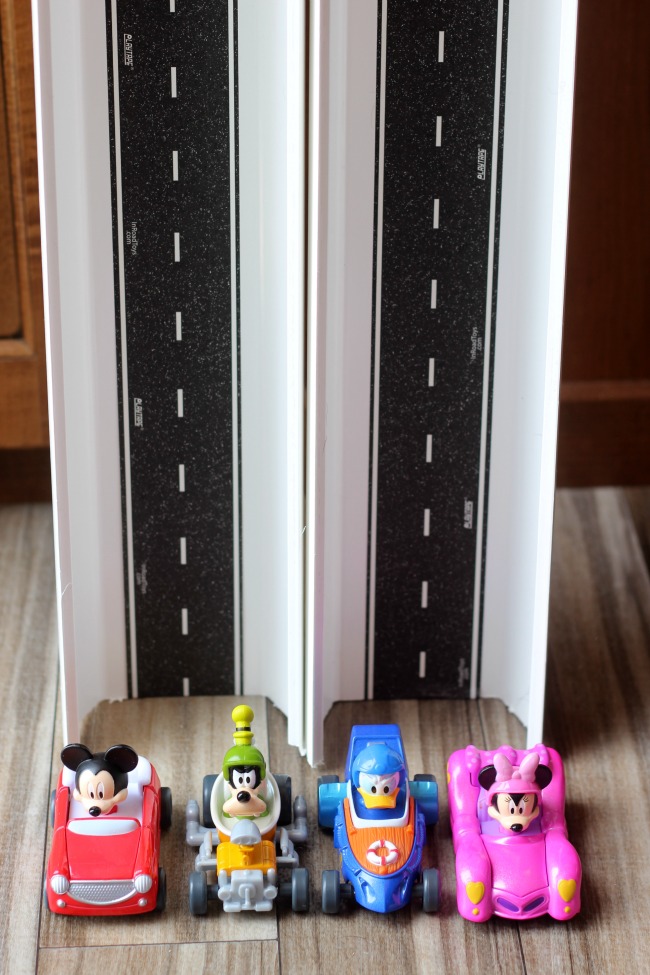 The awesome thing is that they the rain gutters take up very little space. You can stack one on top of the other and they snap together for storage.
Now let's race!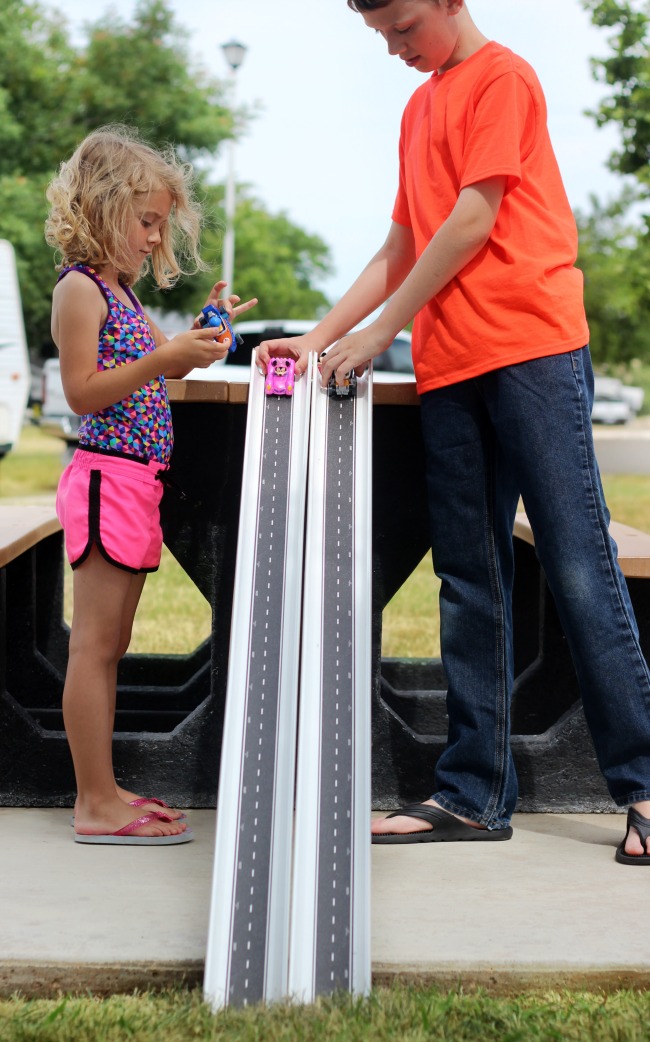 I love Mickey's Roadster Racers because it encourages teamwork, sportsmanship, and treating others kindly through adventures and delightful stories that children can relate to.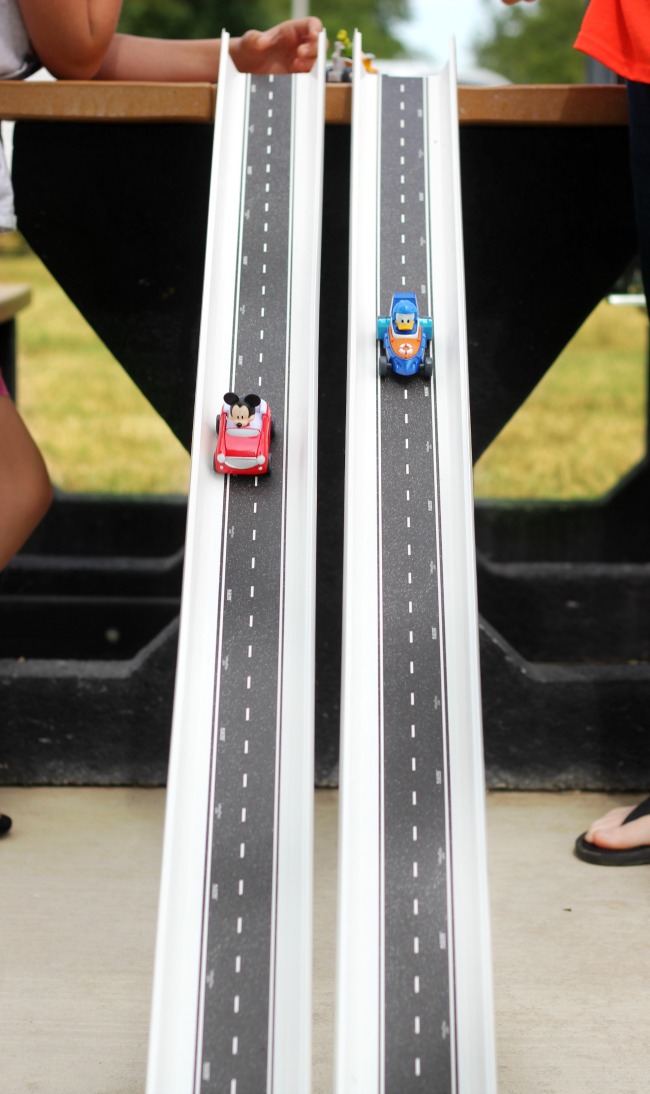 For example, in one of the latest episodes Goofy gets a chance to compete against his movie hero, Morty McCool, in a daredevil competition! But when the REAL Morty turns out to be more of a "heel" than a hero, Goofy ends up being the one who saves the day for those troubled racers in need of a REAL hero. In the end, Goofy loses the competition, but wins the respect of all the other racers and competition sponsor, Mr. Bigby, who puts Goofy's face on the label of his new motor oil can.
Catch the latest FriYAY episode of Mickey & The Roadster Racers @8:30am followed by an all-new Puppy Dog Pals on 6/16!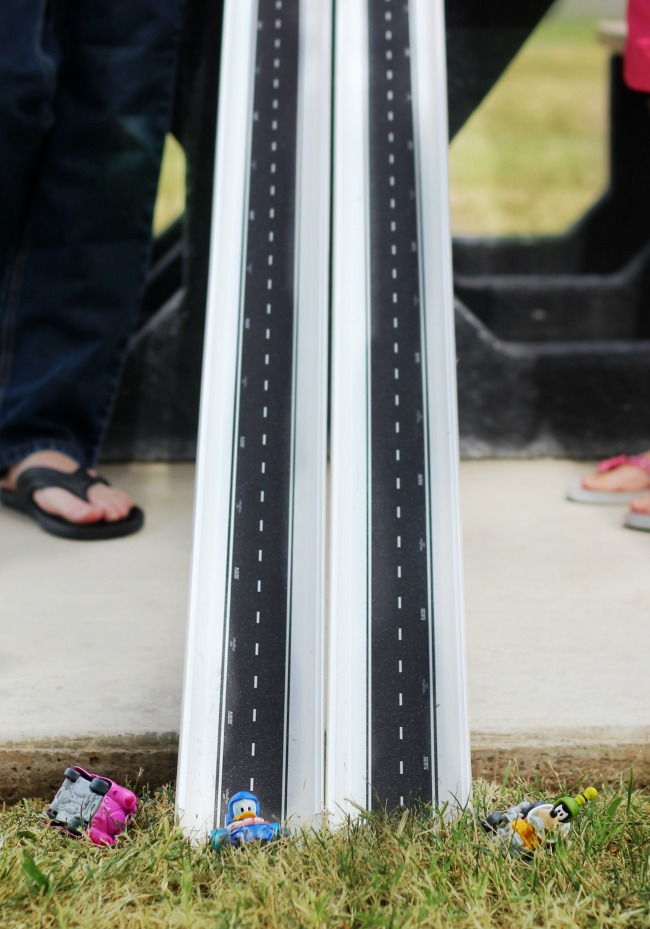 Teamwork, goodwill, and friendship. These are characteristics that I want my children to value, and thanks to cute shows like Mickey's Roadster Racers, Sofia The First, and Puppy Dog Pals, they can get a little dose every FriYAY. I remember cuddling with my boys and watching Mickey Mouse Clubhouse, Little Einsteins, and Handy Manny on Disney Junior almost ten years ago. We'd go to the website and print out fun little activities to do together. I love that a decade later Disney Junior is still in our home. If you want to welcome Disney Junior's content into your home, check out new episodes every FRiYAY morning on Disney Channel all summer long.
If you liked this fun kids summer activity you might also like…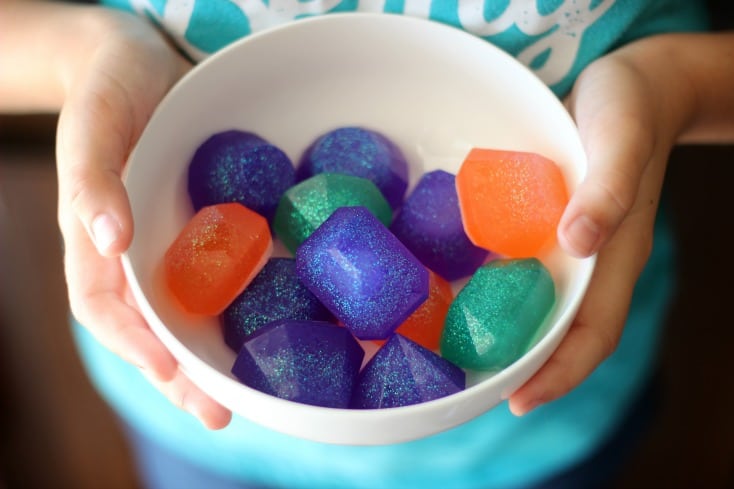 This is a sponsored post written by me on behalf of Disney Junior.