These science kits for kids are easy to put together using household ingredients! They even come with printable instructions. Bobbing raisins, Invisible Ink, Wriggle Worms and more! Package them all up in baggies and put in a tote for a fun and educational gift or summer activity for kids.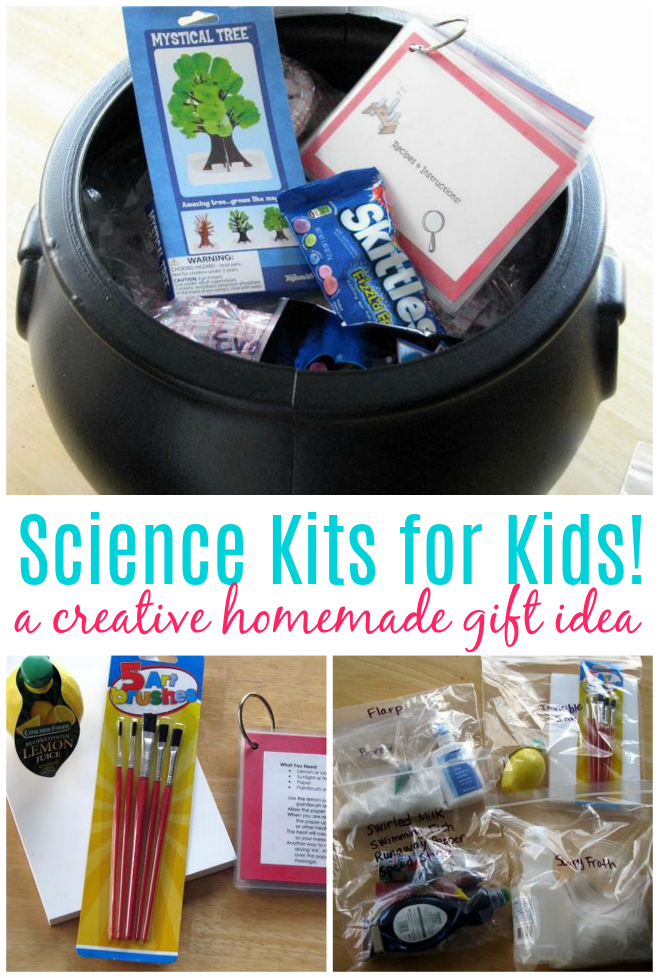 Today I'm sharing a homemade gift idea that we did for my sister's family. A  Science Kit for my nieces and nephews! Science kits for kids are always fun, and this one was fairly inexpensive since it was homemade and uses every day items!
Some of the ones we included were:
(click below to be linked to each experiment)
We spend an evening trying these out ourselves and had a great time!
Goggles, and some fun candy! Have you seen the fizzy Skittles? They don't taste that great, but do fizz up in your mouth. My kids liked that.
 I grabbed this Mystical Tree and Lakeshore Learning. We picked one out for ourself. The kids had a great time watching it grow and it made for some pretty fall decor.
This was such a fun gift to put together. A little time consuming, but so worth it. My sister's family is so creative and active. We couldn't think of a more perfect family to make this for.
How does one wrap a huge cauldron? This is all I could think of without using an entire roll of wrapping paper 😉
You might also like…