This post was most recently updated on March 15th, 2021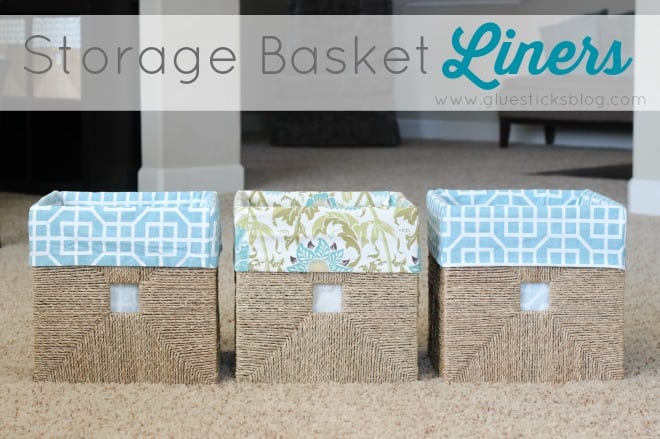 Who loves the storage cubes and stands at IKEA? I do, I do! I have them in my living room and use the nylon ones for individual hampers for the kids in their bathroom. The storage shelves are awesome too. As I was looking around in my living room the other day I notice a lot of beige, and a lot of black. A lot. My kitchen has blue and yellow mixed in so I decided to add a bit of subtle color to the rest of the main floor. The easiest way to do that is with fabric!
I made 6 basket liners in about 90 minutes and it completely transformed my living room. Amazing what bit of color can do!
Basket liners are very simple to make and much more inexpensive than the store bought ones. Those home decor stores are pretty proud of their baskets and liners!
You can make a liner for any basket shape, but the square (cube) ones are by far the easiest. I am going to show you how to make a square basket liner, but if you want to make one for a rectangular one you will just need to adjust the side measurements accordingly.
Storage Basket Liner Tutorial
gluesticksblog.com
Supplies:
fabric; a nice sturdy home decor fabric works great.  I actually used a table cloth and some scrap fabric.
scissors
pin
measuring tape
Sewing machine/thread
Begin by measuring the length and width of each side of your basket.  I will share the measurements of mine as a reference.
Since my sides are squares, the length and width were both 12.5″. Add 1/2″ inch for seam allowances. So 13″.
You will want to add a few inches to the length (height) so that it hangs down over the front of the basket. So add 3-4″ to the height.
Cut out 4 pieces for the sides. 13″ wide and 16″ tall.
Measure the bottom of the basket (mine was 12.5×12.5″), add 1/2″ for seam allowances.  Cut out a piece of fabric for the bottom.
You will end up with 5 pieces. 4 for the sides (13×16″) and a bottom piece (13×13″)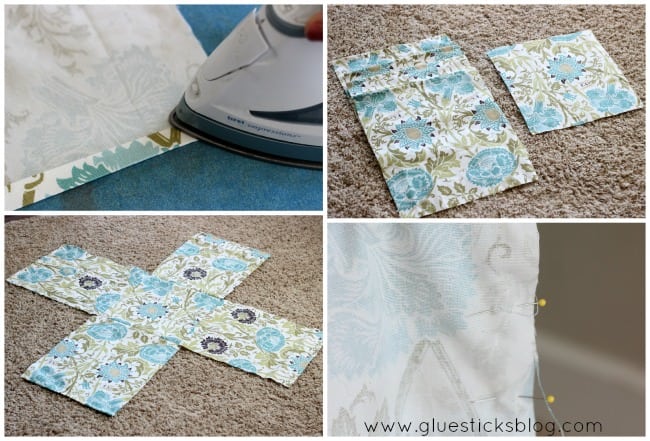 Fold down the top of each side piece 1/2″ and press. Fold down another 1/2″ and sew in place. Do this for all 4 side pieces to create a nice pressed hem.
Leave the bottom piece as is.
Sew the bottom of each side piece to the bottom liner piece. You will end up with a shape like the one above that looks like a cross.
Pin the sides together. Begin at the top, matching hems. Sew the side pieces together, also beginning at the top so that the tops match up perfectly.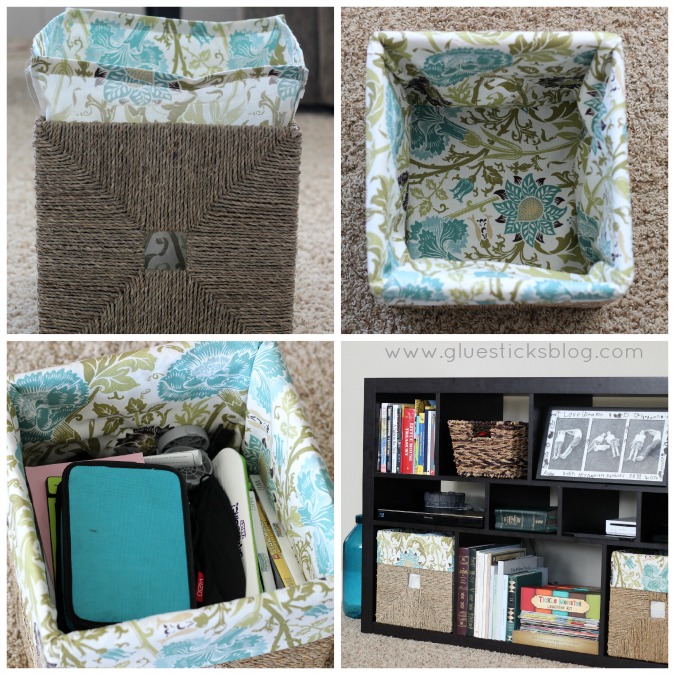 Slide into your basket and fold over. That's it! These liners work perfectly for adding a pop of color to a room and disguising clutter.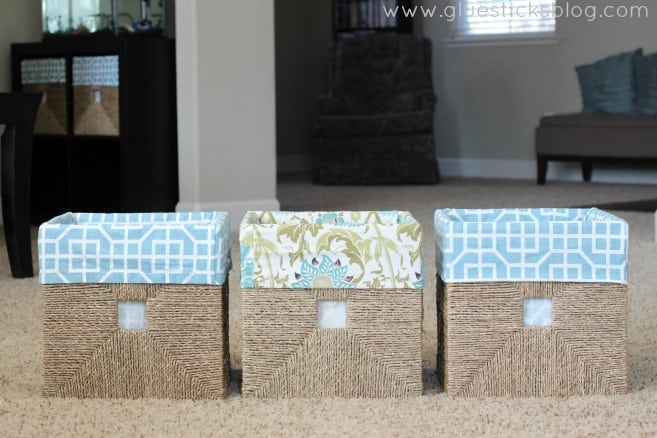 I store toys, diapers and wipes, and all of the kids' electronic remotes and cords in ours. Out of sight, out of mind.