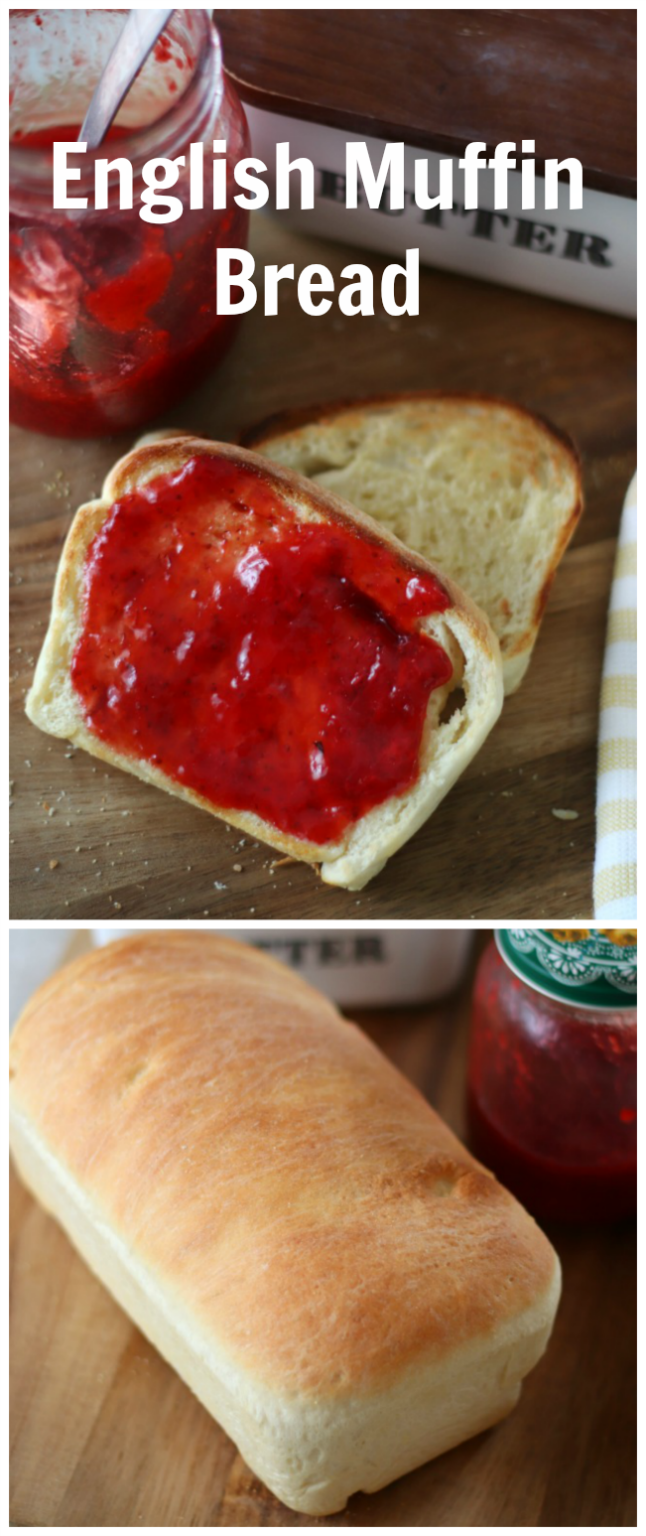 Watch our step by step video!
Making bread is one of my favorite things to do and it is the easiest way to score cool mom points with my kids. This English muffin bread is my daughter Ruby's FAVORITE bread. It's one of my favorites as well.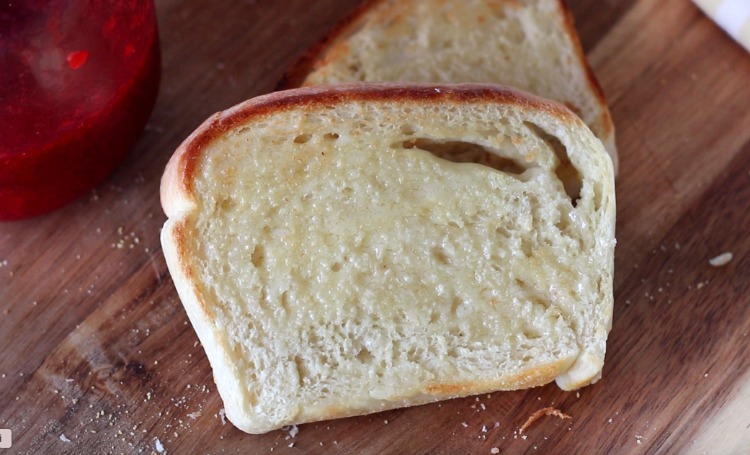 I made a comment that it would be nice if the house always smelled like fresh baked bread and she said, "I do too, but only if there is actually fresh bread coming out of the oven. If it smelled like bread, and there wasn't any bread, that would be awful." True. So no bread air fresheners for this house. I guess I'll just keep baking up batches of our favorites.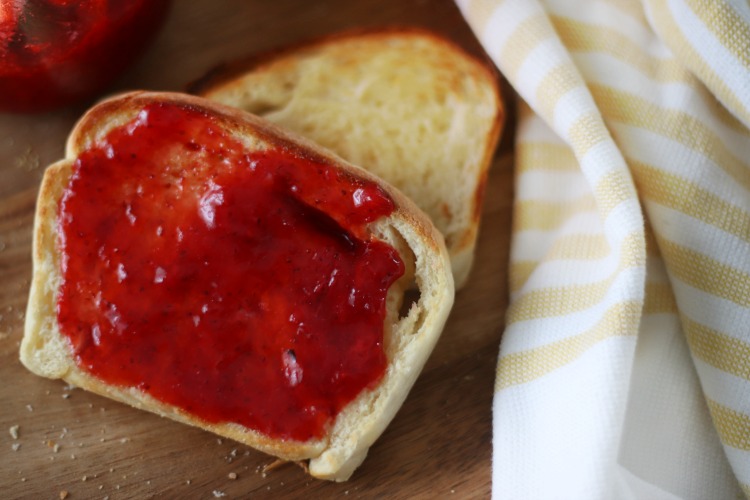 How To Serve English Muffin Bread
This English muffin bread is absolutely delicious, and comes with all of the nooks and crannies that we all love. You can eat it warm, straight from the oven, but it truly isn't English muffin bread without toasting (in a toaster)  it until the edges are GOLDEN. We like spreading our toasted slices with butter,
freezer jam
, or
honey cinnamon butter.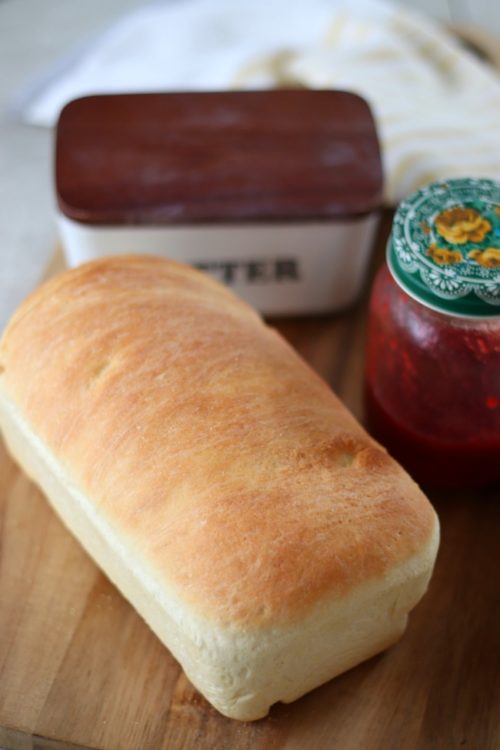 More homemade bread recipes that you'll love!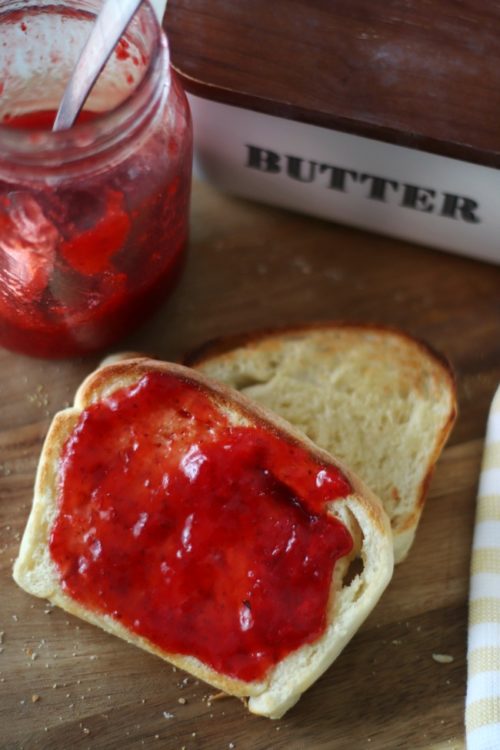 Store loaves in bread bags or a bread container. The bread will stay fresh on the counter for three days. You can freeze it as well and let thaw on the counter until it comes back to room temperature.
English Muffin Bread Recipe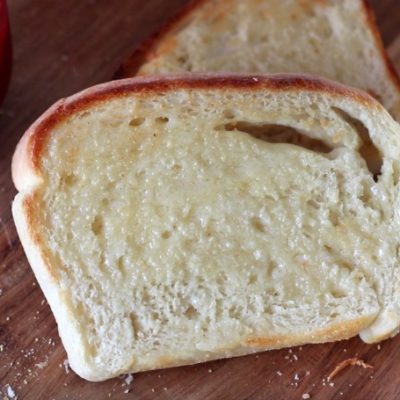 English Muffin Bread Recipe
Nothing beats a slice of toasted English muffin bread spread with butter or jam. Easy to make and perfect for breakfast!
Print
Pin
Rate
Ingredients
1/2

cup

warm water

2 1/4

teaspoon

yeast

(1 packet)

3/4

cup

warm milk

1 1/2

teaspoon

sugar

1

teaspoon

salt

1/4

teaspoon

baking powder

3

cup

flour

1

teaspoon

cornmeal

to sprinkle in pan
Instructions
Mix warm water and yeast in a small bowl. Cover and let proof 5-10 minutes or until yeast is bubbly.

In a large bowl mix warm milk, yeast mixture, sugar, salt and baking powder.

Add flour, one cup at a time until a soft dough forms.

Knead dough on a lightly floured surface for 5 minutes or until elastic.

Drizzle a small amount of oil into a bowl. Place dough inside and turn over once. Cover and let rise until doubled, 60-80 minutes.

Shape dough into a loaf by rolling out into a 9x18" rectangle. Roll dough up along the 9" side and pinch seam and ends. Place in a greased loaf pan that has been sprinkled with cornmeal.

Cover and let rise until doubled, about 40 minutes.

Bake in preheated oven at 400 degrees for 20 minutes.

Remove loaf from hot pan and allow to cool on wire rack.

When ready to eat, slice bread and toast in a toaster. Serve with butter or jam.
Notes
Watch our video for step by step instructions.
Nutrition
CAN I USE MY BREAD MAKER TO MAKE THE DOUGH?
Absolutely! I used to do this all the time. Run the dough through the "dough" cycle, shape into a loaf, then let raise a second time in the loaf pan before baking.
WHAT IS THE BEST KIND OF FLOUR TO USE for English Muffin Bread?
I always use bread flour or all purpose. Honestly, I can't tell a difference between the two.
WHAT IS THE BEST WAY TO PROOF YEAST?
I like putting 1/2 c. of the warm water into a small bowl with the yeast and 1 tsp. of sugar. Give it a stir. Place a small plate on top and let it sit for 5 minutes. When you go to add the rest of the ingredients make sure to subtract the 1/2 c. of water and 1 tsp. of sugar that you already used for the yeast proofing.
CAN YOU USE INSTANT AND DRY ACTIVE YEAST INTERCHANGEABLY?
For the most part I use whatever yeast is available. Most of the time it's the instant yeast that comes in a large package from Sam's Club. When I use dry active yeast I add 10-15 minutest to the rise time. Technically you do not need to proof instant yeast, only dry active yeast, but I've gotten so used to proofing my yeast that I proof it for every recipe. If you are using instant yeast and don't want to proof it, simply mix it in with the flour and make the recipe as posted.
WHERE IS A GOOD PLACE TO LET THE DOUGH RISE?
A warm place is the perfect place for yeast to do its thing. I preheat my oven for 60 seconds then shut the heat off. I place my bowl of dough with a damp cloth covering it inside my oven.
2 MORE HOMEMADE BREAD RECIPES THAT YOU WILL LOVE!