Our strawberry shortcake recipe is a classic dessert! A delicious, homemade, biscuit topped with strawberries and cream. Perfection!
You might also like our fresh strawberry pie recipe—it's the best around! Our EASY freezer jam would be amazing on shortcake, too!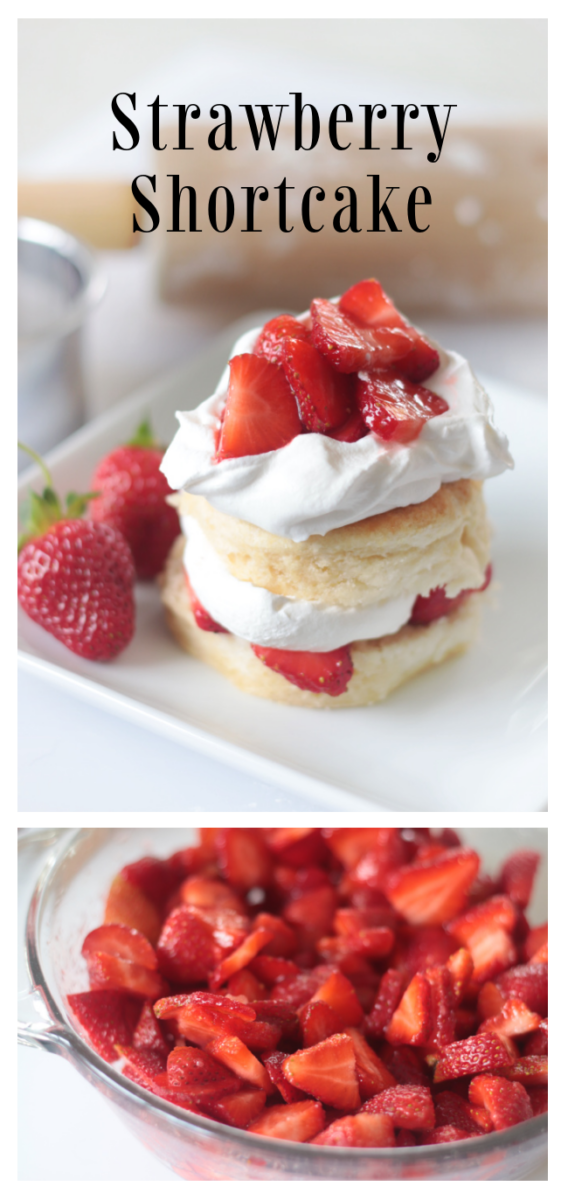 Watch our step by step video!
Homemade Strawberry Shortcake
Is there anything better than fresh strawberries and cream? Yes, yes there is. Pile that all on a homemade biscuit and you have a classic dessert—strawberry shortcake. During college I worked at a restaurant and learned how to make lots of delicious deserts. Homemade strawberry shortcake was a popular one and we made it using biscuits that the restaurant baked up daily.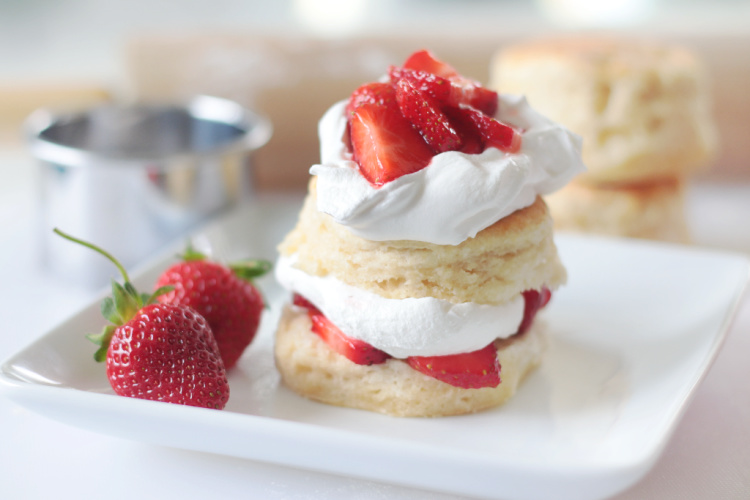 Strawberry Shortcake Ingredients
strawberries
sugar
whipped cream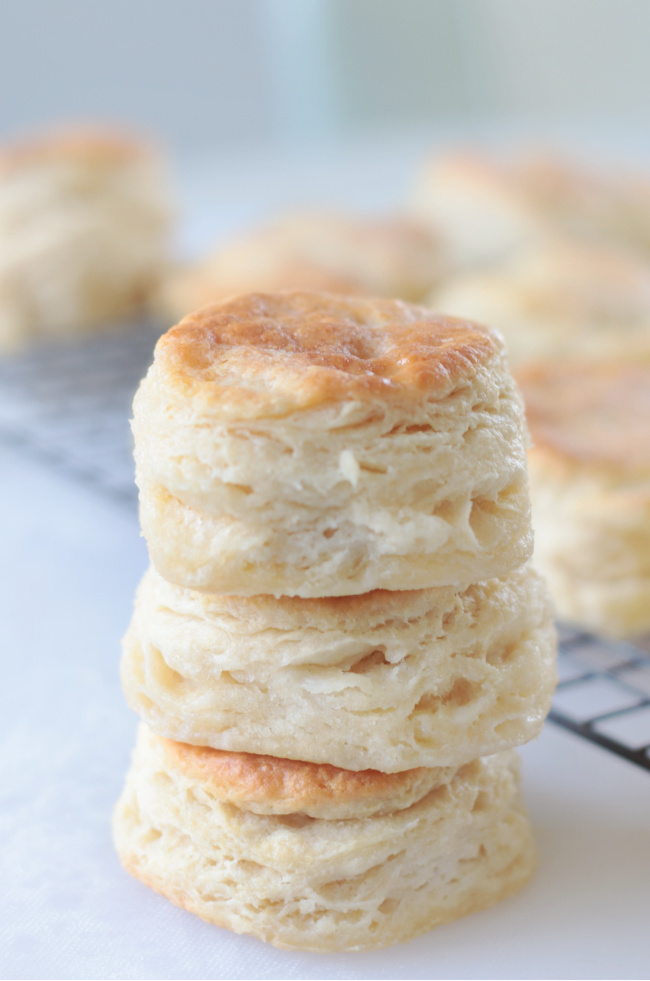 3-Ingredient Biscuits
Have you tried our 3 ingredient butter biscuits? They are SO easy to make and turn out perfect every time! They are PERFECT for making strawberry shortcake. One batch makes 12 biscuits. I'll add the recipe for my biscuits in the recipe card at the end of the post.
You'll start by making a batch of biscuits and letting them cool.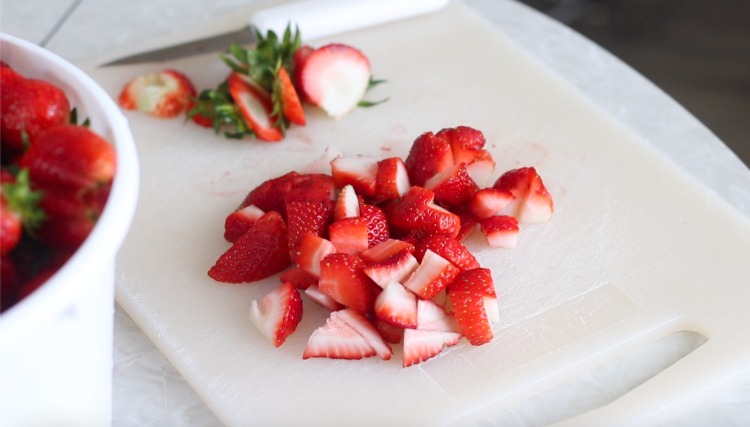 Slice up a pound and a half of strawberries (about 4 cups) and sprinkle with 1/4 cup of sugar.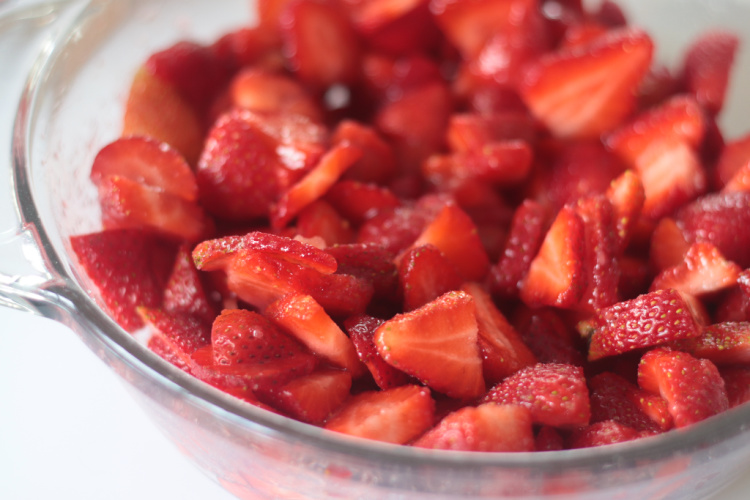 Give everything a stir and let sit for 10 minutes. It won't take long for the sugar to start drawing out the juices from the strawberries!
Slice a biscuit in half and layer with berries and whipped cream. So delicious and fresh! Store leftover biscuits in an airtight container.
To soften biscuits on day 2 or 3, simply microwave for 6-8 seconds.
Strawberry Shortcake Recipe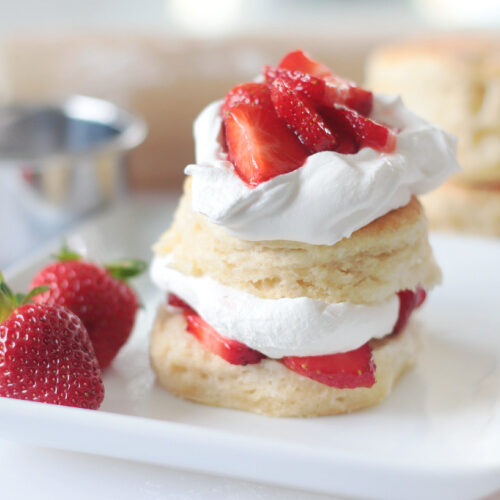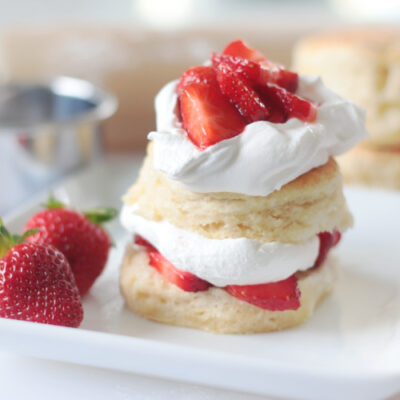 Strawberry Shortcake
Our strawberry shortcake recipe is a classic dessert! A delicious, homemade, biscuit topped with strawberries and cream. Perfection!
Print
Pin
Rate
Ingredients
3

cup

self rising flour

1/2

cup

COLD butter

1 1/2

cups

milk

1 1/2

lbs.

strawberries

sliced (about 4 cups)

1/4

cup

sugar

whipped cream
Instructions
Preheat oven to 450 degrees.

Use a pastry cutter to blend flour and 1/2 cup (1 stick) of COLD butter until it resembles coarse crumbs.

Stir in milk using a danish dough whisk or spoon.

Knead dough on a floured surface just until everything comes together and soft dough forms.

Roll dough out 1/2"-3/4" thick using a rolling pin.

Cut biscuits using a 3" biscuit cutter. Press biscuit cutter directly down and then up. No need to twist---this makes for a clean cut biscuit with level tops.

Press leftover dough together and continue to cut out biscuits. I usually get 12 (3") biscuits from one recipe when rolled out 3/4" thick.

Place biscuits in a greased 9x13" baking pan or on a greased cookie sheet.

Place biscuits close together so that they are touching. This will help them rise nice and tall.

Bake for 18 minutes. Tops should be golden.

Combine sliced strawberries and sugar. Let stand 10 minutes.

Slice biscuits in half. Spoon strawberries and whipped cream over biscuit, add the second layer and repeat.
Notes
The butter and self rising flour already have salt in them. Do not add salt to this recipe. 
Nutrition