Sugar cookie decorating for kids! Put the butter knife away! Here are 6 cookies that kids can make using 3 basic frosting tips. Use these techniques to decorate ANY sugar cookie! We'll show how to make a gnome, stocking, tree, llama, Christmas light and sweater. This post contains affiliate links.
Recommended for ages 8+.


Watch our step by step Cookie Decorating video!
My girls (9 and 12) have graduated from decorating sugar cookies with butter knifes and wanted to learn how to make "fancy" ones. I'm not a professional decorator and have no idea how to flood sugar cookies with royal icing, but I do know a thing or two about buttercream so we went that route. This is the second year that they've used buttercream in frosting bags to decorate their sugar cookies and the results are always adorable!
ChristmaS Cookie Decorating For Kids: Tips and Tricks
This technique is simple and works for decorating ANY sugar cookie, no matter the shape! All you need is a round tip and a star tip! If you'd like to make Christmas light cookies REALLY fast you can also pick up a large 1A tip (which is a REALLY LARGE round tip).
Sugar Cookie and Frosting Recipe
The first thing you need to do is make up a batch of our bakery style sugar cookies and our favorite vanilla frosting. This recipe is simply the best. Soft cookies that keep their shape.
I don't use royal icing for my sugar cookies. Buttercream works just fine! Scroll to the bottom of the post for our recipes. You might notice that the frosting measurements have been doubled. When decorating with frosting tips I always make extra frosting. It uses more frosting than just spreading the cookies with a butter knife. If you have leftover frosting you can store it in the refrigerator or freeze it.
Cookie Cutters
I have a weakness for cookie cutters and have way too many. These are our FAVORITE Christmas shapes. You can find them on Amazon and at Target. We purchased some individually and others came in a multi-pack. I'll add links.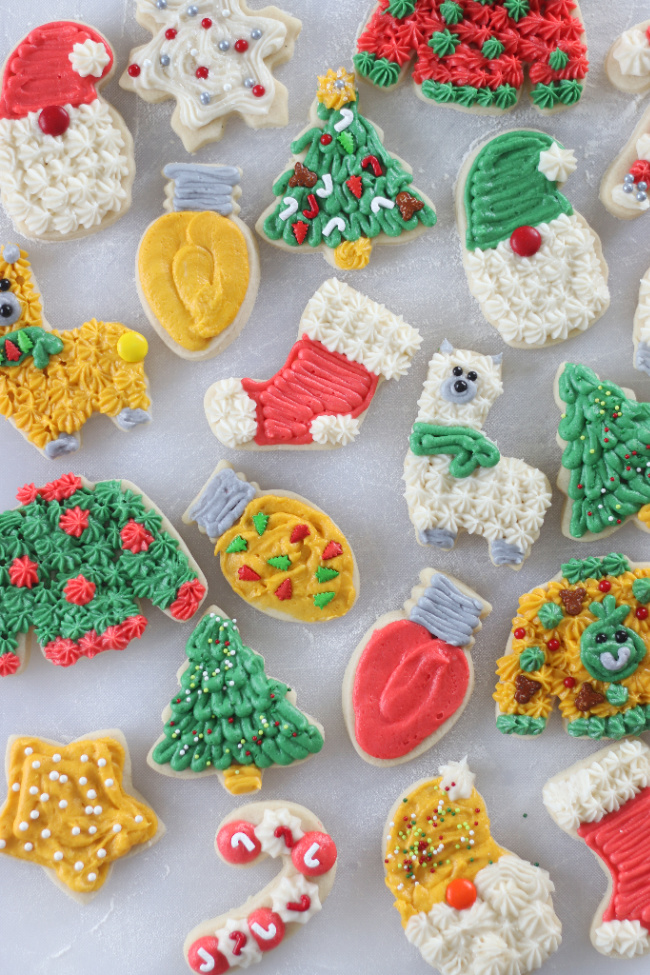 Best Frosting Tips for Kids
For these cookies we are using 3 different tips: 5 (or 7), 21, and 1A. These are standard tips that are easy to work with and are very forgiving.
Amazon is the best place to order a 1A tip, but you can find the others at Joanns or Michael's. You might even find a great little starter set that includes both. Again, tip 1A is optional, but makes decorating large areas a breeze!
Tip: Buy 2 of each kind of tip. This makes it easier to work with a variety of frosting bags filled with different colors! 
Tips for using round tips: apply firm pressure for a smooth application.
Tips for using star tips: use short "bursts" instead of applying firm, steady pressure. You aren't making lines or covering large sections, you are making small stars bursts all over the cookie.
Other Useful Items for Cookie Decorating
Disposable Frosting Bags: these are convenient to have and just toss after using.
Couplers: couplers attach to the frosting bag and make it easy to switch out the frosting tip that you are using. With a coupler you can switch from a round tip to a star without filling a new bag with frosting!
How To Use a Coupler
How To Fill a Frosting Bag
Let's get started!
Here is how to decorate 6 Sugar Cookies with Kids
Llama, ugly sweater, gnome, tree, bulb and stocking!
Watch our video for the BEST step by step tutorial and use the instructions below as a guide.
Llama Sugar Cookie for kids
Cover the entire cookie with "stars" of frosting.
Use the small round tip to cover the feet, ears, and to make a small "face".
Use the small round tip to add a scarf.
Decorate with sprinkles for eyes and other details!
Ugly Sweater Sugar Cookie for kids
Cover the entire cookie with "stars" of frosting.
Use a round tip to add any other details you'd like like a Grinch or a Christmas tree in the center.
Decorate with sprinkles!
Gnome Sugar Cookie for Kids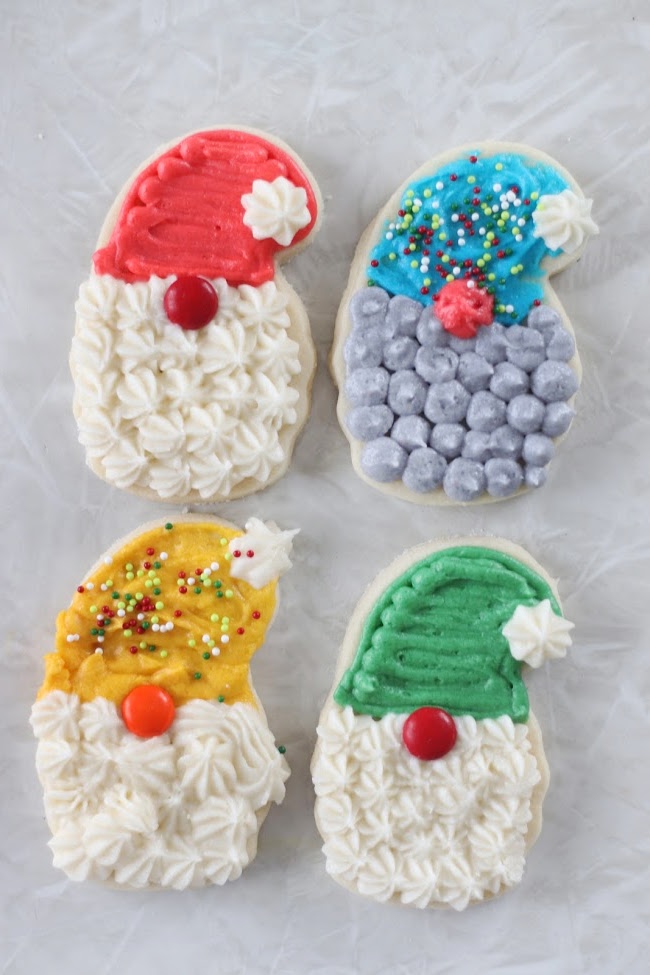 Outline the hat with a small round tip.
Fill in hat area with small round tip.
Cover beard area with star tip.
Add a candy nose.
Christmas Tree Sugar Cookie for kids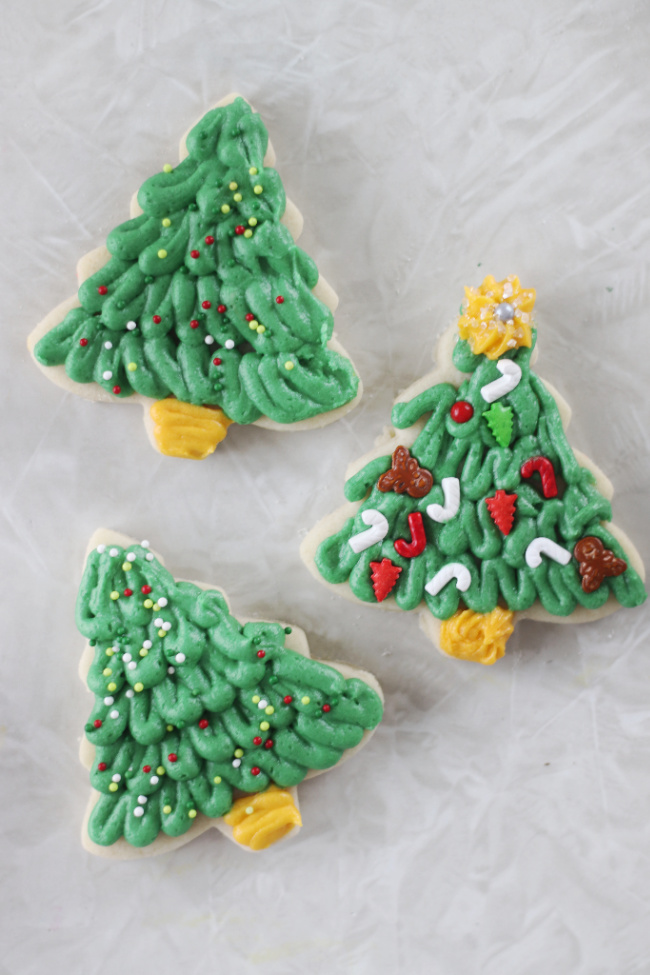 Use a round tip to cover the trunk.
Use a round tip to make zig zags of frosting starting at the bottom and layering each row on top of that.
Add sprinkle "ornaments".
Christmas Light Sugar Cookie for kids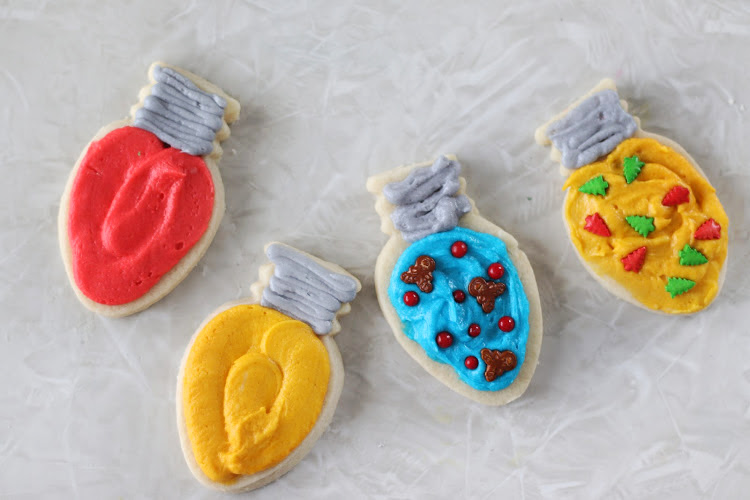 Use a small round tip to cover the base of the bulb.
Use the large 1A round tip to cover the bulb. To use a 1A tip, hold the tip CLOSE to the cookie (1/4″ away). Squeeze the frosting and drag it across the cookie for a smooth application.
Stocking Sugar Cookie for kids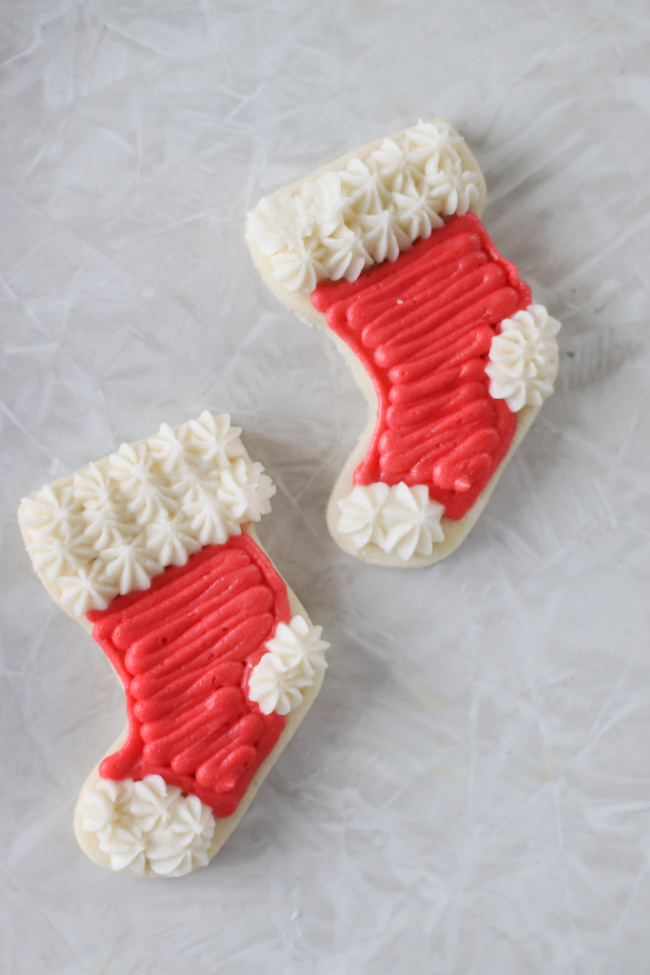 Outline the stocking area with a round tip.
Fill in the stocking area with a round tip.
Cover the heal, toe and cuff with stars using a star tip.
Now that you've made these adorable cookies, use the same technique to decorate snowflakes, candy canes, gingerbread men, and more!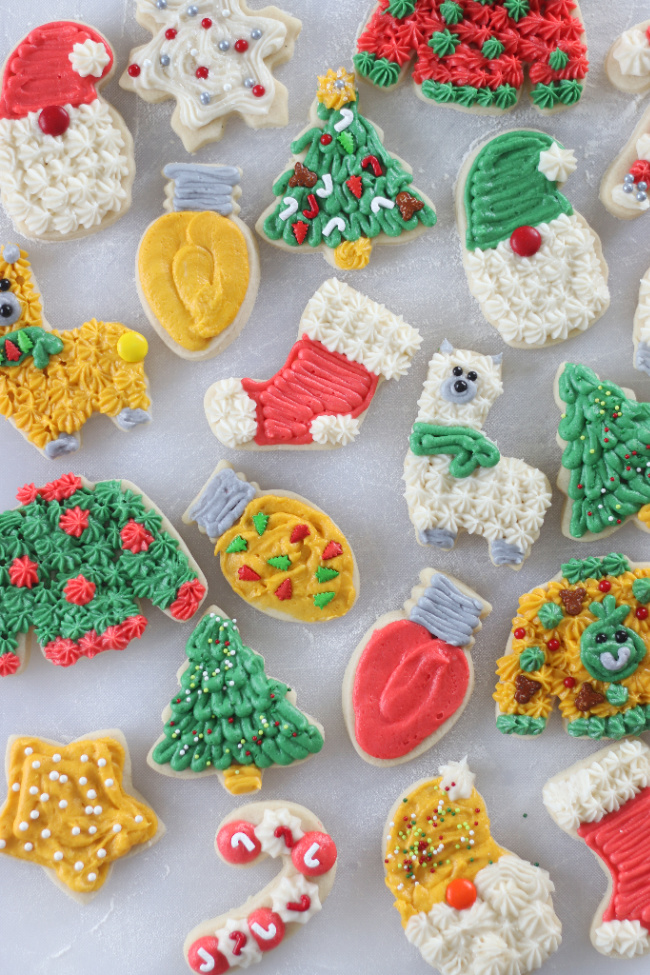 Best Sugar Cookie and Frosting Recipe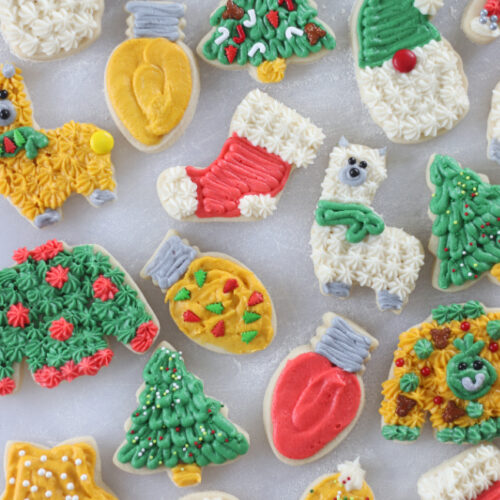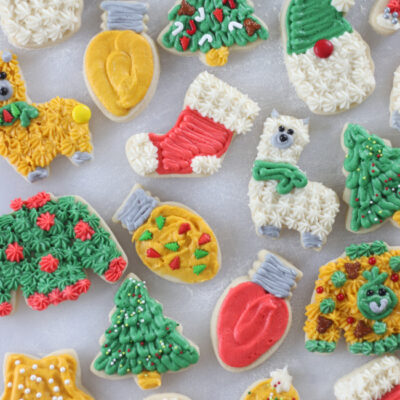 Christmas Sugar Cookie Decorating For Kids
How to decorate Christmas sugar cookies with kids! Tips, tricks and the best sugar cookie recipe ever!
Print
Pin
Rate
Ingredients
1

cup

butter

softened

1/2

cup

shortening

1 1/2

cup

sugar

1

egg

1 1/2

teaspoon

vanilla

2

teaspoon

almond extract

4

cup

flour

1/2

cup

corn starch

2

teaspoon

baking powder
Frosting
1

cup

butter

softened

6

cups

powdered sugar

2

teaspoons

vanilla

6-8

Tablespoons

milk
Instructions
In a large mixing bowl combine butter, shortening and sugar. Beat until fluffy. Turn mixer down and add egg, vanilla and almond extract. Add baking powder. Sift in and flour and cornstarch until mixed thoroughly (1-2 minutes).

Lightly flour your working surface and shape dough into a large ball.

No refrigeration necessary.

Roll dough out to desired thickness (I usually do 1/4-1/2") and cut into shapes. Add flour to dough if it feels too sticky but a nice soft dough is what you want. Carefully transfer cut out cookie shapes with a spatula to a baking sheet.

Bake on baking sheets at 325 degrees for 9-10 minutes. Cookies will be soft. Let sit on baking sheet for 5 minutes before carefully moving to a cooling rack. Cool completely before frosting.
Frosting
Beat frosting ingredients together. Add more/less milk until desired consistency is achieved.
Decorating Cookies
Fill decorator (we like disposible) bags with frosting and frosting tip.

Follow the step by step guide above and WATCH our video to see how we used the tips #5 (or #7), #21, and #1A to decorated the cookies!
Notes
You may have extra frosting left over. We like making extra so that we can make as many colors as we'd like.
Nutrition