Candy trains are so fun to make during the holidays! These ones are extra special because they carry coal! Perfect for kids to make as gifts for siblings and friends.
You might also like these cute snowboarding polar bear treats!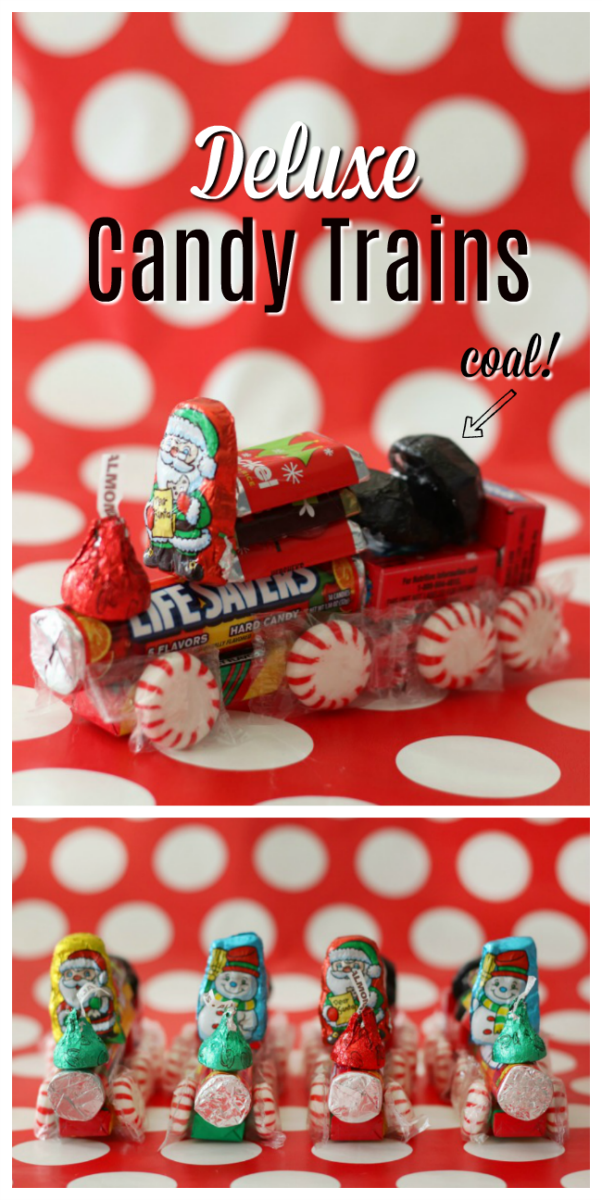 Watch our step by step video!
You can't help but associate trains with the holiday season! Beautiful trains that circle around the Christmas tree, holiday movies like "The Polar Express", train craft kits, and candy trains.
Candy trains have been a tradition in our family for years. I remember receiving one as a child and thinking it was the BEST gift ever. I also remember making them in elementary school! They are so easy to make and very fun to eat.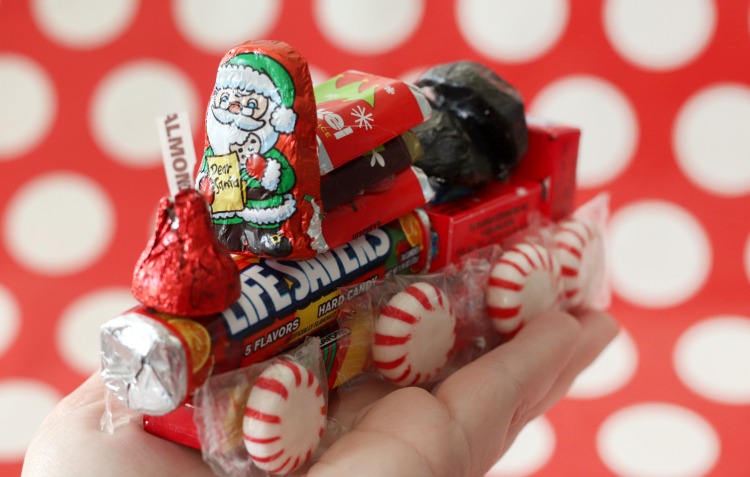 I couldn't wait to start making them with my own children when they hit the preschool years. Mac (4) decided to make them for siblings this year. We had such a great time putting together this little fleet of trains and he couldn't wait to put them in holiday bags and set them under the Christmas tree.
Scroll to the bottom for our Thomas and Friends variation!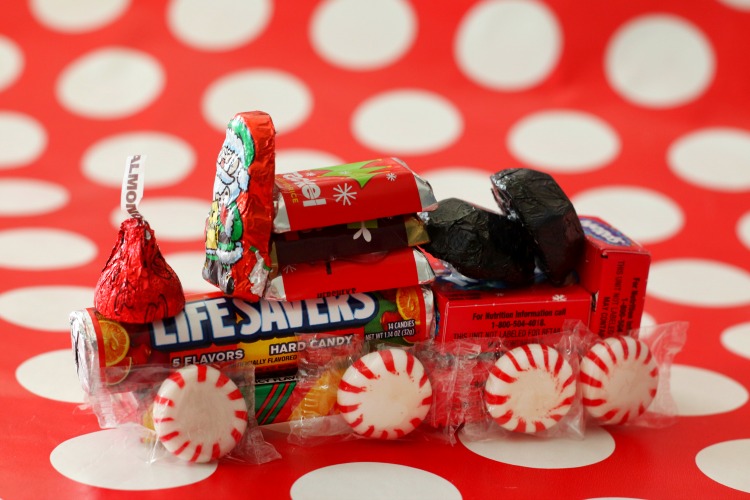 We made a deluxe version that carries coal, haha. This was super easy to do by adding 3 boxes of nerds and two pieces of chocolate coal. We found everything we needed at Dollar Tree and Walgreens!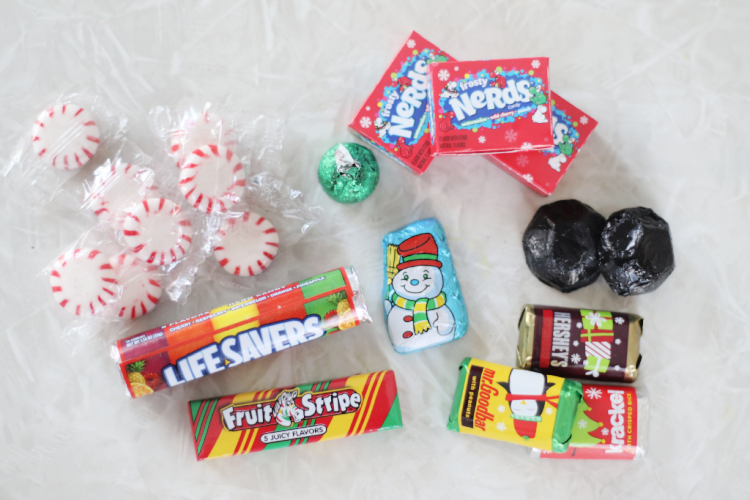 Candy Trains With Coal
Supplies
Gum
Life Savers
Hershey Kiss
Mini Candy Bars
Chocolate Santa or snowman
Starlight mints
Nerds
Chocolate coal
hot glue/gun
Finding gum packs: Gum doesn't generally come in little packs of 5 sticks anymore. I found these at Dollar Tree, and Walmart also carries them.
Finding Life Savers: Walgreens always carries the Lifesaver storybooks during the holidays that have 6 rolls of candy. You can also purchase the mint Lifesavers in the candy section at most grocery stores.
If you can't find the exact candies that I used, get creative, and use something similar!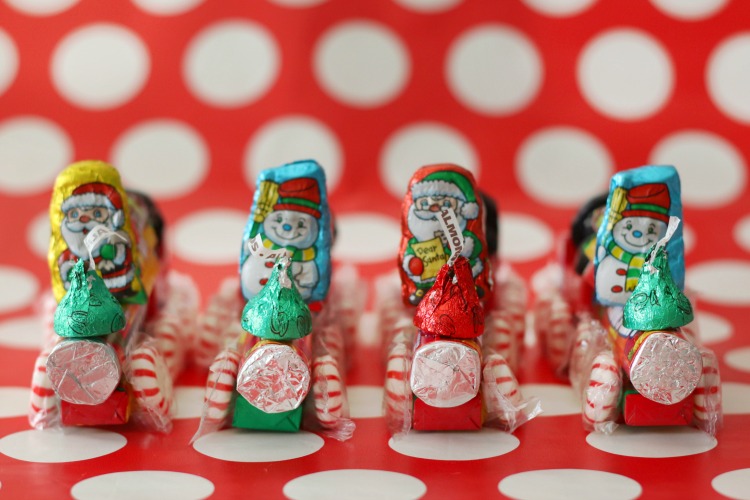 3 More Holiday Candy Projects!
How To Make Candy Trains With Coal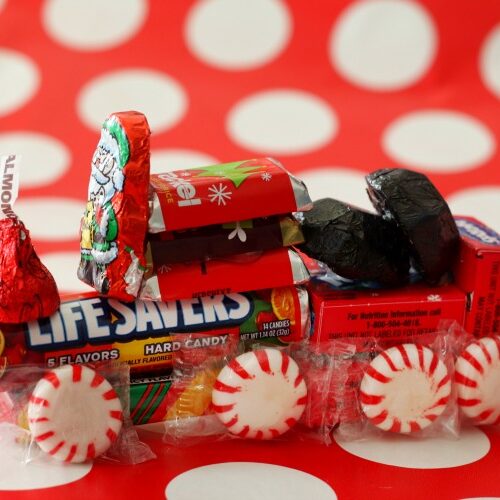 Print
Holiday Candy Trains With Coal
Candy trains are so fun to make during the holidays! These ones are extra special because they carry coal! Perfect for kids to make as gifts for siblings and friends.
Equipment
hot glue gun

hot glue sticks
Materials
1

package

Gum (5 sticks)

1

roll

Life Savers

1

Hershey Kiss

3

Mini Candy Bars

1

Chocolate Santa or snowman

8

Starlight mints

3

boxes

Nerds

2

Chocolate coal candies
Instructions
Hot glue the roll of Lifesaver candies on top of the pack of gum.

Glue two mini boxes of Nerds together, then add them to the back of the train.

Add a 3rd box of mini Nerds on the back of the train, vertically.

Glue a Hershey kiss as a smoke stack and 3 mini candy bars to the top of the train.

Glue mint candies for the wheels, 4 on each side.

Glue a Santa or holiday character to the front of the mini candy bars. Glue 2 pieces of chocolate coal to the boxes of nerds.

Enjoy your holiday candy train!
Thomas and Friends Candy Trains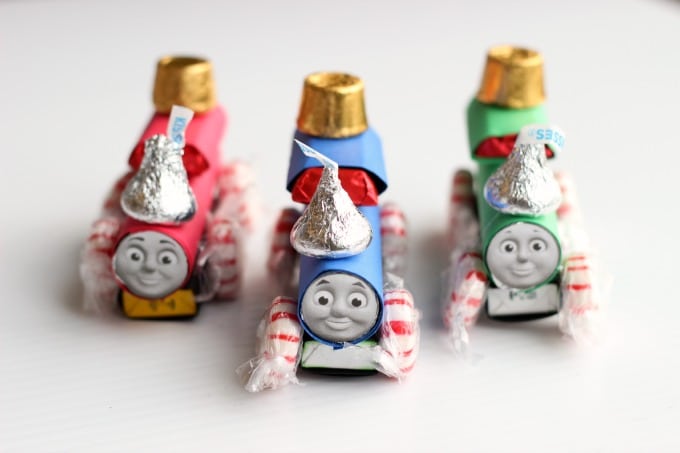 Here is a fun variation of a holiday candy train—make a Thomas and Friends version! Use our printable face template to cut out the faces of Thomas and his friends. Wrap the candy in cardstock to coordinate with each character.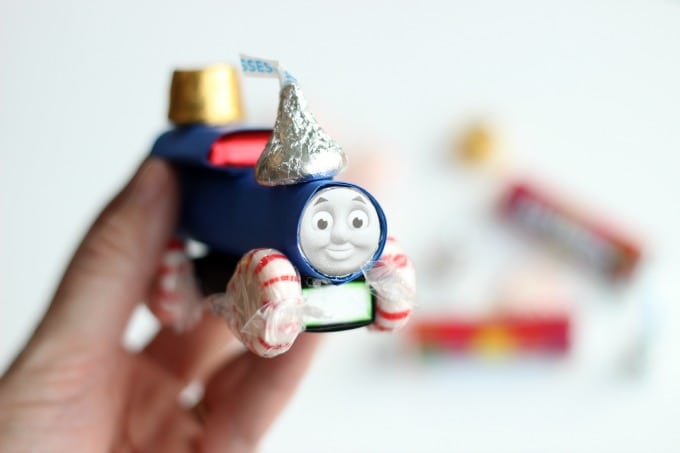 Welcome! I'm Brandy, mother to 5 darling kiddos and a cute black lab named Toby. My husband is in the Coast Guard so we've lived all over the place, turning each house into a home. I love baking, sewing, making cute things with my kids, and sharing what I've learned with all of you!