These snowboarding polar bear treats are hilarious and you only need 2 items to make them! Great for class parties, birthday parties, and holiday crafts. This post contains affiliate links.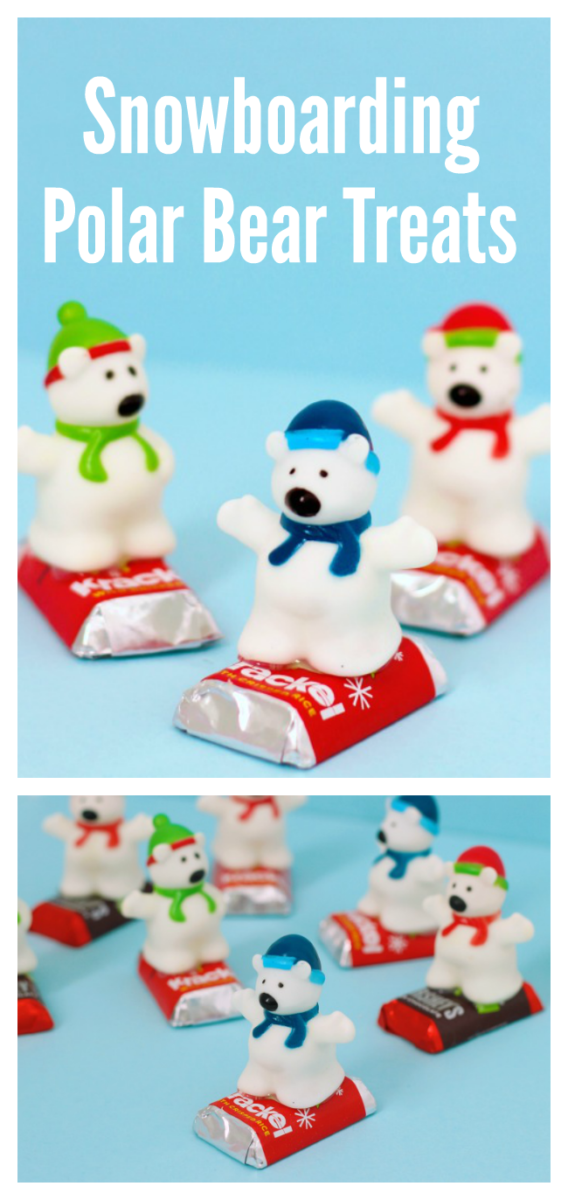 Mac and I can't get over the cuteness of these snowboarding polar bear treats. We made a bagful to bring to his nursery friends at church in December, but they'd make cute wintertime treats for preschool classes in January, too! There are 14 children ages 3 and under in his nursery class. Bless those sweet nursery leaders who play and sing with them every Sunday! He is going to have so much fun standing at the door and giving out his snowboarding polar bear treats to everyone after nursery.
It took about 5 minutes to make 15 snowboarding polar bears. 5 MINUTES.
You're gonna want to make a mental note to bring these in for class parties this year when you find out that your child signed you up to make holiday treats for 24 kids.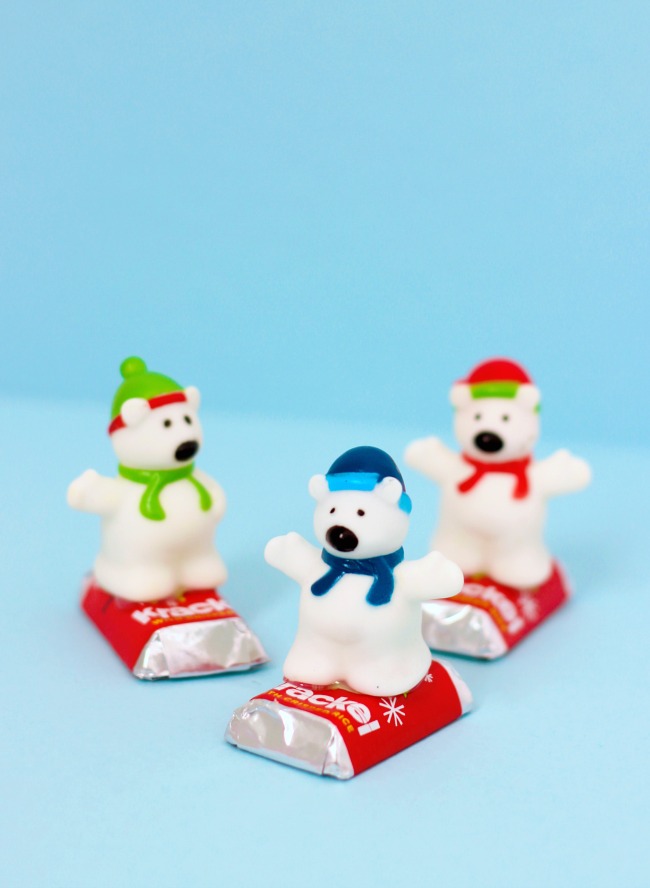 I started out trying to find a way to make candy cane sleds, similar to our milky way teddy sleds, but looked down after gluing the polar bear to the mini candy bar and started laughing because the polar bear on top of the mini candy bar was so much cuter and EASIER. Done and done. Our sleds immediately turned into snowboards and I'm not mad about it one bit!
The polar bears are from Oriental Trading and are actually finger puppets. They come in packages of 24 so they are perfect for class parties and there are so many cute styles and uses for them.
Rudolph Ornament Gifts: These DIY Rudolph ornaments are the perfect holiday party favor! Fill them with darling finger puppets, and seasonal candy and hang them on the tree. A great kids craft too to make at school!
Reindeer Candy Tins: Darling reindeer candy tins that come together quickly for the perfect holiday party favors! You can also add numbers and use as a fun advent activity!
And just for kicks, here's another fun class party idea:
Holiday donut cups made out of disposable cups and oil based sharpie pens and filled with mini donuts. There are 3 different varieties of donuts to choose from and 3 fun cup designs!
Snowboarding Polar Bear Treats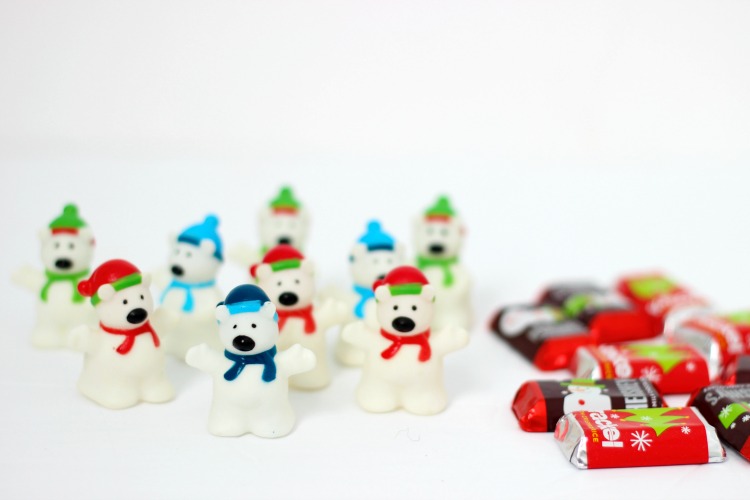 Supplies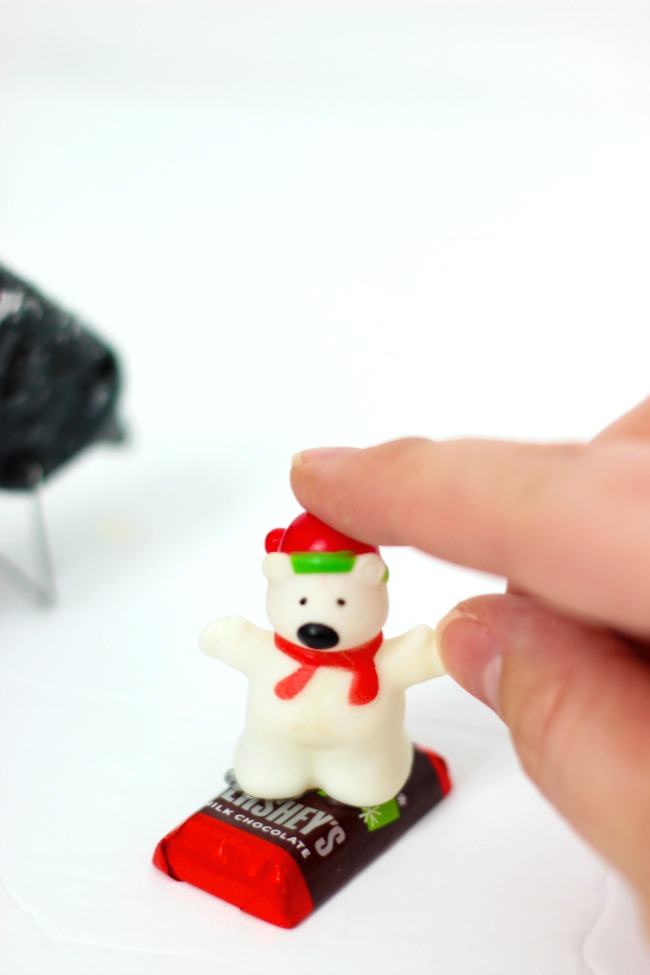 Instructions
Ok. Pay careful attention on how to assemble these polar bear treats.
Step 1: Hot glue the polar bear to the mini candy bar.
Done. They really are that easy.
Quick Note: It will melt the chocolate ever so slightly on the top, but it will harden again. So no worries. You can also use craft glue instead of hot glue, but I like how quickly hot glue dries.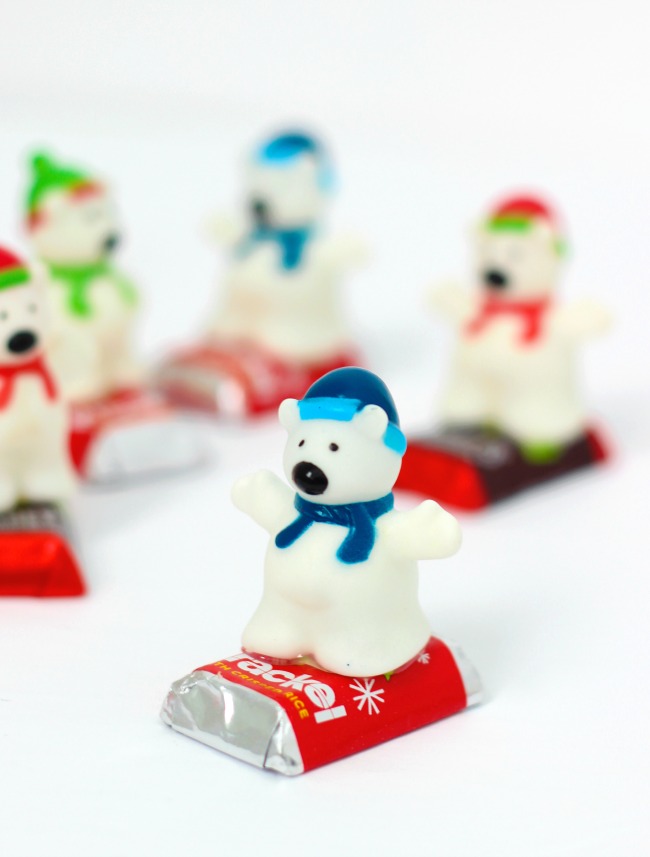 Now go and make a couple of dozen more to share with friends this holiday season.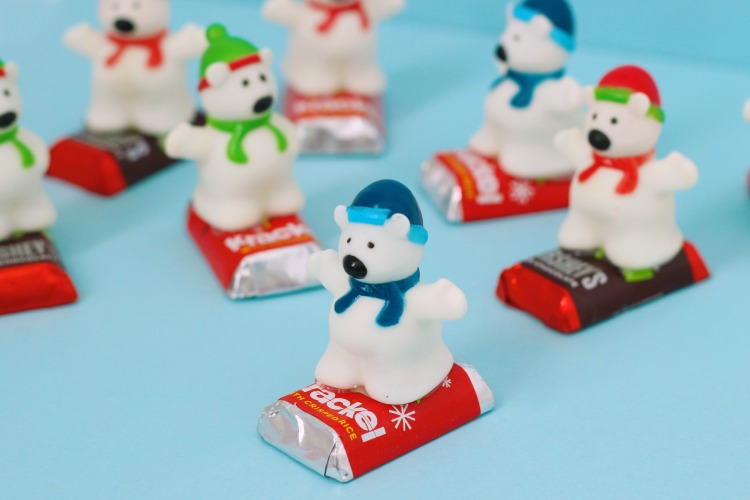 Here are 20 more holiday classroom treat ideas from Room Parent to make this time of year a bit easier.
Welcome! I'm Brandy, mother to 5 darling kiddos and a cute black lab named Toby. My husband is in the Coast Guard so we've lived all over the place, turning each house into a home. I love baking, sewing, making cute things with my kids, and sharing what I've learned with all of you!