This Pop Tart gingerbread house is so fun to decorate and perfect for the holidays! Once you make a gingerbread house out of Pop Tarts you'll never go back to graham crackers again. I'll share tips and tricks for decorating your gingerbread house with candy and royal icing. This post contains an affiliate link. 
You might also like our gingerbread cookie Christmas countdown!


Watch our step by step video!
I think we all knew that when we made Pop Tart haunted houses earlier this year that a holiday version would make its way to the site. Seriously friends, once you switch to Pop Tarts you'll never go back to graham crackers.
It all started when I couldn't find chocolate graham crackers at the store to make haunted gingerbread houses. My husband suggested using chocolate Pop Tarts. I was skeptical but bought a box to humor him. They turned out awesome! Sturdy, easy to work with, and fun to decorate.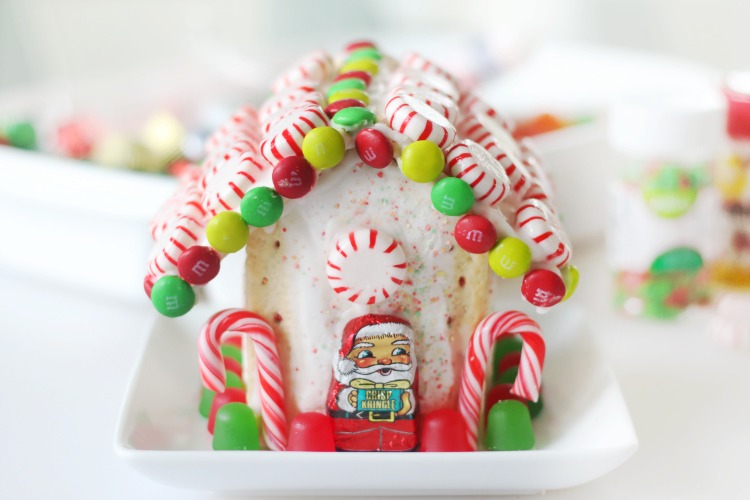 Why are Pop Tarts Better Than Graham Crackers?
They are bigger than graham crackers so you get a bigger house.
They are easier to cut than graham crackers and don't crumble as easily, but can still break if you aren't careful. TIP: Use a serrated knife, and saw through the Pop Tart instead of cutting or putting pressure straight down on the knife.
They come in so many colors and flavors.
They are sturdier than graham crackers and look more like a boxed gingerbread house kit.
They are frosted so it gives them a fun texture and decorative look.
How long will your pop tart house last? Pop tarts are basically already stale so you don't need to worry about your gingerbread house going soft like graham crackers sometimes do. This house will last all season.
What people are saying about my pop tart gingerbread house
"Made these with four grandkids ages five and under and it worked. great. Adults built the house, then the kids decorated them. We used powdered sugar glue to make the house and canned icing for the decorations. They loved it. Thanks for posting."
"Thanks for making our first attempt at Holiday House Decorating successful and fun!! The grandkids loved it!! It made it very doable for 3 and 4 year olds !"
"I made these tonight and we're decorating them tomorrow. This recipe is so great and easy! The icing is simple and holds together really well! I didn't have any houses fall apart! Also, no egg whites or meringue powder is a plus! Thank you for sharing!"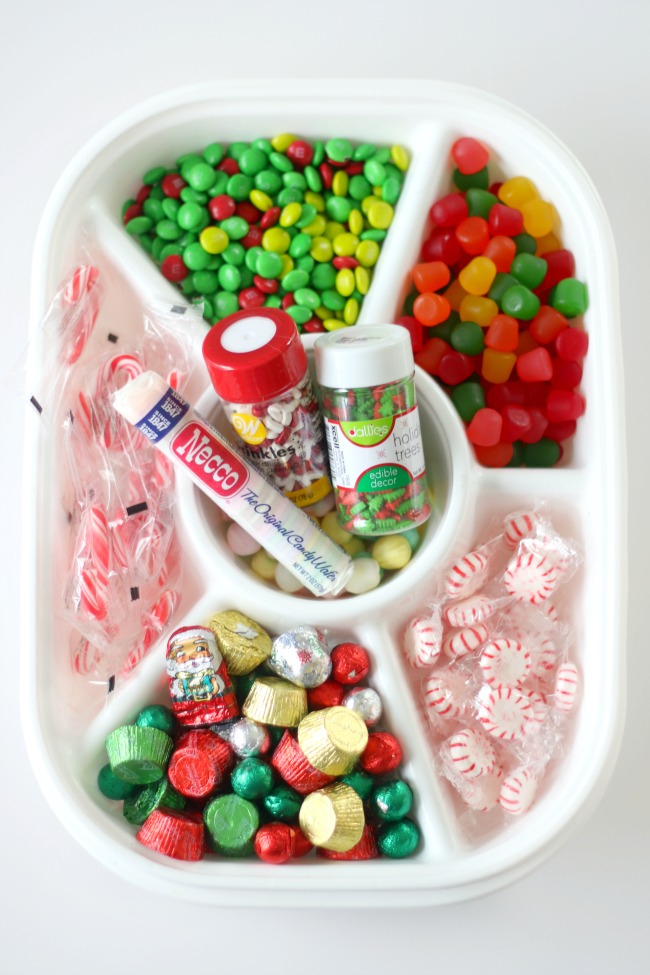 Pop tart house Supplies
You'll need 6 Pop Tarts. I used strawberry because it already had red and green sprinkles on the frosting.
You'll also need a variety of holiday candies and royal icing.
Easy Royal Icing for Frosting pop tart Gingerbread Houses
Royal icing works great on gingerbread houses. Here is a royal icing recipe from Wilton that uses meringue powder to create a sturdy icing.
My recipe is simply a mixture of powdered sugar and water. It dries hard and works well.
1/2 cup powdered sugar
2-3 teaspoons water
Mix sugar and water together until it reaches the consistency of craft glue. You don't want it to be too runny.
Can You Use Store-bought Frosting in a Tub?
One reader shared that they made these on Zoom with the 8-11 year olds at their church. She said they delivered boxes of pop tarts, candy, sprinkles and store-bought icing (plain ol' vanilla that you use for frosting cakes) to the kids and it worked out great! She said, "everything stuck great, almost no wait time. Even the heavy candy went right on and stayed put."
So there is another option. Easy for kids, holds the heavy candies on well. May not dry as hard as royal icing, but works great!
Pop tart Gingerbread House Candies
We all have our favorite holiday candies to use for gingerbread houses. My go-to candies are mints and chocolate candies in holiday shapes—like Santa, trees or snowmen.
Tips for Assembling Pop Tart Gingerbread House
Follow my instructions at the end of the post for cutting your Pop Tarts. ONLY USE A SERRATED KNIFE to cut the Pop Tarts. A paring knife will not work. Gently saw as you cut and you'll end up with nice clean lines.
Add a bead of icing to the Pop Tarts and use your hands to hold the 4 walls into place for a minute or two. After that, the icing is tacky and will hold it on its own.
Repeat for the roof, holding it in place for a minute or so before letting go.
These houses are pretty sturdy once the royal icing has had a chance to set. This takes about 15-20 minutes, but waiting at least 30 minutes before decorating is recommended.
For even sturdier houses, assemble them the day before you plan on decorating them to allow the pop tarts to dry out a bit.
If you do this you shouldn't have any issues with your house falling apart.
Tips for Icing and Decorating Pop Tart House
Make sure to watch our video to see how we assembled and decorated our house.
Obviously lightweight candies like Necco wafers are easier to work with than M&Ms and starlight mints, but don't let that stop you. I'll share a few tips for working with heavier candy. That being said, if you are making these with a group of children, I'd go for lightweight candy and sprinkles to avoid little ones getting frustrated. 
To add heavier candies to the trim (see M&Ms in photo):

Add a bead of royal icing to the house and let it sit for a couple of minutes before adding candy. This allows the icing to begin to get tacky. Add the candy, then adjust as necessary if you see any drooping. The icing will harden and hold everything after 10 minutes or so.

To add heavy candies to the roof, you have two options:

1: Decorate the roof pieces before assembling the house and let them dry. Then assemble the house.
2: Use the tip above for heavier candies, adding a bead of icing, let it sit for a minute or two, then adding the candy and adjusting as necessary until it is firm.

Decorating the walls:

If you're only adding a couple of items (like I did) you can add them at the end. Easy.
If you'd like to add a bit of decoration to the walls of your house you can do that BEFORE assembling the house. Let it set up and dry then build your house. This is an easy way to make sure gravity doesn't pull the candy down.
Pop Tart Gingerbread House Tutorial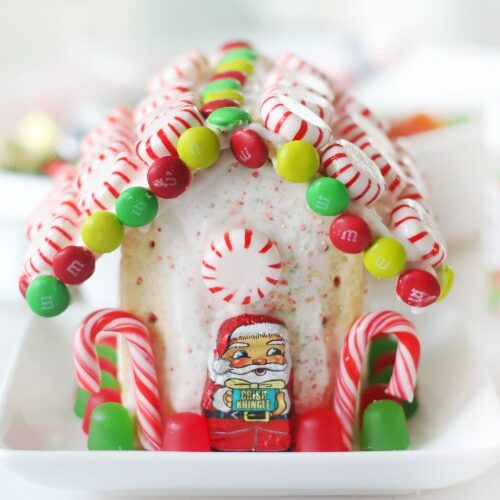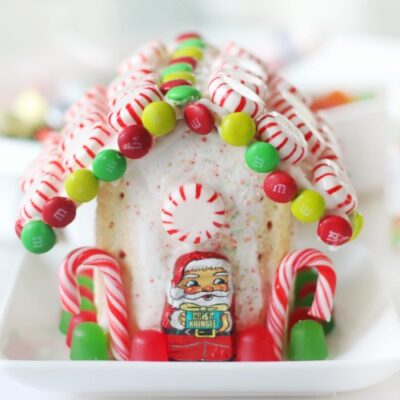 Pop Tart Gingerbread House
This pop tart gingerbread house is so fun to decorate and perfect for the holidays! Once you make a gingerbread house out of pop tarts you'll never go back to graham crackers again. I'll share tips and tricks for decorating your gingerbread house with candy and royal icing. 
Print
Pin
Rate
Equipment
serrated knife

plastic sandwich bag
Ingredients
6

pop tarts

1/2

cup

powdered sugar

2-3

teaspoons

water
Instructions
Place 6 pop tarts on the cutting board.
Roof
You will be making cuts on 4 out of 6 of the pop tarts. The 2 that aren't cut are the roof pieces. You can set those 2 pop tarts to the side if you'd like.
Front and Back Walls
Take 1 pop tart and place it on its side, right next to another pop tart.

Cut on a diagonal from the corner of the pop tart that it on its side, to the center of the middle pop tart. Repeat on the other side.

You should now have a pop tart that looks like a house. Repeat this step so that you have 2 house-shaped pop tarts.
Side Walls
Remember that pop tart that you turned on its side? Go ahead and stand it up again. Place it next to one of the house-shaped pop tarts, lining up the corners, and cut horizontally across. Repeat.

You should now have two roof pieces (un-cut), 2 house-shaped pieces, and 2 wall pieces.

Combine powdered sugar and water to make a royal icing glue. Add water 1/2 teaspoon at a time until desired consistency is achieved (2 1/2 teaspoons works well for me). Spoon icing into a Ziploc bag and cut the tip off. Glue the 4 walls together with icing and hold in place for a minute or so.

Add the roof pieces and hold in place for a minute or so.

Let houses stand AT LEAST 30 minutes before decorating. If making these with kids, assemble the houses the day before you want to decorate them to allow the pop tarts to harden a bit.

Dip decorations into icing or pipe icing onto houses to decorate.
Notes
Icing should be the consistency of craft glue.
When cutting pop tarts, use a serrated knife and gently saw. Don't press down hard with the knife.
To add heavier candies to the houses, like M&Ms, add a line of icing to the house and let the icing stand for a couple of minutes before placing the candy on it. This will allow the icing to dry a little and become tacky. 
You may need to hold the candy in place, or readjust the candy that starts to move as you wait for the icing to dry.
Nutrition
Welcome! I'm Brandy, mother to 5 darling kiddos and a cute black lab named Toby. My husband is in the Coast Guard so we've lived all over the place, turning each house into a home. I love baking, sewing, making cute things with my kids, and sharing what I've learned with all of you!