We switched things up and made a graham cracker nativity instead of a traditional graham cracker house for Christmas and couldn't be more thrilled with how it turned out. A fun twist that brings the spirit of Christmas into our home. This is a sponsored post on behalf of Honeymaid and Collective Bias.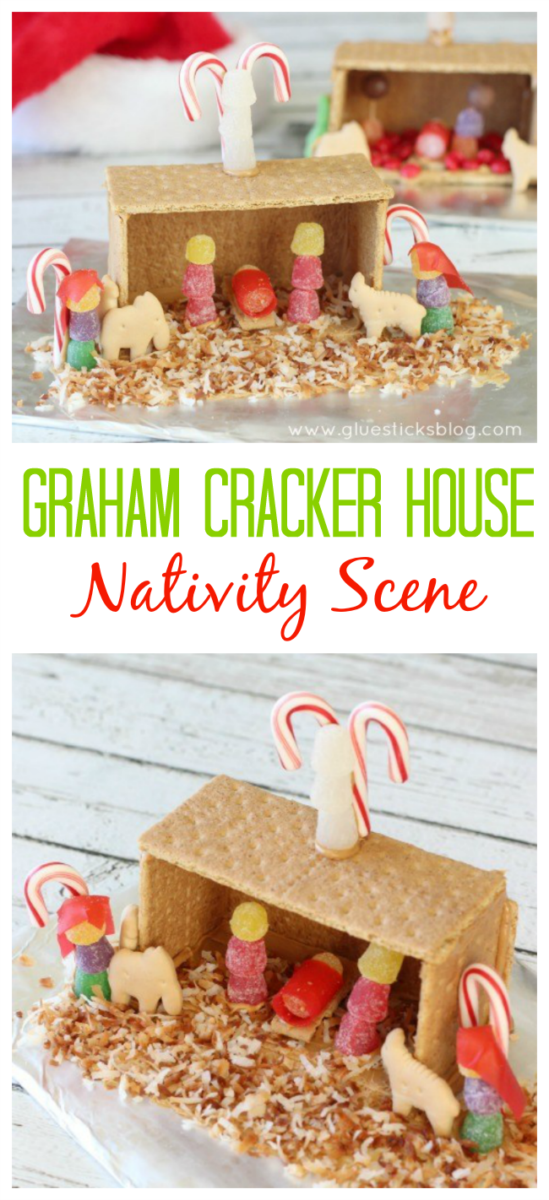 One of my favorite holiday traditions is making graham cracker houses. I remember making one in kindergarten, using a small milk carton and being so excited to bring it home. I couldn't wait to continue the tradition with my children and I am thrilled that they love making them as much as I do! Here is a darling twist on the classic little house. It actually isn't a house at all, it is a stable! A graham cracker nativity!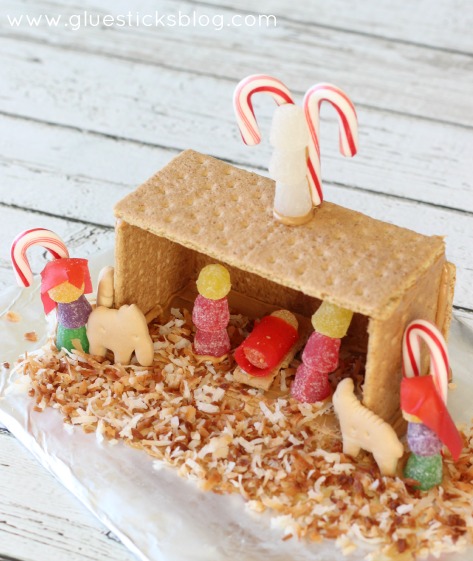 I just love the little gum drop shepherds! The girls couldn't get enough of baby Jesus. They had a great time rolling him up in his little fruit-by-the-foot swaddling clothes.
Let me show you how easy this project was to make each graham cracker house nativity!
Graham Cracker Nativity
Items we used:
Honey Maid Graham Crackers
Peanut Butter
I like using peanut butter because my kids think it tastes better than royal icing. It's a fun twist on the traditional iced gingerbread house, but it does not harden like royal icing does. If you are looking to transport one of these go ahead and stick with royal icing, but this version is a great little activity and snack.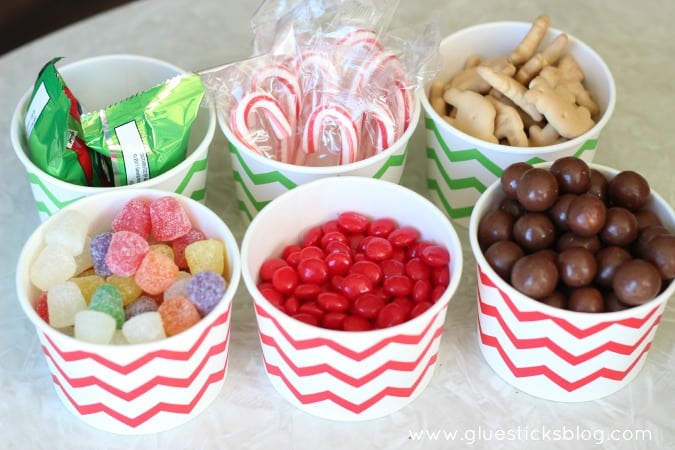 An assortment of candies:
gum drops
red hots
malt balls
mini candy canes
animal crackers
toasted coconut
fruit by the foot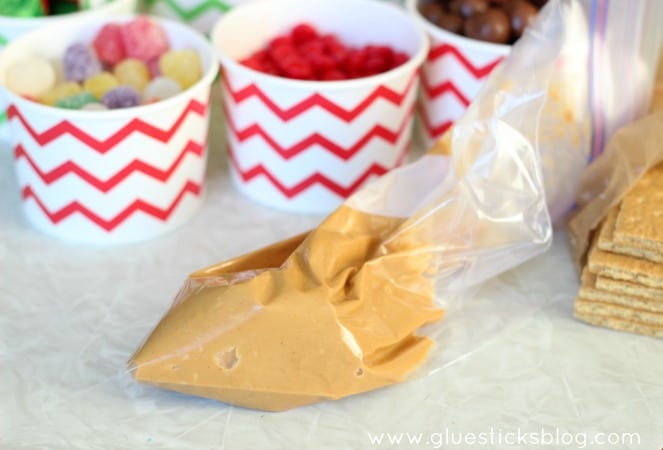 To keep it easy and as mess-free as possible, we put the peanut butter into a quart size freezer bag and cut off the corner. This makes assembly a snap!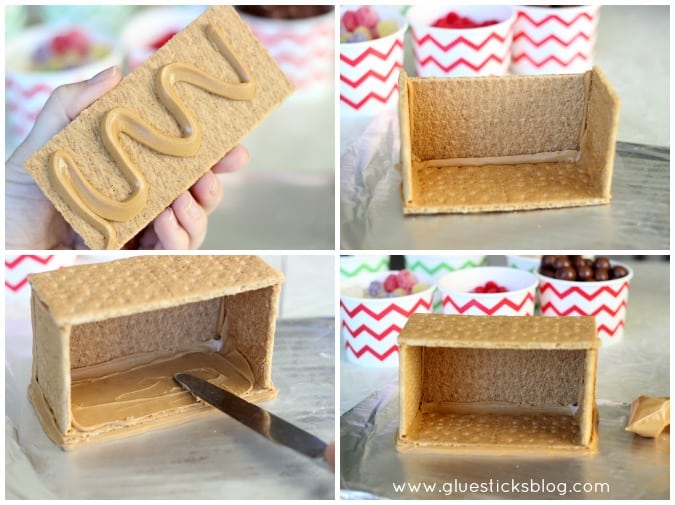 Start with the bottom. Use peanut butter to attach the bottom graham cracker to your base (cardboard wrapped in foil, or a sturdy paper plate). Then add the half graham crackers for the side walls, a full graham cracker for the back, and another one for the top.
 My boys were able to assemble theirs on their own, but I helped the girls. They did the people and decorations on their own and had a great time doing so!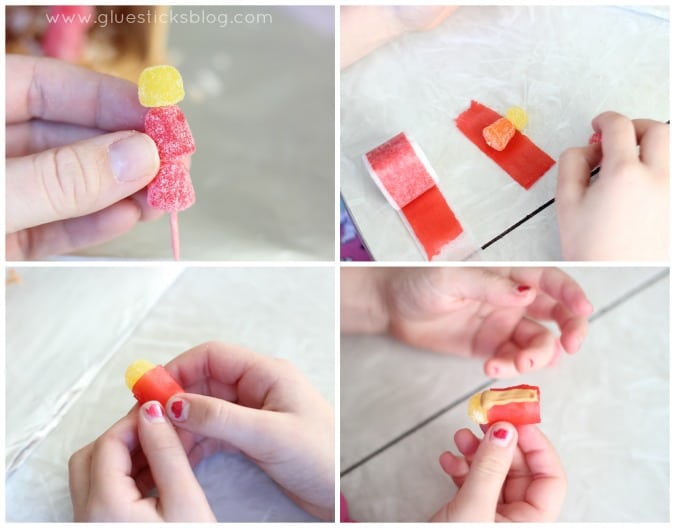 To create Mary, Joseph, the shepherds, and the angel, slide gum drops onto a toothpick. Baby Jesus is two gum drops wrapped in a piece of fruit by the foot. Then angel has two candy canes for wings.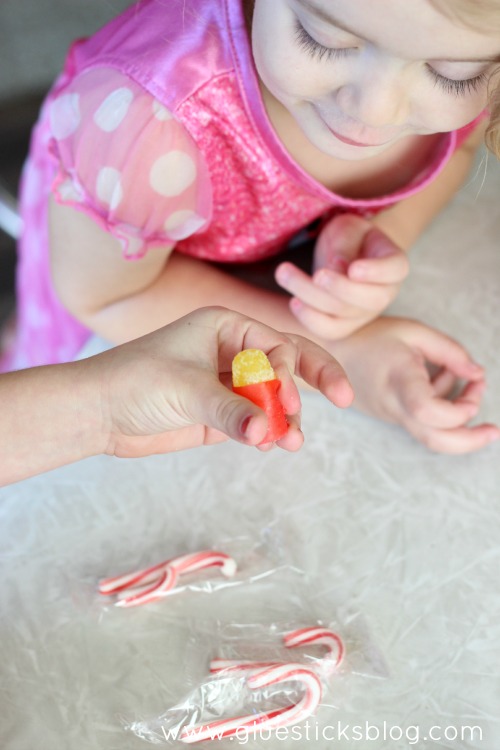 Use peanut butter to attach them to your nativity scene. You can trim the excess toothpick off from the bottom or leave it like we did. We used cardboard for our base, so I just pushed the extra toothpick section through the graham cracker and into the cardboard base for extra stability. Baby Jesus is resting on a small piece of graham cracker.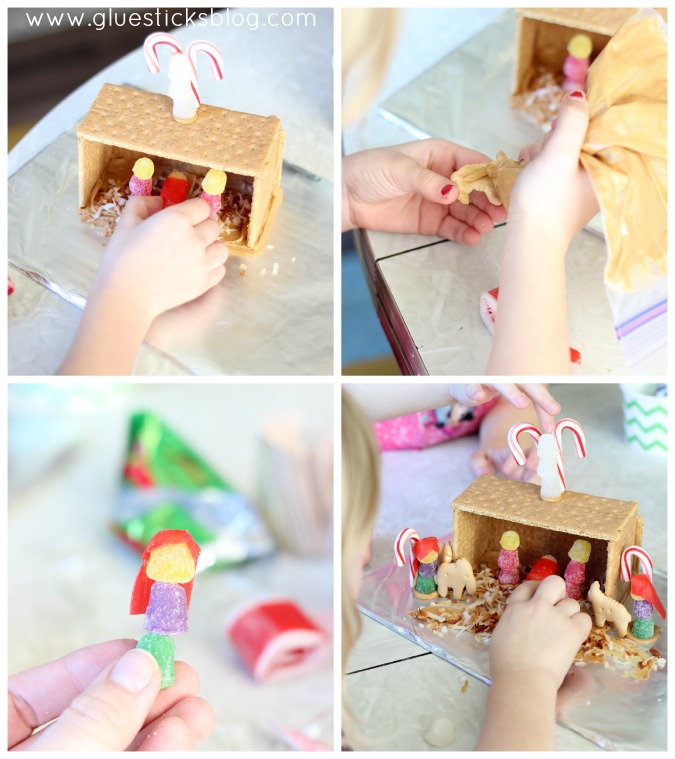 Add toasted coconut by spreading a thin coat of peanut butter across your base and sprinkling the coconut on top. Animal crackers make quick and easy stable animals. We found a donkey, camel….and even and elephant?? The kids thought the scene definitely needed the elephant.
Such a sweet little sight.
Kaylee helped Ruby make a darling little nativity scene. They decided that they didn't want coconut and opted for red hots for the hay, and malt balls for the heads. That's what I love about these kind of activities. It allows for so much creativity. And I love her little chocolate covered face!
The girls kept asking when they could eat it. I'm not sure how they could have still been hungry after snacking so much on candy and graham crackers during the process!
If you liked this graham cracker house nativity you might also like…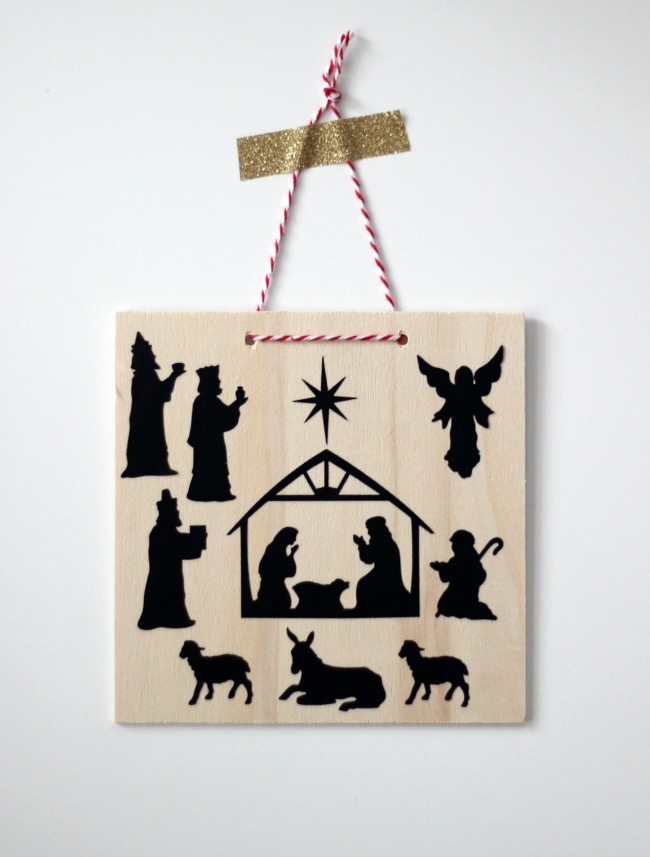 Nativity Wall Hanging for Kids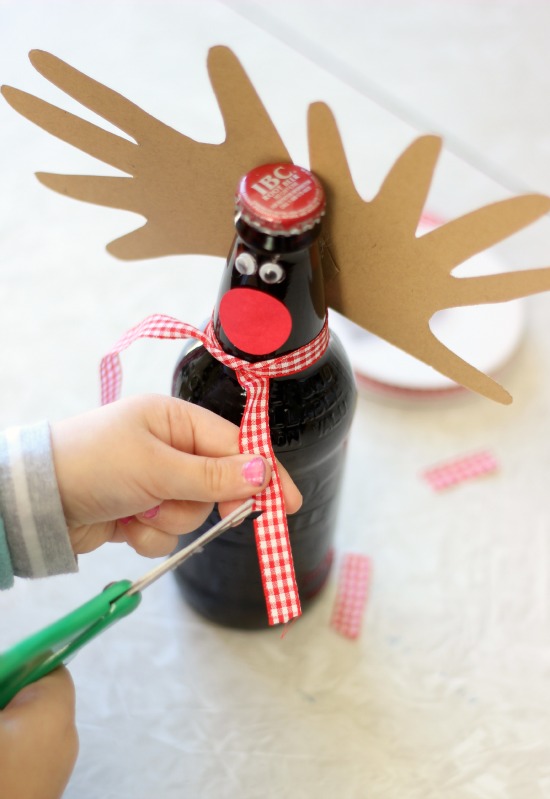 Here are some other darling nativity activities to do this holiday season.