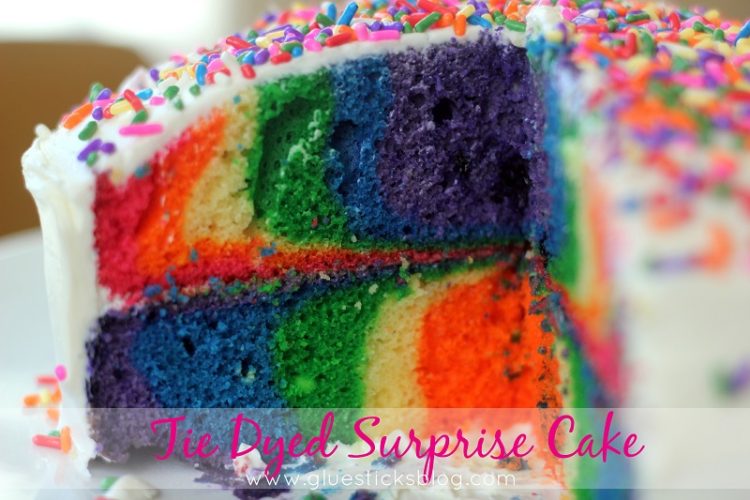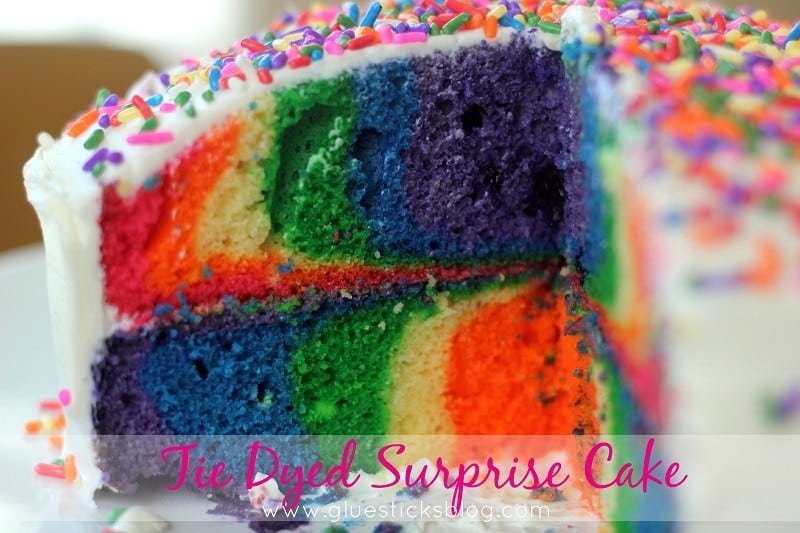 This post has been sponsored by Dollar Tree & Dollar Tree Value Seekers Club . All opinions are 100% mine.
The kids are out of school for 3 weeks! I love that the school district in our area gives us an extra week. Plenty of time to play with Christmas toys, spend time as a family and go on mini trips. It also gives us time to make fun treats in the kitchen! The kids and I had fun making this Tie Dyed Cake. We found the instructions for it on the Dollar Tree & Dollar Tree Value Seekers Club !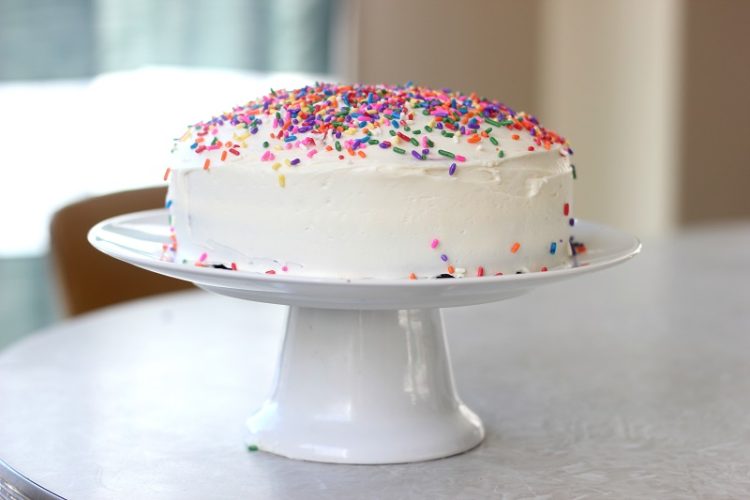 We called it a "surprise" cake because on the outside it looks like a plain white cake, but when you cut out a slice, you immediately see that the cake is brimming with bright, bold colors. This was our first time making a tie dyed cake and it was so fun and  easy to make!
Here is what you will need (all items can be found at the Dollar Store):
2 boxes Mrs. Field's Yellow Cake Mix (plus eggs, oil, etc. to make them)
1 bottle sprinkles
1 tub vanilla frosting (or powdered sugar to make your own)
2 9" cake pans
1 large batter bowl
Smaller bowls to divide batter into when coloring it.
Food Coloring
The process to make the cakes is super simple! You can find directions here.

Here is a photo of the original cake.
Super fun! But as you can see, we changed up a few things from the original tutorial to make it our own. I prefer homemade buttercream frosting vs. frosting in a can. So I used my favorite homemade recipe (which I will share later in the post). You can find powdered sugar at Dollar Tree too along with other items you might not have thought to look for there.
I found cake pans, cake storage containers and mixing bowls all for…you guessed it, $1.
When pouring my colors into the pans, I once again changed things up a bit from the original instructions and poured ¾ of the first color, then a little less with the second color and so on until the first pan was done.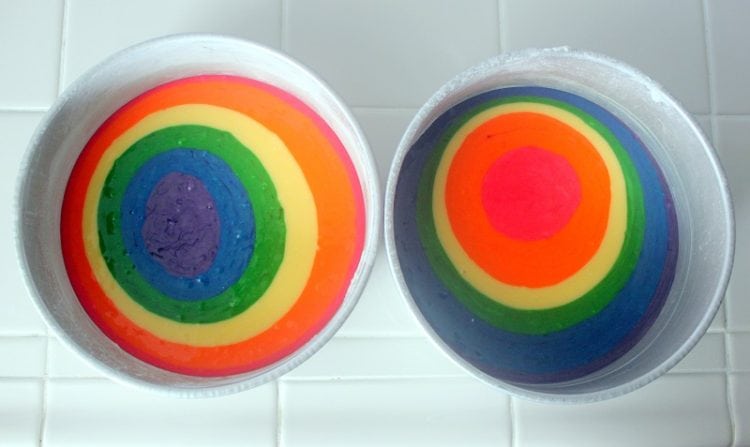 Then I reversed the process for the second pan, beginning with the last color used in the first pan. The reason for this was to create a larger solid base for the first batter color in each pan. The photos explain it better than I can with words! So bright and colorful!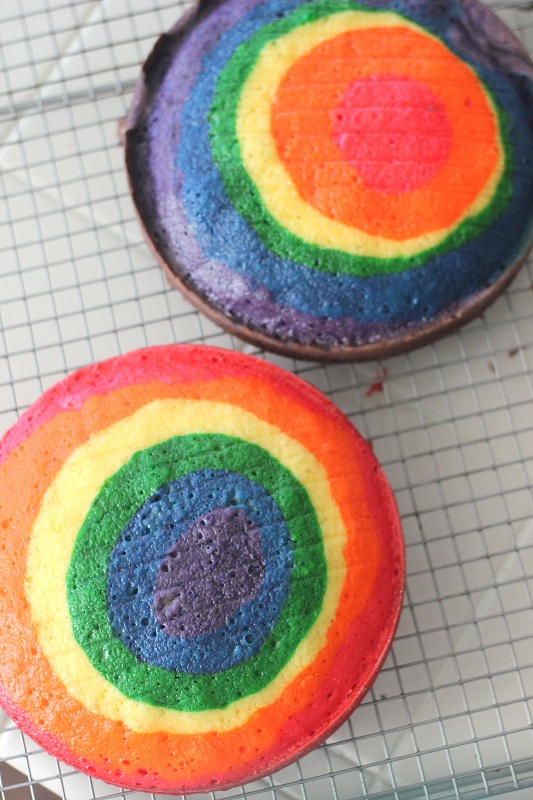 We also added rainbow sprinkles to our cake for some added color instead of using colored frosting like the original. This gives it the "surprise" effect. And… I like finding excuses to use sprinkles!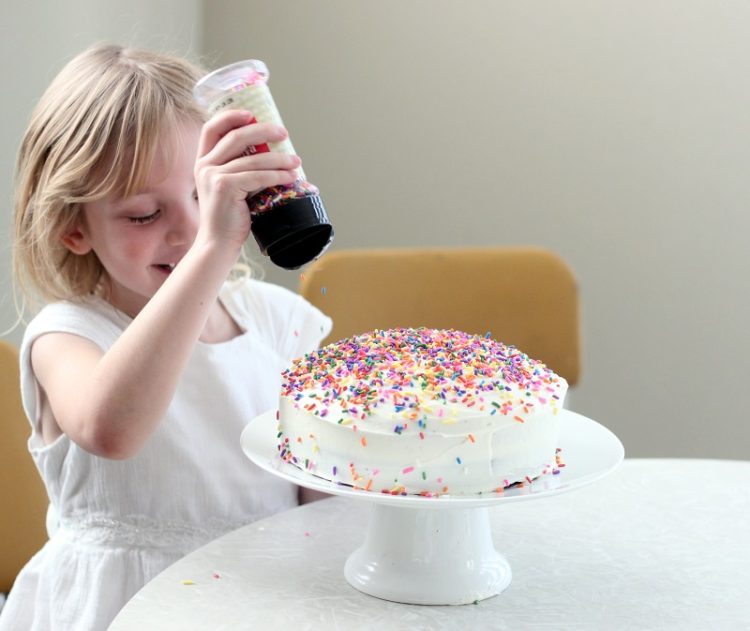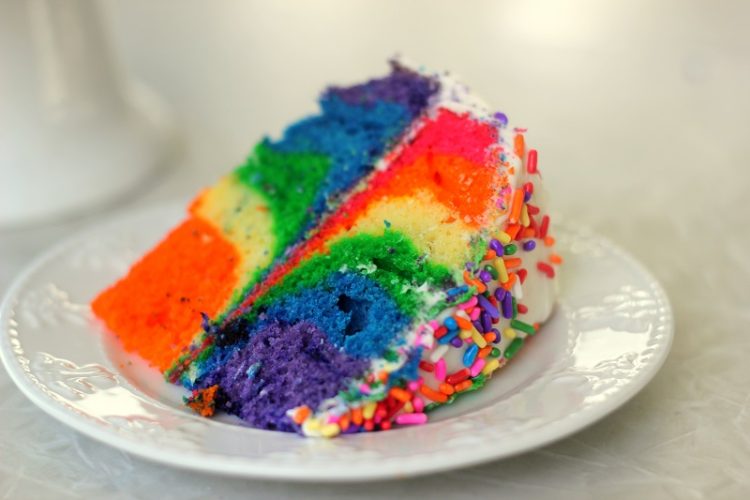 Buttercream Frosting
1/2 cup solid vegetable shortening
1/2 cup (1 stick) butter, softened
1 tsp. vanilla extract
4 cups powdered sugar (approximately 1 lb.)
2 tablespoons milk
In large bowl, cream shortening and butter with electric mixer. Add vanilla. Gradually add sugar, one cup at a time, beating well on medium speed. Scrape sides and bottom of bowl often. When all sugar has been mixed in, icing will appear dry. Add milk and beat at medium speed until light and fluffy. Add more milk until you reach desired consistency. Makes 3 cups.
If you haven't heard of the Dollar tree Value Seekers Club, you are in for a treat. It is free to join and the projects change monthly. I had fun browsing the site and looking through crafts, recipes, décor, tips and all sorts of frugal ideas. You can even print your project sheets which make it easy to take with you as a shopping list.
And now it's GIVEAWAY TIME!
Giveaway Closed 
Congratulations to the winner, #52. Brittney M!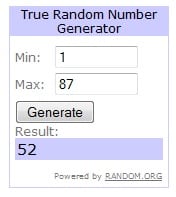 I am offering one lucky Gluesticks reader a $100 Dollar Tree Gift Card! Just think of the 100 things you could treat yourself with! Craft supplies, baking supplies, party favors and supplies, home and body products, etc. My favorite items are the cleaning and home products.
Tell me your favorite Dollar Tree store product (in a comment below) to be entered to win! Also leave me the email address you used when you signed up for the Dollar tree Value Seekers Club , as a way to validate your entry if you win!
I will announce the winner on January 27th.
Be sure to sign up for the Dollar tree Value Seekers Club to get access to many fun projects! Here are more projects that have been inspired by the Dollar Tree Value Seekers:
This post has been sponsored by Dollar Tree & Dollar Tree Value Seekers Club. All opinions are 100% mine.