Transform your kitchen with a $35 peel and stick subway tile backsplash using wallpaper! This wallpaper is inexpensive and easy to work with!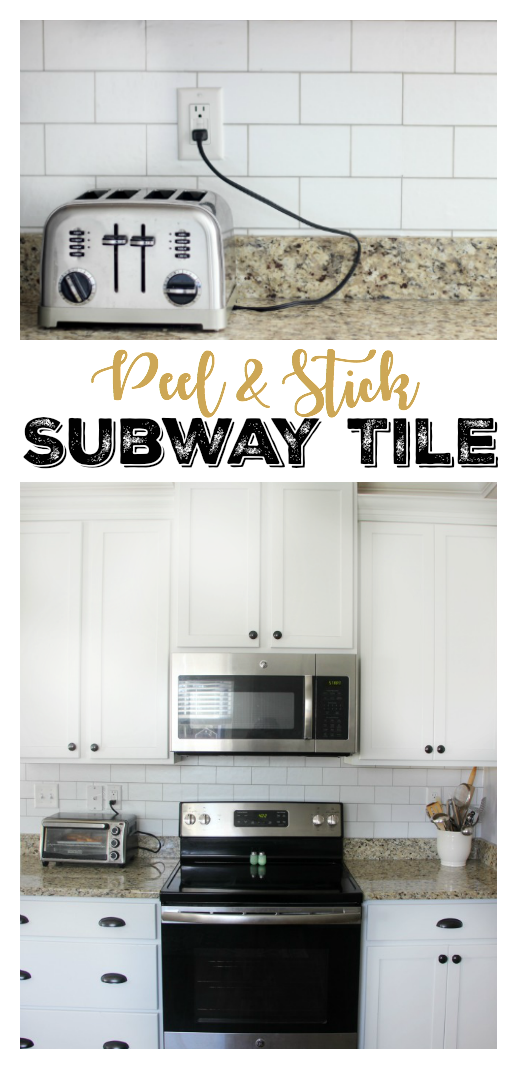 Many families in the military choose not to buy a home until they get out or are going to be in a place for an extended period of time. Others, like us, play the market and have purchased a home in every city that we have lived. Fortunately for us, we've always stayed four to five years in each home before selling or renting it out. There is always the possibility that we will have to move in a year if my husband promotes again and they don't have a position for him here—we won't talk about that.
When we bought this home we got started right away with improvements. It was a new home but needed a yard, a shed, built-ins and closet organizers. Those projects were necessary for us to be able to live in and enjoy the home. Other projects that are simply cosmetic have been placed on the back burner. I did manage to move "paint" to the top of the list and we had the interior of the house painted before we moved in. Adding a pergola in the backyard, and adding a subway tile backsplash to the kitchen are other items on our "to-do" list, but are not emergent.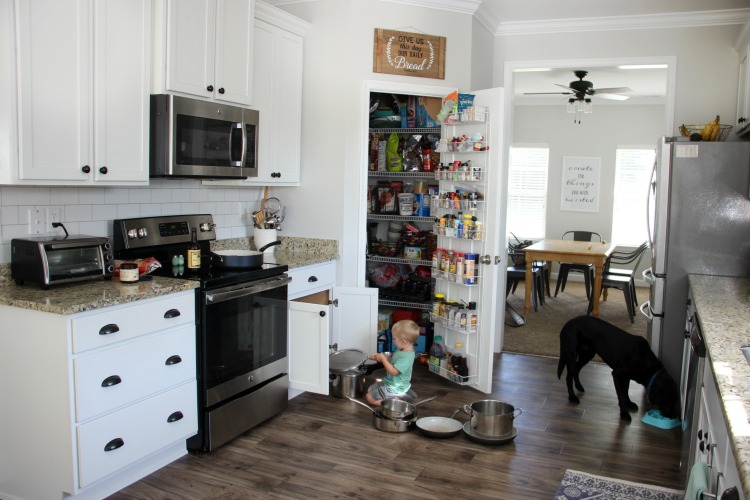 (Real life right here! My sous chef helps me make dinner every night!)
Peel and Stick Subway Tile Backsplash (It's Wallpaper!)
THEN I saw the subway tile backsplash that the girls at LollyJane added to Kristi's kitchen. It was WALLPAPER. I calculated that I could probably finish my kitchen with one roll and it was worth $35 to see how it looked!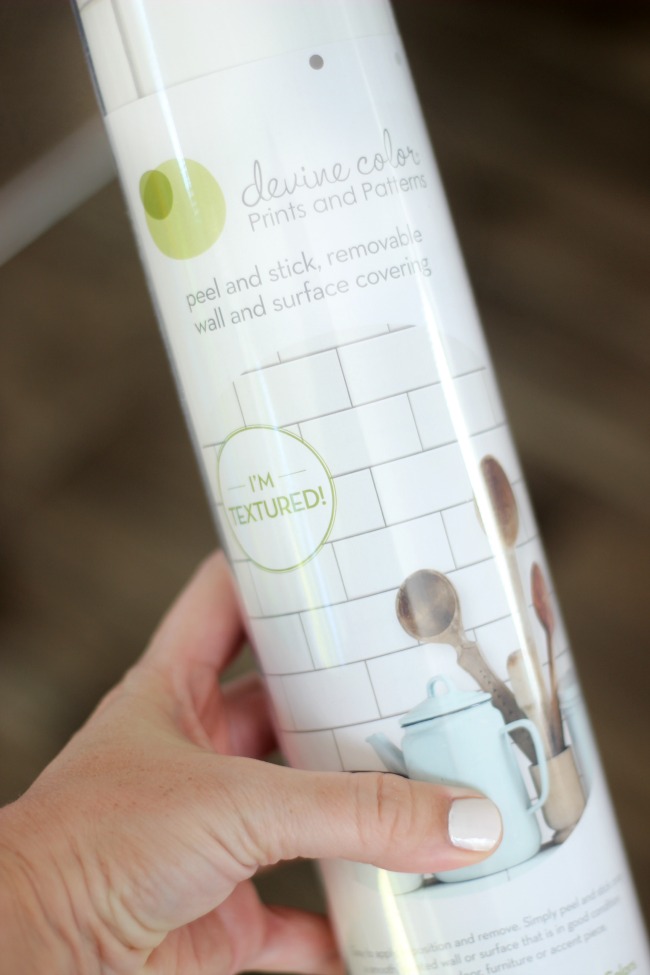 I picked up a couple of rolls and ended up taking one back. It's always a good idea to have extra to allow for pattern matching.
The wallpaper is actually textured along the grout lines to give it depth, and unless you look closely (or know that it is wallpaper already), it isn't easy to tell that it isn't actually tile. Our walls are slightly textured and I worried that the texture would show, but it really doesn't unless you are just inches away.
My subway tile backsplash is completely removable (like contact paper) and it a great option for renters, those in military housing, or those who don't have the time to pull of a tiling project right away!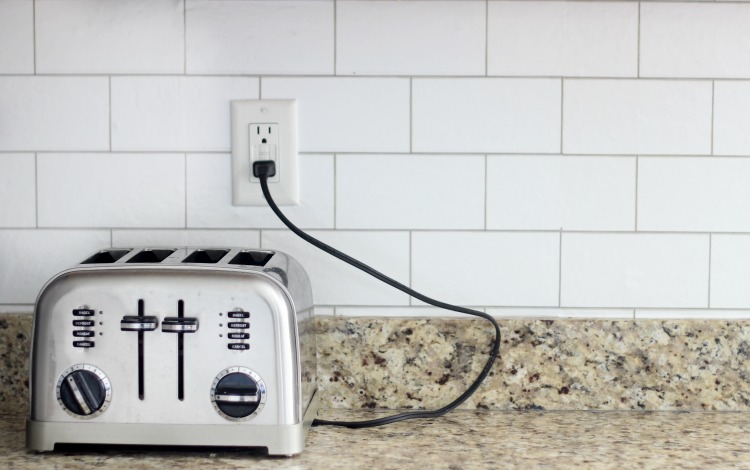 Derrick has a background in construction and can pretty much build a house. Yes, he could have tiled this space and probably will if we end up staying in this house more than another year, but it was an inexpensive little cosmetic fix-up that I could do myself in under 2 hours. Besides, he is in the process of building a giant shed (his own design) with windows and flower boxes. I wish that I could say that the shed was going to be for my own little retreat, haha! Nope. It's for the lawnmower, bikes, and lots of storage.
This kitchen was already a bright space, but the wallpaper makes it even brighter!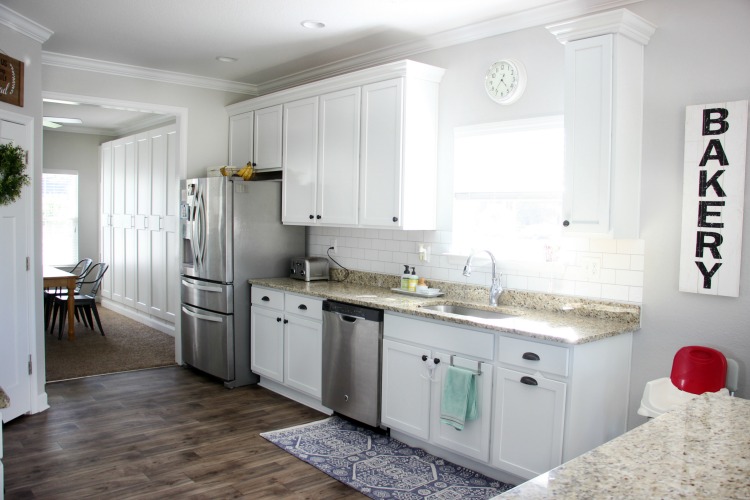 Here is a shot on the other side of the kitchen. The hardest part was figuring out where to have the tile end. I ended up having it end with the granite backsplash but wasn't sure if it would have been better to line it up with the cabinet. I think I like it how it is. You also have to be careful with air bubbles. I used my hands and a credit card. Be careful if there is any sort of texture on your walls when pressing out the air bubbles or your wallpaper may rip. Personal experience.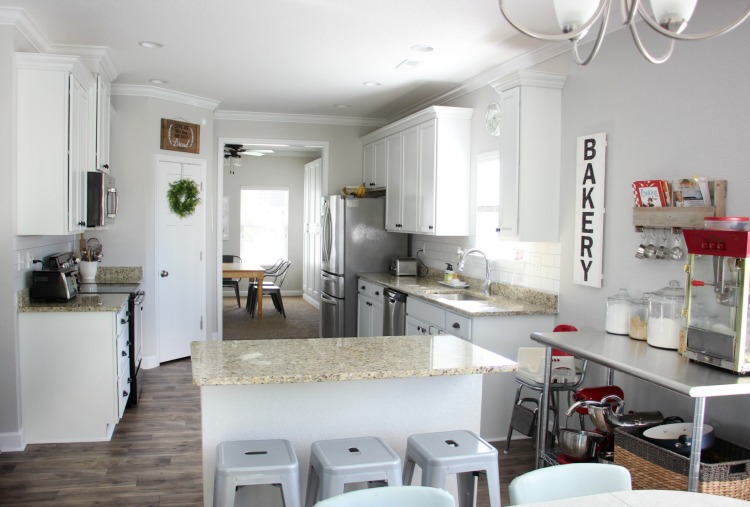 When the day comes that I want to remove it, I'll simply peel it off like contact paper! What do you think?
You might also like…