A deliciously moist vanilla cake filled with vanilla pudding sprinkled in sugar crystals and topped with white chocolate pretzel trees. It's fun to make and even more fun to eat! AND it's made from organic vanilla frosting and cake mix! Even better.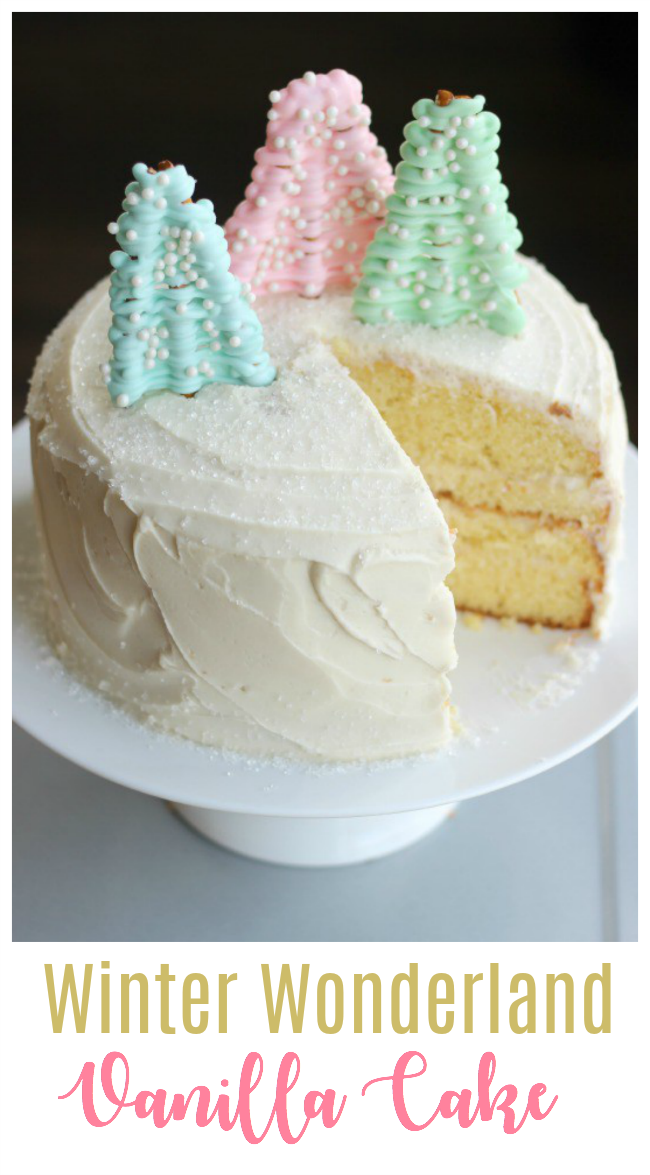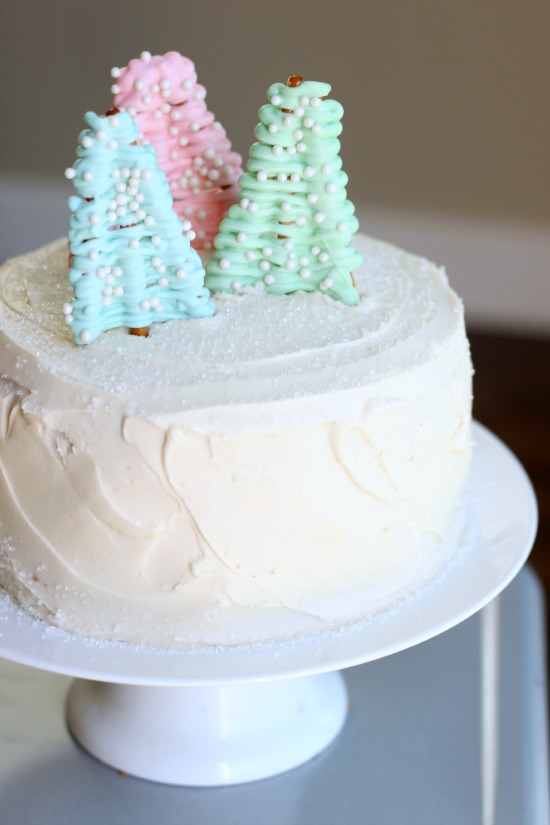 Last year I saw these pretty chocolate pretzel trees in the Family Fun magazine and made a mental note to make to try them this holiday season. I made a small batch in pastel shades and mini edible pearls, and I love how they turned out!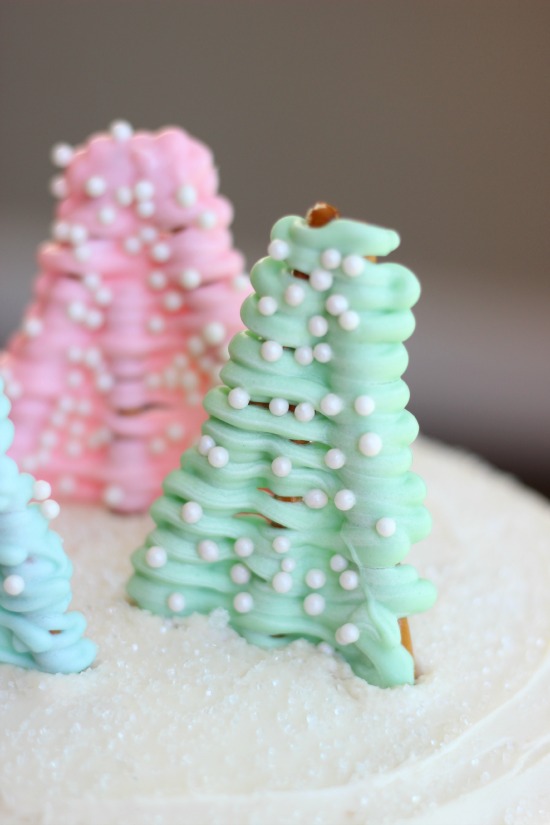 If you make them while your cake is baking and they will be ready to top your cake as soon as it cools. These would also be fun for kids to make with different colors of chocolate and sprinkles.
I'm not one for making cakes from scratch when there are so many easy cake mixes out there! I used 2 boxes of Vanilla Cake Mix and 2 containers of Vanilla Frosting from Miss Jones Baking Co.
This cake is super moist with the addition of pudding as my filling. You can fill your cake with frosting, preserves, custard, or whatever you'd like. You can also leave it as is, but I think adding a filling takes it up a notch! Vanilla pudding is my go-to since it's easy, adds a nice moisture to the cake, and isn't overpowering.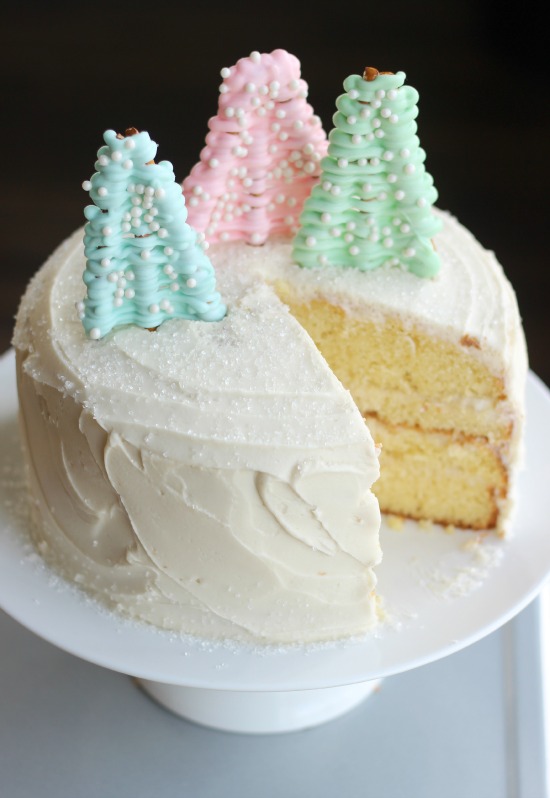 Winter Wonderland Vanilla Cake
2 Boxes Miss Jones Vanilla Cake Mix 
6 eggs
1 c. water
1 c. oil
1 1/2 c. vanilla pudding
2 containers Miss Jones Vanilla Buttercream Frosting
Sugar sprinkles
Pretzel Trees (see instructions below)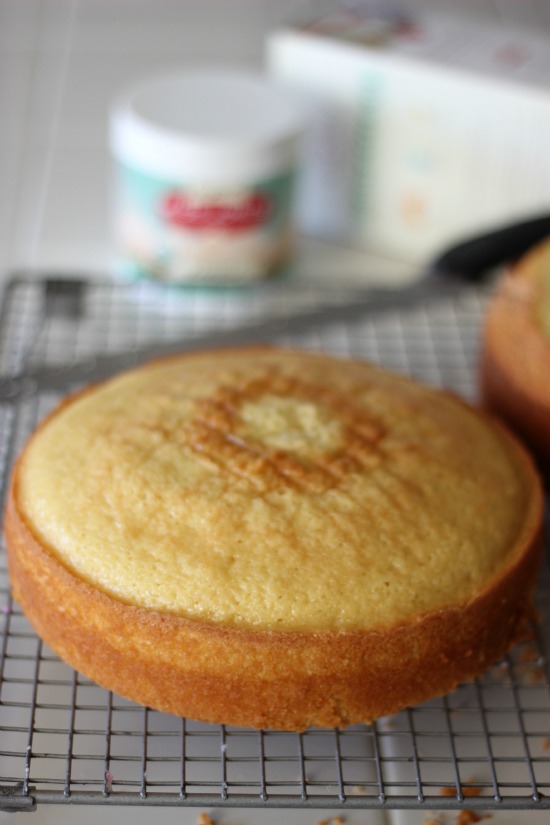 Bake cakes as directed on the box.
Each mix will fill one 8″ deep dish cake pan. I like the deep dish ones from Wilton and have used them for years. You can also use 2 regular 8″ cake pans and divide the batter evenly between them, but to get your cake as tall as mine, you will need to make pans of them.
Tips for successful cakes:
Lightly grease pans with shortening. Sprinkle with 1 T. flour, turn pan over and tap out excess flour.
Let cool 10 minutes, run a butter knife around the edges and turn over onto a cooling rack.
Cool completely before decorating.
Easily slice cakes or trim with a serrated knife.
Apply a thin crumb coat of frosting first to catch crumbs and create a smooth surface. Allow crumb coat to sit 15 minutes (or freeze for a few minutes) before applying a final coat of frosting.
Stir frosting or remove from container and beat for 30 seconds using a hand mixer or KitchenAid. This softens it and creates a nice, fluffy, frosting.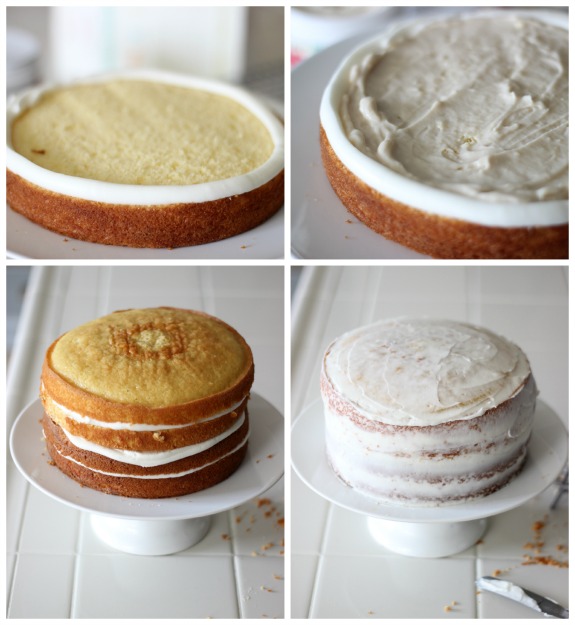 Scoop out about 1/2 cup of frosting and place in a Ziploc baggie. Cut the corner off and pipe around the edge of the first layer of your cake to create a damn.
Spread with filling. Add the second layer. Repeat with frosting and filling. Add 3rd layer. Repeat with frosting and filling. Add 4th layer.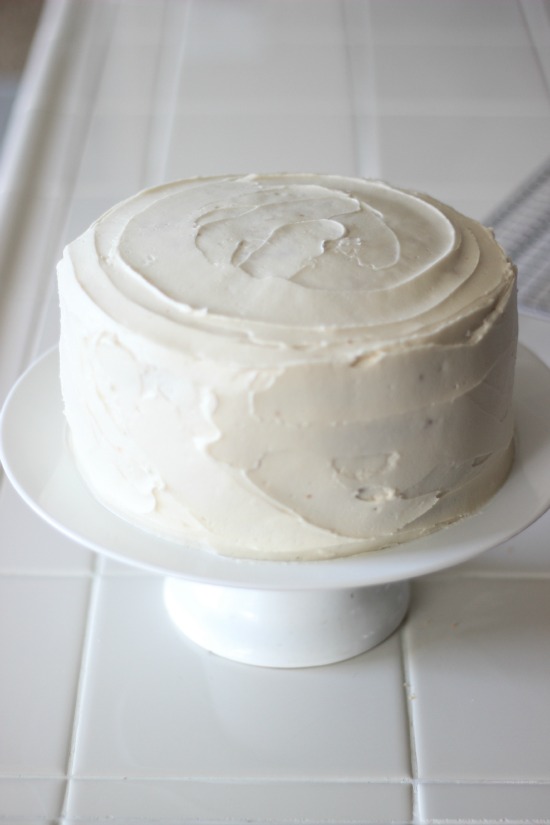 Crumb coat then apply a final coat.
Chocolate Pretzel Trees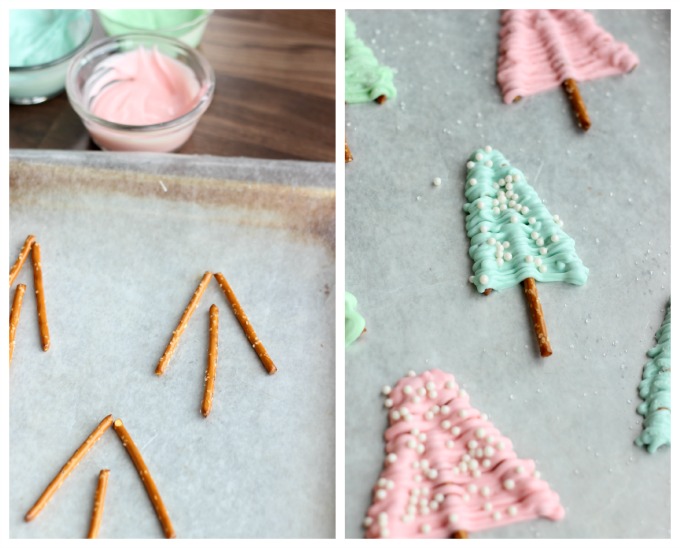 Arrange pretzel sticks in an arrow formation for your base on a wax paper lined baking sheet.
Melt white chocolate chips or melting wafers in the microwave for 30 seconds. Stir. Repeat until smooth and completely melted. Tint with a couple of drops of food coloring, optional.
Divide chocolate colors into ziploc baggies. Trim corners and drizzle back and forth over pretzel base, starting at the top and working your way to the bottom.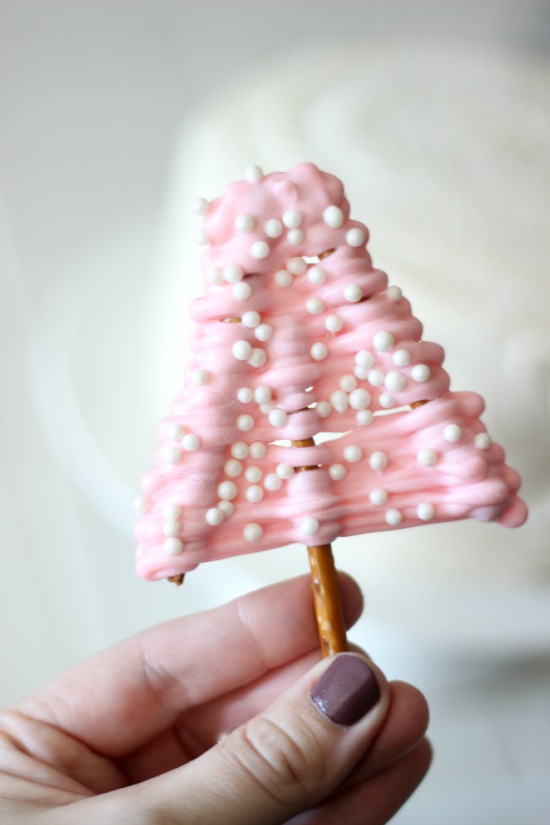 Sprinkle with embellishments.
Refrigerate until set.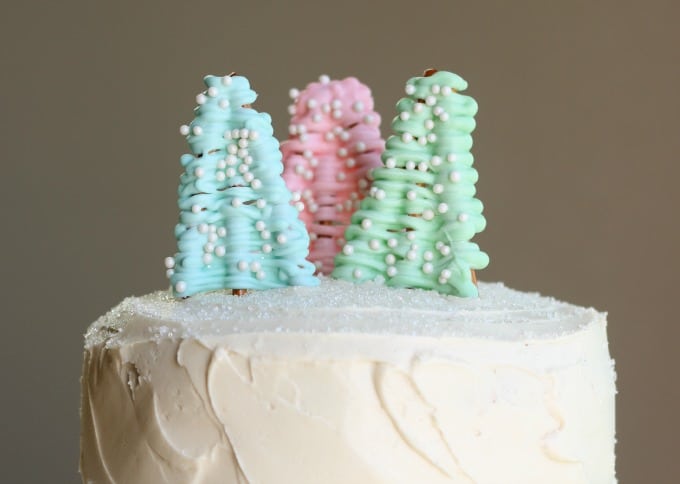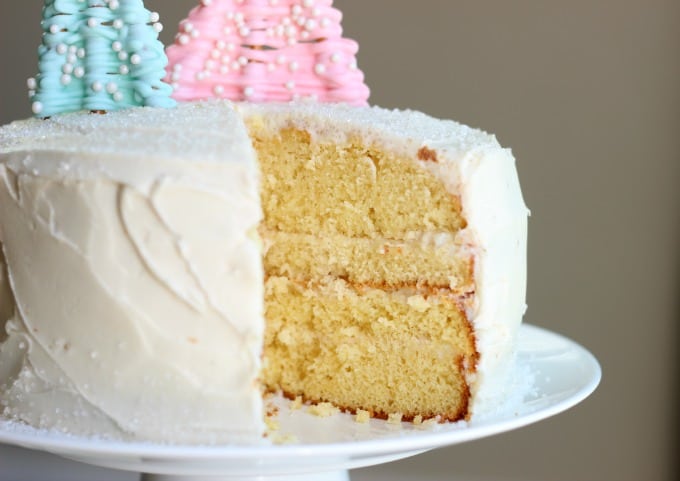 You might also like…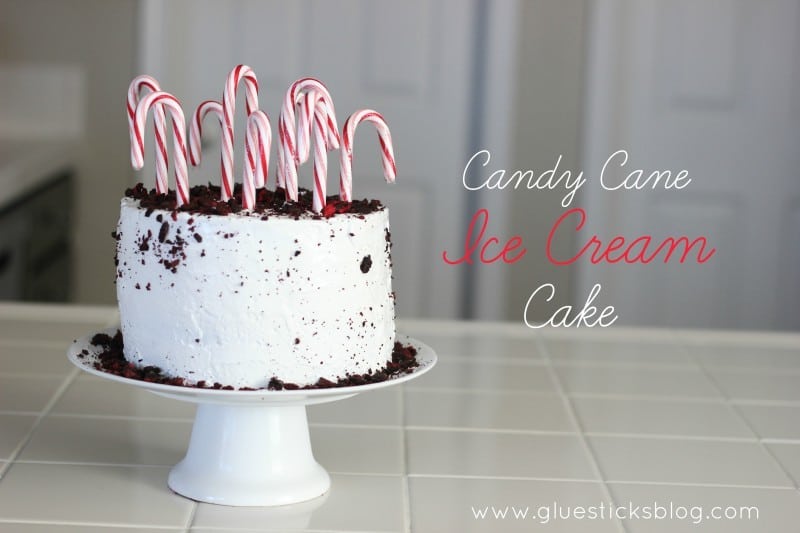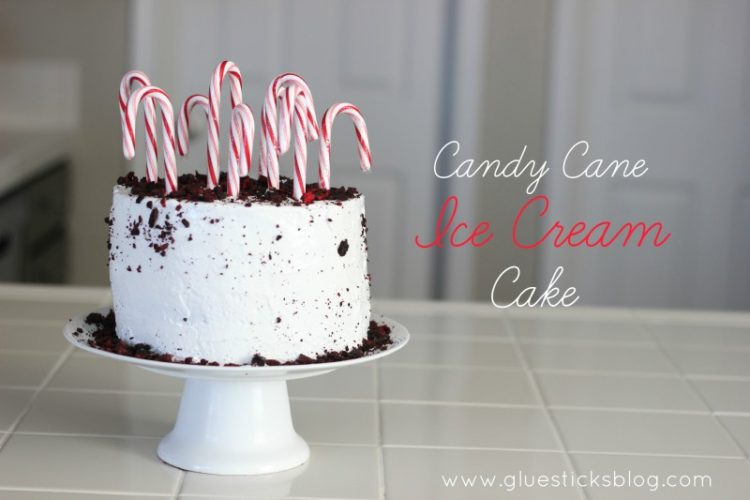 Candy Cane Forest Ice Cream Cake