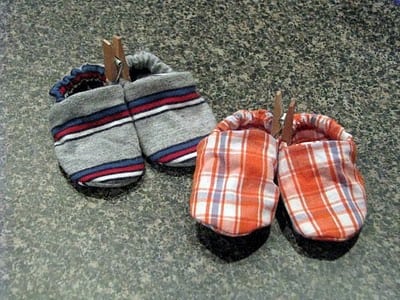 There have been 4 babies born in the past couple of months at church. I am now just getting started on making little cloth shoes for all of them. AND my sister is finding out what she is having in a couple of weeks so I will be stocking her up with little shoes too! These are so much fun to make. I made some for Kaylee last year and ended up making a million pairs. She was a very stylish little girl. Now that she has graduated to shoes with hard soles it's fun making them for my friends.
The little boy shoes are made from two shirts that were too small for my boys. They thought it was cool that I made tiny little shoes out of their old clothes. The fabric was in great shape and hadn't faded…because they are still at the point of just growing out of their clothes and not wearing them out! It was fun be able to re purpose them into something so cute! Finding boy fabric is so hard! Everything is so juvenile, baby blue, or to the other extreme; camo. I liked dressing my boys like "little men". Plaids, solids, etc.
I made Kaylee a pair of knit shoes out of two onesies when she was a baby. They were the softest little shoes and the perfect project for onesies that I would have otherwise thrown away since they had a couple of small stains on them.
The babies who are receiving these are only a week old. I hope they like them!
Tutorial from
On Pins and Needles
. I changed a few little things with the elastic slots, but the tutorial is absolutely fantastic and easy to follow.