10 hygiene tips for boys. Simple ways to talk to your son about daily hygiene without making it awkward.  Thank you, AXE®, for sponsoring this straight-talk moment with our active teens!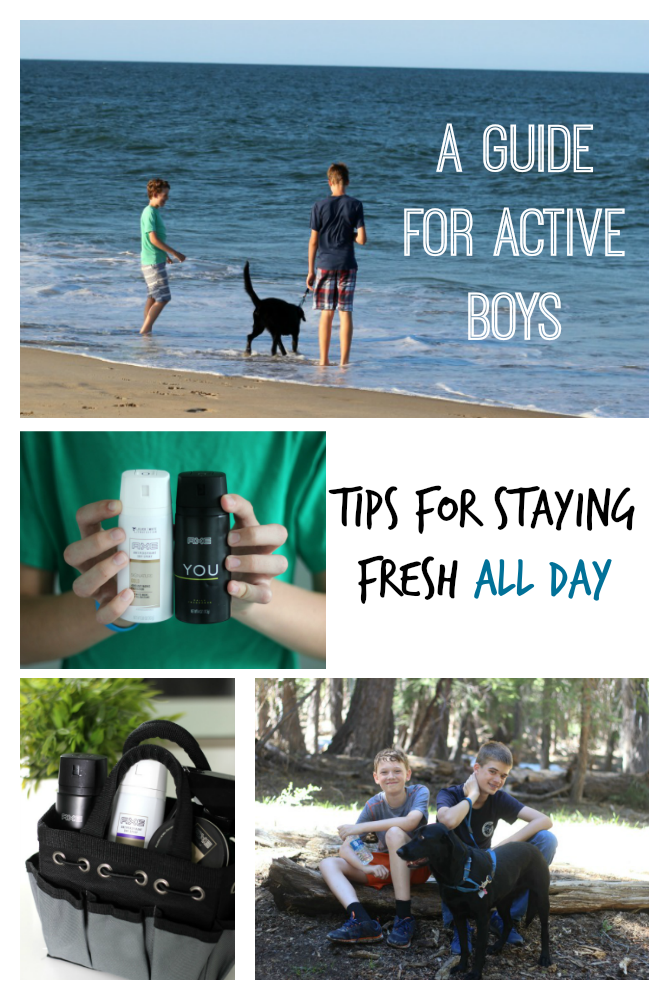 My boys. They hold a special place in this momma's heart. They are so easy going and chill and are such GOOD boys. They are also the best of friends, do everything together, and have really stuck together during this cross-country move. They will both be starting at a new school in a new state as 6th and 8th graders. I told them that at least they'd each know one person at school on their first day… each other! 
When Dallin started middle school two years ago we had a discussion about personal hygiene and gave him his own personal hygiene kit for boys. He was 12, had just gone through the health unit in the 5th grade, and was wondering if he should start wearing deodorant. At that time, we also noticed him showering on his own without reminders. WHAT?!? Now he's big on styling his hair, showering daily, and :::gasp::: occasionally needs to shave. He loves how I constantly bring up how he's changing during these years, ha! Puberty is already awkward, why not add to it by telling your son how cute he is? 
Now Aaron is at that stage. He's in middle school, started wearing deodorant, and SOMETIMES will shower on his own, but not usually. We recently had the same discussion with him about these years and gave him 10 hygiene tips for boys on staying fresh without having to dedicate too much attention to it.
Here are the basic hygiene tips for boys that we covered.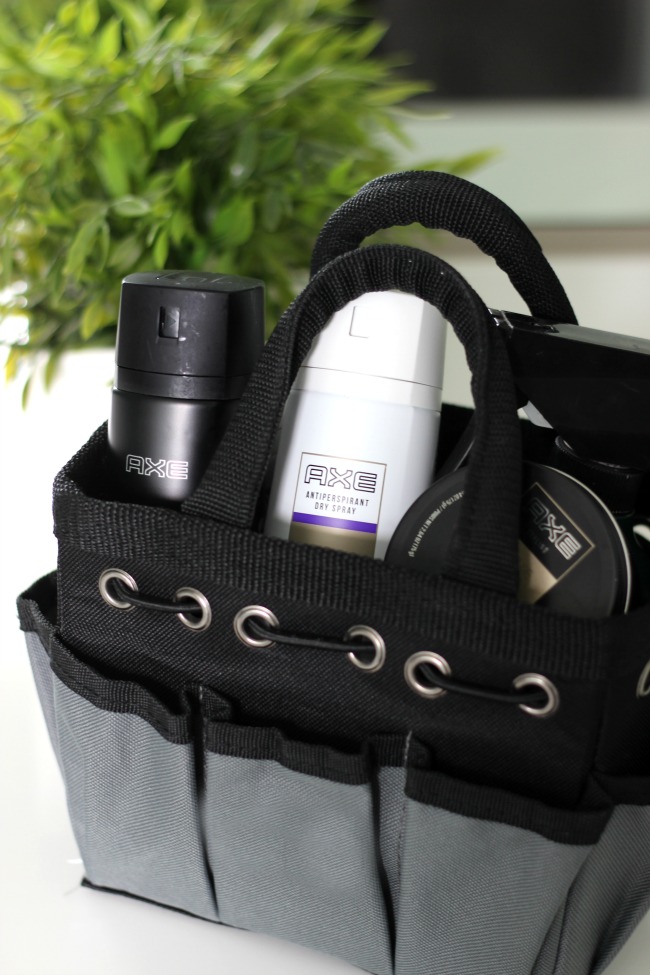 10 Hygiene Tips for Boys
Shower often. We told him that he doesn't need to shower every day, unless he feels like he needs to, but encouraged him to pay close attention to the days that he is more active and perspires more.

 

Keep nails clean. This is one of my pet peeves. Dirty fingernails. We discussed how the dirt that gets under your nails makes the body unhygienic and when the nails aren't trimmed regularly, that bacteria can get inside as well. Aaron recently kicked the habit of biting his nails so the fact that he needs to trim them now is such a GREAT THING!

 

Brush teeth at least 2x a day. We bought the boys electric toothbrushes last year and they've really helped keep their teeth cleaner. Especially with braces. I often have to remind the kids to brush first thing in the morning because they seem to think that they only need to brush after they have a meal. And mine like to skip breakfast and will head out the door with morning breath. That's not okay.

 
Wear deodorant or antiperspirant daily. It's always a bit awkward hinting to your teen that they might want to start wearing deodorant/antiperspirant. You don't want to tell them that they stink, but also kind of want to tell them that they stink.
Bring gym clothes home. This seems self-explanatory, but I remember sometimes forgetting to bring mine home in high school—and I was a clean freak! They change for PE in middle school so will need the boys to bring their clothes home to wash every Friday.
Wash your face while in the shower. My boys both have pretty clear complexions, for the most part, but I remember Dallin coming downstairs a couple of years ago and saying, "WHAT IS THIS?" That, my son, is a pimple. Welcome to your teen years.
Brush or comb hair every morning. This not only helps hair look good but if your son has longer hair it keeps it healthier and distributes the oils throughout the hair instead of only on the scalp.
Change underwear and socks EVERY DAY. Regardless if they shower daily or not, clean socks and underwear is a quick way to stay fresh.
Avoid Nail Biting. Many don't think this is a big deal, but we've had to talk to one of my sons about this. Fingers and fingernails pick up a lot of bacteria throughout the day and the fastest way to get sick is to put those nails inside your mouth. Wash hands often and nip that nail biting habit in the bud!
If using hair product, wash hair every day before applying more. We all know those boys in high school who had caked on gel going on 3 days in their hair and would just reapply. It creates build up and flakes. If you are going to use it every day, wash your hair every day. OR spritz your hair with water the next day to activate the previous day's gel.
BONUS TIP! Don't overdo it on the scented products. A little bit goes a long way and will keep you fresh all day! Just a quick spritz of body spray and you're good to go.
My favorite feature in our new house is the kids' bathroom. All four of them share, but now there are DOUBLE SINKS and a DOUBLE VANITY. Plenty of cupboard space, drawers, and counter space for all. Identical sides, one for the girls and one for the boys. I put together a "morning essentials" kit to keep on the counter for Aaron with everything he needs to stay fresh all day long. It was a subtle reminder in plain sight to use these items on a regular basis.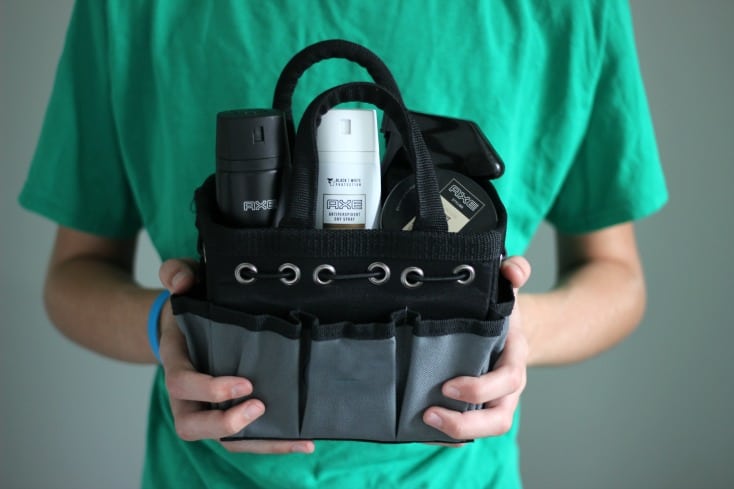 The little canvas tote is washable and just the right size for a spray bottle, comb, hair sculpting cream, body spray, and antiperspirant, with small side pockets for nail clippers and floss. They keep their toothpaste and toothbrush in a holder off to the side. 
AXE has an entire line of morning essential products for teen boys. Dallin likes the hair balm. We've tried several brands and found that it works just as well as the more expensive brands. For body products, we also like Irish Spring.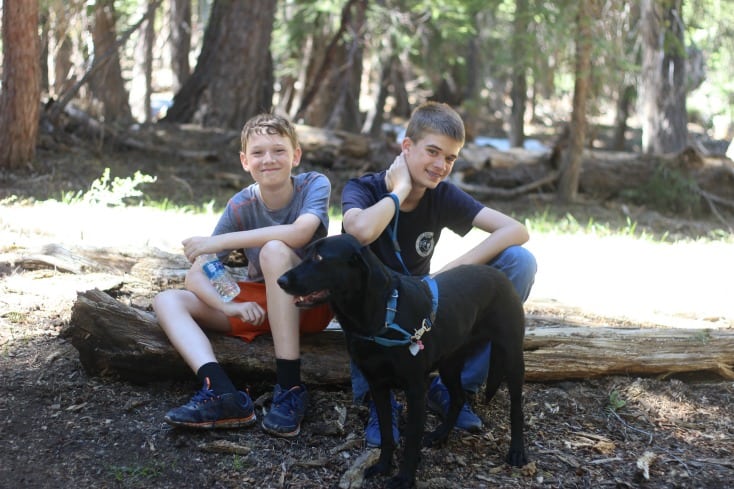 A new state, a new home, and a new school. They have new backpacks, school supplies, clothes, and the essentials to stay fresh and confident. But most importantly they have each other.  
What other hygiene tips for boys would you include in your discussion with your tween?
This is a sponsored post written by me on behalf of AXE.