These acrylic dog tag necklaces are easy to make, and the perfect craft to make with teens at summer camp! You can customize them however you'd like, but we've included a link to a free "Go and Do" printable to use for Girls Camp (Young Women Camp).
Looking for camp crafts to make at YW Camp? Check out our nail polish washer necklaces and fluffy flip flops!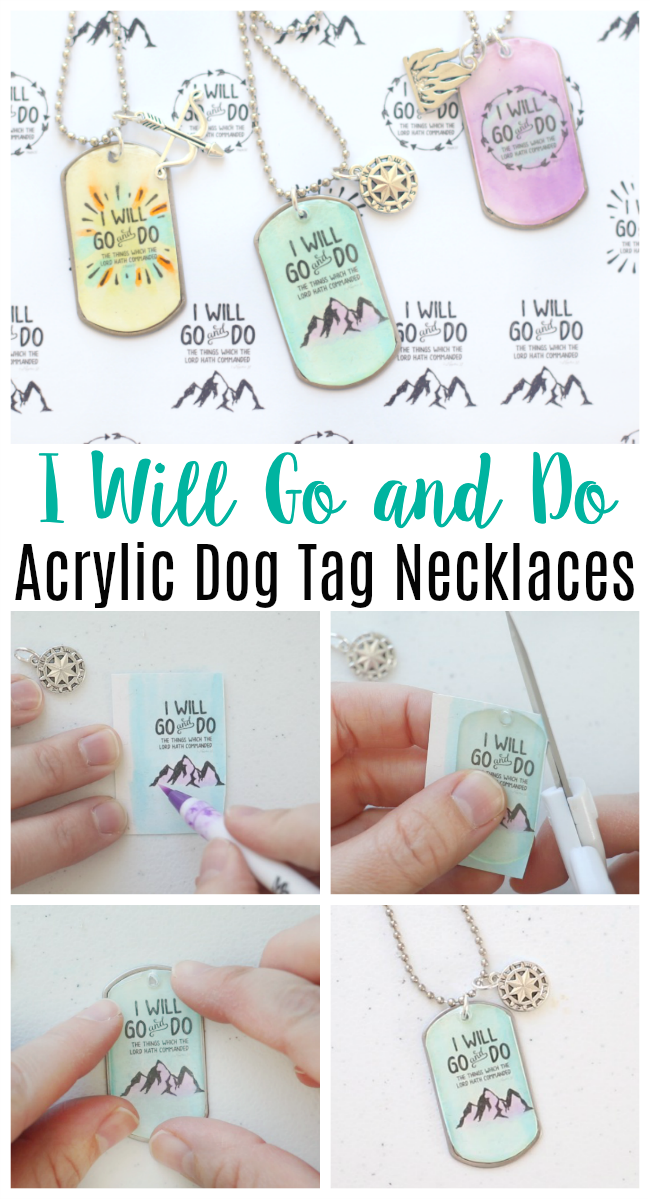 Watch our step by step video!
This year the theme at our YW camp is "Go and Do" based off of 1 Nephi 3:7. The girls have planned a boot camp themed camp in July, and asked me to come up with some fun themed crafts. It isn't just a bootcamp theme, it's a "boho bootcamp". I'm still trying to figure out what that means, haha. Instead of hand stamping each necklace, I thought the girls might like to make a prettier version. One that they can customize, and add a charm. I especially love the Girls Camp themed charms that I found on etsy. I'll include links to all of the materials that I used in the instructions below.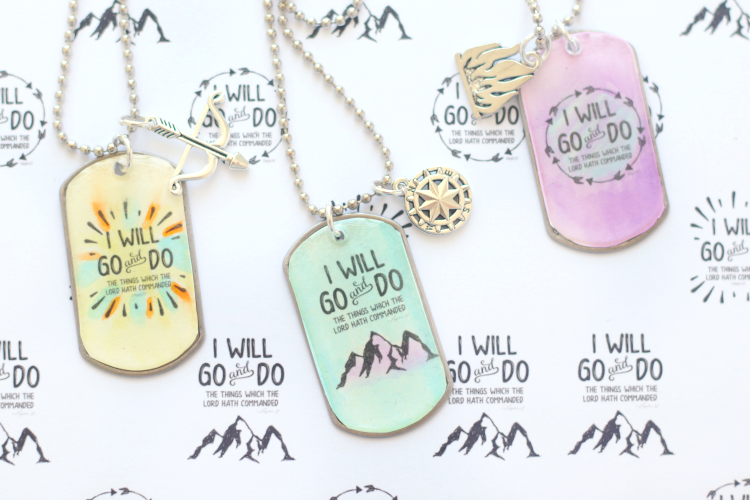 I am the craft coordinator for over 100 teenage girls. So coming up with simple crafts is a MUST. I am going to prepare kits ahead of time to simplify things even more. I'm also planning on printing out the step by step instructions and photos from this post and placing a few copies on the tables.
Acrylic Stickers for Necklaces and Keychains
Have you ever used acrylic stickers for making jewelry? They are such a fun hack! We used them when we made bottle cap keychains a few years back and have been hooked on them ever since.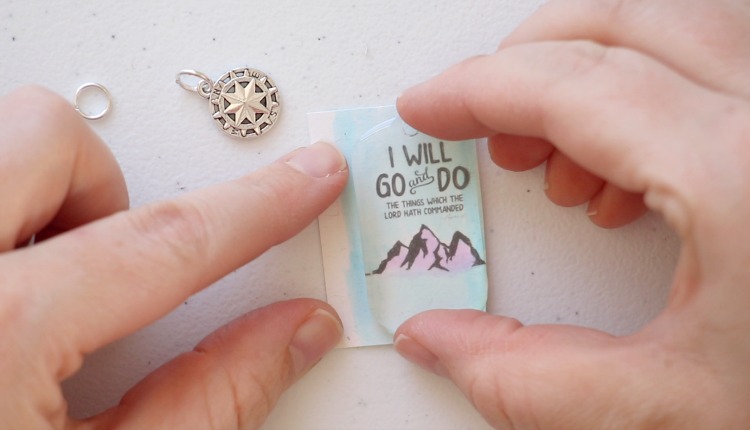 You simply cover a piece of card stock or craft paper with the sticker, trim around the edge and attach it to a charm. SO MUCH EASIER than making and mixing your own acrylic/epoxy!
I found the darling images from the talented Tami over at Pocket Full of LDS Prints. Each image came as a free 8×10 printable. I saved the images and printed them smaller on card stock. You can make your own printable sheet or use mine. My printable is pretty novice, but it works!
You can cut out the images or leave them on the sheet. The girls will color one, place the acrylic sticker over the colored area, press firmly, then cut around the sticker to create the charm.
Tip: card stock works best for gluing onto the metal charm. Copy paper is too thin and the glue may show through.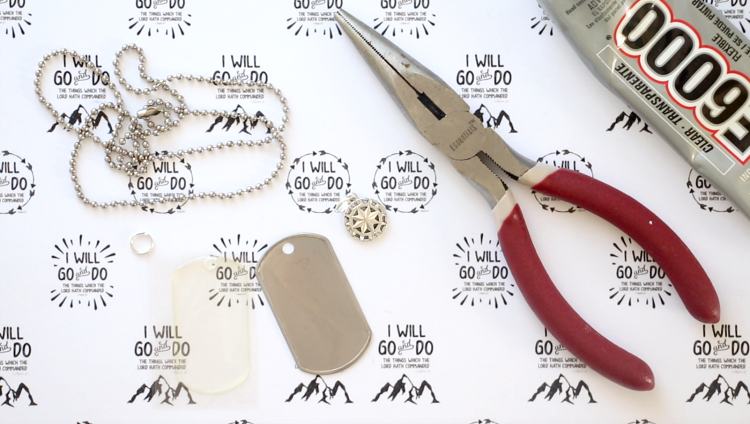 DOWNLOAD Go and Do Acrylic Printables Here.
You'll also need some blank dog tags. I liked the ones that I ordered because they had a lip around the edge. I ordered my acrylic stickers and dog tags from the same place to ensure a perfect fit.
The darling charms are from etsy. The seller actually had a "camp" themed set and you can mix and match to create the perfect assortment. I selected the compass, bow/arrow, lantern, and campfire. The bee and hatchet would be darling for YW camp as well.
How To Use a Jump Ring
Jump rings are used to attach the charms to the necklace. If you haven't used them before, don't worry. They are easy to work with. You will need two sets of jewelry pliers. Use one set to hold the the jump ring in place, and the second set to twist the ring open. String the charm onto thee ring then twist closed. For a better visual, check out our step by step video above.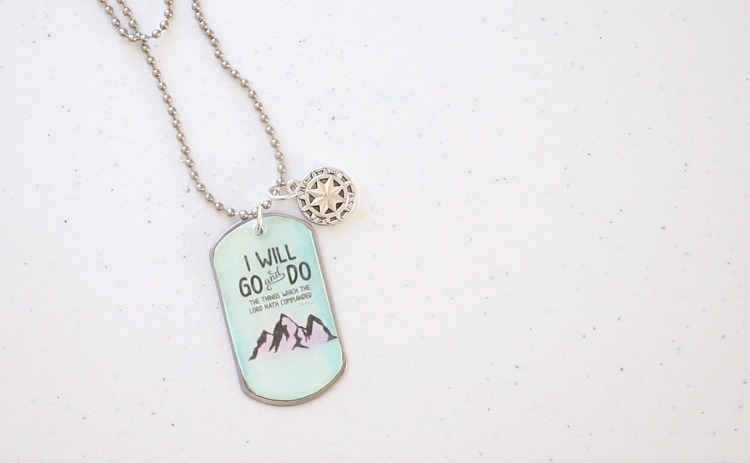 Acrylic Dog Tag Necklaces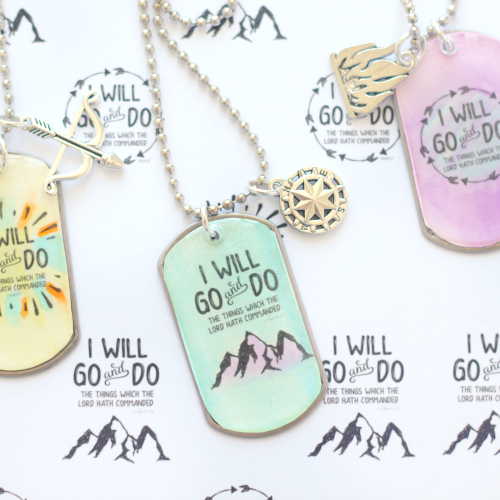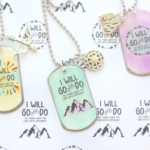 Print
Acrylic Dog Tag Necklaces
These acrylic dog tag necklaces are easy to make, and are fun to make with teens at summer camp! Customize them however you'd like and add a charm!
Equipment
jewelry pliers

scissors

markers/colored pencils
Instructions
Color/decorate the image that you would like to use for your necklace, if necessary.

Place an acrylic sticker over image.

Use scissors to trim around sticker and image.

Glue the image to the dog tag blank using E6000 glue. Let dry.

Use jewelry pliers to twist open one jump ring. Slide dog tag onto jump rings. Twist jump ring to close.

String dog tag onto chain. Add additional charms, optional.