Caramel apple dip gift pack! A quick and easy gift idea! Wrap up your favorite variety of apple with a package of caramel dip! Tie with a gingham bow for a beautiful (and simple) gift idea this fall.
If you like caramel you'll love our caramel popcorn recipe, homemade caramel chocolate candies, and Samoas bars!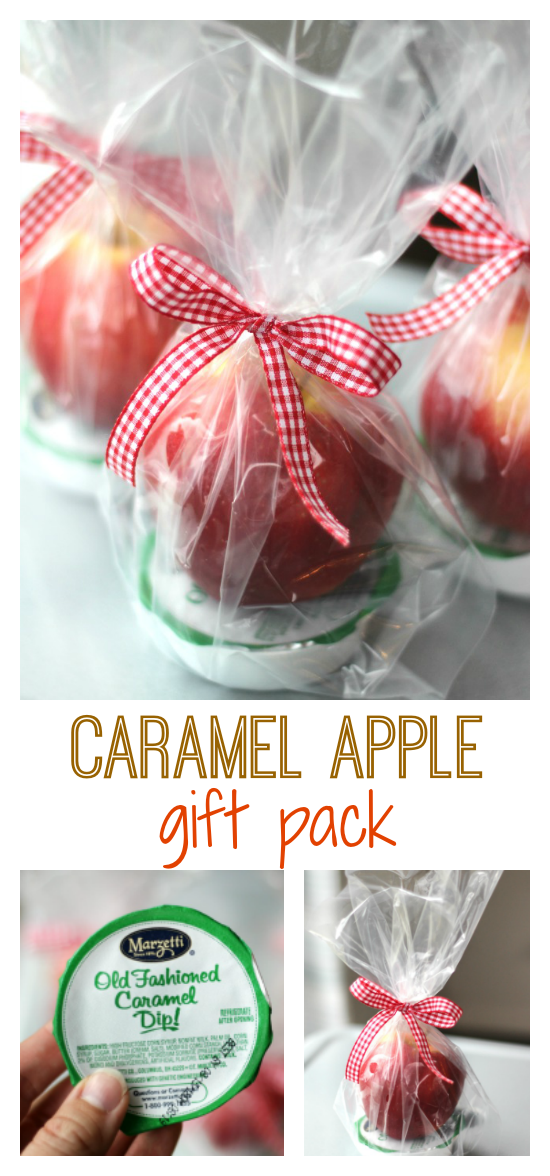 My friend dropped off a tiny mason jar with caramel dip inside, an apple on top, and packaged in a cellophane bag. It was so cute. Who doesn't like caramel apples? Apples + dip are so much easier to eat than an apple on a stick. I decided to simplify her gift idea even more. So much so, that I was hesitant to even post this idea because it just seemed too simple. I mean, it's kind of a caramel apple since you get all of the same flavors, but theres nothing fancy or gourmet about it!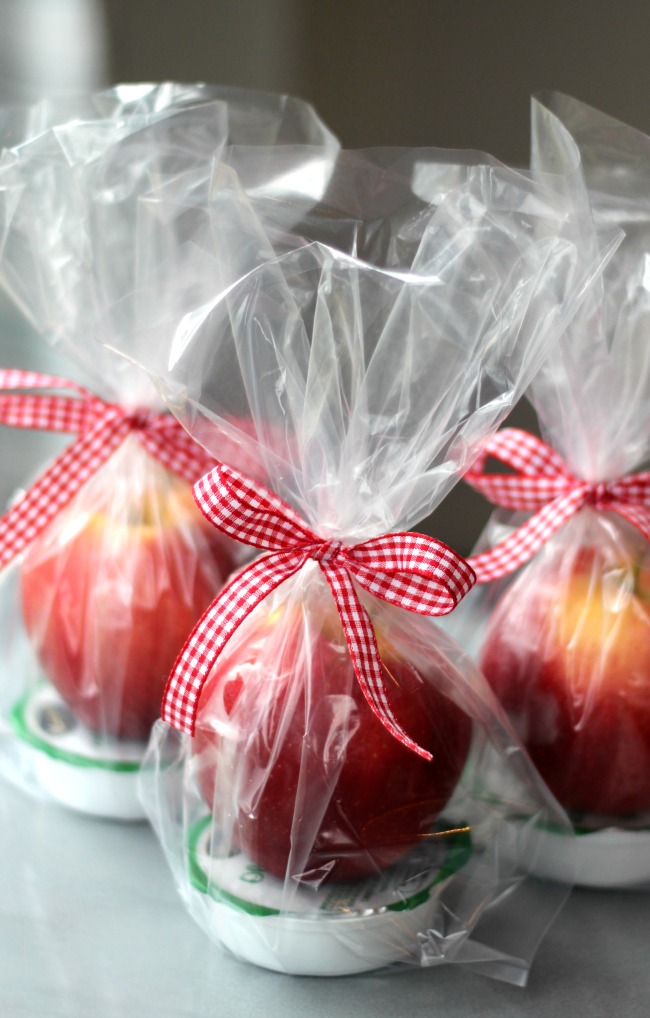 Caramel Apple Dip Gift Pack
I was looking for a quick gift idea to give to some of the ladies at church. While I was grocery shopping, I spotted these darling containers of dip in the produce section and knew they'd be perfect. I added one to the bottom of a cellophane gift bag, placed an apple on top, and tied them with gingham ribbon.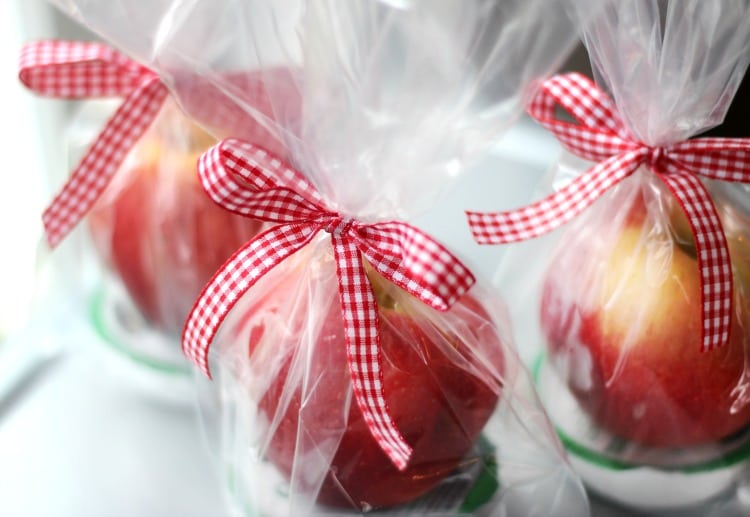 To make your own caramel apple gift pack you'll need the following:
1 cellophane/plastic bag
1 apple
1 single serving container of caramel dip
1 piece of ribbon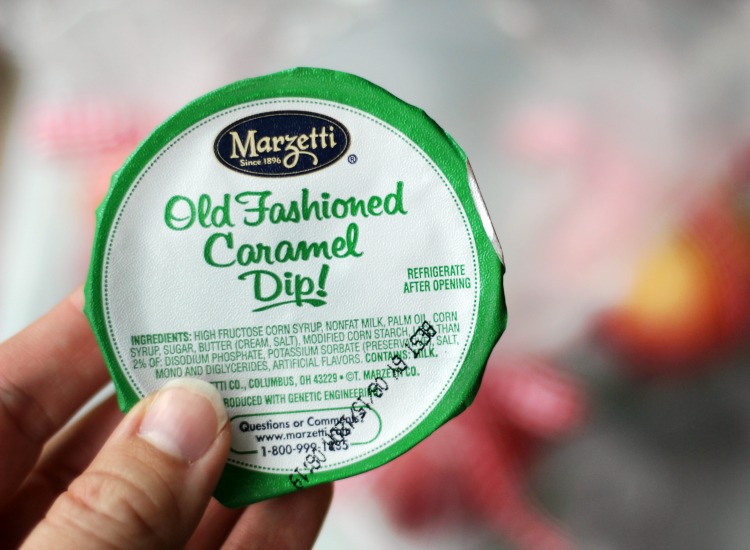 Place the caramel into the bag and stack with an apple. Tie off with a piece of ribbon.
What apples pair best with caramel dip?
Caramel dip is extremely sweet so go with a crisp and tart apple like Granny Smith, Pink Lady or McIntosh.
Tip: these do not need to be refrigerated so you can make a bunch a head of time and leave them out for a few days. If the recipient doesn't have time to eat it for a few days, it will keep in the refrigerator or on the counter without spoiling. This is perfect for teachers who will probably leave it on their desk all day.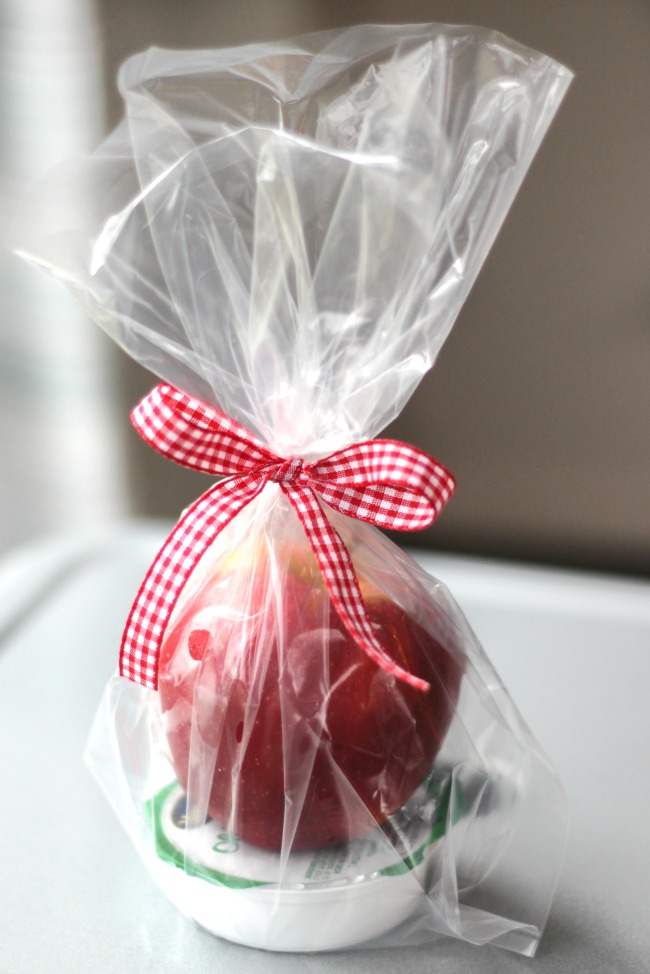 I think I'll make a few more to give to teachers too as a cute and easy back to school gift in the fall. And it's even more perfect since my kids don't go back to school until September every year, so it's right in the middle of apple season.
Not a caramel fan? Use peanut butter! You can find peanut butter in the same sized containers in the peanut butter section. Perfect for dipping.
Looking for more recipes for fall? You might also like these posts!
Grandpa Bob's Apple Bread: This apple cinnamon pull apart bread is a delicious light, pull apart bread with diced apples, a buttery cinnamon filling, chopped walnuts. Drizzled with a sugary glaze it's a family tradition for us— make it one for yours too.
60 Apple Themed Crafts and Recipes: Over 60 apple themed crafts, recipes and activities. Perfect for fall.
Apple Crisp Shortbread Bars from Sober Julie: All of the delicious flavors of apple crisp in one easy-to-eat bar.