The easiest copycat Hostess cupcakes recipe! Cake mix, marshmallow cream filling and dipped in chocolate ganache. These are the real deal! Our FAVORITE cupcakes! Grab a glass of milk and enjoy a sweet moment after school or a late-night snack. This post contains affiliate links.
If you like these you'll LOVE our Hostess cupcake COOKIES! You might also like our easy lemon loaf cake or mini bundt cakes! If you're looking for a rich chocolatey dessert, try our hot cocoa bombs!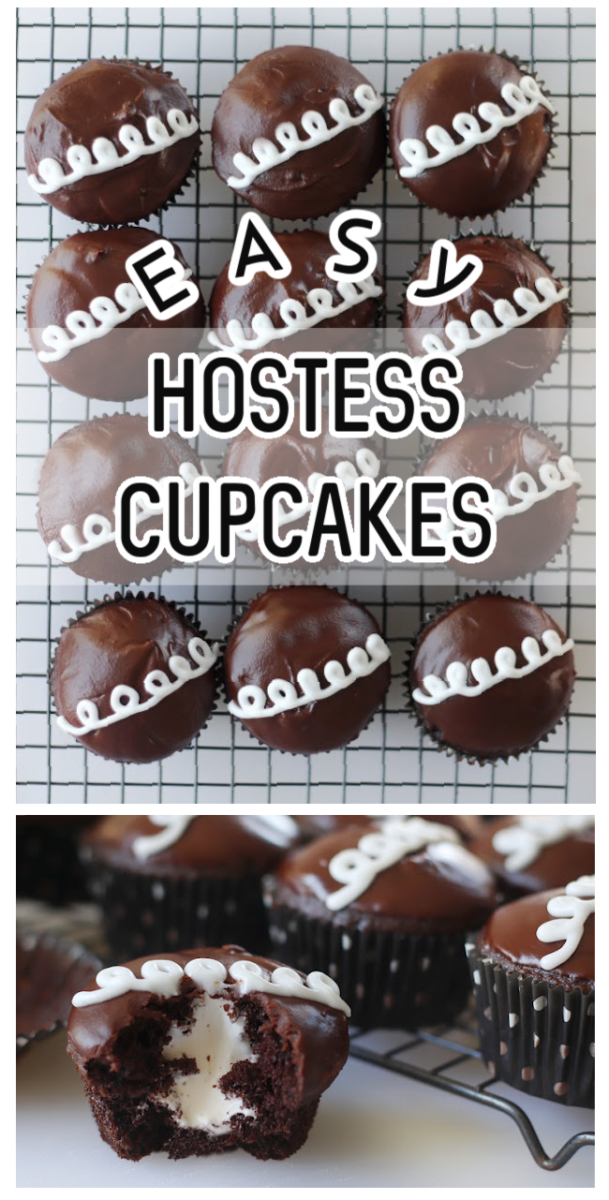 Watch our step by step video!
What is about Hostess cupcakes the makes them so delicious? I love the delicious moist chocolate cake, marshmallowy filling, and chocolate glaze in each bite. They've been at the top of my list of copycat recipes to conquer, and my kids were thrilled to come along for the ride.
The EASIEST Hostess Cupcakes To Make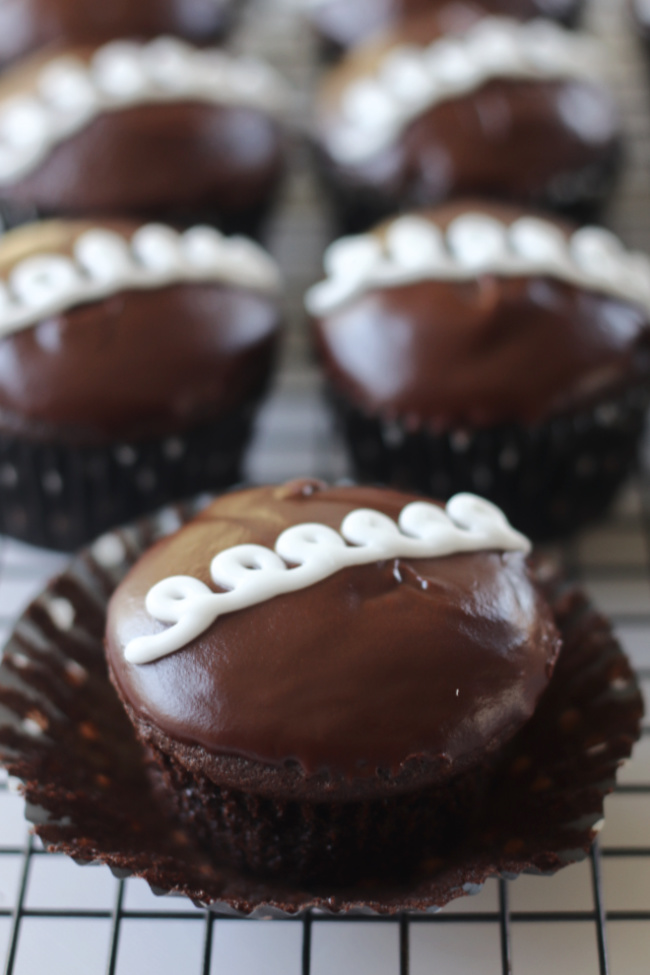 This Hostess cupcakes recipe IS THE REAL DEAL. Made with cake mix, marshmallow creme for a creamy center, and a super easy chocolate ganache icing. They are always a crowd please because EVERYONE recognizes the signature curly cues! Ready to make and enjoy the cupcakey goodness of Hostess in the privacy of your own kitchen? Let's get started!
I blended my favorite marshmallow frosting recipe from Lil Luna, my EASY flavorful chocolate icing from my biscuit donut recipe, the basic royal icing recipe from my Pop Tart Gingerbread houses, and the simplicity of a cake mix to create these iconic treats.
What makes these the easiest Classic Hostess cupcakes to make?
Boxed cake mix: Unless you have diet restrictions and need to substitute out the basic ingredients, just use a cake mix. It's my biggest tip for making cakes at home. I took a cake decorating class years ago and my instructor let us in on her secret. She used cake mixes for most of the cakes that she made in her bakery. I've been doing this ever since and my cakes always turnout great! You'll still achieve an amazing chocolate cupcake flavor— with less effort. I'm all about convenience if it doesn't impact flavor.
3 second filling technique: my technique for filling cupcakes with a creamy vanilla center literally takes 3 seconds per cupcake. So easy! Use a piping bag and tip! I like using a #21 star tip, available at most craft stores.
Simple ganache made from chocolate chips: No need to use fancy chocolate. Chocolate chips work just fine! For the recipe I highly suggest using semi-sweet.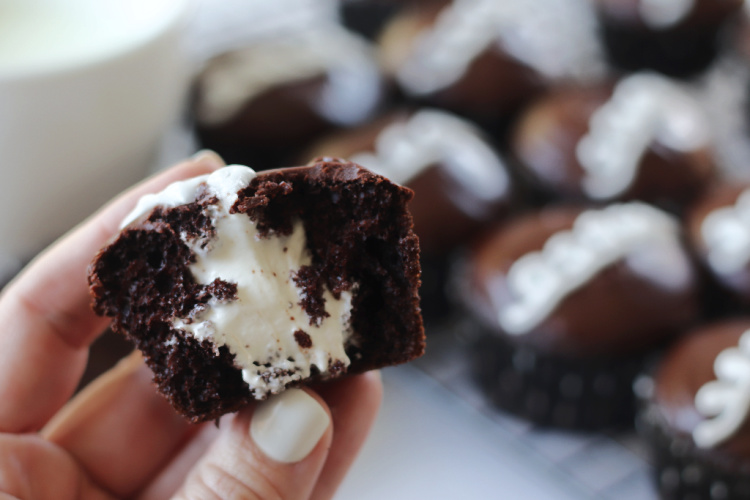 Hostess Cupcakes Ingredients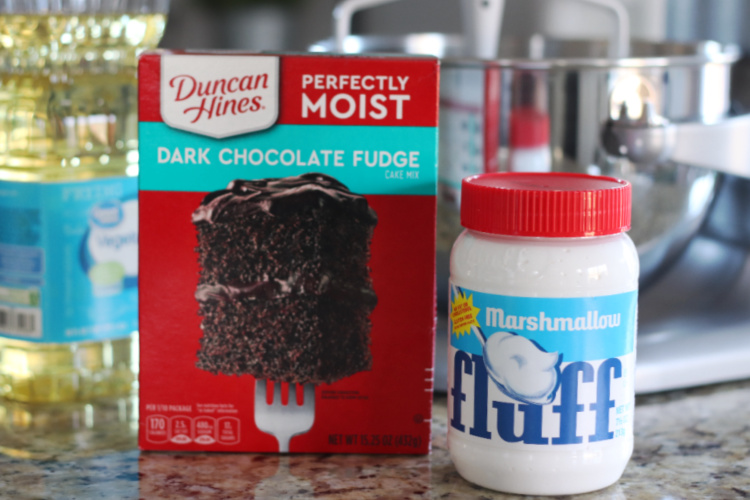 You'll need to pick up the following groceries to make a batch of our favorite cupcakes:
Cake
boxed cake mix (dark chocolate)
eggs
oil (vegetable oil, sunflower oil, or canola oil)
water
Filling
marshmallow creme (the entire jar)
powdered sugar
butter
vanilla extract (or skip the artificial flavor and try our homemade vanilla)
Ganache
chocolate chips
milk
honey
butter
Icing
You'll also want to pickup a #21 star frosting tip for the creamy filling, a #5 (or just cut the corner off of a frosting bag) for the original squiggle detail and pastry bags. If you look at the actual product packaging for a Hostess cupcake you'll notice 7 swirls. I used 6 since that fit better for me, but how cute would it be to pipe on little hearts or a name?
Last, but not least, you'll want to have a glass of milk handy because these pair perfectly with chilled milk for a late-night snack.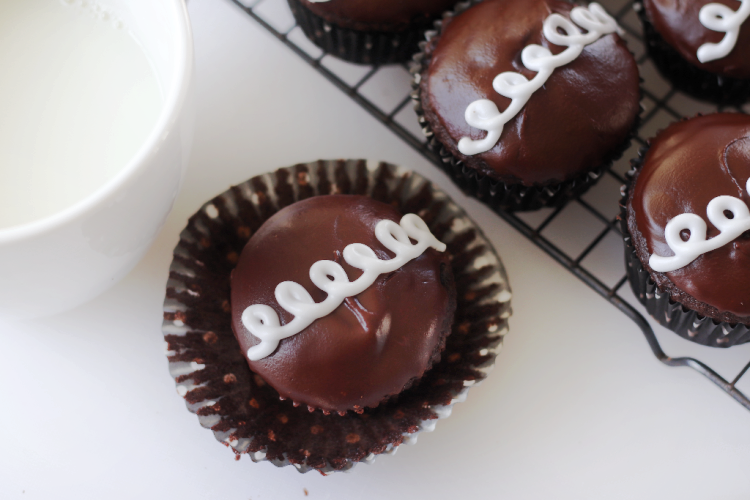 Make sure to watch my video to see how easy it is to fill the cupcakes with the marshmallow frosting.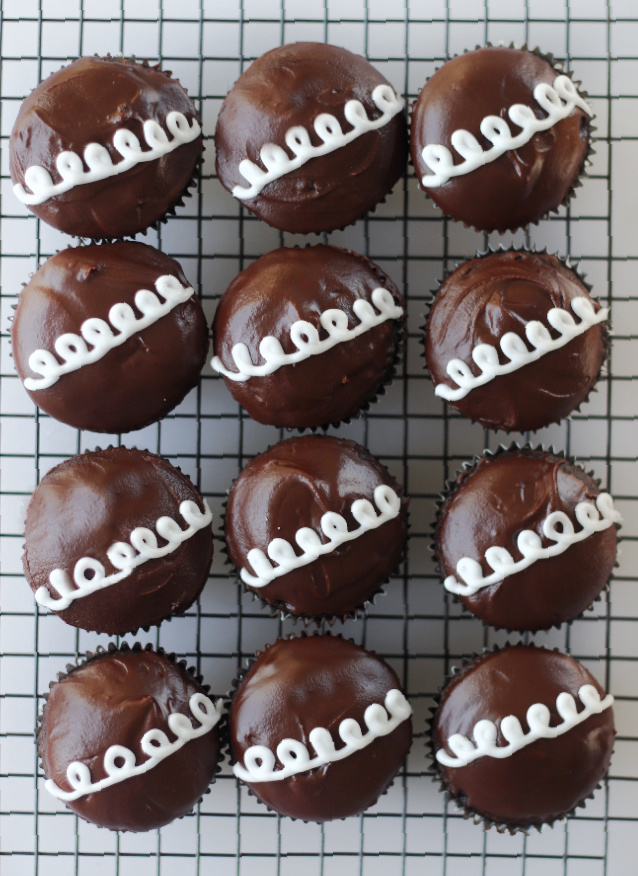 Cake mixes always claim that each box makes 24 cupcakes. I don't buy it. You can expect to get 20-22 cupcakes from this recipe. They are delicious served at room temperature. Store in an airtight container on the counter for up to 3 days.
Copycat Hostess Chocolate Cupcakes Recipe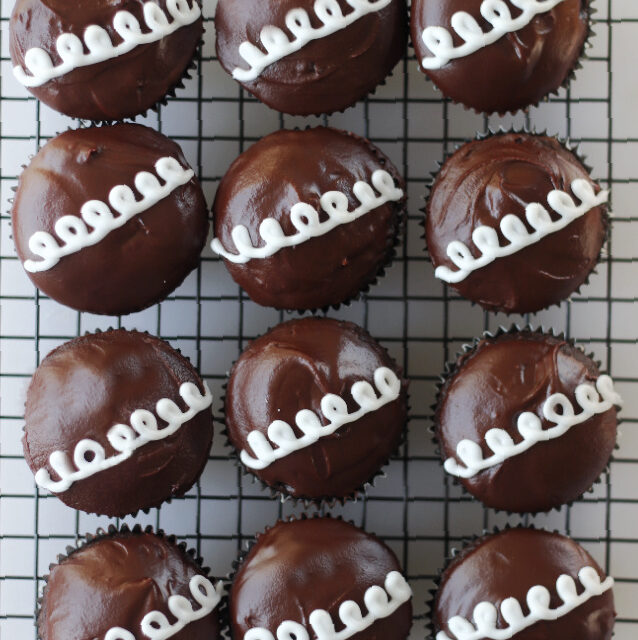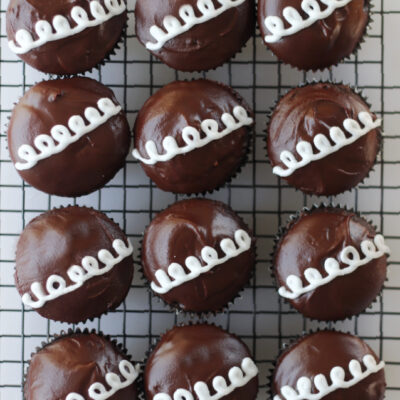 The Easiest Hostess Cupcake Recipe
The easiest Hostess cupcakes recipe! Cake mix, marshmallow cream filling and dipped in chocolate ganache. These are the real deal! My kids' FAVORITE cupcakes to make.
Print
Pin
Rate
Equipment
2 pastry (frosting) bags

#21 frosting tip

#5 frosting tip
Ingredients
Cupcakes
1

chocolate cake mix

1

cup

water

1/3

cup

oil

3

whole eggs
Marshmallow Creme Filling
1/2

cup

butter

1

cup

powdered sugar

1

teaspoon

vanilla

7

oz.

marshmallow creme

1 tub
Chocolate Ganache Icing
1

cup

chocolate chips

2

Tbsp.

butter

1

Tbsp.

milk

1

Tbsp.

honey
Swirl Icing
1

cup

powdered sugar

4-5

teaspoons

water
Instructions
Cupcakes
Preheat oven to 350 degrees. Line a muffin pan(s) with 20 cupcake liners.

Mix cake mix, oil, eggs and water on low for 30 seconds.

Mix on medium speed for 2 minutes.

Divide batter amongst cupcake liners. Bake for 15-18 minutes or until toothpick inserted comes out clean. Let cupcakes cool completely.
Marshmallow Filling
Beat butter, powdered sugar and vanilla together until whipped and creamy. Stir in marshmallow creme by hand.

Fill a pastry bag with icing and a star tip (#21).

How to fill a cupcake with marshmallow creme: Insert frosting tip into the center of the cupcake and press/squeeze for 3 seconds or until the cupcake puffs up slightly.
Chocolate Ganache
Place chocolate chips, butter, honey and milk in a microwave safe bowl. Heat for 30 seconds. Stir. Heat an additional 10 seconds if necessary. Stir.

Dip the top of each cupcake in chocolate ganache. Allow excess to drip off. If ganache cools and begins to thicken, simply reheat for 10 seconds and stir.

Allow ganache to set up for 15 minutes before adding decorating icing.
Decorating Icing (Royal Icing)
Whisk powdered sugar and water together. Start with 3 teaspoons of water and add more, 1/2 teaspoon at a time until desired consisteny is achieved. 5 tespoons works well for me.

Fill a pastry bag with icing and a round tip (#5) or simply cut the corner off of the bag to create a small hole for piping the icing.

Decorate the tops of the cupcakes by piping on swirls all the way across.

This recipe makes 20-22 cupcakes.
Notes
Store in an airtight container at room temperature up to 3 days.
Cupcake calories for each serving of food and nutrient information based off of box of Duncan Hines dark chocolate fudge cake mix.
Nutrition
Speaking of marshmallow filling, did you know that you can make homemade marshmallows? Cancel everything you ever thought about marshmallows being stale, and take my word on this. Homemade marshmallows are SO much better than anything you'll find at the store.  Made from sugar, gelatin, corn syrup, vanilla extract, water and salt! Try our recipe!
Affiliate link disclaimer: I only link to products that I personally own. Amazon is my go to place for quality bakery products like frosting tips, pans and utensils. When you place an online order I receive a very small commission. Thank you for your support!