Cranberries, freshly squeezed oranges, and cold butter are the key ingredients to this deliciously light and fluffy cranberry scones recipe. You'll love the sweet and tangy flavor combination. Perfect for a holiday breakfast or brunch! This post contains an affiliate link.
You might also like our blueberry scones with lemon glaze or our white chocolate raspberry scones!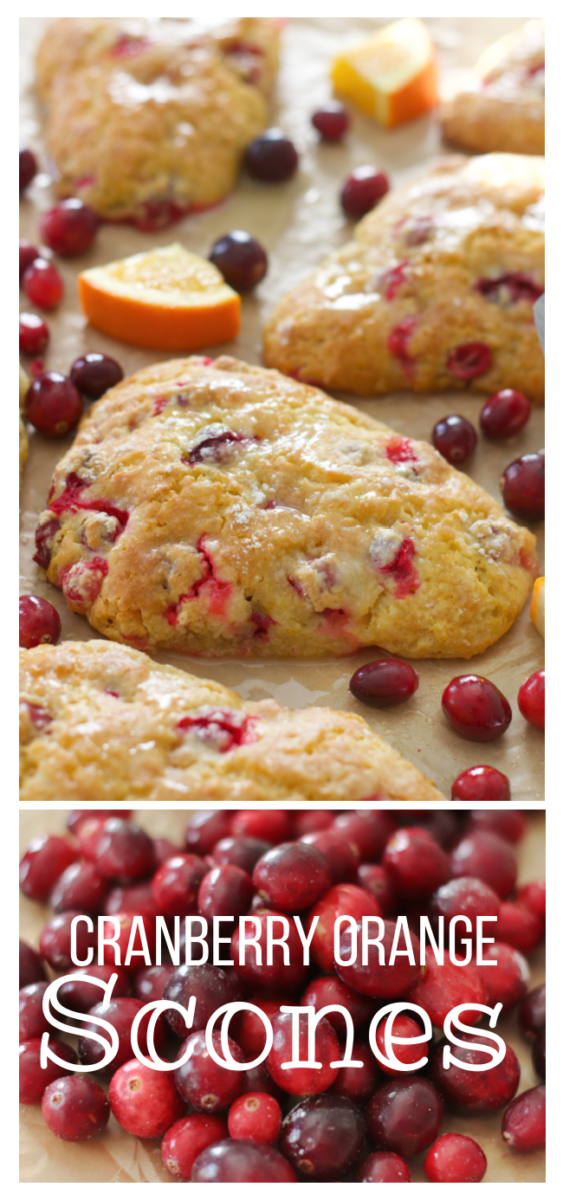 Watch our step by step video!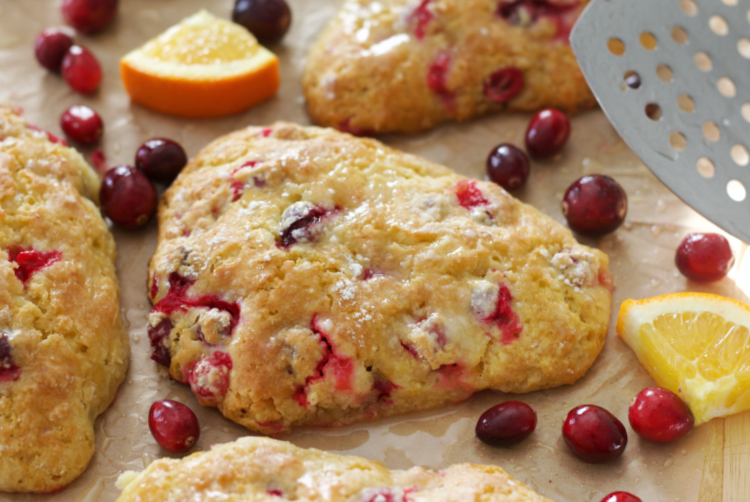 Cranberry Orange Scones
There's nothing better than a warm home-baked pastry on a Saturday morning. I love comfort foods, especially this time of year. Muffins, quick breads, scones—I don't discriminate.
I never cared for scones until I started making them myself. They always seemed so dry! I used the same recipe that I've used for years for making blueberry scones, and swapped out a couple of ingredients to make a delicious cranberry version. Tart cranberries, sweet orange juice, and a finger-licking-good glaze. Don't skimp on the glaze, it is a great balance to the tart cranberries.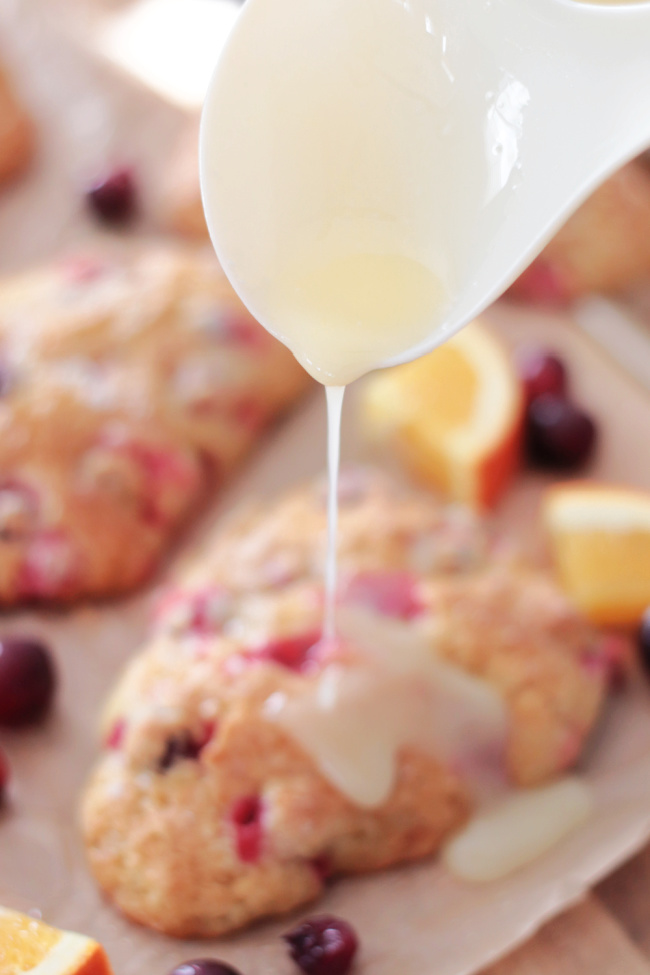 You can make these with fresh, frozen, or dried cranberries. I like using fresh cranberries because they are easy to find this time of year and I love the flavor. If you use dried cranberries you can use less of them. They are sweeter, too. I'd probably use half the amount of cranberries if using dried.
For the orange flavoring you'll need the zest from one orange, and 1/4 cup of orange juice for the glaze.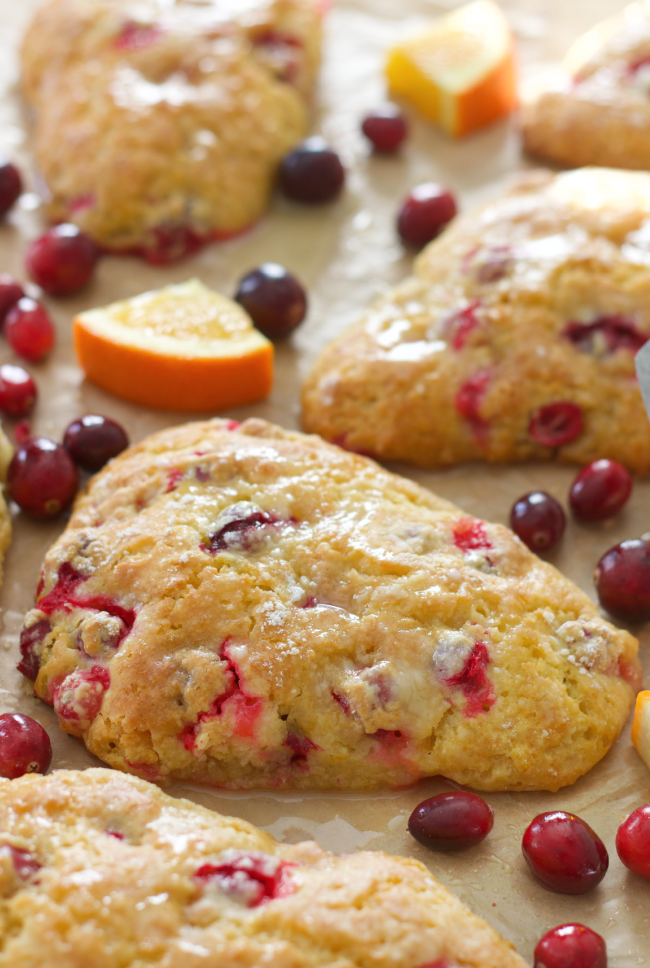 Cranberry Orange Scones Ingredients
2 1/4 cups all purpose flour
1/3 cup granulated sugar
2 teaspoons baking powder
1/2 teaspoon baking soda
1/2 teaspoon salt
orange zest (from 1 orange, about 1 Tablespoon)
1 stick of butter (COLD)
1 cup fresh cranberries (can also use frozen or 3/4 cup dried)
1 egg
3/4 cup milk
Glaze
1/4 cup orange juice
1 1/4 cup sifted powdered sugar
1 teaspoon honey
How To Make Cranberry Orange Scones
Mix dry ingredients together in a medium bowl. Add orange zest. Add frozen, grated butter. Blend with a pastry cutter (can also pulse in food processor).
Stir in berries.
Beat milk and egg together and mix into the flour mixture until dough forms. It will be STICKY.
Press dough onto floured surface and form a 10-12″ disc. Cut into 8 triangles/wedges.
Bake scones on a baking sheet for 20 minutes or until golden brown.
Mix orange glaze ingredients and drizzle glaze over slightly cooled scones.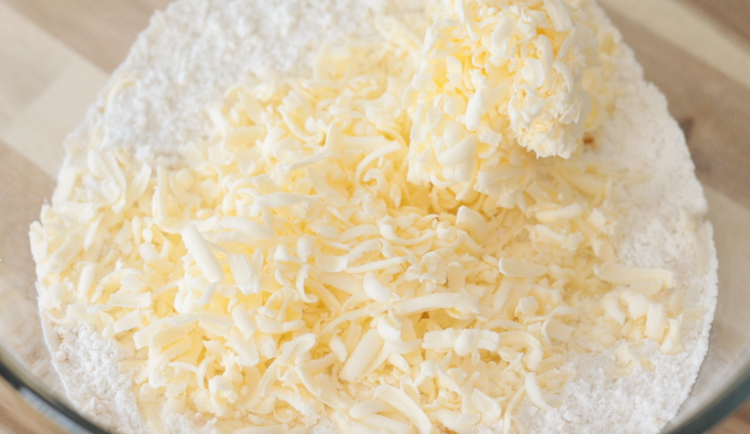 COLD Butter for Scones
Cold (or frozen) butter is the KEY for making delicious scones. Grate 1 stick of COLD butter using a cheese grater, and place it in the freezer while you gather the rest of your ingredients and preheat the oven. As soon as you're ready to add the butter to the dry ingredients, pull it out of the freezer. It will be the perfect temp for blending into the flour.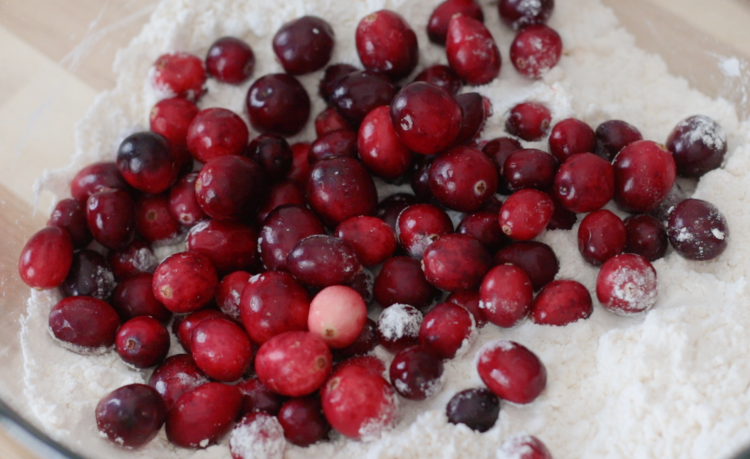 Once the dry ingredients and orange zest have been mixed, and the butter blended into it, add the cranberries. Toss the dry ingredients with the cranberries.
Mix the egg and milk together then stir into your dry ingredients.
A dough whisk is my favorite kitchen tool. It mixes scone dough, muffin batter and bread dough like a champ!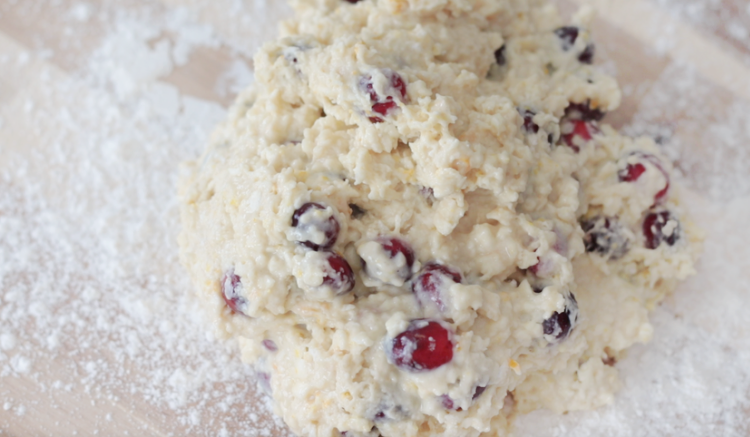 Scone Dough is Sticky
Scone dough is sticky, that's normal. Sprinkle flour over your work surface, and hands, and press the dough into a disc.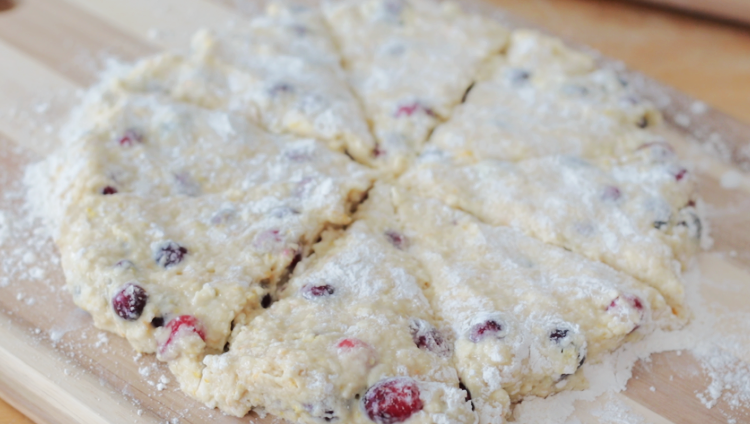 Cut into 8 triangles with a knife.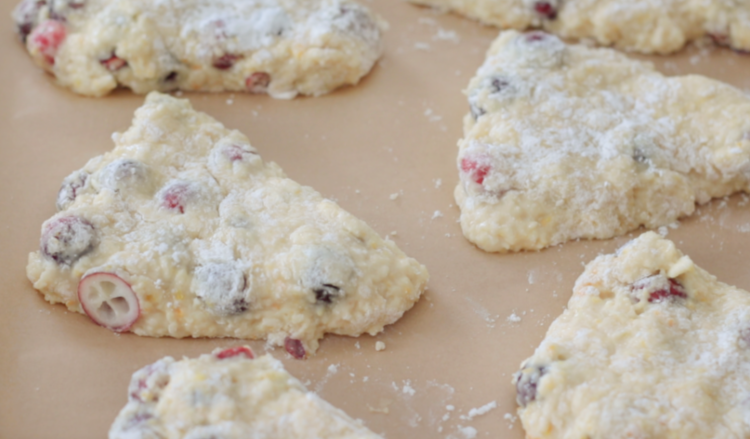 Use a spatula to transfer scones to a baking sheet, lined with parchment paper. Bake at 400 degrees for 20 minutes.
While the scones slightly cool, mix glaze ingredients together. Drizzle (generously) scones with glaze. Serve warm. The glaze will soak into the warm scones.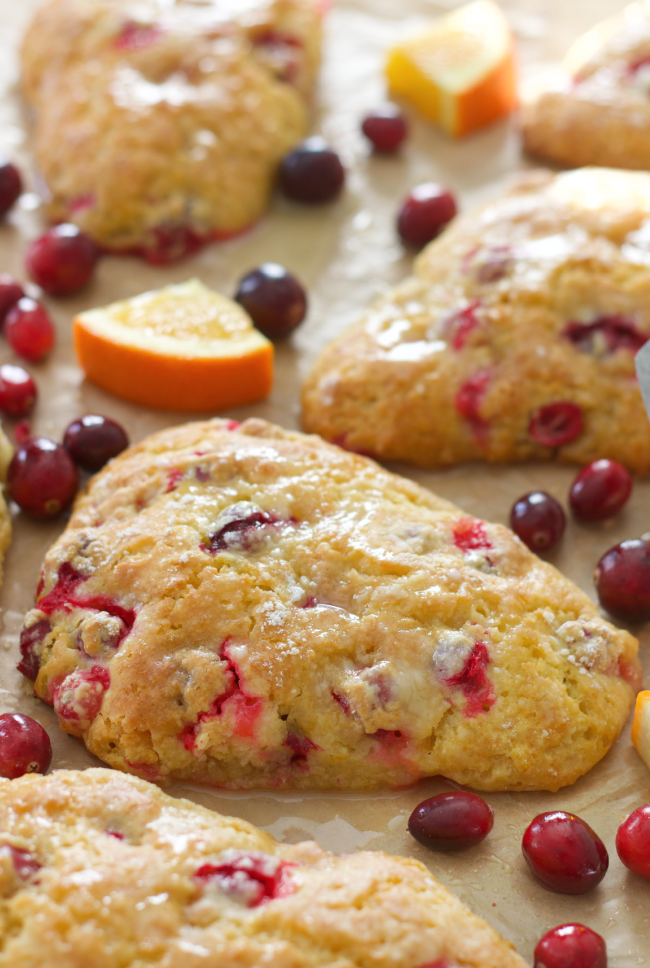 Warm, sticky, sweet, tangy—these scones are perfection!
Store leftover scones in an airtight container and warm leftovers in the microwave for a few seconds.
Optional Add-Ins for Scones
This recipe is delicious on it's own, but here are some yummy variations that you can try.
Add a handful of white chocolate chips to scone batter.
Add a small amount of vanilla extract or orange extract to the batter.
Brush unbaked scones with heavy cream and sprinkle with coarse sugar before baking.
Brush with melted butter right after baking, and before glazing.
Cranberry Orange Scone Recipe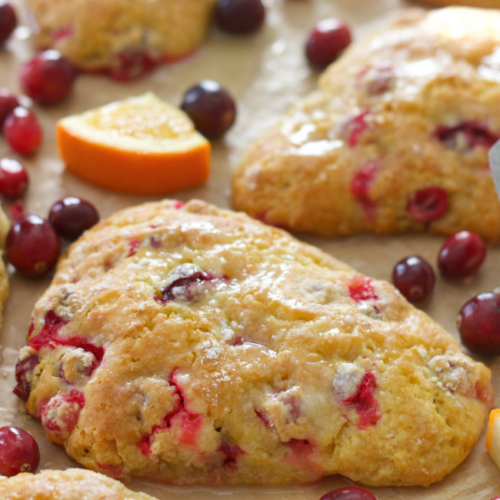 Ingredients
2 1/4

cup

all purpose flour

1/3

cup

sugar

2

teaspoons

baking powder

1/2

teaspoon

baking soda

1/2

teaspoon

salt

1

zest of an orange

(about 1 Tablespoon)

1/2

cup

COLD butter

1 stick

1 1/2

cups

cranberries

fresh or frozen (3/4 cup dried)

1

egg

3/4

cup

milk
Icing
1/4

cup

orange juice

fresh squeezed

1 1/4

cup

powdered sugar

sifted

1

teaspoon

honey
Instructions
Grate 1 stick of COLD butter using a cheese grater, and place it in the refrigerator or freezer while you gather the rest of your ingredients and preheat the oven. As soon as you're ready to add the grated butter to the dry ingredients, pull it out of the freezer.

Combine flour, sugar, baking powder, salt and baking soda in a large bowl. Add orange zest.

Pull the grated butter out of the refrigerator or freezer. Mash grated butter into flour mixture with pastry cutter or fork until it resembles coarse crumbs.

Beat egg and milk with a fork in a small bowl. Stir into flour/cranberry mixture.

Gently turn out dough on a floured surface and press into a 10″ round disc with your hands or a rolling pin. You don't need to knead or work the dough. The less you handle the dough, the better. Flour your hands or rolling pin if you need to since it is a sticky dough.

Slice into 8 triangles.

Bake at 400 degrees for 20-25 minutes on parchment lined (or greased) baking sheet.

Cool 5 minutes before drizzling with orange glaze.

For the glaze: Combine ingredients and drizzle over scones. Glaze will soak into warm scones.
Notes
The key to a perfect scones recipe is all in the butter. Grate your COLD butter with a cheese grater and add it to your flour mixture.
Nutrition