Here is a quick and easy DIY crib sheet that only takes 30 minutes to make. Make a few to keep on hand for baby gifts! This post contains affiliate links.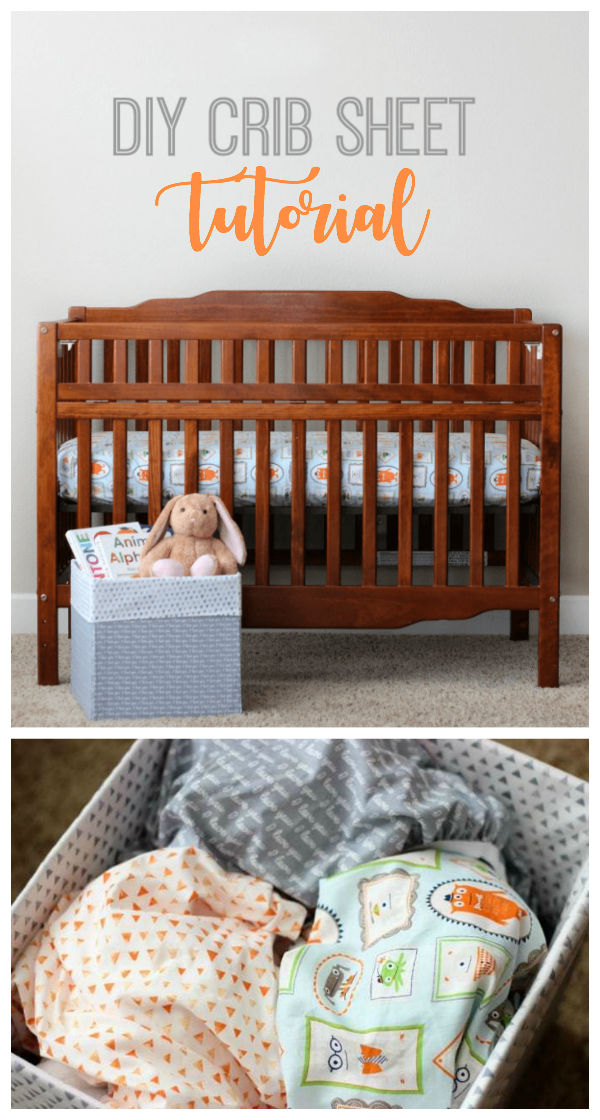 Crib sheets are a wonderful way to add color and style to a nursery.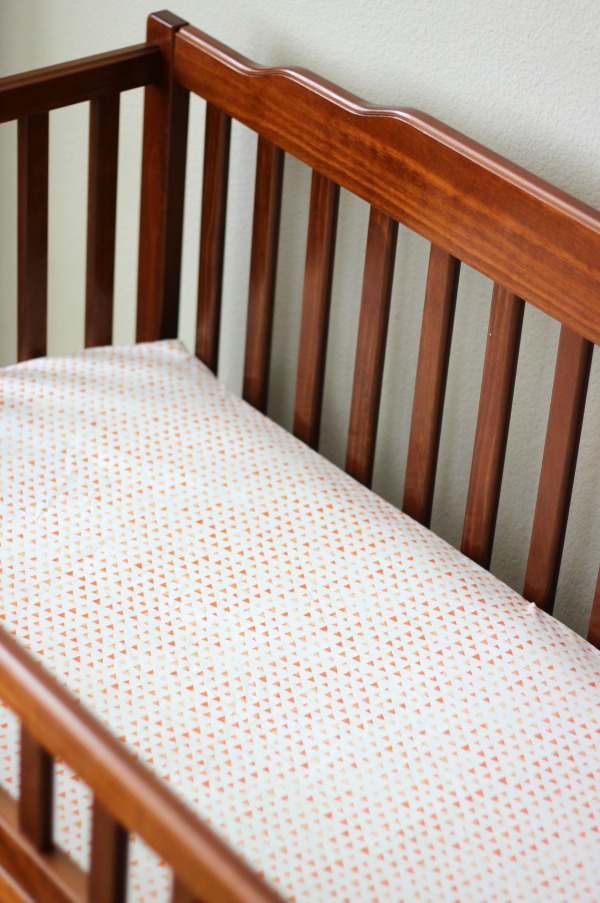 They are also super simple to make! To make this DIY crib sheet you only need 2 1/2 yards of fabric, so find some on sale and make a few for the nursery or as baby shower gifts!
For 60 more sewing projects, check out my sewing book for kids!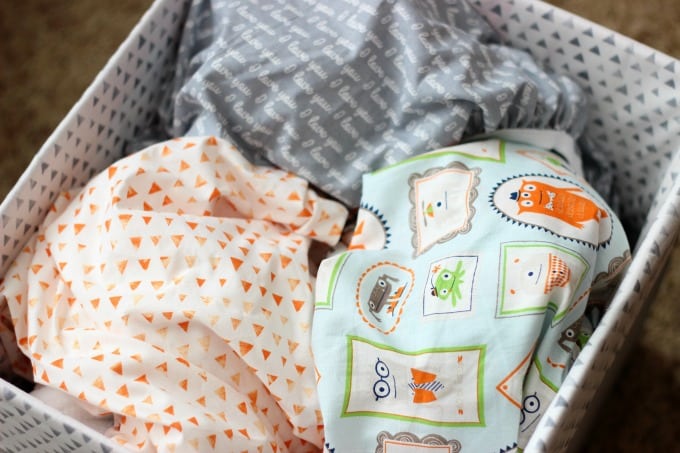 DIY Crib Sheet Tutorial
Time: 30 minutes
Skill Level: Beginner
The size for a standard crib mattress can vary by 1/2″ or so in each direction. The goal is to make a tight-fitting sheet for safety. This DIY crib sheet tutorial will stretch and fit snug for any mattress fitting the standard dimensions of 52" x 27.5" x (5.5″). This is the dimensions for the mattress shown.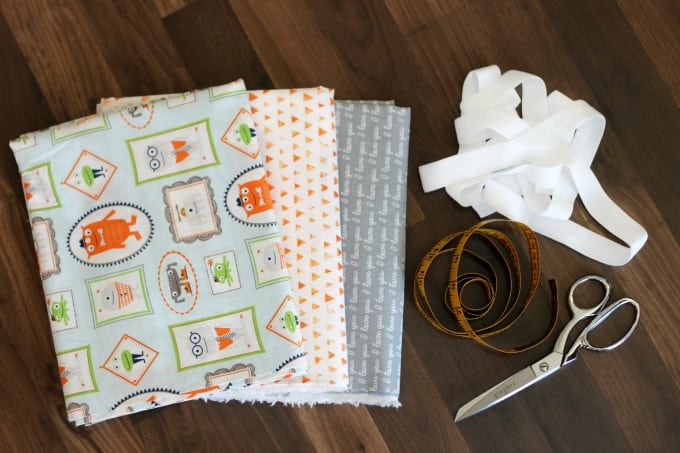 Supplies:
2 yards fabric
2 1/2 yards fold over 1″ elastic
scissors
measuring tape
sewing machine (the one I use!)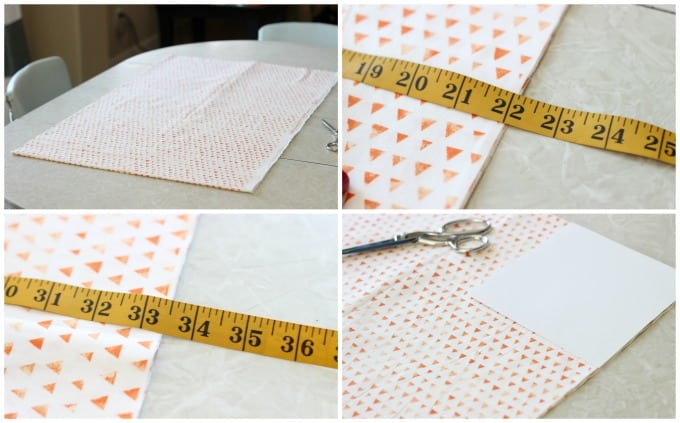 Cut a piece of fabric that is 44″ wide and 67″ in length.
Most fabric comes in a 45″ width. That makes it nice and easy to cut out your crib sheet since the width needs to be 44″.
Leave it folded in half and fold it one more time so that it looks like the first photo above. It will have a fold along the bottom and a fold to left. The selvage will be on the right.
Trim the width so that it measures exactly 22″ (when you open it, it will be 44″).
Leave the fabric folded and trim the length to be 33.5″. (It will be 67″ in length when you unfold it).
Once again, leave the fabric folded and cut out an 8″ square from the top right corner.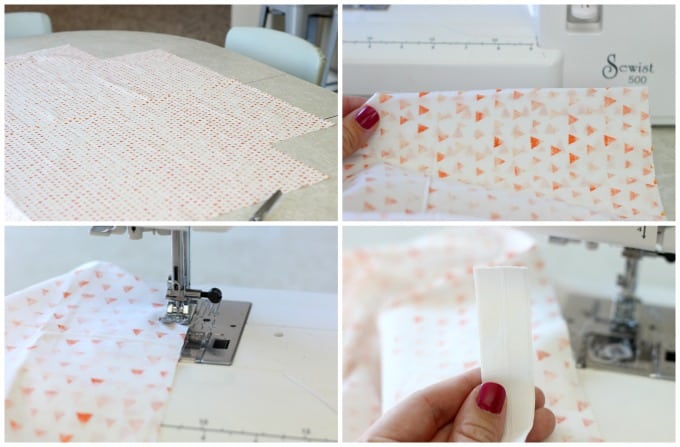 When you open your fabric, there will be a square cut out from each corner.
With right sides together, bring the two sides from one corner together and sew them down the side with a 3/8″ seam allowance.
Repeat for the other 3 corners. This will create a box shape for your sheet so that it tucks around the mattress.
Now for the elastic!
I use fold over elastic in a 1″ width. This is much quicker than creating an elastic casing and feeding your elastic through.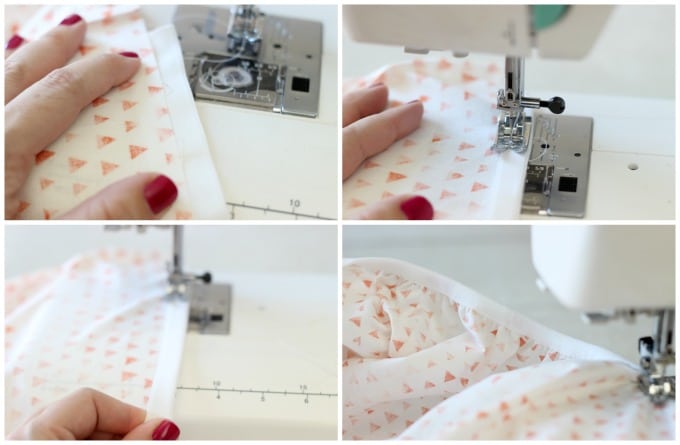 Sandwich a section of your fabric inside of the elastic (you can start anywhere on the sheet).
STRETCH the elastic as you go, pulling hard. Remember to stretch when the needle is IN the fabric so that it doesn't move around. Sew around entire sheet, pulling the elastic hard as you go, and sandwiching the fabric inside.
This will make it stretchy and bounce back when finished. Overlap the elastic when you get back to your starting point and backstitch to finish the seam.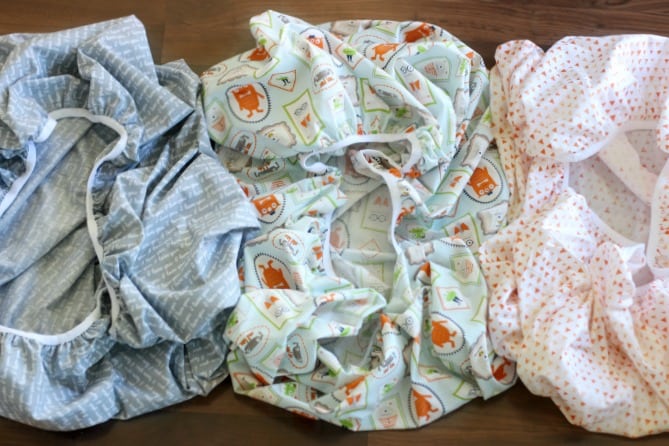 I couldn't stop at just one. Now baby boy will have 3 to switch off!
You might also like…