This shop has been compensated by Collective Bias, Inc. and its advertiser, MARS Incorporated. All opinions are mine alone. #PAWsomeGifts #ClausAndPaws #CollectiveBias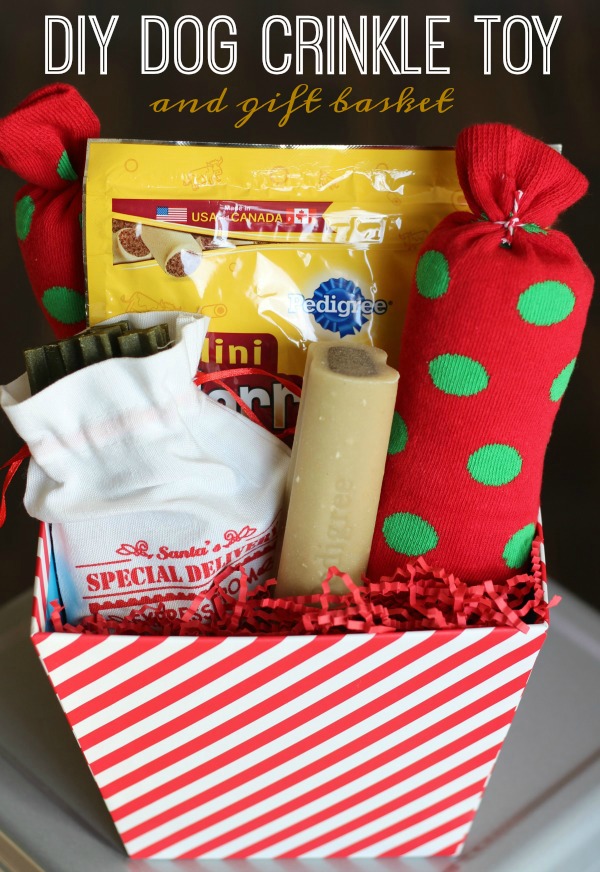 A special delivery straight from the North Pole for your favorite pup! Complete with a homemade crinkle toy (made with a sock and water bottle), and an assortment of treats!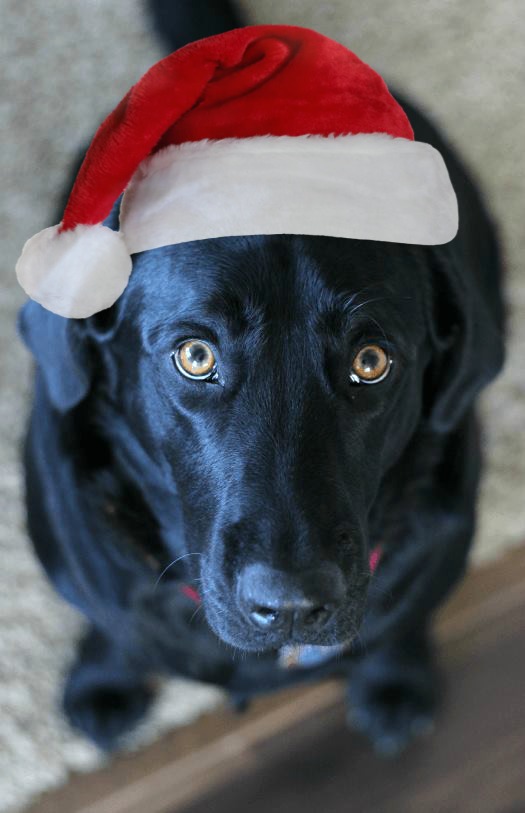 I'm sorry, but it is hard to deny this adorable face anything. Toby joined our family right before Christmas in 2013. A tiny little pup, shaking and scared, and ready for his forever home. He is a very obedient dog who just wants to please us and he has a very sweet disposition. We couldn't ask for a better pet and absolutely adore him. That's not to say that he is perfect, ha! He does have a weakness for snagging bread off of the counter if he is left home alone. One time he ate an entire loaf of sourdough bread, but nobody is perfect, right? Needless to say, he has always been on Santa's nice list and receives an assortment of treats every year in his stocking. Would he even notice is Santa passed him by? Nope, but the kids would. They love that Santa remembers to bring Toby special treats every year!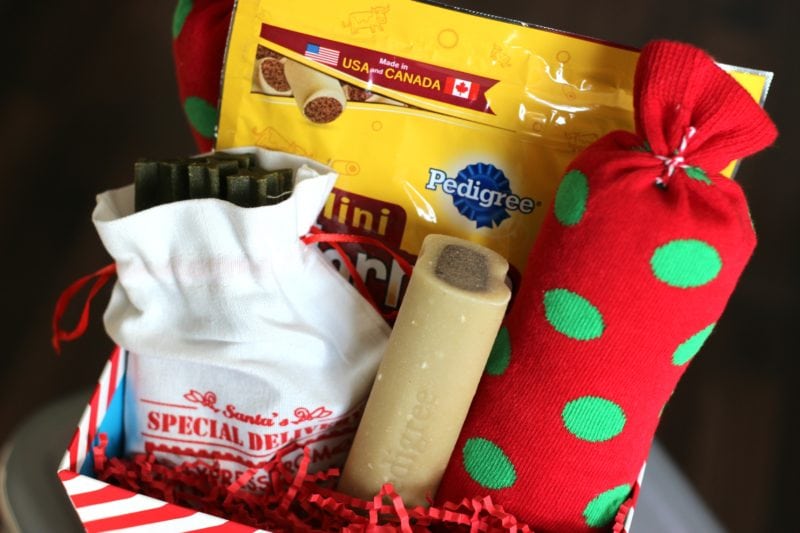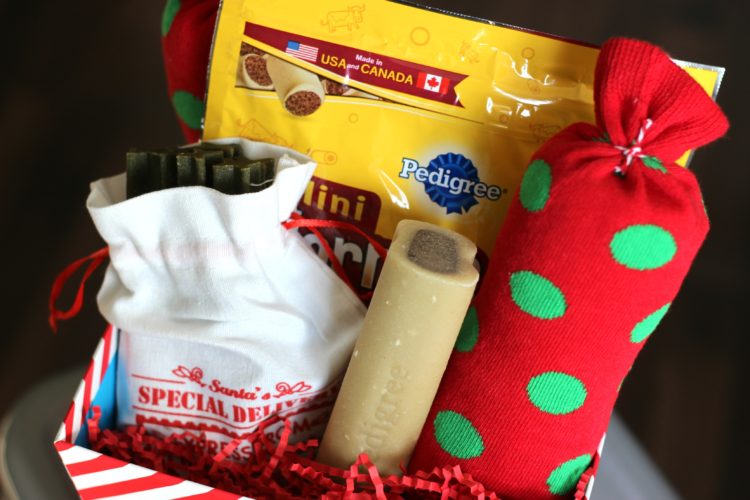 I decided to get a head start on his gift and picked up a few things at
Walmart
to make a gift basket to set under the tree on Christmas Day. A mixture of treats, bones, and even a homemade crinkle toy. One of Toby's FAVORITE things to chew on are milk jugs. He'll wake up from a dead sleep if he hears me rinsing one out for him. Before I know it, he is at my feet waiting for me to hand it to him. He loves chewing it up and running around the house with it, making all sorts of crinkling noises. His next favorite toy is a water bottle. It works out for us since we always have these things around the house. I gave a water bottle a little makeover to create a crinkle toy that also has a soft outer layer and it was the perfect addition to his Christmas gift. I used a pair of leg warmers so I ended up making two of the crinkle toys, knowing that he will love to have a spare.
DIY Dog Crinkle Toy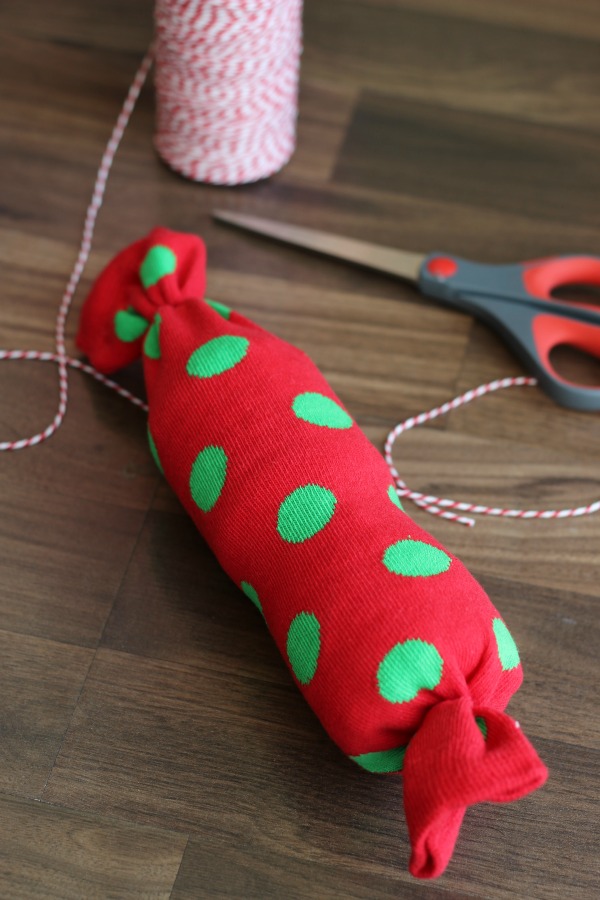 Soft, crunchy, and it makes all sorts of crinkly noises. The perfect dog toy!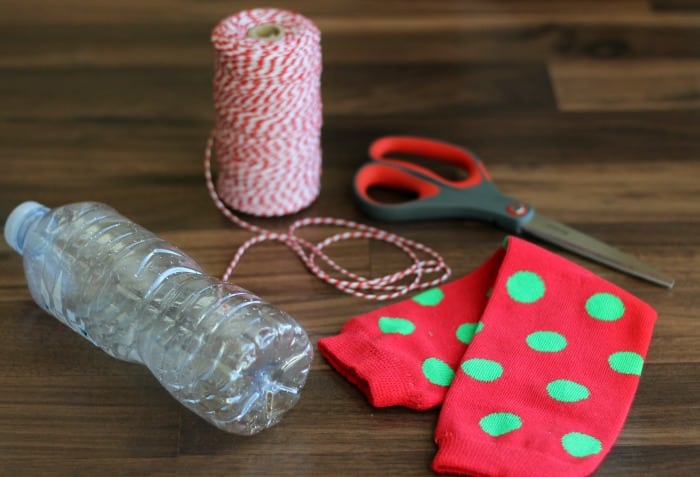 Supplies:
water bottle
leg warmer (or sock)
scissors
string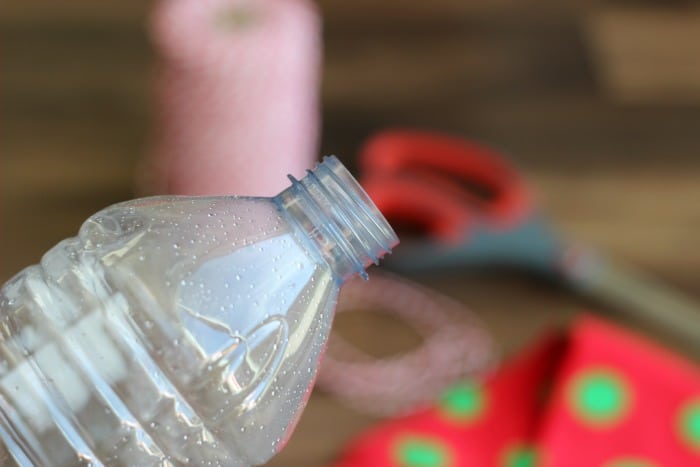 1. Begin by taking the cap and ring off of the bottle.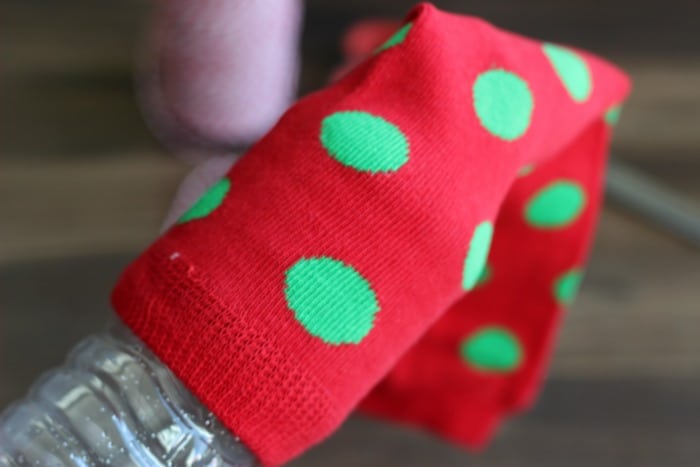 2. Slide the water bottle into the sock, leaving a couple of inches of space at each end to tie.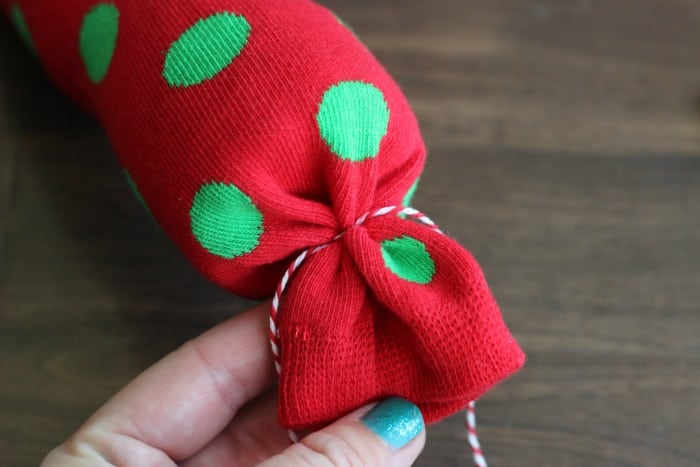 3. You can tie the ends off with a rubber band, but I thought a tiny piece of string would be less of a choking hazard. Tie a double knot.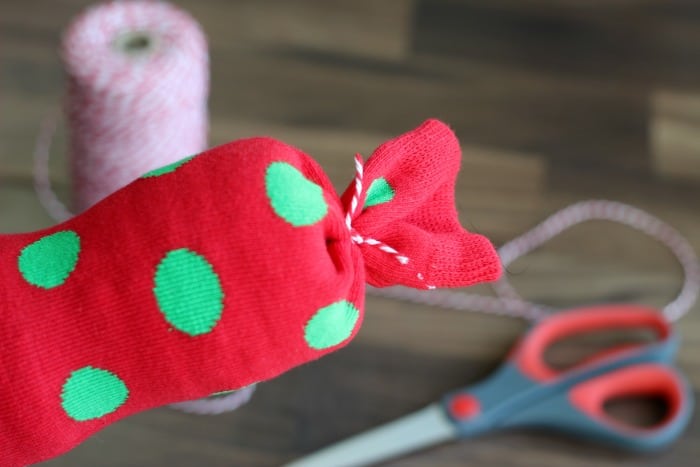 4. Trim. Repeat on other side.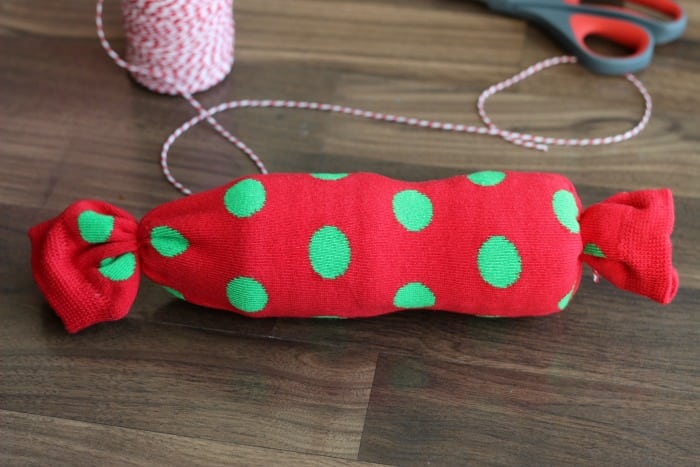 If you don't have a leg warmer, or can't find a set, use a sock! You can also use fleece fabric. Just sew a tube of it, slide the water bottle inside and tie up the ends. Easy as that!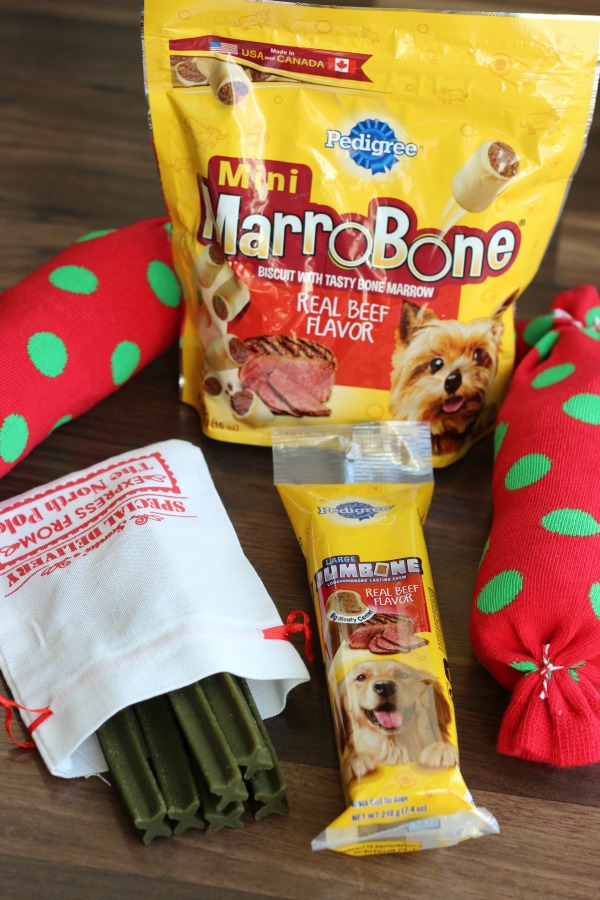 I picked up a PEDIGREE® JUMBONE™, a bag of PEDIGREE® Marrobone® Mini Beef Flavor Dog Snacks, and a box of PEDIGREE® DENTASTIX™ Fresh treats to go with his crinkle toys.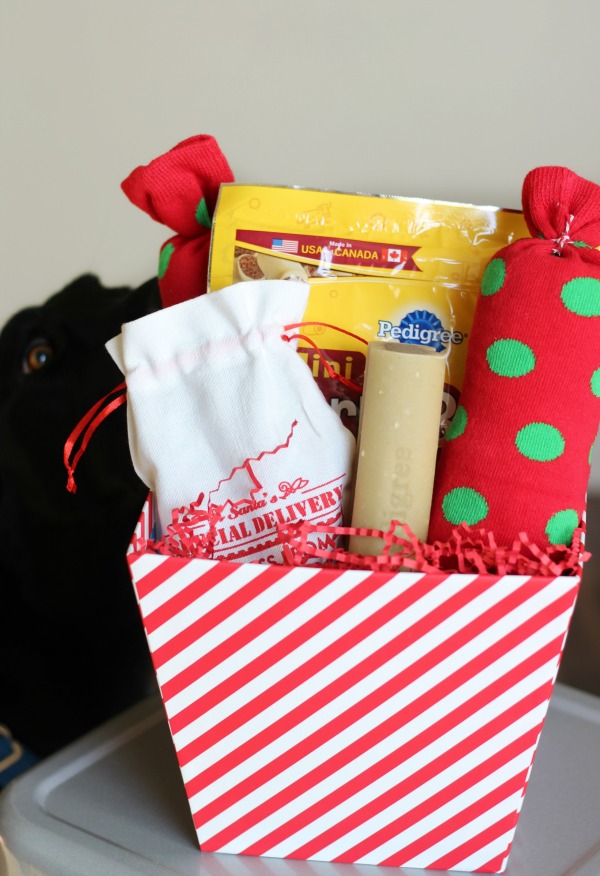 I think his gift will be a hit this year, haha! I may have opened the bag of PEDIGREE® Marrobone® Mini Beef Flavor Dog Snacks and given him a few. I mean, the poor dog sat there watching me put the basket together and was being VERY patient!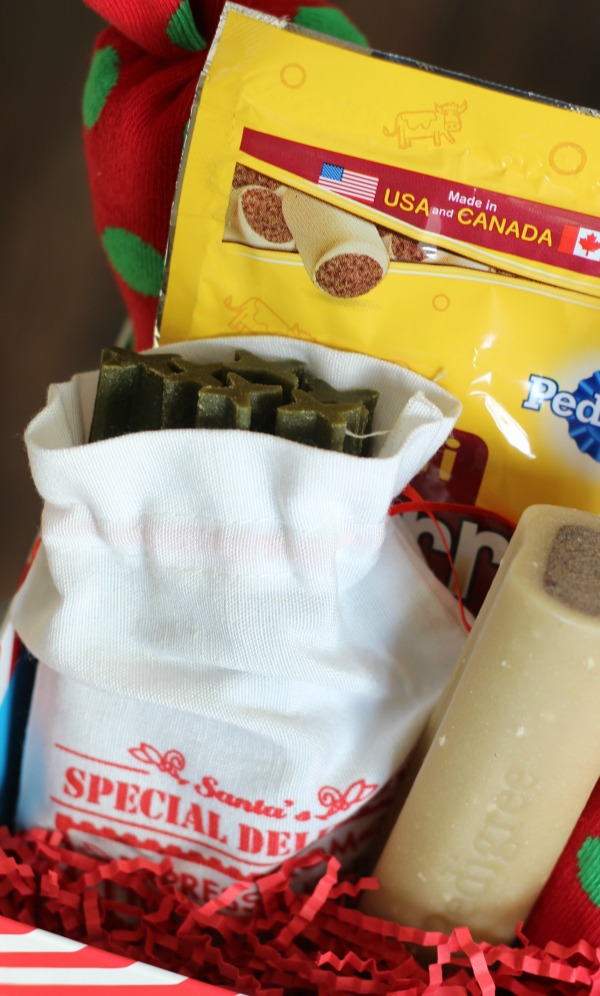 Some might think that going out of their way to buy Christmas gifts for pets is ridiculous, but we love Toby and want to treat him to a Merry Christmas season!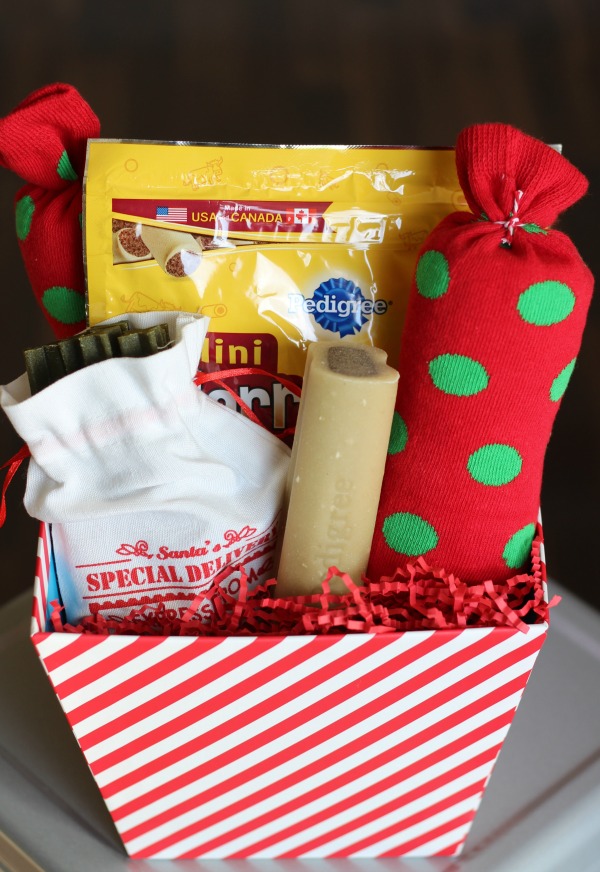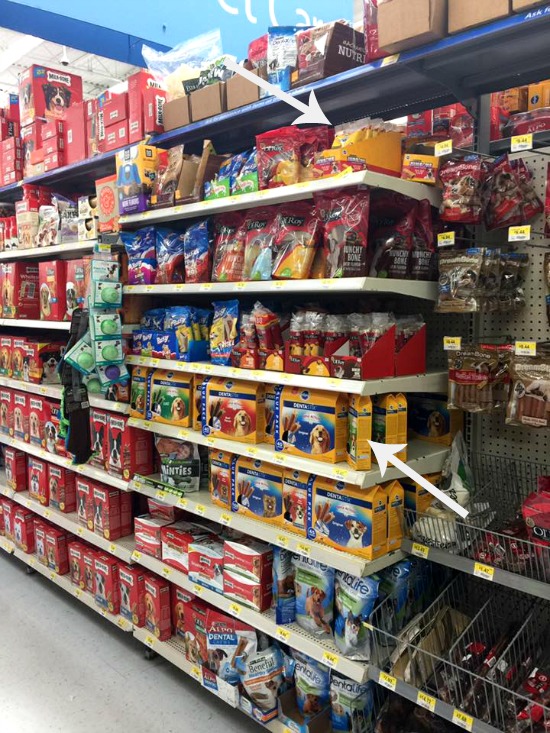 You can find the
perfect stocking stuffers
for your pet that match their personality at Walmart. So treat your pup with a treat for being on the nice list this year! And if he's been on the naughty list that's ok too—maybe a treat will help him want to do better 😉
Check out the stocking solver tool for even more ways to find he perfect gift this Christmas season!