This elephant dry erase I-spy bag is so easy to make and keeps kids busy! A simple sewing project that includes a free cutting template!  This post contains affiliate links.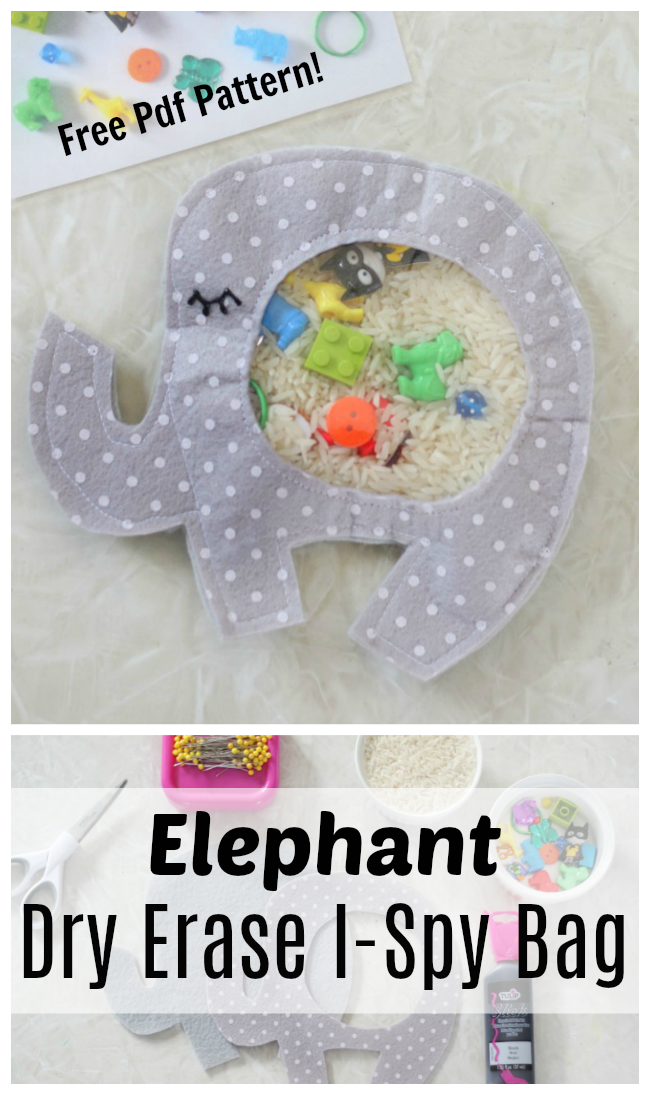 Watch our step by step video!
In 2011 I shared a simple tutorial for making a dry-erase I-spy bag. I made two for my boys (who are now 16 and 14 years old1!) and we used them for years and years! It was time to make a new one for Mac, so I updated this post with new photos and a new style.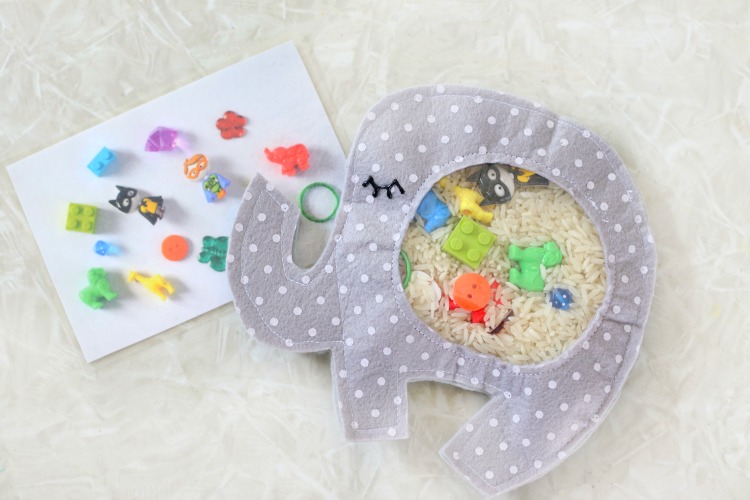 What made our tutorial unique was that it came with a laminated card for kids to mark off the items as they found them. At the time, every homemade I-spy bag came with a list to check off. My boys couldn't read, so a laminated card worked out so much better!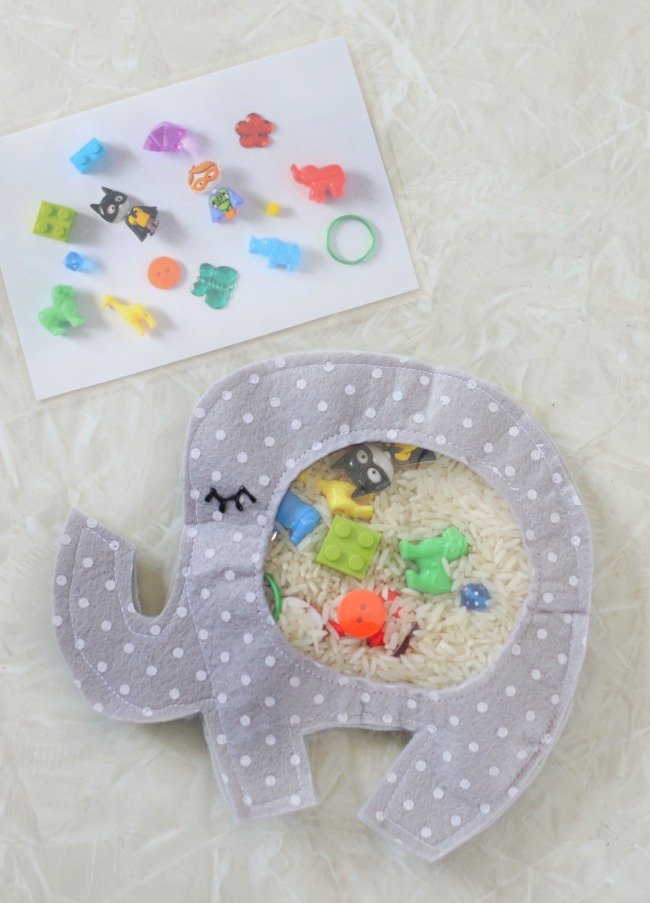 And that little elephant shape? That's new. Just because. You can make this dry erase i-spy bag set in just about any shape you'd like! I created a
free pdf template
that you can use to make our little elephant. Wouldn't a
hippo
or
pig
I-spy bag be cute?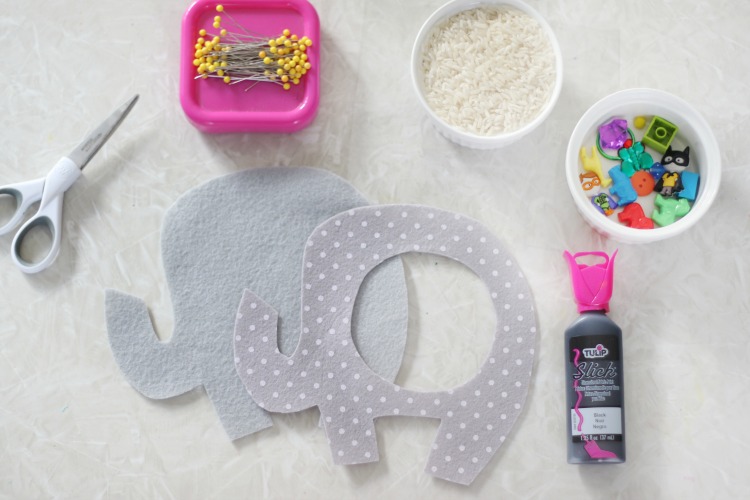 This is a great scrap felt project. You'll need a bit of felt and clear vinyl. I buy clear vinyl by the yard on Amazon, but you can also use the packaging from a shower curtain.
You'll also need fillers for your I-spy bag. I found buttons, beads, legos, and other odds and ends. I always use rice for my I-spy bags because it's cheap and I always have it on hand, but it will eventually create a small amount of dust inside the bag. A popular filler nowadays are these
clear bean bag filler beads
. You can get a bag for about $5.
How To Add a Pocket To Your I-Spy Bag
Our old version included a pocket in the back to hold the card and a marker. I skipped that step this time, but you can totally add one if you'e like. Just cut out a 3rd elephant shape, cut it in half (width-wise), and stitch it to the back when you sew the other elephant shapes together.. Print the card to fit the pocket, and slide it inside for storage.
More Creative Activities For Kids
Elephant Dry Erase I-Spy Bag Sewing Tutorial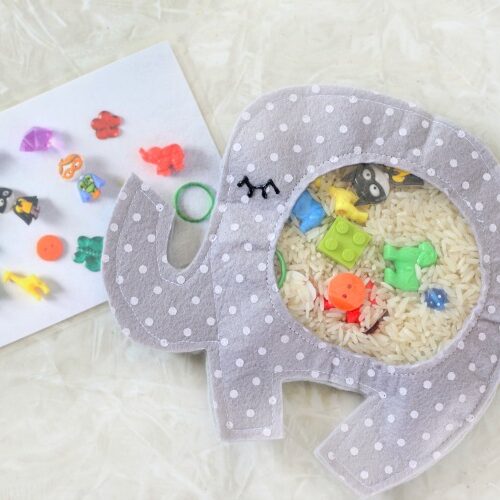 Print
Elephant I-Spy Bag Tutorial
This elephant dry erase I-spy bag is so easy to make and keeps kids busy! A simple sewing project that includes a free cutting template! 
Equipment
sewing machine

pins

scissors

laminator
Materials
Instructions
Cut out 2 elephants from the printable template. Cut a hole in the center of one elephant (using the printable template).

Cut a square of clear vinyl to cover the hole on the elephant.

Sew the vinyl over the window on the back of the elephant. Stitch close to the edge of the circle.

Tip: Dip your finger in water and run it over the top of the clear vinyl. Vinyl can stick to the pressure foot on the sewing machineand be tricky to work with, but when it is slightly wet it glides much easier.

Trim off excess vinyl.

Place the back elephant piece behind the front one and pin into place. Stitch around the outer edge, leaving an opening for adding rice and toys.

Stich from the top of the trunk base to the bottom. This will prevent toys and rice from getting stuck in the trunk.

Lay out the toys and trinkets on your work surface. Snap a photo. Print out the photo and laminate it.

Fill the elephant with a couple spoonfulls of rice and a handful of small toys and trinkets. Pin the opening closed.

Stitch opening closed.

Add details with fabric paint. Let paint dry.

Tuck dry erase I-spy bag in your purse or in the car to keep little ones busy!