These easy macrame ghosts are made out of cording and yarn. Super easy to make and so fun for Halloween! You can make a tiny wall hanging or keychain!
You might also like our felt Halloween candy pouches, our Pop Tart haunted houses, or our EASY sock pumpkins!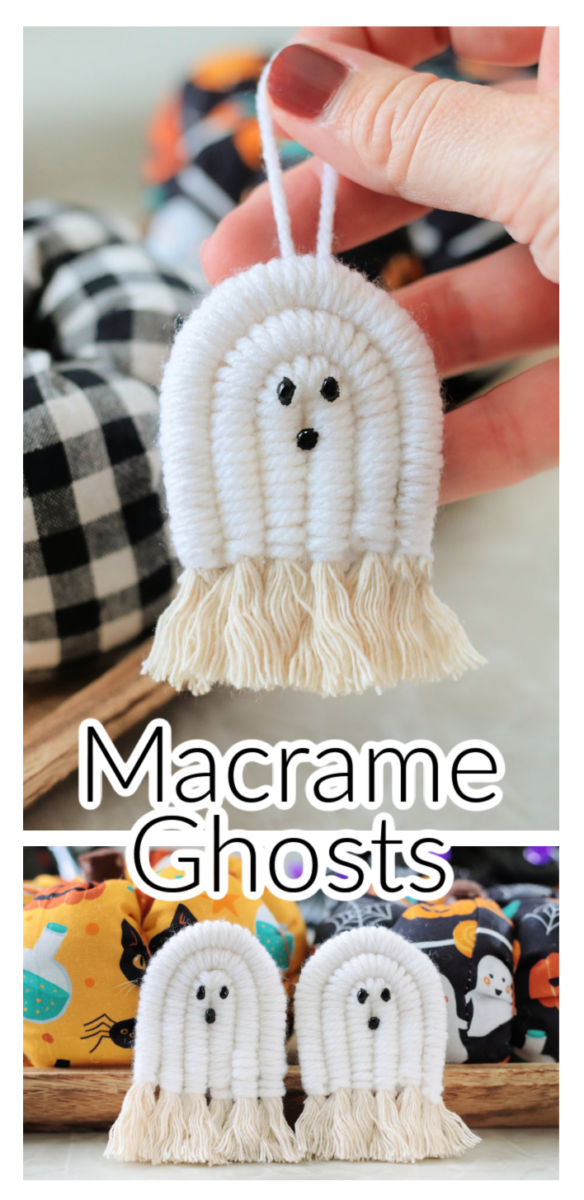 Watch our step by step video!
I came up with a simple rainbow macrame craft a few years ago for a youth summer camp. The teenage girls loved making the rainbow keychains and they turned out so cute! I used that same technique to make a fun Halloween version—ghosts! These little ghosts are so easy to make. You can turn them into a keychain or simply add a yarn loop on the back for hanging.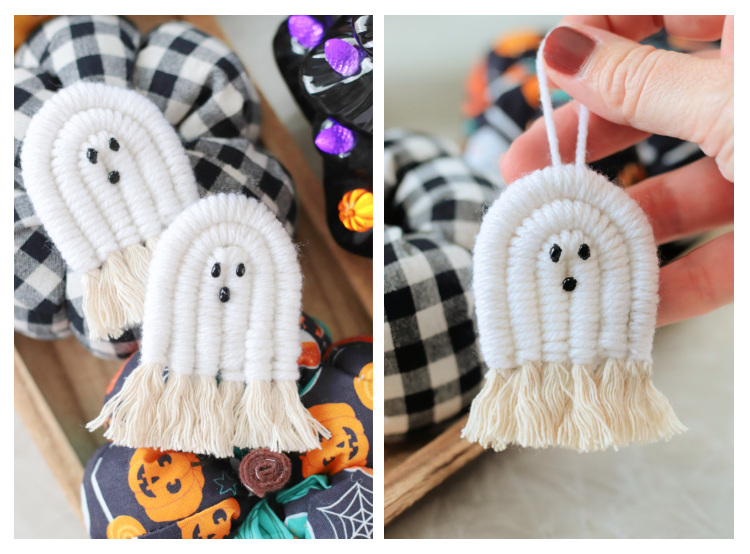 My first grader claimed these ones and immediately put them into his backpack. He said he's going to give one to his teacher and then deliver one to his former kindergarten teacher too. I hope they enjoy having these little ghosts in their classroom!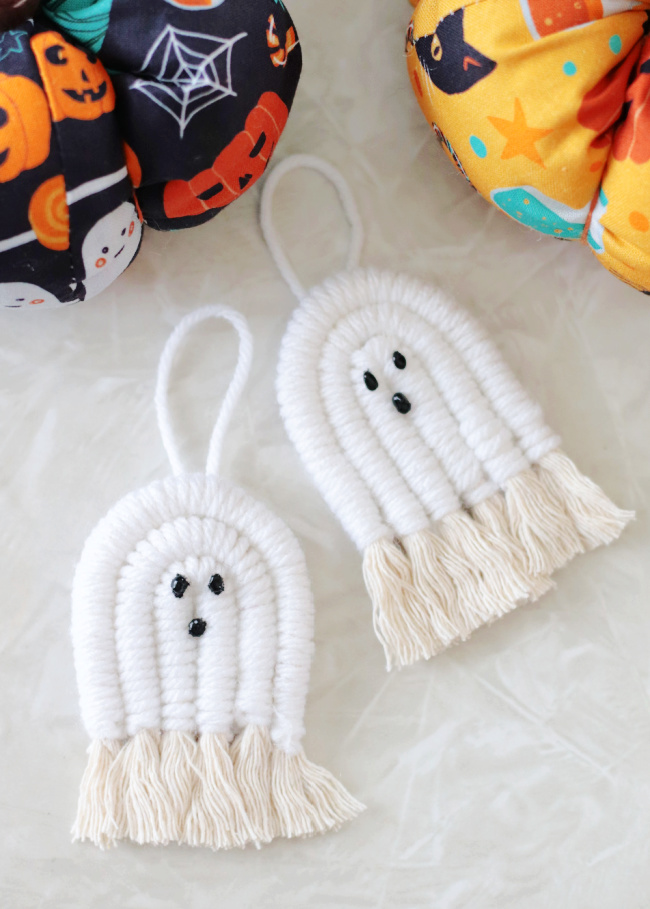 Macrame Yarn Ghosts
Macrame is a technique of knotting strands of rope, cording, or yarn together to create wall hangings and other textiles. These little ghosts aren't a true macrame craft, but many rope and yarn crafts have been lumped in the same category lately. I used cotton cording wrapped in yarn to create these spooky characters. I'll show you how to make a 2″ ghost, but you can adjust the length of the ropes to make a taller ghost.
Macrame Ghost Supplies
white yarn: an all-purpose yarn works great.
cotton rope: 5mm wide, comes in a spool at Michael's in the jewelry-making section.
masking tape: any 1″ wide tape will work.
scissors
felt: just a small scrap.
scissors
black fabric paint (for eyes and a mouth) You can also use black felt scraps for the eyes and mouth and hot glue them onto the ghost.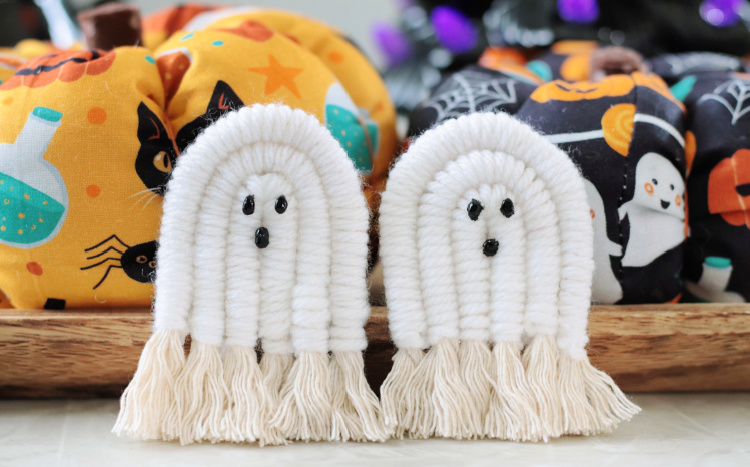 Easy Macrame Ghost Instructions
Make sure to watch my video for the best visual tutorial. It plays directly under the first image of the blog post.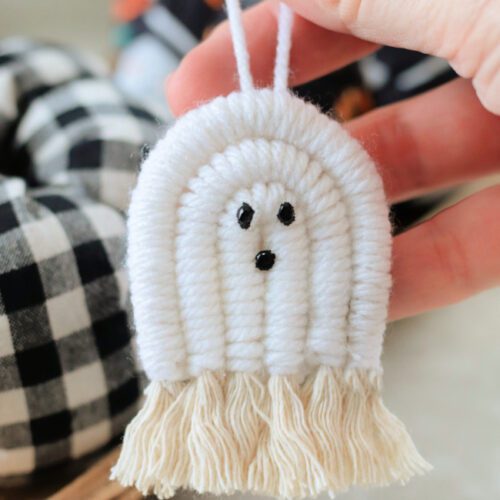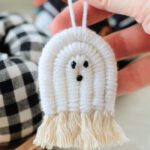 Print
Mini Macrame Ghost
These easy macrame ghosts are made out of cording and yarn. Super easy for kids or adults to make and so fun for Halloween!
Equipment
scissors

hot glue gun

measuring tape
Instructions
Cutting Guide & Yardage
Cut the cording/rope into the following lengths (1 of each): 6.5", 5.5" and 5"

Cut a long piece of white yarn for each piece of rope. It's better to have too much vs. not enough so cut a strand around 45" long.
Wrapping The Rope
Tape the longest piece of rope to the table using a piece of masking tape. Line the edge of the masking tape with the edge of the rope. This is important. You only want an inch of the rope covered by tape.

Wrap the yarn around the rope and tie a knot just below the masking tape. Do not cut off the excess yarn. Hold it against the rope as you wrap the rope in yarn (it will get wrapped as you go).

Wrap the yarn TIGHTLY around the rope, making sure you can't see the rope through the rows of yarn as you go.

Continue wrapping until you only have an inch of rope left. Tie knot at the end and trim off any excess.

Cover the knot in a small dot of hot glue. This will reinforce the end and keep it from unraveling.

Repeat the steps above for the second and third pieces of rope.
Creating The Ghost Shape
Fold the shortest rope in half and hot glue it to a scrap of felt. Make sure the frayed edges are not glued to the felt. They should hang down.

Glue the other two ropes to the felt, making sure to add the longest rope last.

Use scissors to trim away any excess felt. Be careful to NOT cut the yarn!

Unravel the unwrapped edges of the rope to create a fringe edge.

Glue a loop of yarn to the back to hang the ghost, if desired.

Add eyes and a mouth using the black craft paint (puffy paint). Let dry completely.
Welcome! I'm Brandy, mother to 5 darling kiddos and a cute black lab named Toby. My husband is in the Coast Guard so we've lived all over the place, turning each house into a home. I love baking, sewing, making cute things with my kids, and sharing what I've learned with all of you!