Bright pops of citrus, greenery and gingham combine for an adorable & easy wreath to make using our citrus wreath tutorial!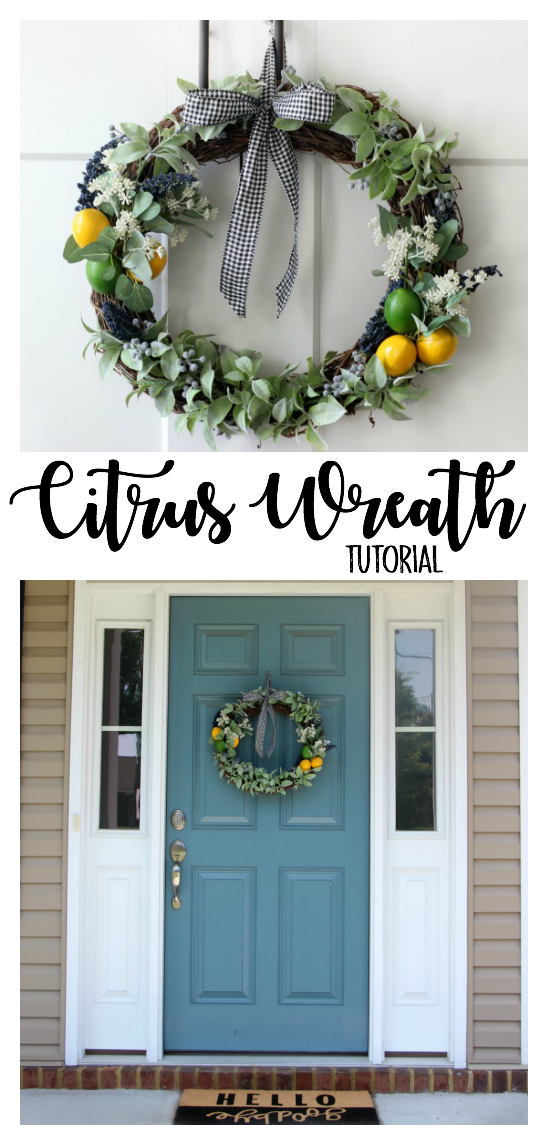 You all know that I love making wreaths. As soon as summer hit I started getting the itch to spruce up the front door. The girls and I went to Michael's to pick up supplies and while we were there an employee told us that they were having a FREE slime workshop for kids. I had just thrown out some slime the night before because it was such a mess, but I slapped a "Glutton for Punishment" label on my head and took them to the workshop. We ended up leaving the store without any wreath making supplies because they didn't have what I was looking for. So we went across the street to Joann's to see what they had. Gosh dang it, I earned this wreath with the baggies of slime that were now in my car.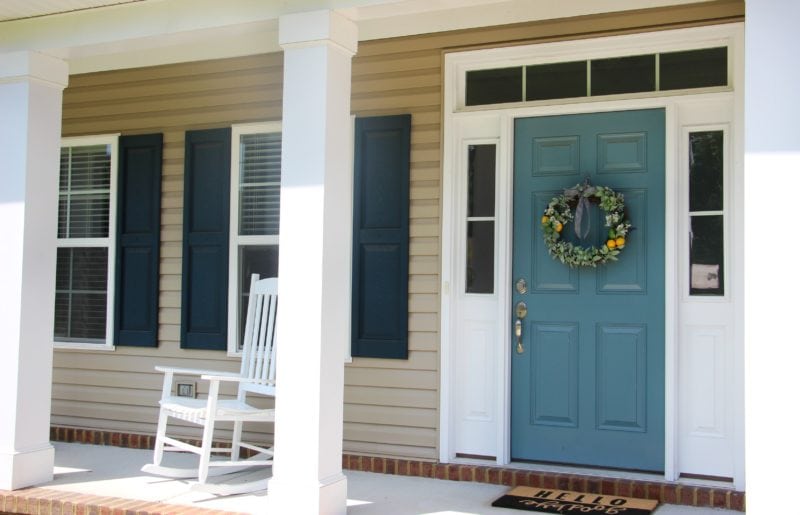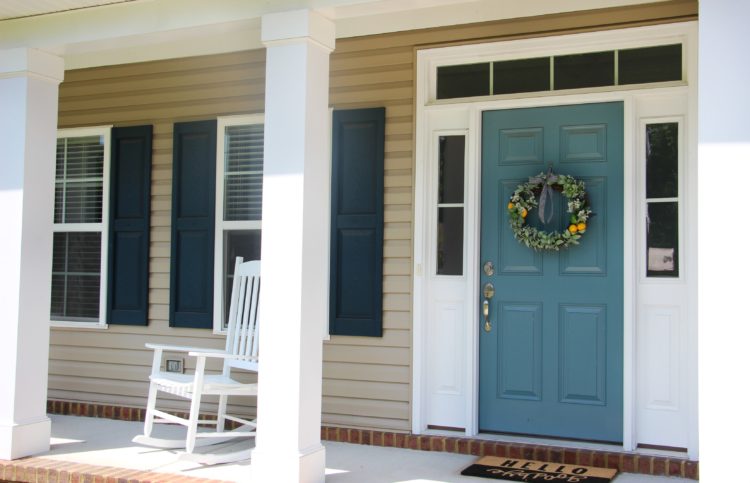 My FAVORITE scent (and taste) in the whole world is lemon. Second would be anything citrus related (tangerine, lime, lemon verbena). So refreshing and tangy! Joann's had a container of artificial limes for 70% off. I grabbed a can of yellow spray paint to turn a few of them into lemons.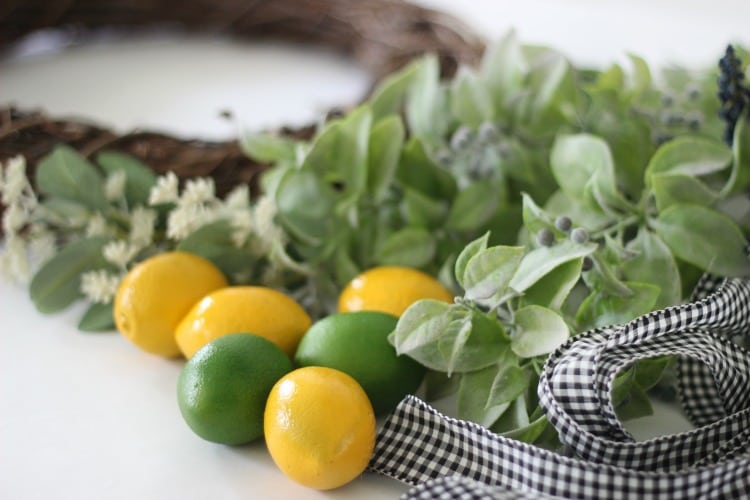 I also picked up some gingham ribbon, greenery and floral picks. The wreath base was up cycled from an old wreath. Here's a short video showing how this easy wreath came together!
Easy Citrus Wreath Tutorial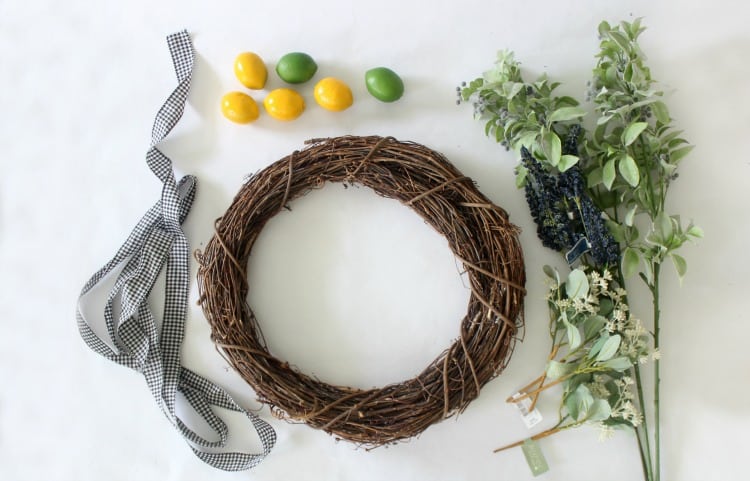 Citrus Wreath Supplies:
1 (16″) wreath base
9′ (1-1/2″) gingham ribbon
artificial fruit (lemons, oranges or limes)
variety of floral picks/fillers
2 bunches of greenery
wire cutters
floral wire/hot glue
My cost (since I already had the wreath base) was $27.00. Keep an eye out for coupons for your local craft store.
Citrus Wreath Step by Step Instructions
Step 1: Separate the branches of greenery using wire cutters. Arrange them how you'd like and insert the stems into the grapevine twigs to hold in place.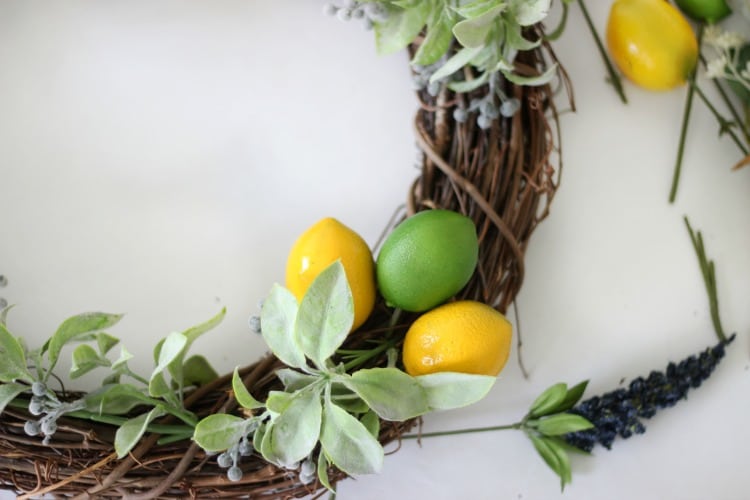 Step 2. Use any extra stems and wire to create picks out of the citrus. You won't need the entire stem that comes with the greenery. Just cut off what you need and use the rest of the stem/wire to make picks out of the citrus (5-6″). The lemons and limes the I used were made from hard styrofoam. Simply poke the stem into the bottom of the fruit. Arrange the fruit in groups of 3.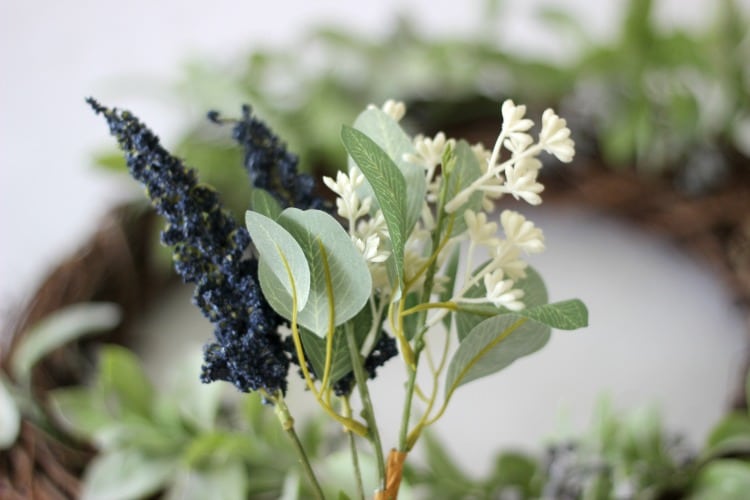 Step 3. Add fillers around the wreath, creating groupings with the citrus.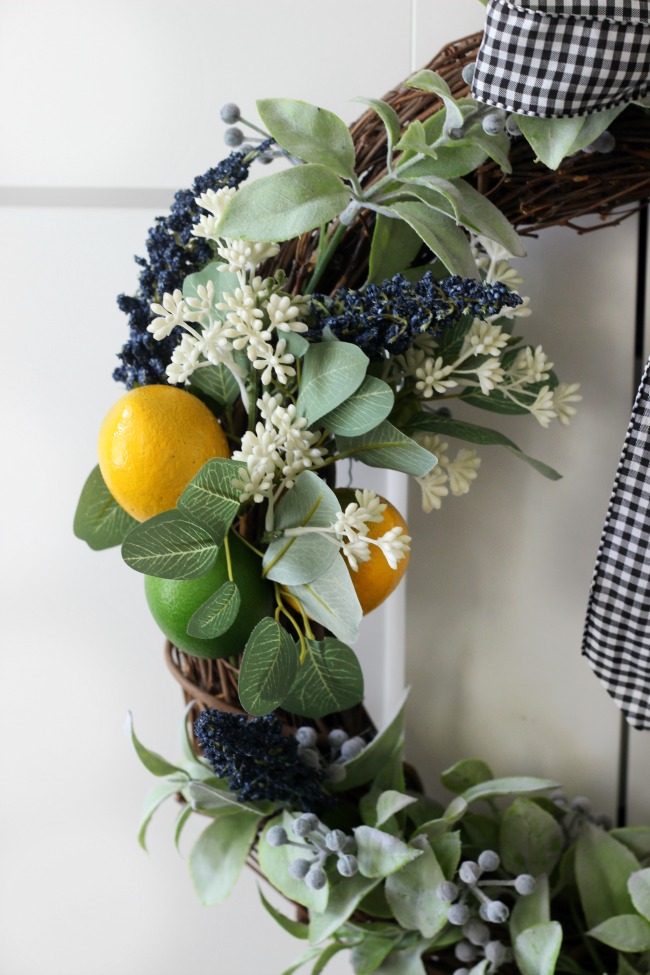 Step 4. Tack down any loose greenery or floral picks with hot glue or tie with floral wire. I generally do a bit of both.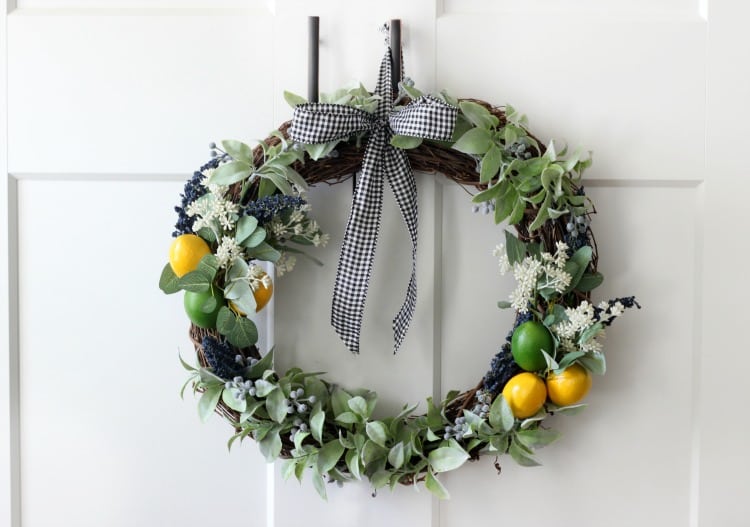 Step 5. Cut a long piece of gingham and tie a bow. Cut another length and create a loop (for hanging) around the wreath base. Tie in a knot and cut off any excess ribbon. Hot glue the bow onto the front of the loop.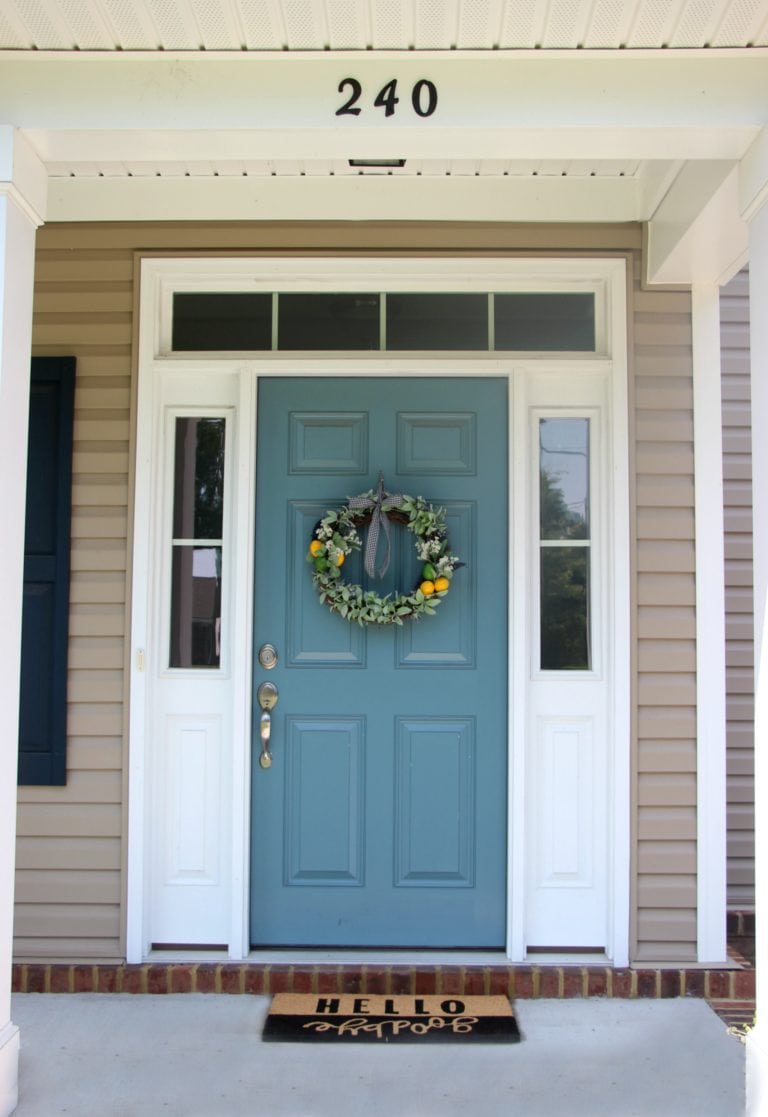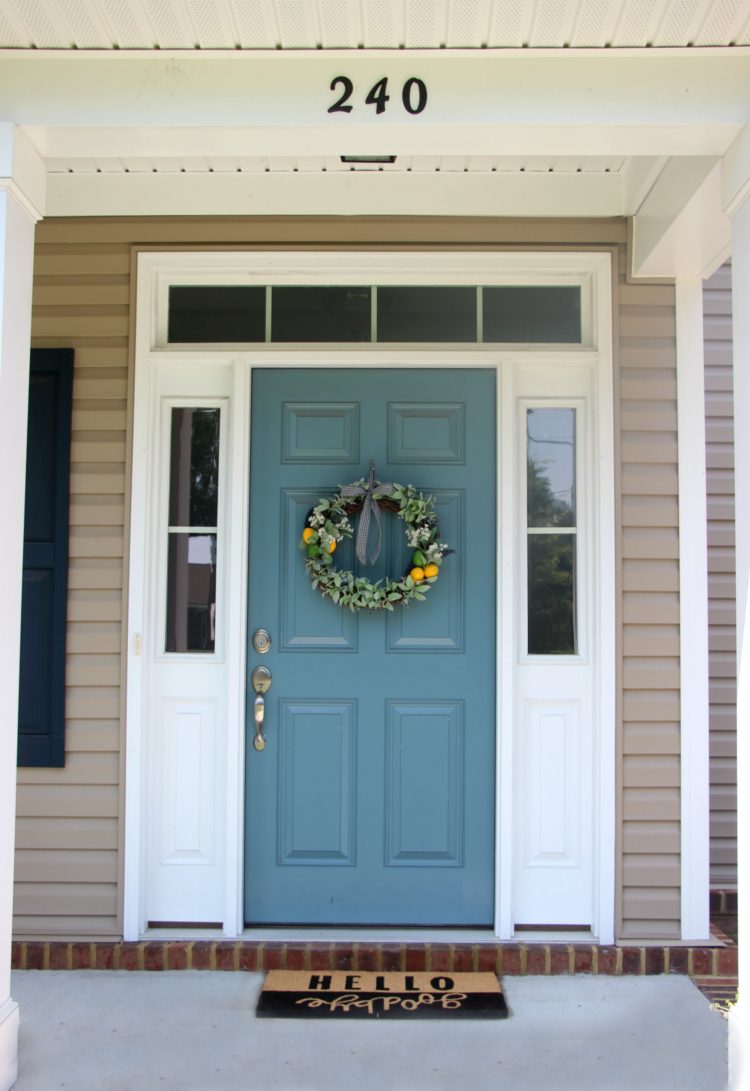 Doesn't this make you want a cold glass of lemonade?
You might also like these easy wreath tutorials
Spring Greenery Hoop Wreath Tutorial
Welcome! I'm Brandy, mother to 5 darling kiddos and a cute black lab named Toby. My husband is in the Coast Guard so we've lived all over the place, turning each house into a home. I love baking, sewing, making cute things with my kids, and sharing what I've learned with all of you!