These cherry turnovers with homemade puff pastry are the real deal. They are made using an easy-to-follow homemade puff pastry recipe. If you've ever been intimidated by making your own French puff pastry you'll definitely want to try these! The process takes a bit of time, but it isn't hard and your patience will reward you with buttery and flaky pastries that are to die for.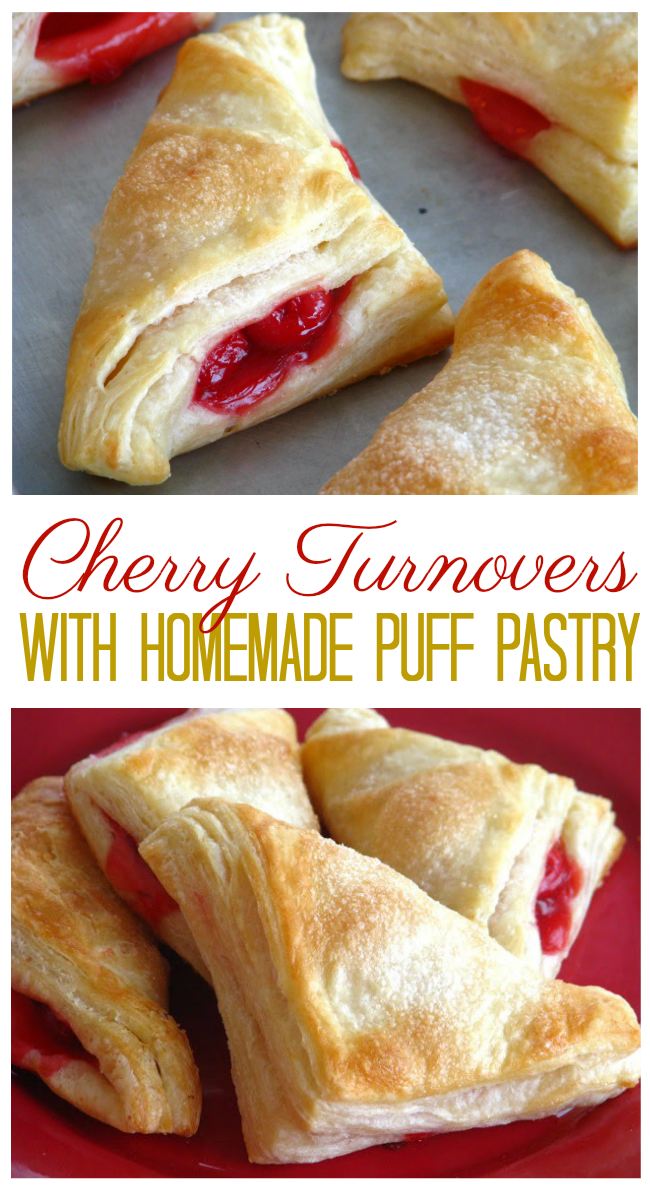 I made homemade puff pastry years ago, and had great success, but the time it takes to make the dough can be a bit of a hang up. I mean, it isn't hard, but takes about 6 hours start to finish—rolling it out about 4x in the process. It isn't a recipe to make on a day where you will be out running errands because the dough needs to be tended to and not left in the refrigerator all day. So I like making these on a rainy day when I don't feel like leaving the house.
A friend of mine, who was born and raised in Denmark, recently hosted a cooking class for the ladies at church and it inspired me to pull out the ingredients to make them again for my family. She made both savory and sweet varieties. My favorite way to use puff pastry is in cherry turnovers.
I made this on a day that I was home and doing laundry etc. I'd take a couple of minutes to roll my dough out, fold it, wrap it up in plastic wrap and stick it back in the refrigerator for an hour or two and then do it again, and again. It really was easy. I promise.
You can fill puff pastry dough with anything you'd like! Eggs and cheese, chocolate, Nutella, apple pie filling, cherry pie filling, you name it—it'll make a great turnover.
You have to try making cherry turnovers using this homemade puff pastry recipe at least once to taste the difference. And believe me, it's there!