Adding a small note is a fun way to add some love to your kiddo's lunch box on a hectic morning! Print out a sheet of Halloween-themed notes to keep on hand! Also, a fun Halloween mummy-wrapped yogurt idea! This post was originally shared in 2015.
You might also like our Halloween lunch box jokes, our Reese's Frankenstein cookies (a hilarious dessert for any lunch), or our Monster sherbet punch!
Looking for a year's worth of free printables for lunchtime? Check out this collection! Simply print and store the jokes and notes in a kitchen drawer!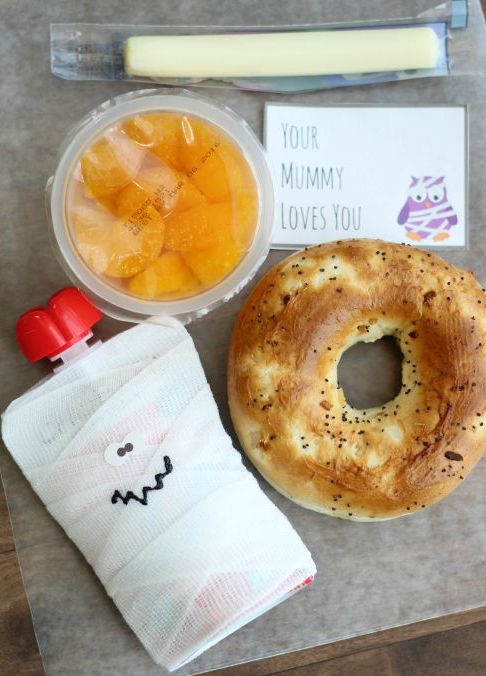 Free Halloween Lunch Notes
I'm the mom who sees all sorts of cute lunch box ideas, and has great intentions but ends up hitting the snooze button every morning instead. So my kids only have a cute-themed lunch every so often. Once a year for Easter (yes, I even do this for my kids in high school, ha!), once on their birthday, and at least once for Halloween. Halloween is my favorite. It's pretty easy to draw a little jack-o-lantern face on a tangerine or a ghost face on a banana with a sharpie pen, and it always makes them giggle. That kind of stuff I can do even on a time crunch!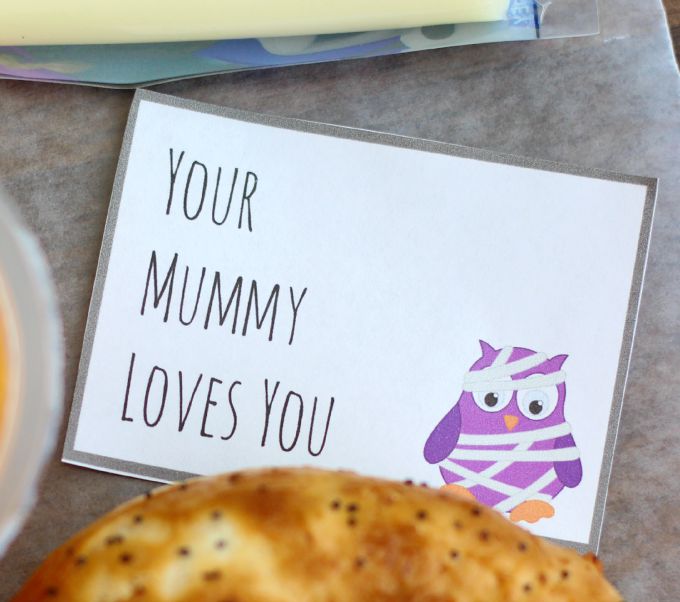 I remember my mom adding notes to my lunch, and I think I still have a few of them from elementary school. Last year I created
printable Halloween jokes
and they were a huge hit with the kids! After school, they'd compare to see which ones they all received.
This year I made some corny little lunchbox notes to print out and add a handwritten message on the back. Feel free to print them out too! Simply click here to open a downloadable version. They may or may not remember these when they are adults, but I hope they feel a little love either way during lunchtime.
Easy Mummy Yogurt Pouch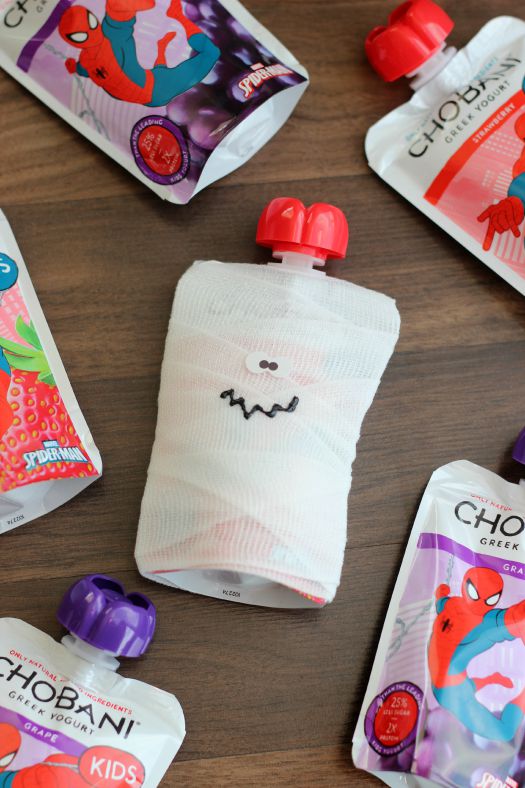 As a bonus, here's a fun Halloween lunch idea! A little gauze, sticker eyes, and some fabric paint, and you'll have a mummy-wrapped yogurt! I let the paint sit for about 15 minutes, then put the pouches back in the refrigerator to add to their lunches the next day.
Printable Halloween Lunch box Notes Download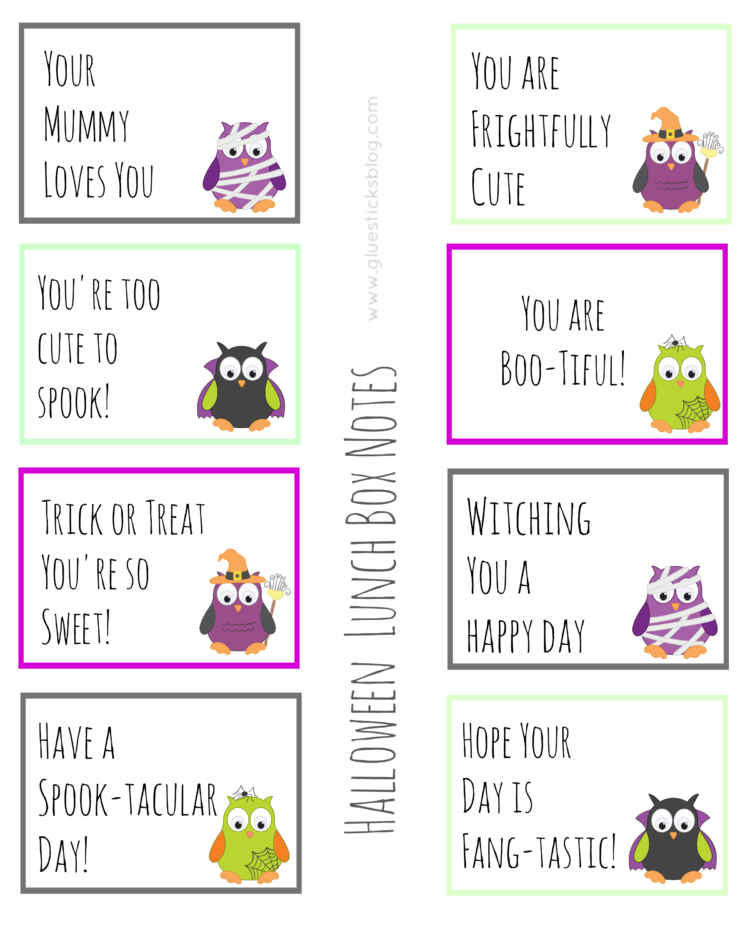 Simply click here to open a downloadable version.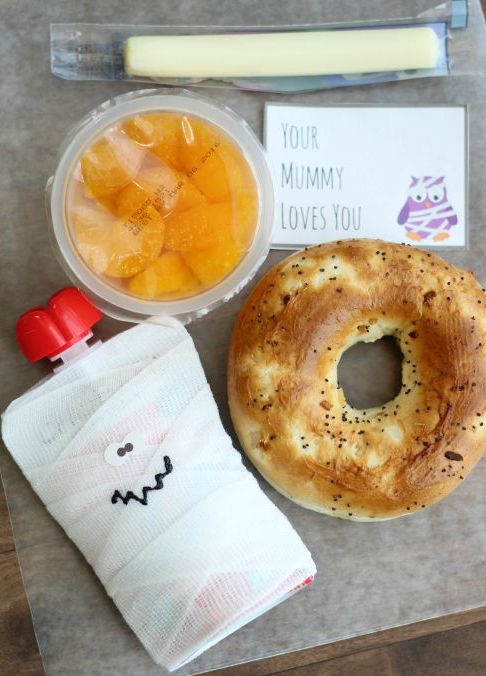 What are your favorite ways to add a little fun during lunchtime?
You might also like…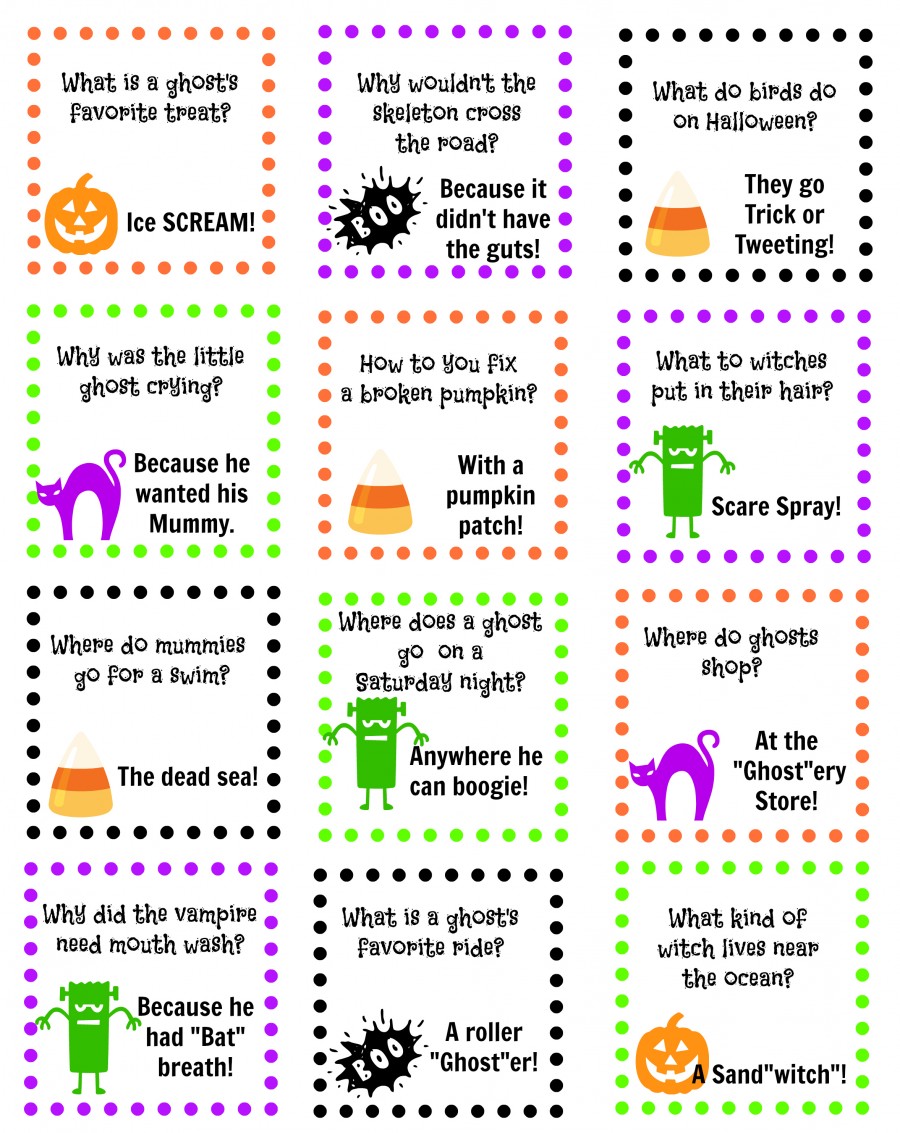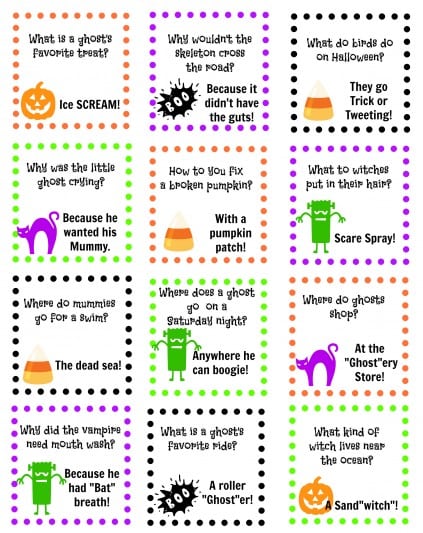 Printable Halloween Lunch Box Notes (click the link to print these funny Halloween jokes—witches, vampires, a friendly ghost, skeletons—a little of everything!)
Have a spooktacular day!
Clip art used to create printables was purchased from PrettyGrafikDesign.
Welcome! I'm Brandy, mother to 5 darling kiddos and a cute black lab named Toby. My husband is in the Coast Guard so we've lived all over the place, turning each house into a home. I love baking, sewing, making cute things with my kids, and sharing what I've learned with all of you!