Printable lunch box notes for every season! Print and keep in a drawer to easily tuck inside lunches this school year. Thank you, Snyder's-Lance Snack Packs for sponsoring this post.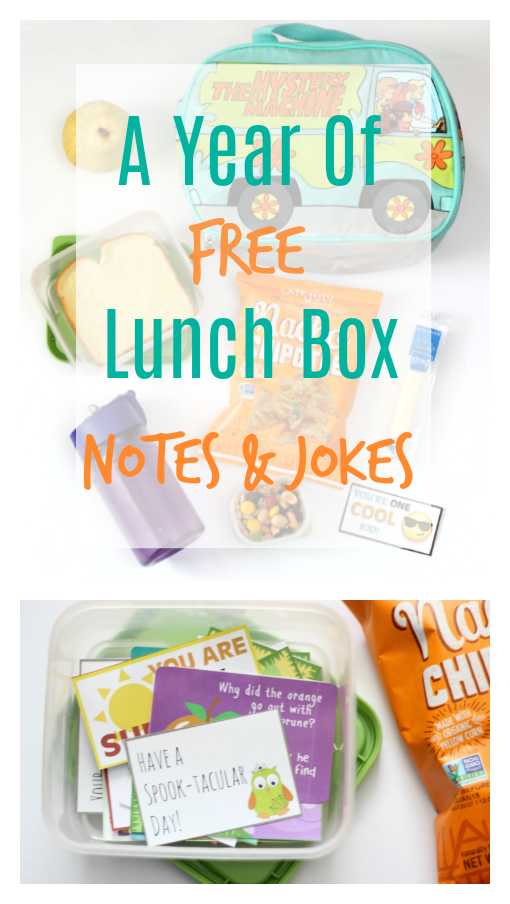 I've been leaving notes in my kids' lunches before printables even existed, haha! Just a quick post-it note or something that I doodled on an index card. My mom did it when I was little and I loved it.
I remember Kaylee (who is now in the 4th grade) coming home after her first day of kindergarten holding the note that I had tucked inside her lunch. I kept it simple: "I (heart) Kaylee. (heart) Mom." She had a huge smile on her face and said, "I loved it so much!".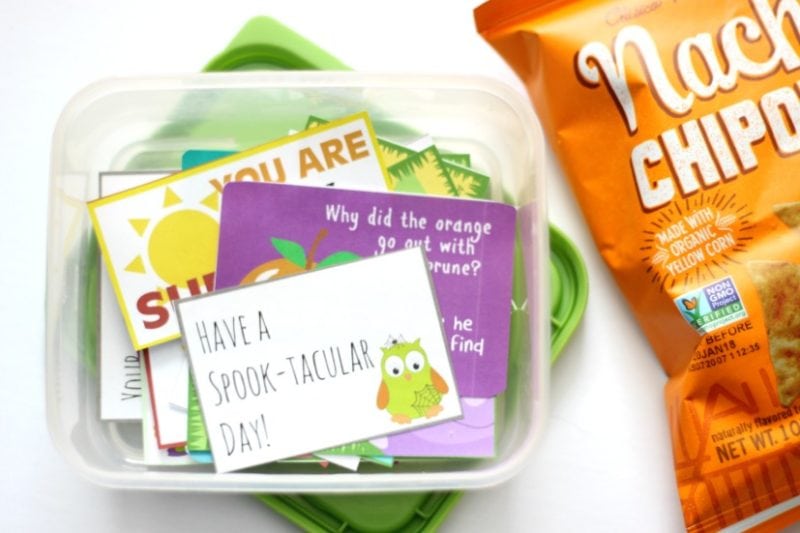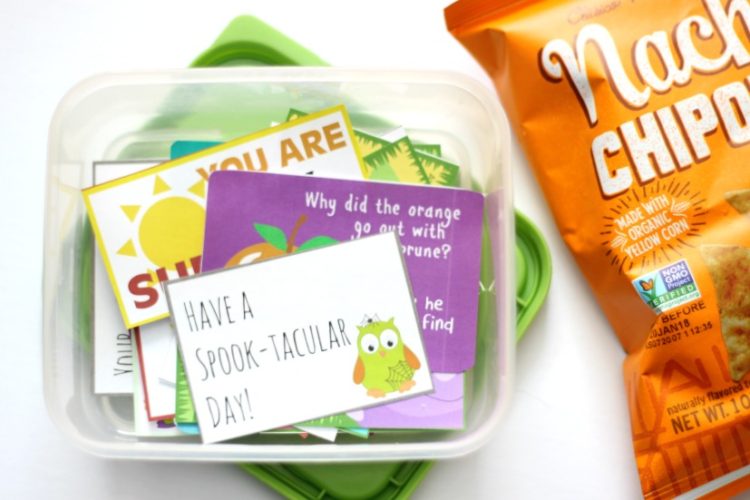 My boys who are 14 and 12 still comment on the notes and jokes that I put in their lunches, even though they read them secretly without letting their friends see. As Aaron headed off to middle school he asked if I was still going to put jokes and notes in his lunch because he still wanted me to. That warmed my heart.
Now that printables are available everywhere it's nice to keep some on hand. Instead of printing them out every night I'll take some time during an afternoon and print out a ton of them, cut them to size, and keep them in my silverware drawer. I don't always use pre-made notes, but it is especially fun to use these cute seasonal ones for the holidays. Ruby likes going through the drawer and choosing which ones she wants in her lunch. Um, that kind of defeats the purpose since it's supposed to be a surprise! She cracks me up.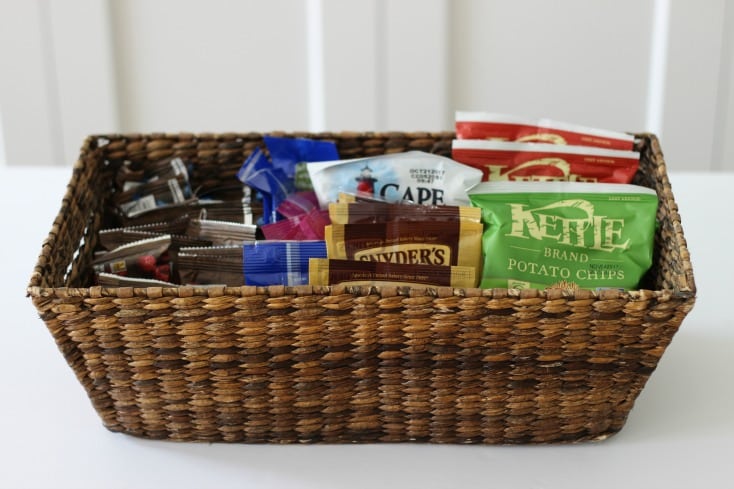 Having them already printed and cut saves me time when packing lunches for 4 children. Another thing that I do to save time is having the snacks and add-ins organized. To keep things simple I found some baskets that I wasn't using and put them in the pantry to keep lunch snacks in. I also have a pretty decent variety of pears, apples, and seasonal fruit in the refrigerator that are easy to pack. I love browsing Bento style lunches, but I simply don't have time to make those for my kids more than a couple of times a year. And with 4 kids in school, that's okay! No mom guilt there. I just make sure to pack foods that my kids will be excited about eating because I remember how hungry and excited I was for lunch when I was their age.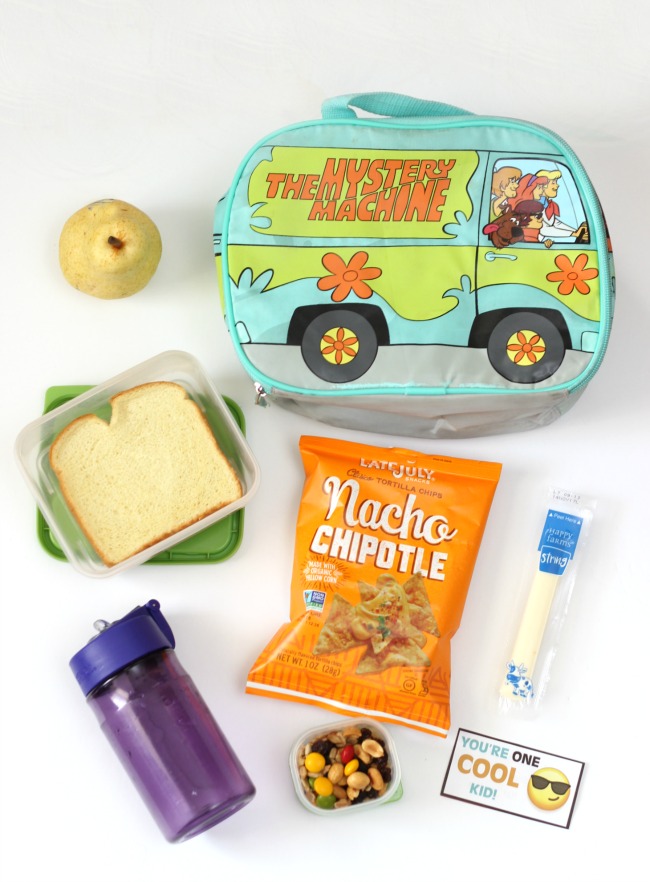 Each lunch consists of a sandwich type item (muffin, pb&j, turkey and cheese, or crackers with salami and cheese), one serving of fruit, a water bottle or juice box, a single serve package of pretzels or chips, and some sort of treat.
The highlight of every lunch are the single serving sized bags of chips and pretzels. Even more than the cookie! If they run out of time at school and can't finish their lunch, the cookie is what they save for the later. They always find time for their chips.
I love the single serving variety packs from Snyder's-Lance snack packs. Each bag offers a great assortment of snacks that are made with great tasting, better ingredients and they fit perfectly inside a lunch box. My favorite is the Cape Cod Original potato chips. The kids always gravitate towards the Snyder's pretzels and Late July Nacho Chipotle tortilla chips.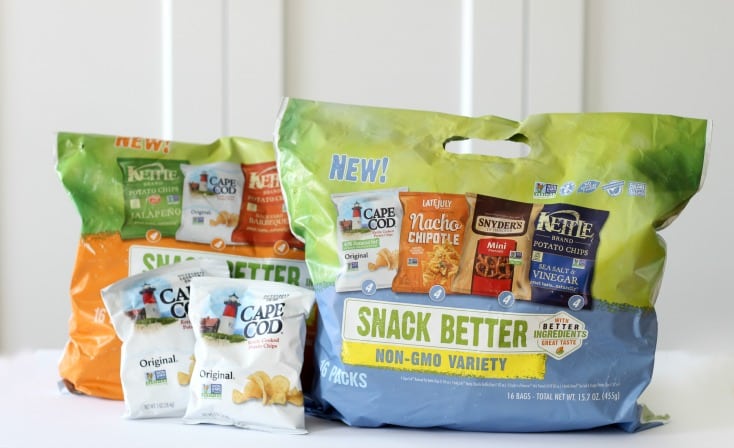 And to keep things simple for you, I've created a collection of printable lunch box notes and jokes that I've used for my own kids for every season!
There are some for every month of the school year!
Just click below on a month to go directly to the free printable lunch box notes and jokes. Just download and print!
A few more fun sets of lunch box notes for all the days in-between!  Here, here, here, here and here.