Homemade donuts
can be a bit intimidating. Use these tricks and easy recipe to make your own that rival any bakery!
No time to make yeast donuts? No problem! These biscuit dough donuts come together in just minutes!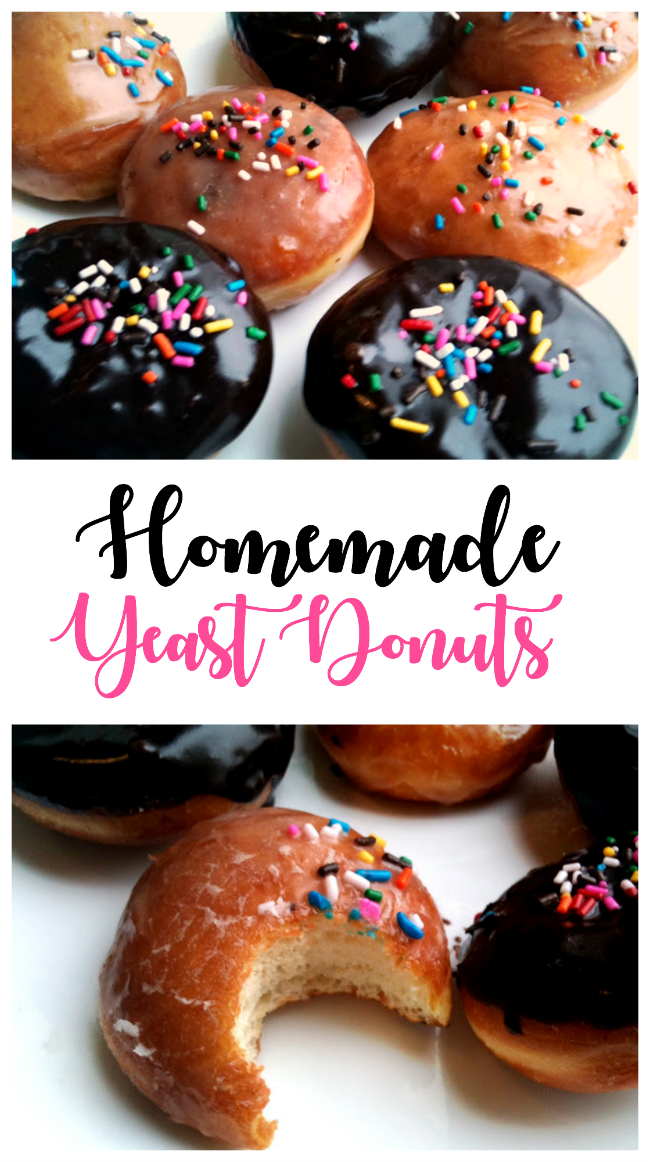 How many of you have tried making homemade doughnuts? And how many have failed miserably? Me! Me! Me! I don't know how many times I've made doughnuts, only to have them turn out nasty….or almost edible. Sometimes burned on the outside, raw on the inside. Dense or flavor-less. But, being the pastry JUNKIE that I am, I kept trying.  So I'd like to share a recipe and some things I've learned to make the process easier when making raised or yeast homemade donuts.
3 Tips for Homemade Donuts
#1—use a mixer with a dough hook to make your dough. So much easier! This recipe calls for 5 cups of flour. That's a lot to mix in by hand, although it can be done!
#2—don't handle the dough too much. Use lots of flour to make sure that your dough isn't too sticky when rolling out 1/2″ thick. Having the dough soft, but not sticky, also makes it easier to transfer your doughnuts into the oil without handling them too much. Handling them a lot causes them to deflate and they won't be as light and fluffy in the end.
#3—get a good thermometer. If you aren't using a deep fryer with a built-in thermometer, a candy thermometer on a deep skillet works great too. Watch the temperature closely. Turn it up or down accordingly to keep it as close to 350 degrees as possible. Make 1 or 2 smaller donuts in the beginning as tester donuts, just to make sure the oil is to your liking.
Homemade Donuts Recipe (Raised/Yeast Variety)
Ingredients:
2 (.25 ounce) envelopes active dry

yeast

1/4 cup warm water (105 to 115

degrees)

1 1/2 cups lukewarm milk

1/2 cup white sugar

1 teaspoon salt

2 eggs

1/3 cup shortening

5 cups all-purpose flour

1 quart vegetable oil for frying

Vanilla Icing:

1/3 cup butter

2 cups confectioners' sugar

1 1/2 teaspoons vanilla

4 tablespoons hot water or as

needed
Directions:
Place all ingredients in your bread maker on the dough cycle,** or…
Sprinkle the yeast over the warm water, and let stand for 5 minutes, or until foamy.
In a large bowl, mix together the yeast mixture, milk, sugar, salt, eggs, shortening, and 2 cups of the flour. Mix for a few minutes at low speed, or stirring with a wooden spoon. Beat in remaining flour 1/2 cup at a time, until the dough no longer sticks to the bowl. Knead for about 5 minutes, or until smooth and elastic. Place the dough into a greased bowl, and cover. Set in a warm place to rise until double. Dough is ready if you touch it, and the indention remains.If you are using your bread maker, refer to my tip about not letting it rise the full cycle if you see the dough expanding too much over the top of your pan.
Turn the dough out onto a floured surface, and gently roll out to 1/2 inch thickness. Cut with a floured doughnut cutter. Let doughnuts sit out to rise again until double.
Melt butter in a saucepan over medium heat. Stir in confectioners' sugar and vanilla until smooth. Remove from heat, and stir in hot water one tablespoon at a time until the icing is somewhat thin, but not watery. Set aside.
Heat oil in a deep-fryer or large heavy skillet to 350 degrees F (175 degrees C). Slide doughnuts into the hot oil using a wide spatula. Turn doughnuts over as they rise to the surface. Fry doughnuts on each side until golden brown. Remove from hot oil, to drain on a wire.***
For an easy chocolate glaze, I take a container of store bought chocolate frosting and put some in a microwave safe bowl. Microwave on high for 15 seconds at a time until it is smooth and thin. Dip doughnuts into frosting, turn over, and place on cooling rack. Perfect, smooth, and glazed.
Use the same technique for the vanilla glaze (turn over and place on cooling rack).
They are best served warm. To reheat, microwave for 6-8 seconds. Good as new!
They are the perfect Sunday evening activity. We made so many this time that we are going to bring a bunch of little ones into Aaron's preschool class tomorrow to share.