Homemade raised donuts might sound intimidating to make, but are actually easy! Use these tips and tricks to make your own! This post was originally published in 2011 and now includes a video! This post contains affiliate links.
No time to make yeast donuts? No problem! These biscuit dough donuts come together in just minutes! You might also like our apple cider donuts or our pumpkin cake donuts.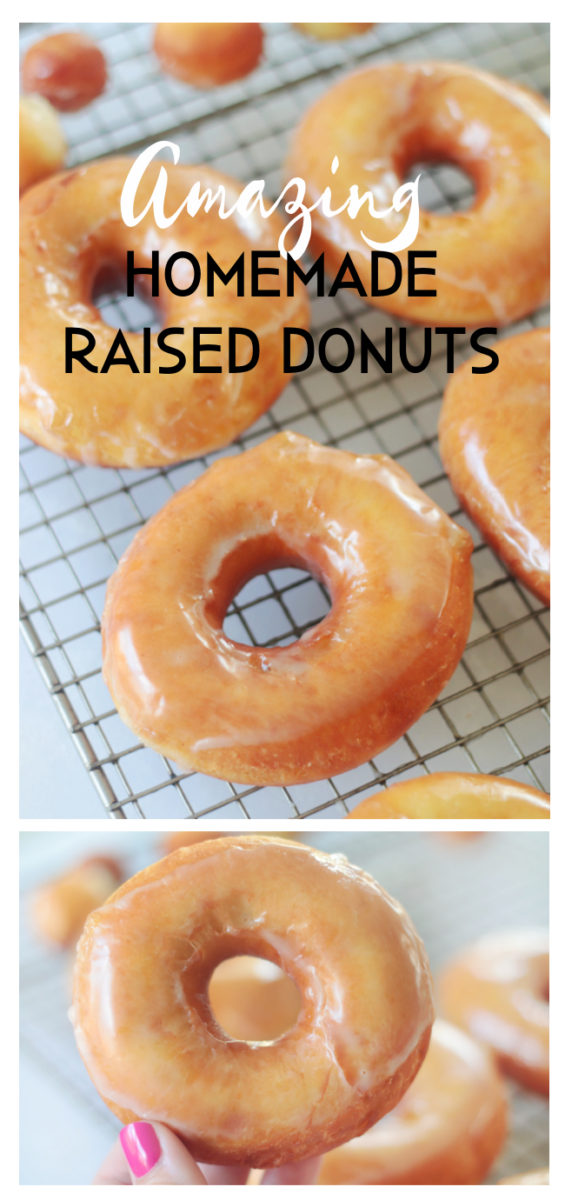 Watch our step by step video!
Homemade Raised Donuts (Yeast Donuts)
How many of you have tried making homemade doughnuts? And how many have failed miserably? If that sounds familiar, you are not alone. Raised donuts can be intimidating to make. I had fail after fail when I first learned how to fry donuts. Being the pastry JUNKIE that I am, I kept trying and can now make a killer donut that rivals any from a local bakery.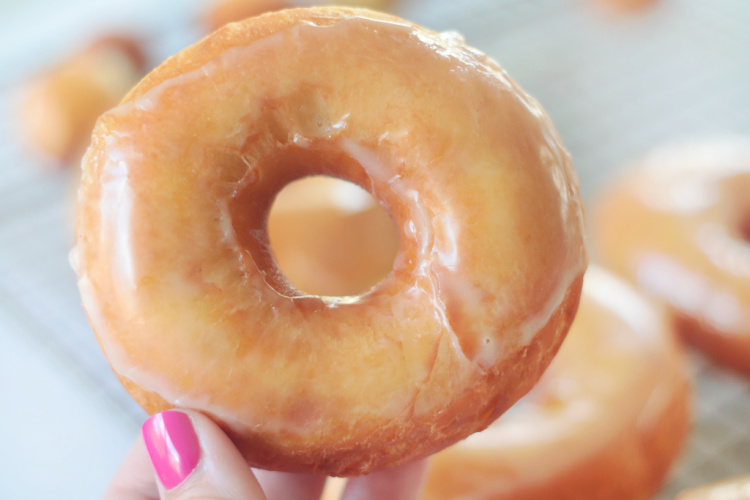 3 Tips for Homemade Donuts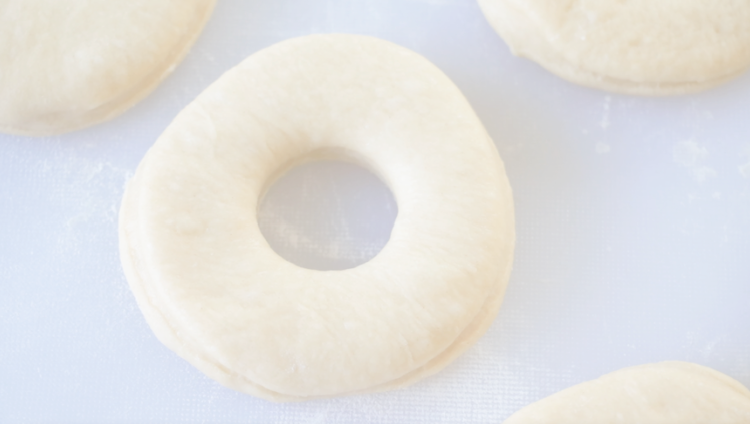 1. Don't handle the dough too much. These are a raised donut which means they can easily deflate if handled too much. Just like bread dough. Use lots of flour to make sure that your dough isn't too sticky when rolling out 1/2″ thick. Having the dough soft, but not sticky, makes it easier to transfer your doughnuts into the oil without handling them too much. Handling them a lot causes them to deflate after they rise, and they won't be as light and fluffy in the end.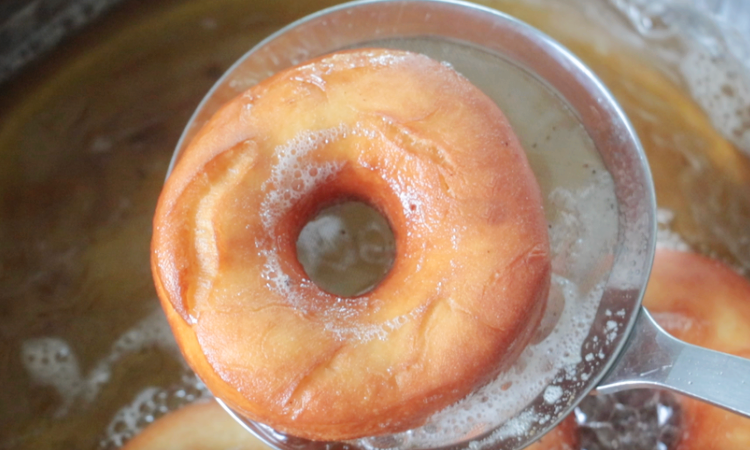 2.
Get a good thermometer
. If you aren't using a deep fryer with a built-in thermometer, a
digital thermometer on a deep skillet
works great too (this is what I use). Watch the temperature closely. Turn the heat up or down accordingly to keep it as close to 350 degrees as possible. Make 1 or 2 smaller donuts in the beginning as tester donuts, just to make sure the oil is to your liking.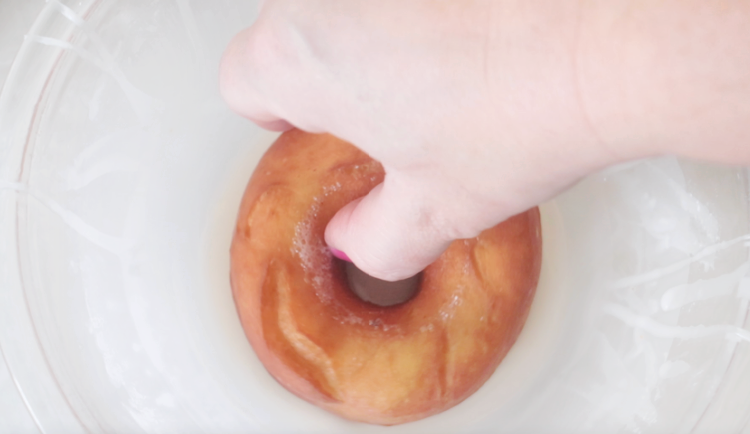 3. Glaze donuts while warm. Dip the donuts into the glaze when they are warm (NOT HOT). Once they come out of the fryer, allow them to cool for a couple of minutes. Warm donuts are the easiest to glaze. The glaze coats them like a dream!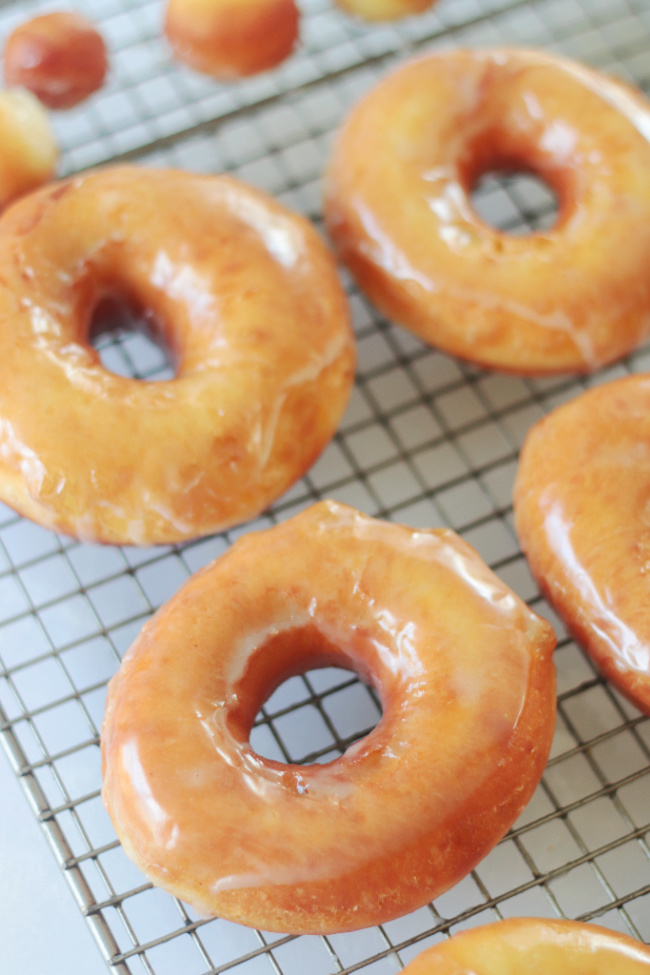 Homemade Donuts Ingredients
1 Tbsp. yeast
2 Tbsp. warm water
3/4 cup warm milk
1 egg
3 Tbsp. butter, softened
1/4 cup sugar
1/2 teaspoon salt
2 1/2 cups all purpose flour
oil for frying (1 quart)
Simple Glaze
3 cups powdered sugar
1 teaspoon honey
1/2 teaspoon vanilla extract
3-4 Tbsp. warm water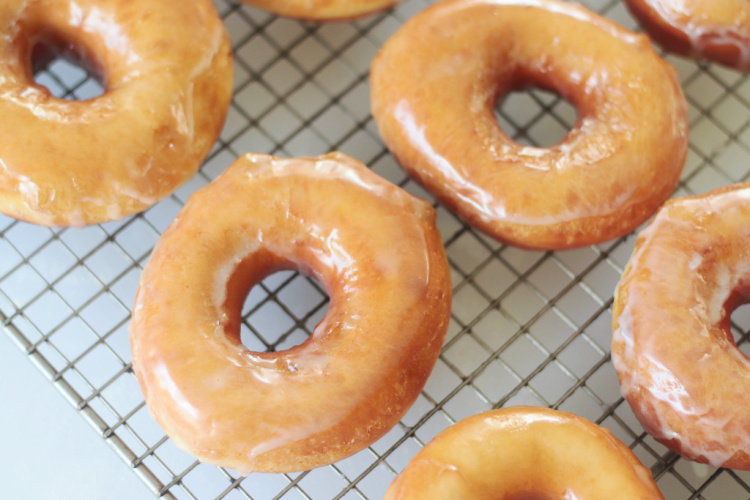 How To Make Donuts
Start out by making a simple bread dough. Once the dough has had a chance to double in size (rise 1 hour), roll out to 1/2″ thick and cut out donuts using a biscuit cutter or donut cutter.
Allow donuts to proof and double in size again (rise about 30 minutes). Heat oil to 350 degrees.
Fry donuts in a pot or dutch oven until golden brown on each side (1-2 minutes on each side). Remove from oil and place on a rack. A layer of paper towels underneath is helpful to catch excess oil.
Allow donuts to cool SLIGHTLY while you make the glaze.
Combine glaze ingredients and dip donuts into glaze.
Donuts are best served warm and fresh.
They can be reheated in the microwave (5-8 seconds) on the second day.
This recipe makes 9 delicious donuts and donut holes! I use a 3.5″ biscuit cutter and a smaller 1″ cutter for the holes. You can double the recipe and make 18 donuts and donut holes.
Homemade Raised Donuts Recipe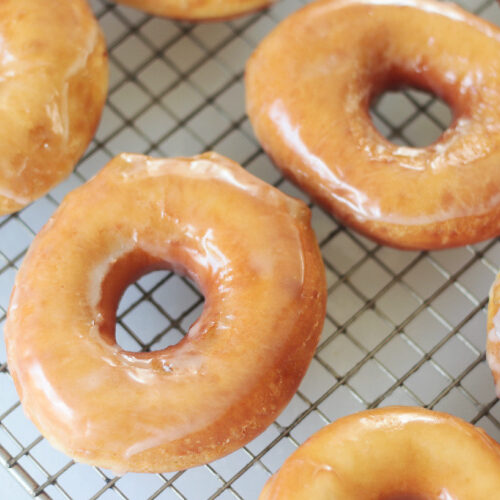 Raised Donuts
Homemade raised donuts might sound intimidating to make, but are actually easy! Use these tips and tricks to make your own!
Print
Pin
Rate
Ingredients
1

Tbsp.

yeast

2

Tbsp.

warm water

3/4

cup

warm milk

1

egg

3

Tbsp.

butter

softened

1/4

cup

sugar

1/2

teaspoon

salt

2 1/2

cups

flour

oil for frying

1 quart
SIMPLE GLAZE
3

cups

powdered sugar

1

teaspoon

honey

1/2

teaspoon

vanilla

3-4

Tbsp.

warm water
Instructions
Sprinkle the yeast over the warm water, and let stand for 5 minutes.

In a large bowl, mix together the yeast mixture, milk, sugar, salt, egg, butter, and 1 cup of the flour. Mix for a few minutes at low speed, or stir with a wooden spoon. Add remaining flour and mix until the dough no longer sticks to the bowl.

Knead until smooth and elastic. Place the dough into a greased bowl, and cover. Set in a warm place to rise until double (1 hour).

Turn the dough out onto a floured surface, and use a rolling pin to gently roll out to 1/2 inch thickness. Cut with a donut or biscuit cutter. Let doughnuts sit out to rise again until double. Cover loosely with a cloth or piece of plastic wrap.

Heat oil in a deep-fryer or large heavy skillet to 350 degrees. Place a few donuts into the hot oil.

Turn doughnuts over as they rise to the surface. Fry doughnuts on each side until golden brown. Remove from hot oil, to drain on a cooling rack with paper towels underneath to catch excess oil.

Mix glaze ingredients and dip donuts into the glaze while warm, and set back on the wire racks to drain off excess.
Nutrition