Soft, delicious, and ready to toast. I'll show you how to make English muffins on a griddle. They cook quickly and are easy to freeze for easy breakfasts!
If you like making homemade bread you'll love our Amish white bread, almond poppyseed muffins, and cinnamon swirl bread!

Watch our step by step video!
My kids love homemade toast for breakfast. English muffins are quicker to make than bread and cook up on a griddle. No need to heat the oven. This recipe comes from a cookbook that my grandma Phyllis gave me for Christmas when I was 13.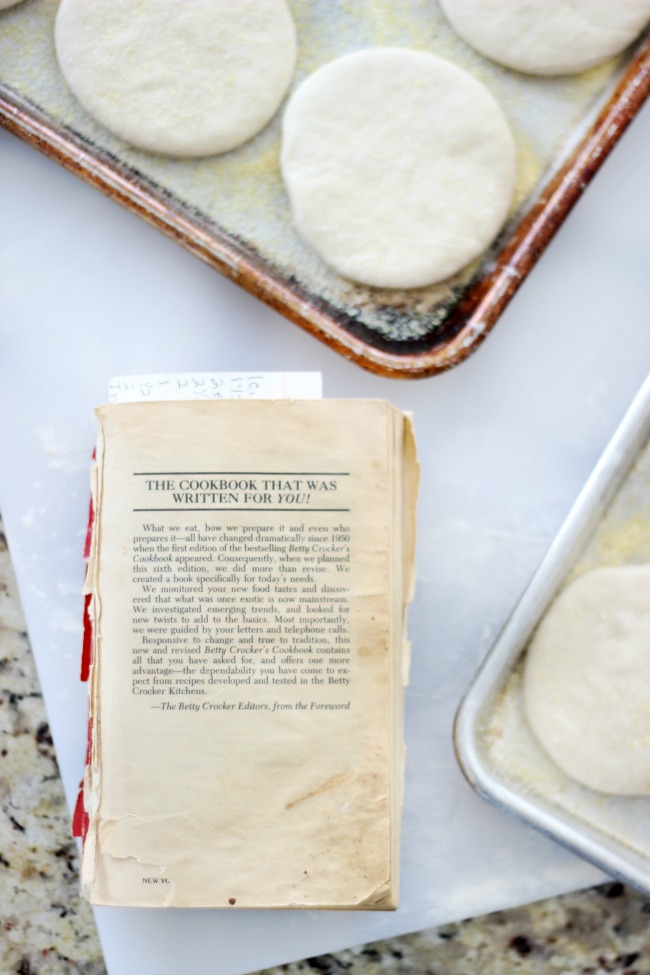 As you can see, this is a very well-loved cookbook! Just a bit of shelf-wear, ha! It is an old Betty Crocker cookbook that you can't find anymore. When we got married I bought a newer version (the 3-ring binder one) and it just isn't the same! It has like 1/3 of the recipes that this one has. This one isn't fancy, there aren't any colored pictures or fancy charts, but it has EVERYTHING you'd ever want to learn how to cook.
I learned how to make English muffins for the first time using this cookbook as well as French pastry, orange rolls, gingersnaps and many other recipes. So many failed recipes mixed with enough successes to keep me interested in cooking during those first years.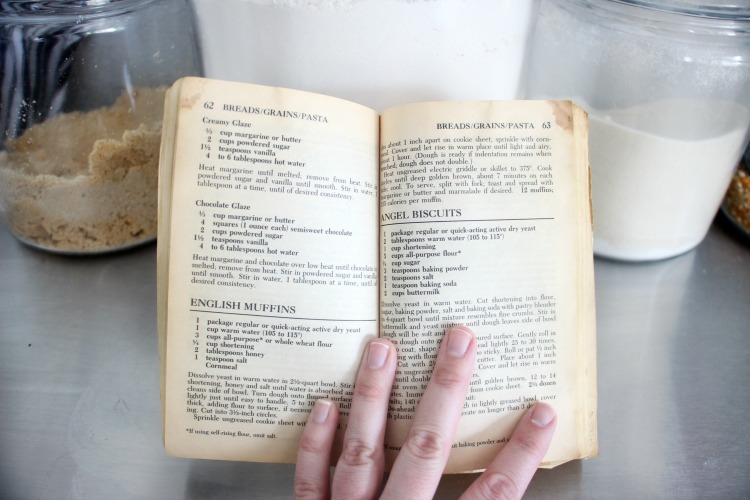 The book is out of print and I looked online to see if I could find the same recipe to link to, but it doesn't seem to exist outside of this tattered little book. So here you go! Watch my video for step by step photos then scroll down to the end of the post for a printable version.
How to Make English Muffins on a Griddle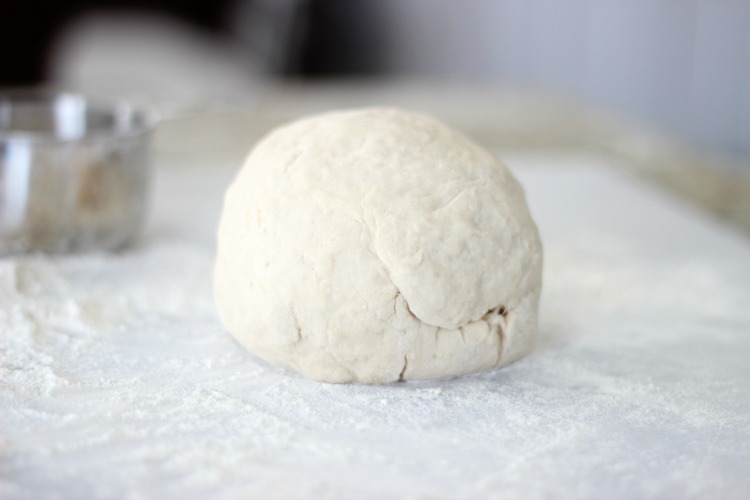 Can you double this English muffin recipe?
Yes. If you are going to take the time to make one batch, why not make two? I've gotten in the habit of doubling my bread recipes and freezing half for another day. Just thaw on the counter until room temperature and toast! You can also place the English muffins in the microwave for a few seconds to thaw before toasting.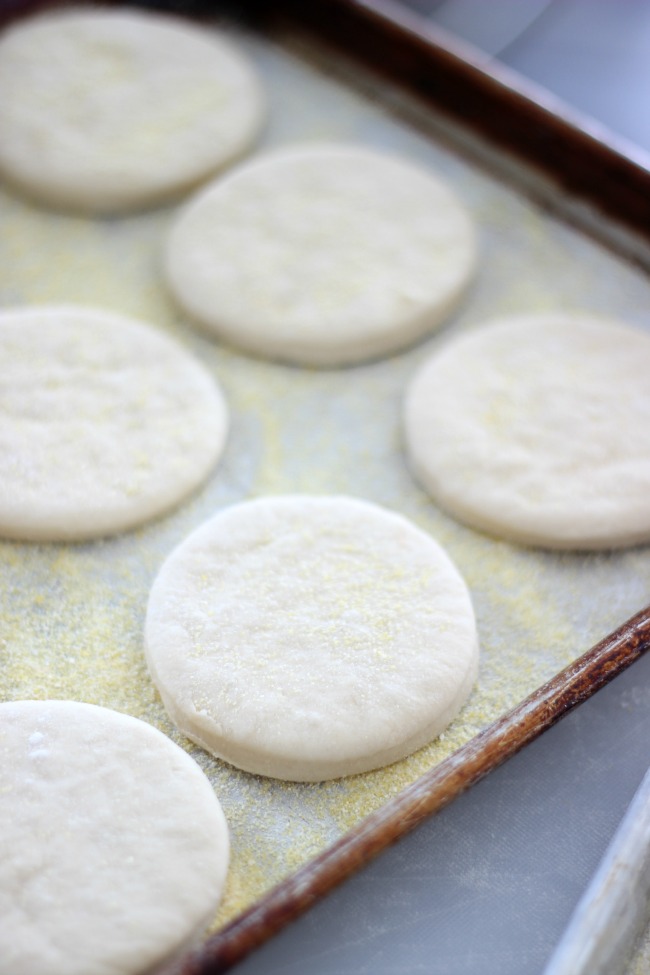 How long does it take to make English muffins?
The English muffin dough doesn't need to rise twice like traditional bread. After cutting out the shapes using a cookie cutter let the muffins rise for an hour then cook on the griddle.
More Easy Bread Recipes
Quick and Easy Garlic and Parmesan Breadsticks
Do you need to bake English Muffins?
Nope! Just brown on both sides over a hot griddle. It takes 4-5 minutes on each side. Don't have a griddle? That's okay! You can brown your English muffins in a skillet on medium/med-high heat.
Do you need to toast English Muffins?
You can eat them straight from the griddle, but they really are made to be toasted for the full flavor. Nothing beats a toasted English muffin with butter in every nook and cranny.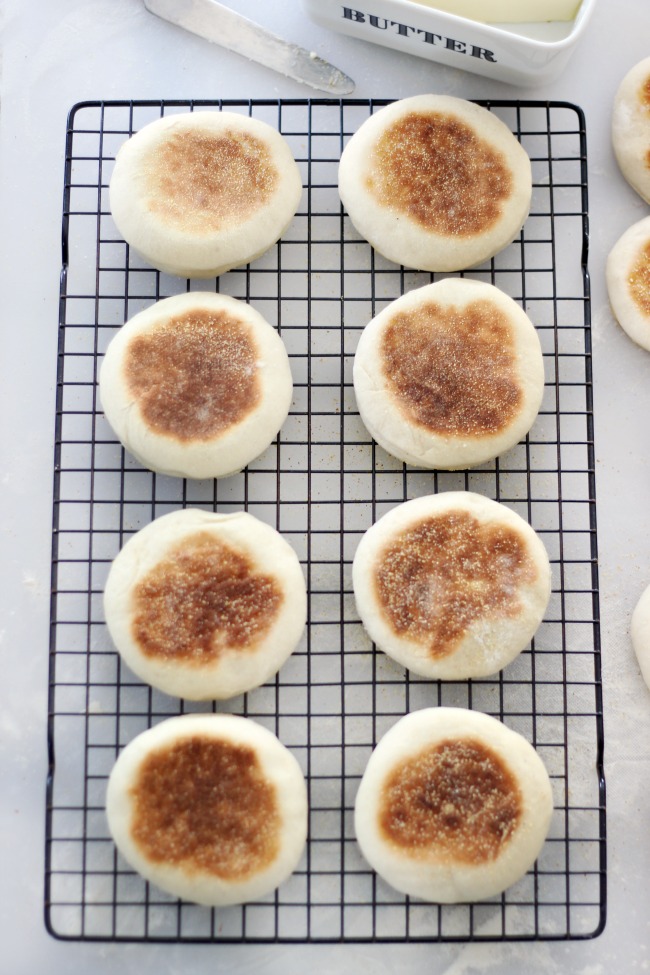 What is the proper way to cut an English Muffin?
With a fork! Cut with a fork? That's right! Poke a fork into the side of the English muffin and continue to poke as you work your way around the entire edge. Separate the two slices then toast. Fork splitting the muffins creates nooks and crannies.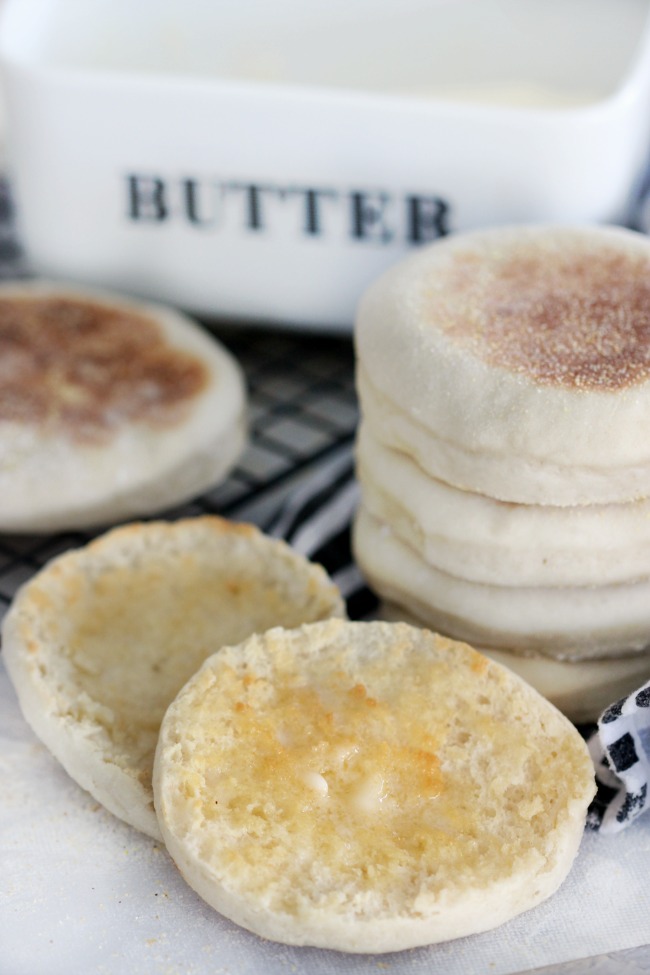 Homemade English Muffins Recipe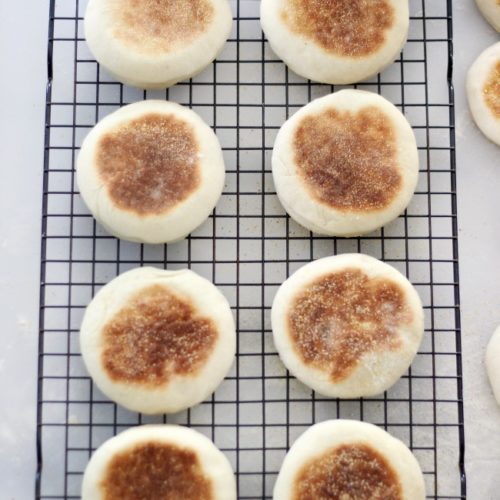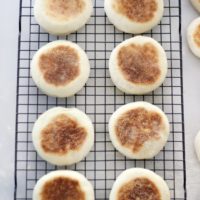 How to Make English Muffins
Soft, delicious and ready to toast. I'll show you how to make English muffins on a griddle. They cook quickly and are easy to freeze for easy breakfasts!

Print
Pin
Rate
Ingredients
1

package

yeast

1

cup

warm water

3

cup

all purpose flour or wheat flour

1/4

cup

shortening

2

Tbsp.

honey

1

teaspoon

salt

cornmeal
Instructions
Dissolve yeast in warm water and let sit until it proofs.

Stir in flour, shortening, honey and salt until water is absorbed and dough cleans the side of the bowl.

Turn dough out onto floured surface and knead lightly until easy to handle.

Roll 1/4 -1/2" thick, adding flour if necessary to prevent sticking.

Cut into 3 1/2" circles using a cookie cutter.

Sprinkle ungreased baking sheet with cornmeal and place circles 1" apart on cookie sheet. Sprinkle tops with cornmeal.

Cover and let rise in a warm place for 1 hour. Dough should be light and slightly puffed (it will not double).

Heat ungreased electric griddle to 375 degrees.

Cook circles until deep brown, about 5 minutes on each side; cool. (Griddle heat may vary)

Split with fork to serve. Toast and spread with butter or jam.
Notes
If you'd like thicker English muffins you can roll the dough out to 1/2 - 3/4" thick.
Nutrition