Our copycat Auntie Anne's pretzels are so delicious and easy to make. Make pretzel shapes or pretzel bites in a variety of flavors!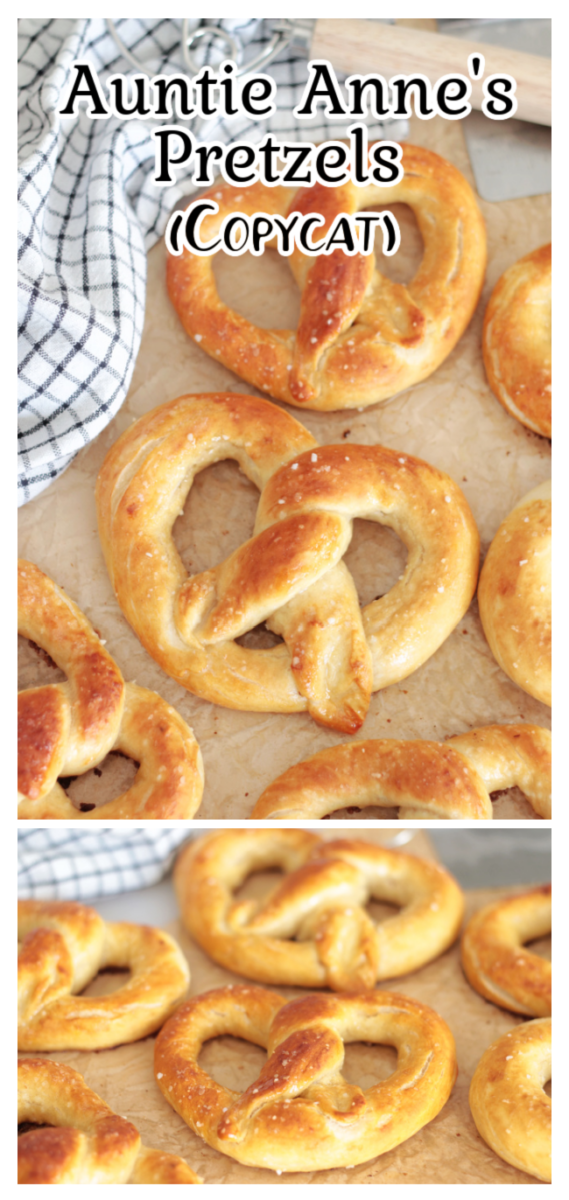 Watch our step by step video!
These no-boil soft baked pretzels are one of our FAVORITE things to make. My boys asked me to make a big batch to take to a party this afternoon so it was the perfect time to snap a few updated photos and refresh this post that is almost 12 years old! My friend just texted me and said that all of the boys are devouring the pretzels at the party and they'd like the recipe!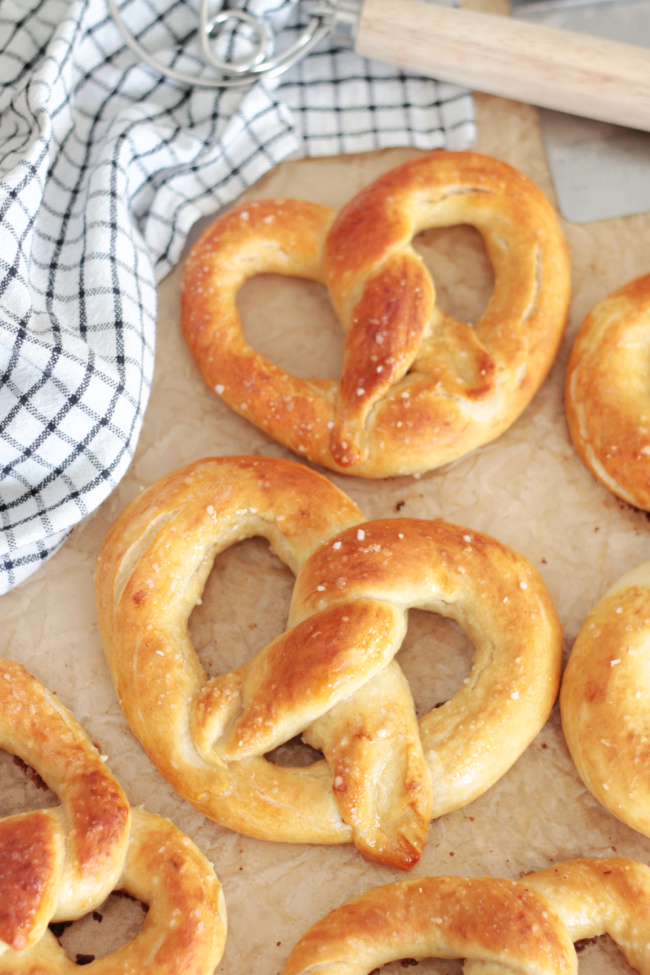 Years ago, before the days of Pinterest, it wasn't as easy to find amazing recipes online! I actually had a website that I'd go to and occasionally buy them. Can you believe that? This Auntie Anne's copycat no-boil soft-baked pretzels recipe cost me a whopping $.89 in 2007. It's been worth every penny, lol. The measurements are a bit odd, as you'll see, but just go with it. We like making them into
pretzel bites
or
pretzel rolls
, too! I've had a few readers say that these and the pretzel bites are better than mall pretzels, and I agree. They are soft and so buttery! If you feel intimidated by making large pretzels, start with the
pretzel bites
! Fool proof always cooks evenly and just as delicious.
No Boil Pretzels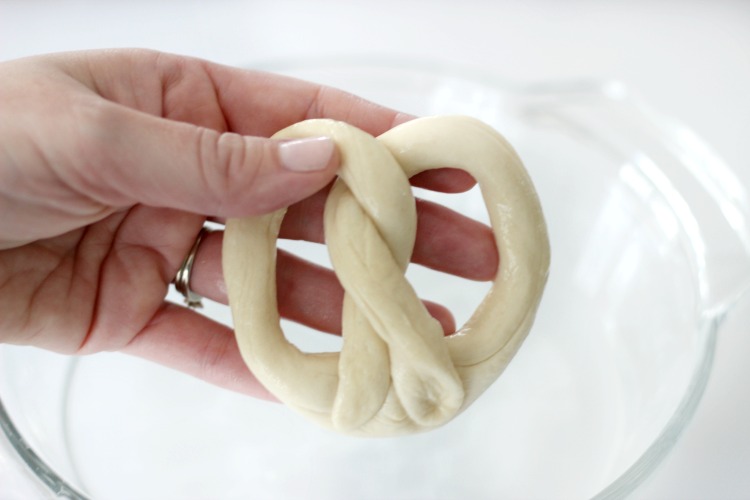 I don't mind boiling dough in recipes when I feel it's really necessary. I boil my
homemade parmesan bagels
and that's what gives them their chewy texture, but for these pretzels, a warm/hot bath in water and baking soda works just fine and saves time!

This recipe makes 6-10 pretzels depending on how big you want them to be. I prefer making 8 pretzels per batch, and rolling the dough out 24-28″. You're looking for a LONG skinny rope to twist into the pretzel shape. If your rope is too short your pretzels will still be delicious but will puff up more and look like rolls.
Auntie Anne's Copycat Soft Pretzel Recipe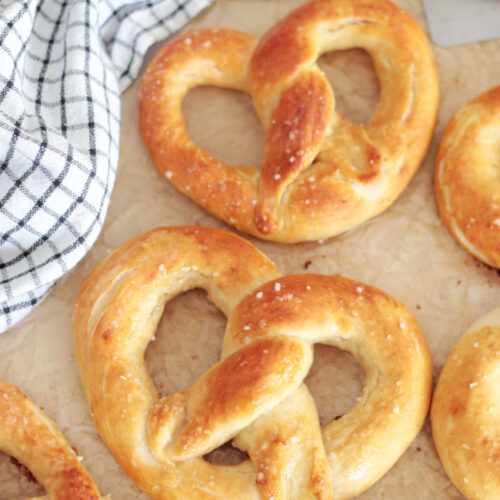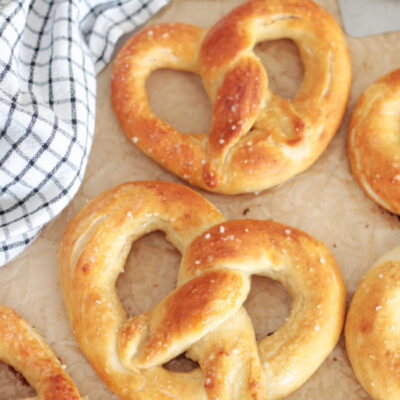 No Boil Soft Baked Pretzels Recipe
Auntie Anne's copycat soft baked pretzels are so delicious and easy to make. Make pretzel shapes or pretzel bites in a variety of flavors! No boiling required.
Print
Pin
Rate
Ingredients
1 1/4

cups

warm water

1

Tablespoon

plus 1/4 tsp. active dry yeast

3 3/4

cups

all-purpose flour

3/4

cups

plus 2 T powdered sugar

1 1/2

teaspoon

salt

2

teaspoons

vegetable oil

plus more for oiling bowl

melted butter for brushing

kosher salt

2-3

Tablespoons

cinnamon and sugar for sprinkling

optional
Pretzel Bath:
2

cup

hot water

1/4

cup

baking soda
Instructions
Dissolve yeast in the warm water in a small bowl or cup. Let sit for a few minutes.

Combine flour, powdered sugar, and salt in a large mixing bowl. Add water with yeast and vegetable oil. Stir with a spoon or Danish dough whisk and then use your hands to form the dough into a ball. (Can also mix in stand mixer with paddle and dough hook).

Knead the dough for a few minutes on a lightly floured surface. Dough will be nice and smooth when it's ready. Place the dough into a lightly oiled bowl (1 Tbsp) cover it, and store it in a warm place for 1 hour or until the dough doubles in size.

When dough has risen, preheat oven to 450 degrees F.

Make a baking soda bath for the pretzels by combining the baking soda with the hot water and stir until baking soda is mostly dissolved.

Remove the dough from the bowl and cut into 8 pieces.

Shape the soft baked pretzels as follows:

Roll each section into a long 24"-28" rope.

Bring the ends up and twist twice.

Bring the ends down and pinch firmly.

Dip each pretzel into the water bath solution. Drip dry. Arrange on 2 baking sheets that have been sprayed with non stick cooking spray or covered with parchment paper.

If you want salted pretzels, sprinkle pretzels with coarse salt. Don't salt any pretzels that you plan to coat with cinnamon sugar.

Bake one pan at a time. Bake 5 minutes, then spin the pan halfway around and bake another 4 or 5 minutes or until golden.

Remove from oven and brush with melted butter.

If you want the cinnamon/sugar coating, brush with butter and sprinkle heave coating of cinnamon/sugar onto the entire surface of the pretzel.
Notes
*The baking soda separates from the water easily. So stir it every couple of minutes as you are dipping the pretzels to make sure that there is an even distribution of powder/water mix on each pretzel.
*The original recipe makes 8, but I like making 12 smaller pretzels. It's up to you!
*If you want the cinnamon/sugar coating, brush with butter and sprinkle a heavy coating of cinnamon/sugar onto the entire surface of the pretzel.
Nutrition
How many pretzels does one batch make?
8-10 pretzels.
Can I use this no boil soft baked pretzels recipe to make pretzel bites?
What do you put on soft baked pretzels?
The options are endless! My favorite toppings are kosher salt and butter, but you can add garlic powder with parmesan cheese, cinnamon and sugar, pepperoni and mozzarella cheese, jalapeño slices—pretty much ANYTHING. Dip in cheese sauce, mustard, or eat plain!
Do I need to use an egg wash to get golden brown pretzels?
Not with this recipe! I'd definitely recommend brushing with butter at the end. It makes all the difference.
How do you reheat a soft pretzel?
Store pretzels in an airtight container or plastic bag. To reheat these pretzels, simply microwave for about 8 seconds. Most will be eaten the first day so you won't even need to worry about leftovers!
Looking for some creative dipping sauces for your soft baked pretzels? Here are 5 easy dipping sauce recipes in 5 minutes from Scattered Thoughts of a Crafty Mom.