2 yards of fleece and 30 minutes of time is all you need to make this darling cowl neck fleece poncho that is perfect for snuggling up in on a cool day! It even has a hood! Double layered with a cozy cowl that also works as a hood! This simple sewing project is great for beginners. This post contains an affiliate link.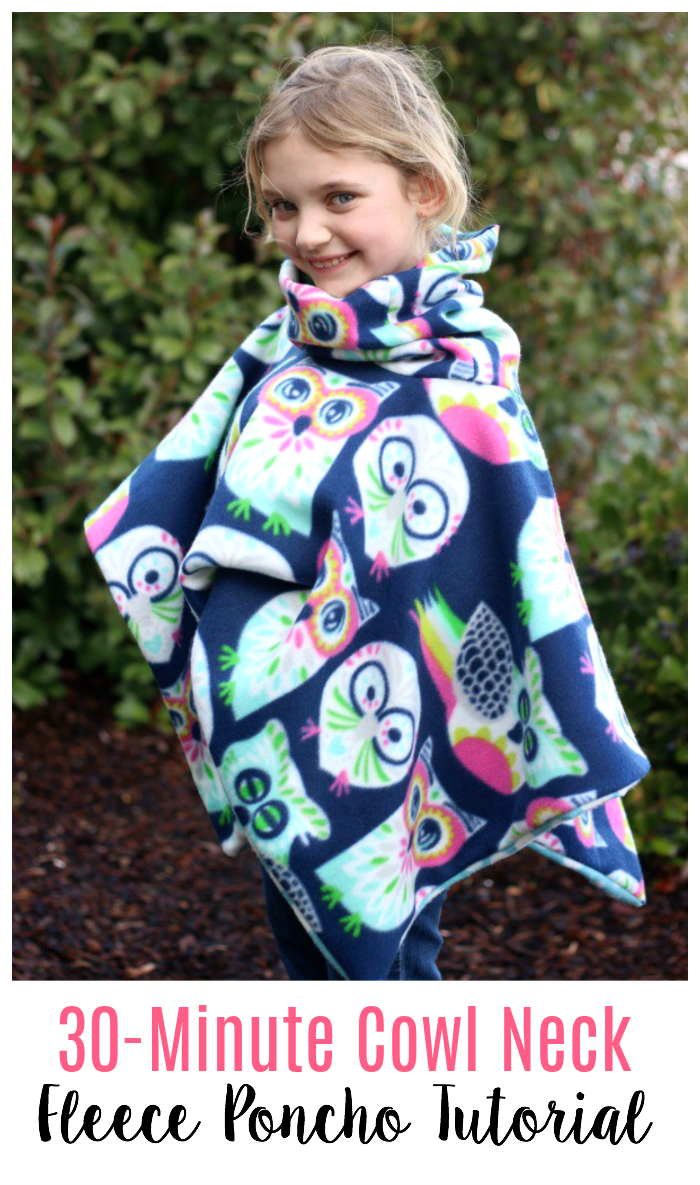 I love quick and easy projects that my girls end up being obsessed with. I found these fleece prints at the fabric store last week and they were too cute to pass up. The
no-sew fleece ponchos
that we made years ago are too small now, so we made new ones. This time I doubled the fleece layer for extra coziness and added a simple tube to use as a hood or neck warmer.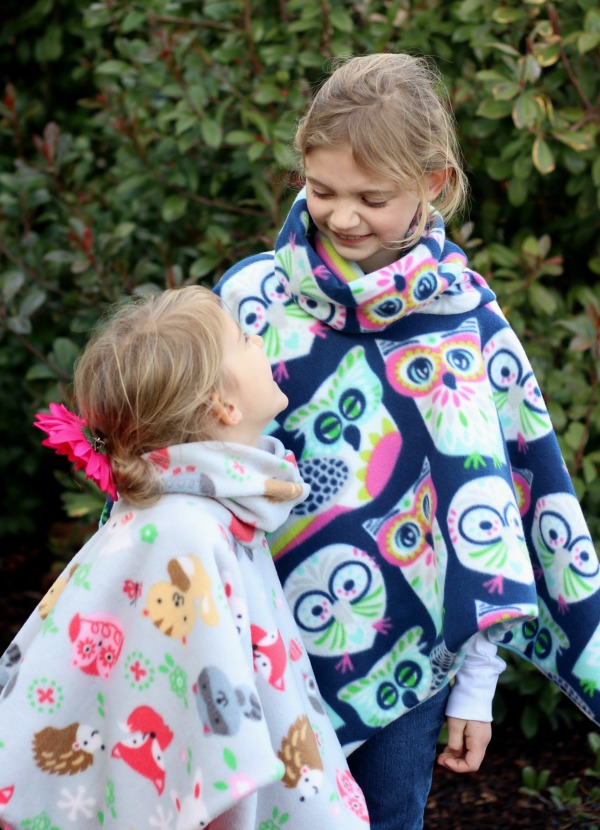 When the girls got home from school we took a couple of measurements and started sewing. An hour later we had two cowl neck fleece ponchos.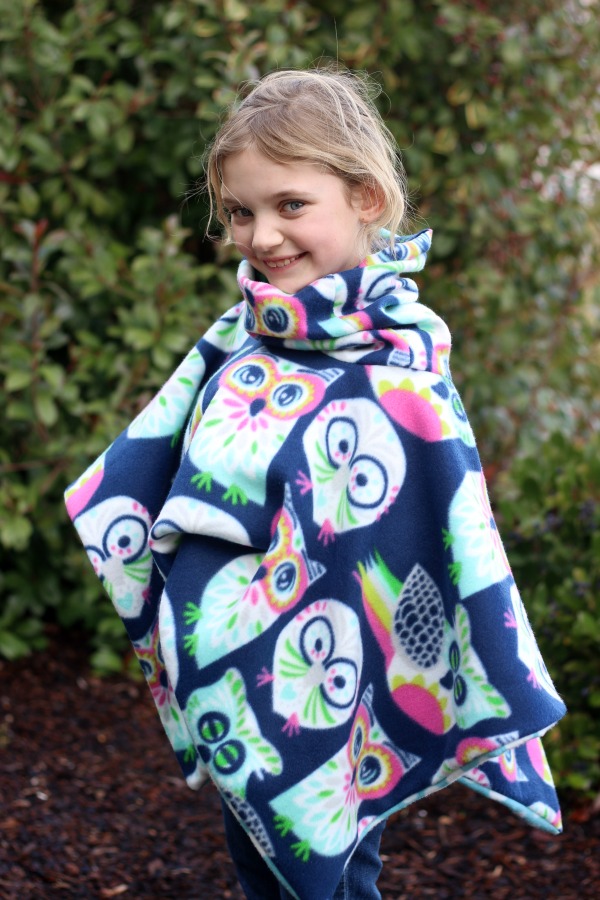 They've worn them every day since! Ruby wore hers to school the next day with fleece pants and a fleece shirt underneath. Needless to say, she had a cozy day in kindergarten 😉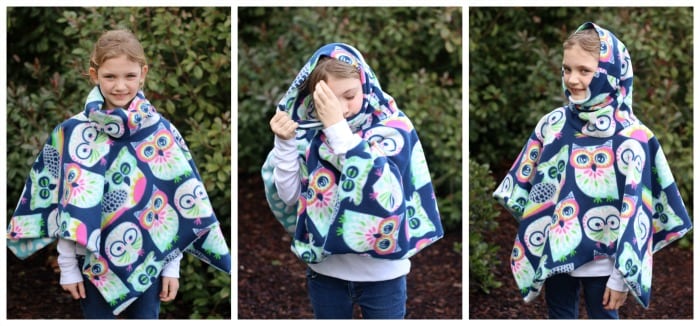 And there are TWO ways to wear it!
The cowl neck is just a long tube of fleece so it easily slips over the head for a soft hood.
For 60 more sewing projects to make with kids, check out my sewing book!
Ready to make your own fleece poncho? Let's get started!
30-Minute Cowl Neck Fleece Poncho
Time: 30 minutes
Seam allowance: 1/2″
Supplies:
1-yard fleece for the outer layer and cowl (anti-pill or blizzard fleece both work fine)*
1-yard fleece for lining*
thread
pins
walking foot sewing machine attachment, optional
*Make sure you are using 58″ wide bolts of fleece. A yard of each color of fleece will fit up to 8 years of age. If you are making one for an adult or teen you will need to purchase extra fleece, probably a yard and a half of each fleece.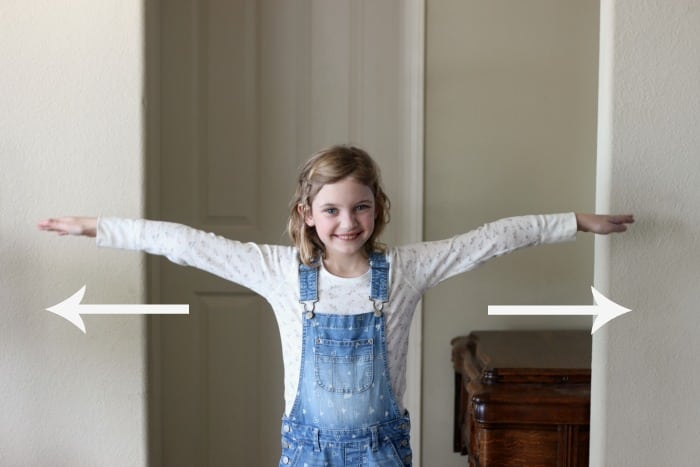 Let's take a quick measurement.
Measure the length from one wrist, across the chest, and all the way to the other wrist.
Cut both pieces of fleece into a square that matches that length.
Kaylee measured 36″ so the fleece squares were 36″x 36″. A yard of fleece is just right, and because fleece is 58" wide, there is extra fleece leftover to make the cowl.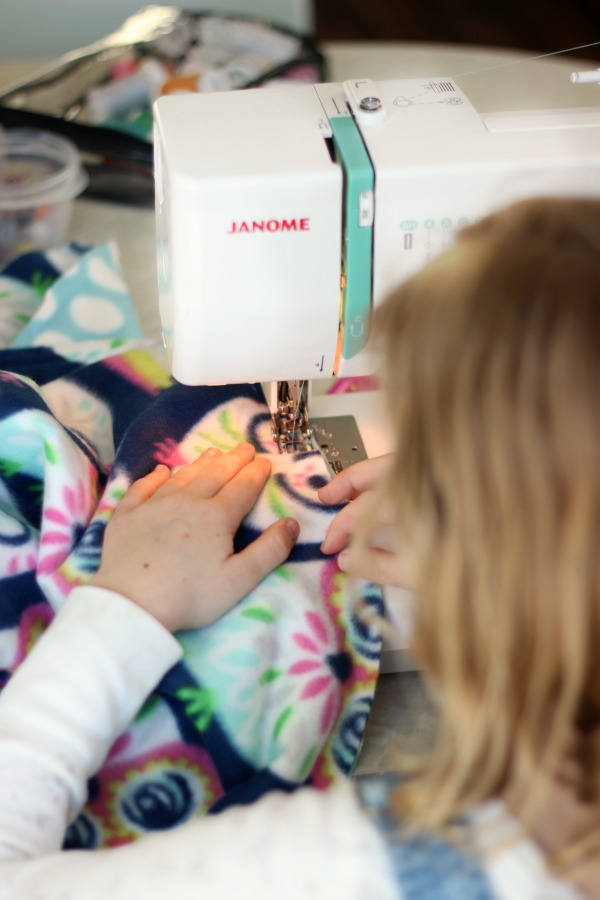 With right sides together, stitch the fleece squares together, all the way around, using a 1/2″ seam allowance. A zig zag works great with fleece.
Trim seams and clip corners.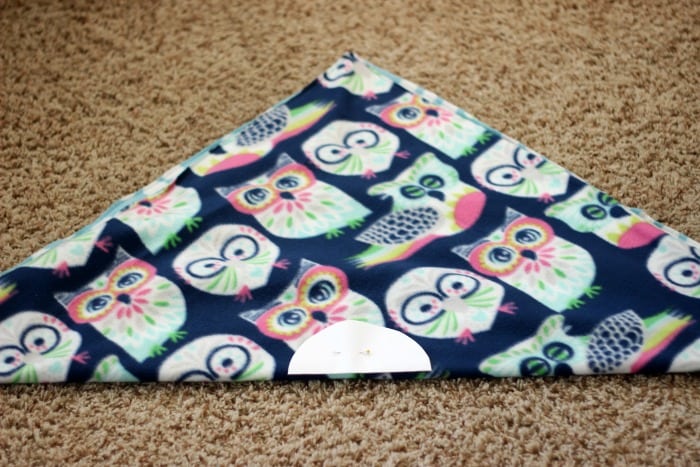 Fold fleece in half and mark the center of the fold with a pin.
Now we need to create a neck opening.
I used a 6.5″ circle that I cut in half as my template. This fit both of my girls (ages 5 and 8) perfectly. You can always start with a smaller neck hole and make it bigger if you need to.
When I made Kaylee's no sew poncho when she was 3 years old I used a 4″ circle (as a reference).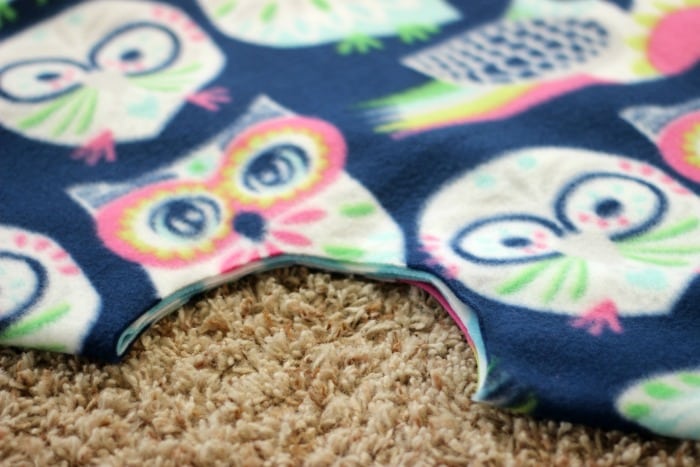 Lay your semi-circle template on the fold and cut out neck opening.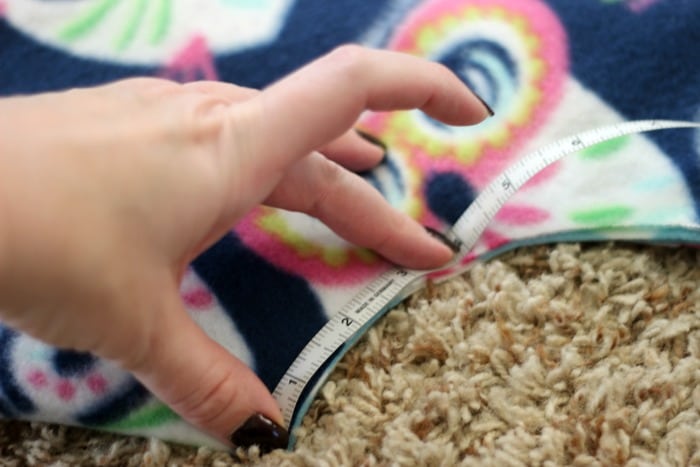 Measure around the neck opening using a flexible measuring tape that will go around the curve. If you are using my measurements (the 6.5″ wide neck opening) this measurement will be 12″. Multiply that by 2 and that is the circumference of the entire opening (24″).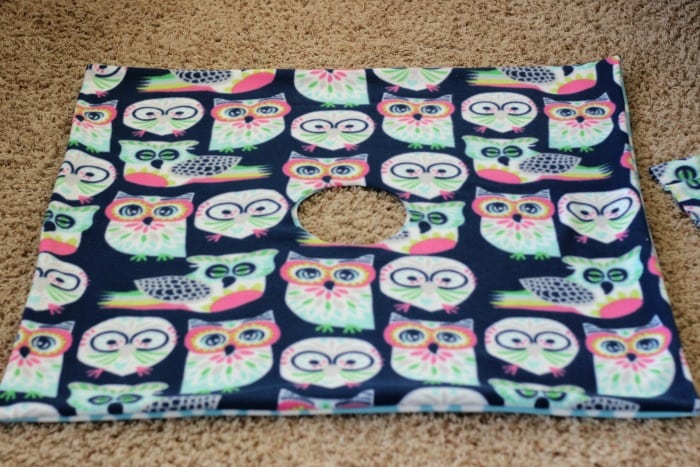 Turn your fleece poncho right side out.
Cut a rectangle for the cowl piece that is 24″ wide (the circumference of the neck opening) and 14″ tall.
Fleece has a bit of stretch to it. Make sure the stretch goes the direction as the 24″ width.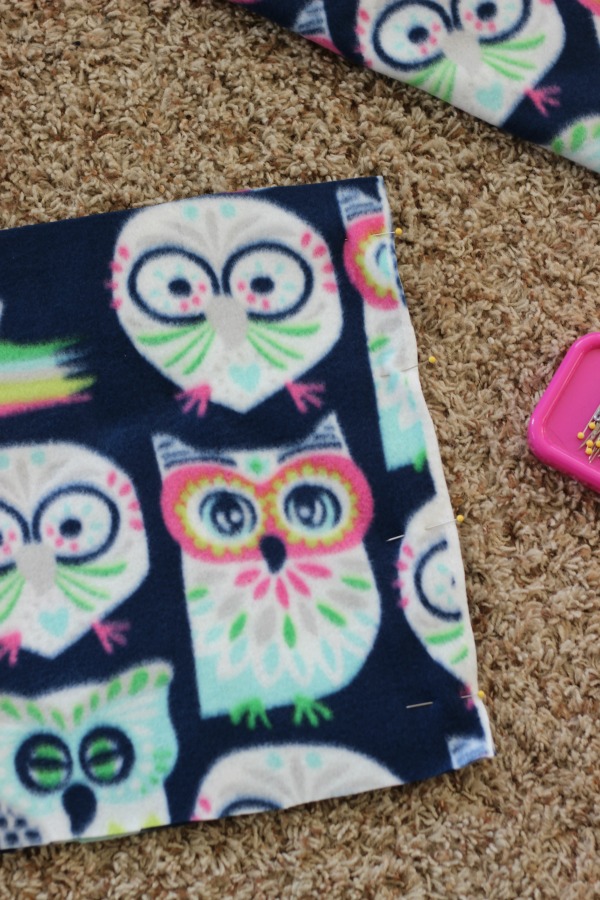 Fold cowl piece in half, right sides together, (it will be 12″ x 14″) and sew the side seam.
Now it's time to sew the cowl piece to the poncho!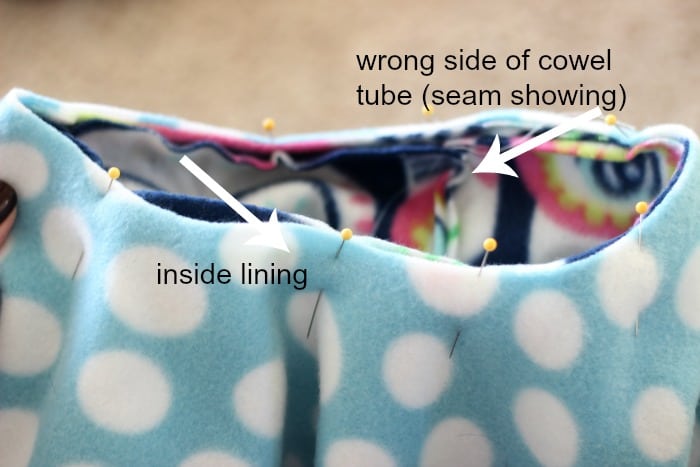 Pin cowl to poncho. This will create a 3 layer sandwich of fleece.
The lining fleece will be the outer layer.
The outer fleece (main fabric) will be the middle layer.
The cowl piece will be the inner layer (wrong side out so that you can see the side seam)
Stretch a little as you pin, if necessary, so that everything lines up.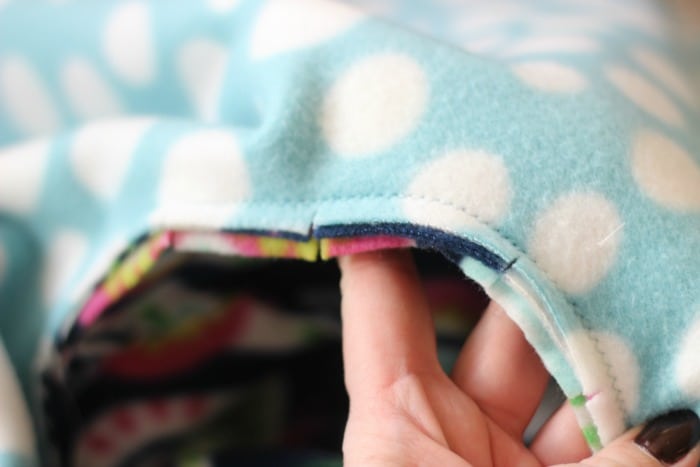 Sew the cowl to poncho. Clip curves every couple of inches.
Turn your fleece poncho right side out.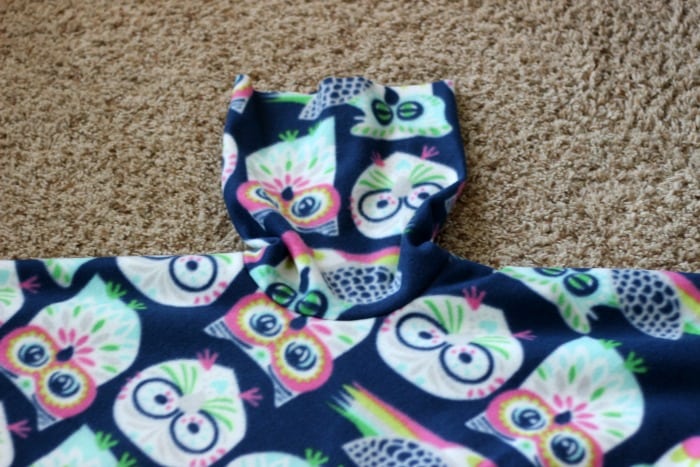 You can trim the cowl length shorter if you'd like, but my girls liked the longer length for a cozy cowl and hood.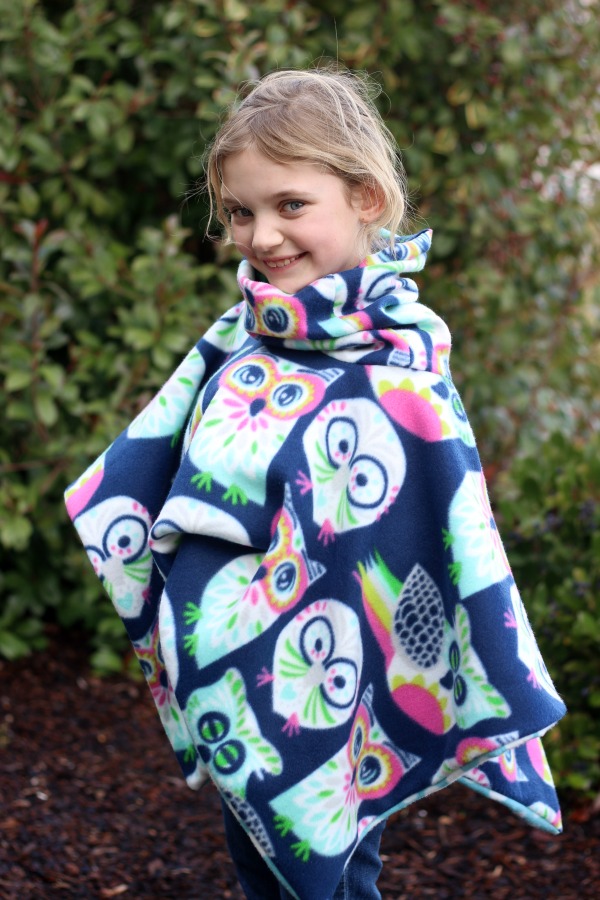 The perfect little "shoulder blanket" for reading, snuggling, and cool fall and winter days!
More Sewing Projects You'll Love to Make!
Fleece Hat Tutorial from Fleece Fun (would go nicely with the cowl neck fleece poncho!)
Color Block Water Bottle Tutorial
Fleece Hand Warmer Muff Tutorial