Make a pillowcase in 3 steps out of fleece. It's the perfect project for someone new to sewing and the perfect beginning sewing project for kids!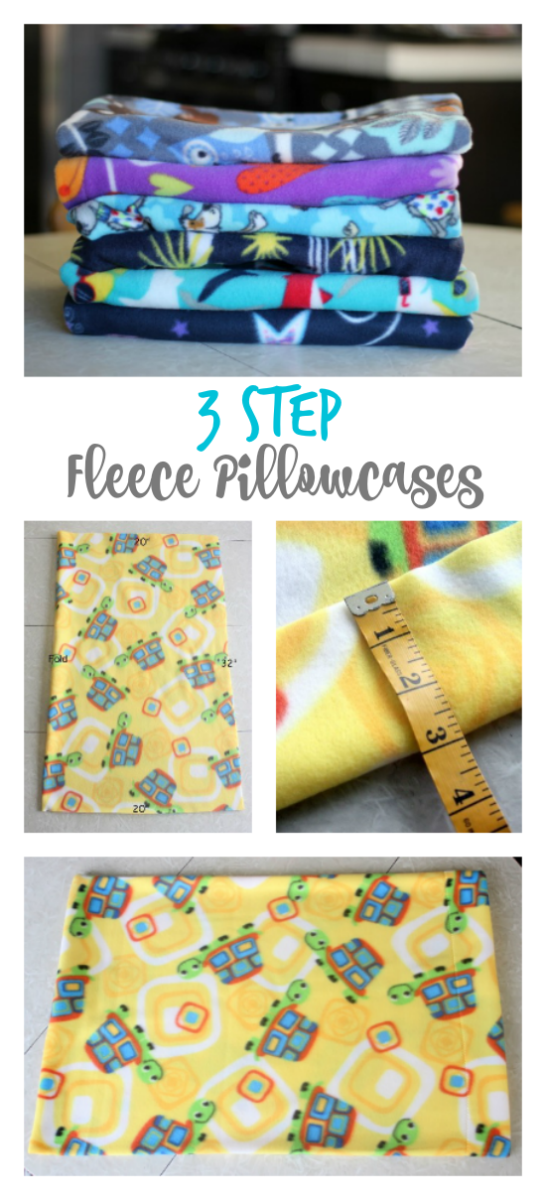 I made fleece pillowcases for my kids a few months ago and they LOVED them! So soft and cuddly.
Make 1, 2 or 6 of these to have extras in stock for birthday gifts! A new pillow with pillowcase has become my go-to gift for birthday parties. This year I made a bunch to send to nieces and nephews for Christmas! Go ahead and get a yard of fleece for each one. There will be a little left over. You could even use the extra to make a 2-minute fleece scarf or 5-minute hand warmers!
Here are a few quick cheats to use when you make a pillowcase that really helped me!
#1 I cut one side on the fold. You don't have to cut on the fold. You can sew that extra side. #2 I hemmed the pillowcase before sewing the side instead of doing it last. It's just easier, but if you'd like a nice flush side seam you can hem it last (after sewing up the side).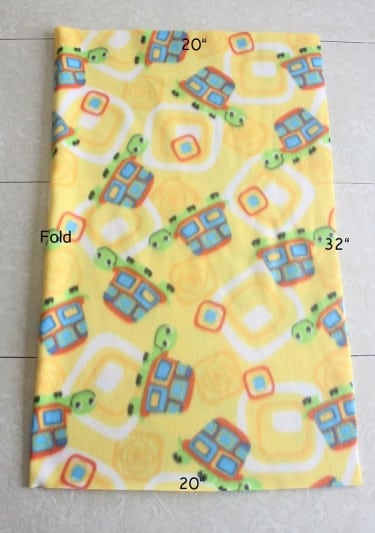 Here are the 3 steps to make a pillowcase out of fleece for kids:
1. Cut Your Fabric:
You will need a piece of fleece that is 40″ wide and 32″ tall. Cut it on the fold to save time on sewing and that makes your measurements 20×32 on the fold. (dimensions are for a standard pillowcase).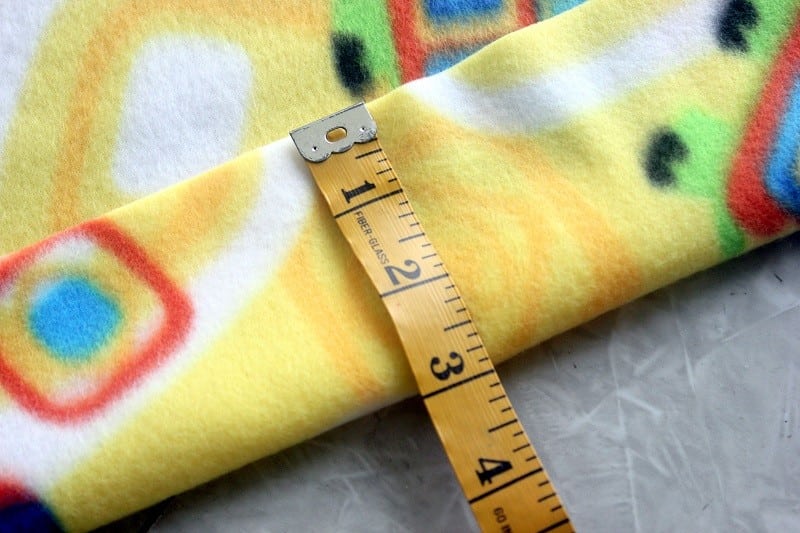 2. Sew Bottom Hem.
Open your fabric and fold up 3″ on the bottom side of your fleece for the hem. Pin and zigzag, keeping the pressure foot along the edge of the cut of fabric.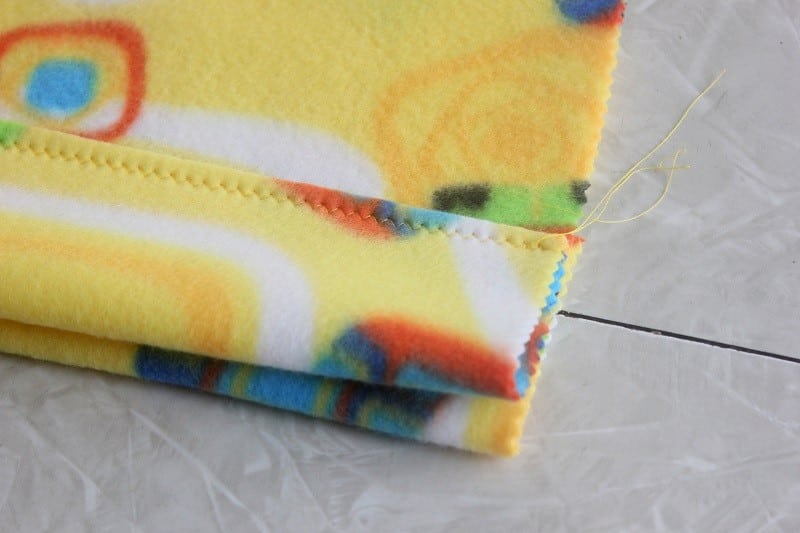 3. Sew side and top.
Fold your fabric, right sides together, hem facing out. Stitch sides beginning at the bottom where the hem meets. Use a 3/8″ seam allowance. You should only have to sew the side and top since you cut your fabric on the fold.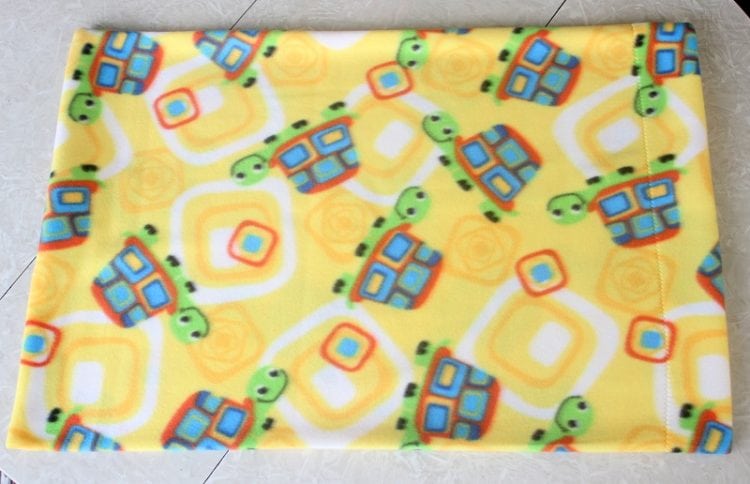 Trim seems if necessary. Turn right side out and your pillowcase is done! No ironing, double hems or notions of any kind!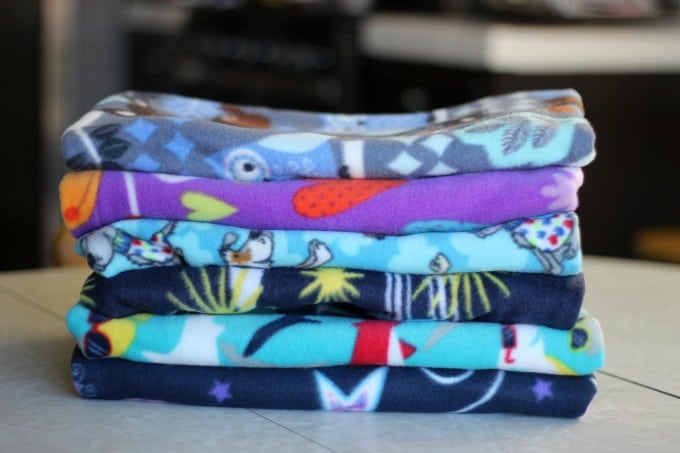 If you liked learning how to make a pillowcase, you might also like to check out these free fleece patterns or check out more of my sewing with fleece posts: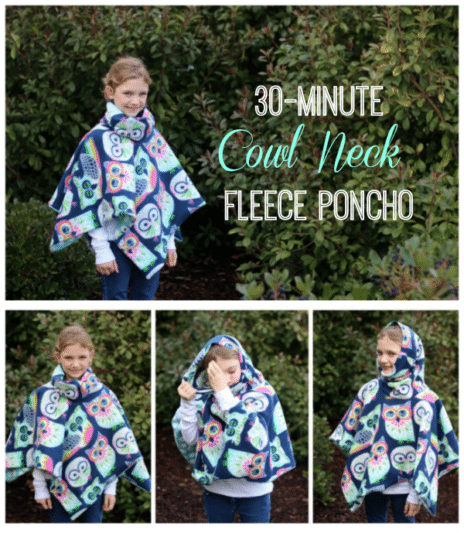 30-Minute Cowl Neck Fleece Poncho Tutorial