Bake up a batch of North Pole coal cookies (chocolate crinkle cookies) and add a printable cookie label for the most festive Christmas cookies around!
The perfect cookie recipe to bake with kids, inspired by The Ultimate Kids Baking Book. This post contains affiliate links.
Kids would normally prefer to avoid coal during the holidays, but these North Pole coal cookies are too sweet to pass up! Soft on the inside, slightly crispy on the outside, and perfectly crinkled. You'll definitely want to add these to your holiday baking list!
You can use your favorite chocolate cookie recipe like these triple chocolate cookies , but we were anxious to crack open our new kids baking book and found the perfect cookies to use for our cookie boxes. Perfectly packaged in white scalloped treat boxes with a North Pole Cookie Co. label they would be so fun to give as gifts this holiday season. Who doesn't love cookies—especially in cute packaging?
North Pole Coal Cookies + Printable Cookie Labels
We took some creative liberty with our North Pole coal cookies. They are actually Crinkle Cookies, and the recipe is such a fun one to make with kids. Ruby especially liked rolling them in sugar.
The Ultimate Kids Baking Book is packed with 60 easy and fun dessert recipes for every holiday, but we've been mainly focusing on the Christmas ones and have a list of recipes we want to make this season!
Baking with kids is definitely a labor of love. It is far easier to make a batch of cookies on my own, and far less messy, but that isn't the point. Right now my shadow in the kitchen is my 3 year old. "I help!" is a common phrase that I hear as I start pulling out ingredients. Sometimes I wonder if they are even learning anything, but then they go and bake a batch of cake mix cookie bars on their own and it is one of the most rewarding things to see. I guess my point it, it's always worth it.
As Ruby was measuring out 1 cup of flour and 1/2 c. of baking cocoa she said, "I guess it's a good idea to know fractions when you bake, right?" RIGHT!! Baking teaches kids so many valuable lessons in experimenting with flavor combinations, math, attention to detail, and responsibility.
She measured all of her dry ingredients into a medium sized bowl and whisked them until there weren't any lumps.
In kindergarten Ruby wrote down that one of her talents was cracking eggs. She was so proud of herself when she learned how to do that and it showed.
Then she proceeded to beat the eggs, sugar and vanilla together and set them to the side while we melted the chocolate and butter together.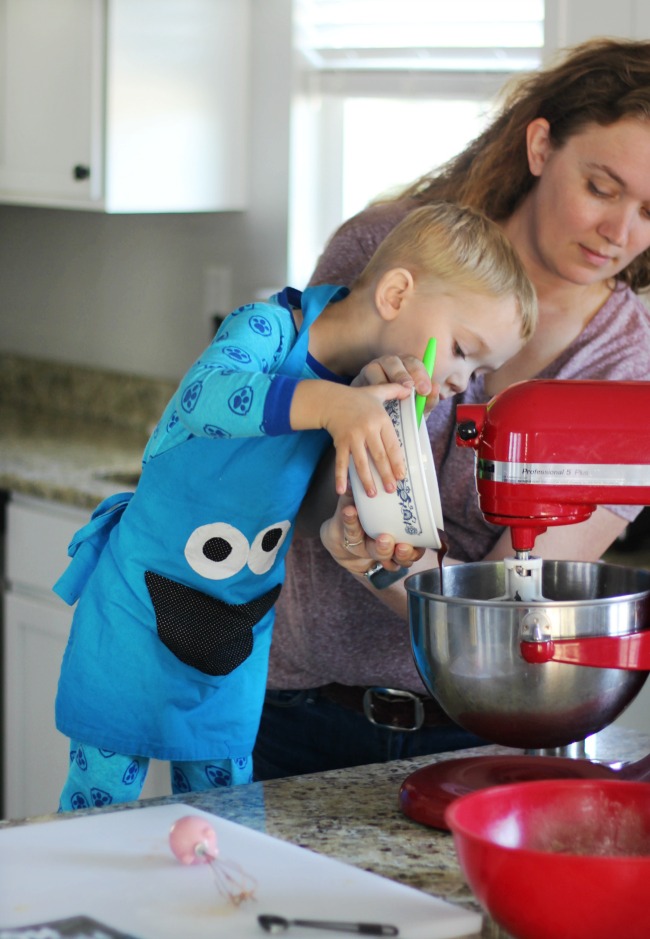 Mac especially liked helping with the melted chocolate and licked that little spatula clean.
We let the dough refrigerate for an hour to set up a bit (the recipe says to let stand for 10 minutes, but ours needed to firm up a bit more), then scooped dough balls with our cookie scoop and rolled them first in granulated sugar and powdered sugar.
The cookies puff up slightly in the oven then flatten and crinkle perfectly.
I ordered these scalloped treat boxes from Oriental Trading a few years ago and used them for my white chocolate peanut butter truffles. They also make adorable cookie boxes and were perfect for our North Pole coal cookies! I created a printable cookie label to tape to the top of each box.
Did you know that Santa wasn't associated with the North Pole until an image appeared in Harper's Weekly. So I can only assume that the North Pole Cookie Co. originated at the same time keep up with Santa's hearty cookie appetite. 😉
North Pole Cookie Co. Printable Cookie Labels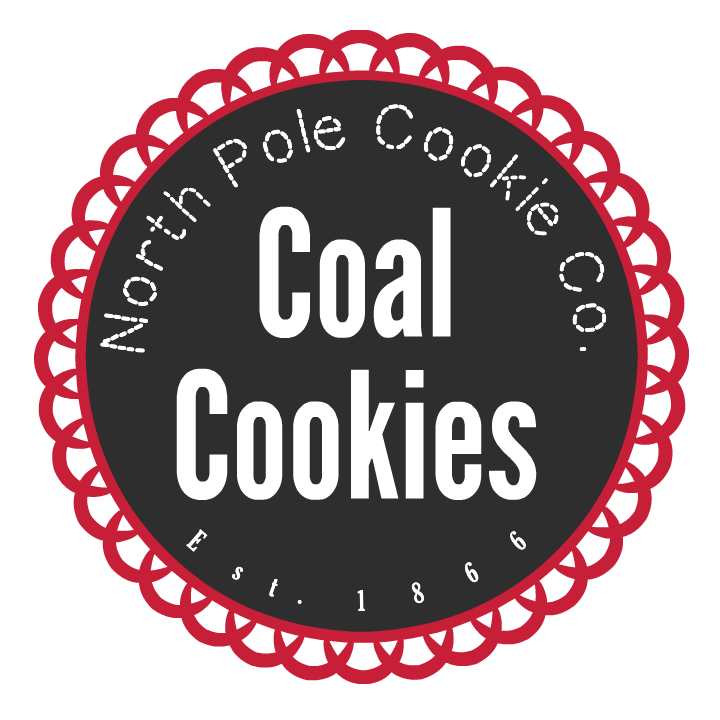 Click here to print out a page of North Pole coal cookie labels.
Each recipe in The Ultimate Kids Baking Book is accompanied by a gorgeous full page photo. I love how Tiffany has taken classic recipes and made them simple enough for kids! The instructions are easy to follow and the book is loaded with tips and tricks to help kids succeed.
Wouldn't this giant birthday cookie cake be perfect for a child to bake and take to a friend?
Once you've tried your hand at baking with your kids, grab some scrap fabric and learn to sew together, too! Sew With Me is filled with 60 sewing projects for kids!
4 More Creative Books for Kids that You NEED To Check Out!
Sew With Me: 60 Beginning Sewing Projects for Kids