I first saw this wreath last year on my
friend's blog
. This year I noticed that they are ALL OVER the web! It was so pretty and looked basic so I added it to my mental "to do" list 🙂 And since all of these ornaments were purchased in previous years, it didn't cost me a thing!
I used a wire hanger and snipped off the hook with wire cutters. Then I bent it into a circular shape and started string the ornaments onto the wire. I started with a pattern of gold, silver, red, but quickly abandoned that and just strung them however. After all, they rotate and move around on their own anyways. Just keep them tight and close together so that the wire is pretty much hidden. I had some that kept falling off from their tops so I hot glued the tops back on to those.
Depending on what your ornaments are made of, you might be able to hot glue some of them together to make them more sturdy if you notice that they are falling off. The red ornaments that I used were glittery and the hot glue wouldn't stick to them or the glass ones, but they did ok with the plastic silver ones.
Then I bent the wire at the top to close it off and added a ribbon for hanging.
I used
this site
as a reference.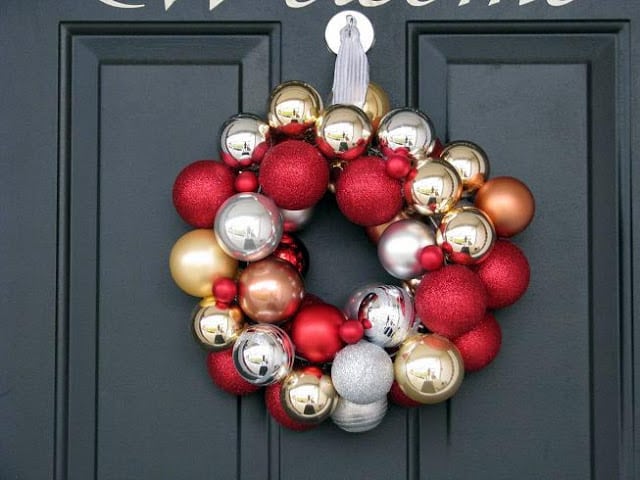 We always decorate for Christmas on black Friday, but since we'll be out of town until the second week in December, we pulled out the tree and the Christmas boxes out a week early, although I don't think I will officially hang this up until December.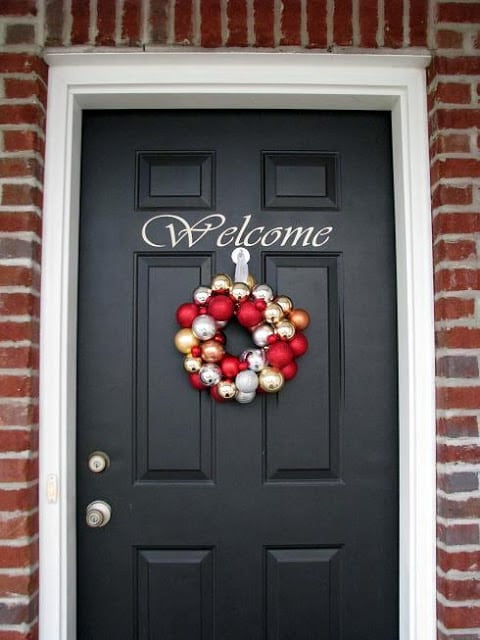 Here's to a Christmas project this year for ME! 🙂
***I've had a couple of readers ask about my wreath hook. It is magnetic and I LOVE it. No holes in the door, no over-the-door wreath hangers. They can be purchased at most hardware stores for a couple of dollars.***